Low-Cost Veterans for Boston Celtics' Rebuilding Project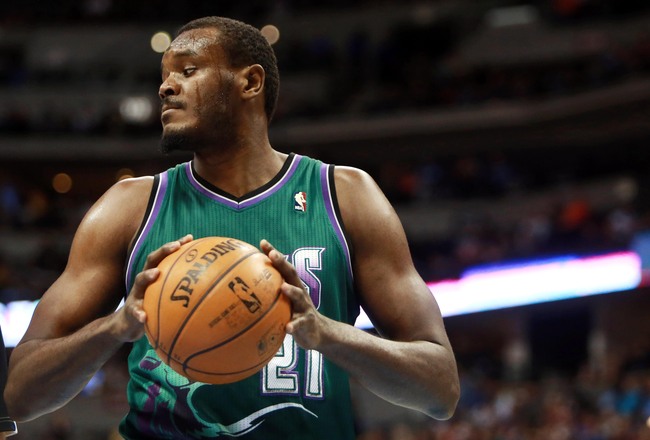 USA TODAY Sports
Danny Ainge's decision to let Doc Rivers out of his contract and ship Paul Pierce and Kevin Garnett to Brooklyn was a clear signal that the Boston Celtics are beginning a rebuilding period.
While the roster still has young talent in the form of Rajon Rondo, Avery Bradley, Jeff Green and a few others, the team boasts little-to-no veteran presence and currently still has several significant holes despite adding depth with Gerald Wallace, Kris Humphries and MarShon Brooks all coming to town.
Though Boston does not appear to be a legitimate contender for the 2013 offseason's higher profile free agents, the team still needs to be active this summer in order to shore up a few areas of concern, like the backup point guard and center positions and the addition of some consistent outside shooting.
None of the players on this list have anywhere near the name value of Chris Paul and Dwight Howard, or even pieces like Jeff Teague or O.J. Mayo, but all of them would be worthwhile additions to Boston both on the court and in the locker room.
Having mature, selfless veterans can often go a long way during a rebuilding process and, with that in mind, let's give the usual marquee names a rest and look at several cheap veterans who Boston would be smart to sign for the 2013-14 campaign.
Will Bynum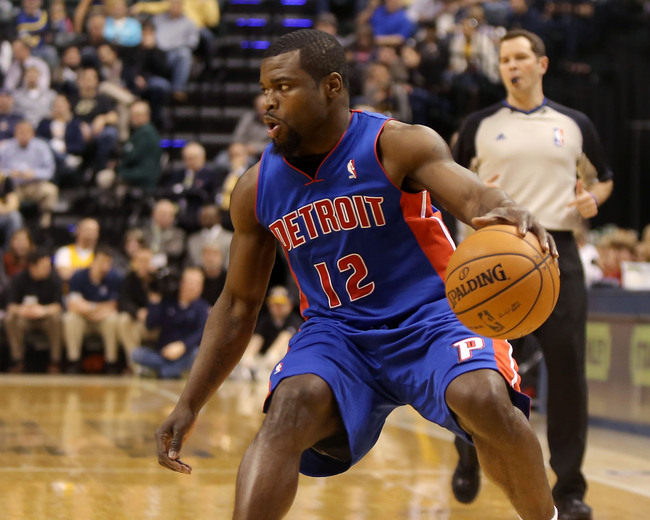 USA TODAY Sports
The Celtics are woefully thin at point guard behind Rajon Rondo, with Summer League player Phil Pressey currently being the only other true point on the roster. While Courtney Lee can play some lead guard in a pinch, it's safe to say the C's will be in the market for a capable backup in free agency.
While Rondo is still projected as the face of the franchise going forward, he'll need some time to get comfortable and acclimated after tearing his ACL, leaving Boston with a need for a point guard who is capable of playing heavier minutes, if needed.
Will Bynum, coming off of a season where he averaged 9.8 points, 1.5 rebounds and 3.6 assists per game on 46.9 percent shooting from the floor, would be an ideal fit.
The 30-year-old Bynum is not much of an outside shooter or a defender, but he is athletic and attacks the rim with reckless abandon and knows how to collapse a defense and create shots for his teammates.
Though his diminutive size means he likely could not play many minutes alongside Rondo, he would be a good option to come off the bench and play 15-20 minutes per night, carrying the team's offense for short bursts.
Bynum earned $3.25 million in the 2012-13 season and is not the cheapest point guard option out there, but given Rondo's injury and the team's general lack of depth there, it may make sense to bring the former Detroit Piston to Beantown.
Bringing Bynum in for a price around the mini mid-level exception of $3 million would be a sensible move for both parties, although the New York Post's Marc Berman reported that Bynum could still re-sign with Detroit.
Marco Belinelli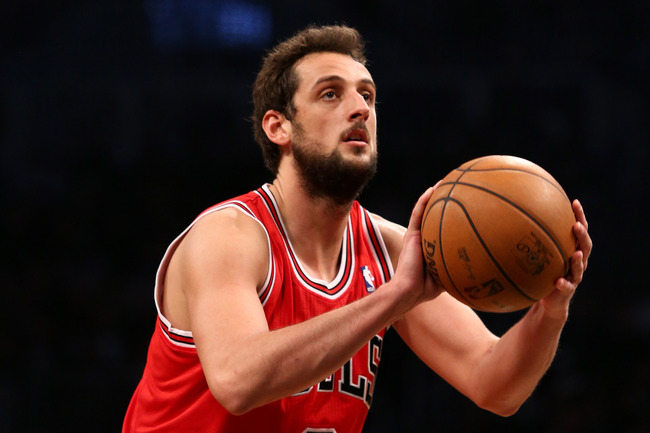 USA TODAY Sports
Marco Belinelli had a decent season with the Chicago Bulls, averaging 9.6 points and 2.0 assists, but shot just 39.5 percent from the floor. However, Belinelli found his niche in the playoffs, boosting his scoring average to 11.1 points and shooting a slightly more respectable 41.1 percent from the field.
He had huge games in Game 6 and Game 7 against Brooklyn and was instrumental in the injury-ravaged Bulls making the second round of the playoffs. During that stretch, he established himself as more than just an outside shooter, running Chicago's offense for stretches and playing solid outside defense.
Hoopsworld's Eric Pincus has reported that Brooklyn has had discussions with Belinelli, but he would also fit well in Boston. Both teams could use a veteran shooting wing, but the Celtics could potentially offer him slightly more money than the Nets.
The Celtics have a need for a pure shooter who can come off of screens and space the floor, especially now that Pierce and KG are gone, and that is a role Belinelli is certainly capable of filling.
For his career, he is shooting 38.7 percent from three-point range and is a perfect catch-and-shoot player to open up the floor for Rondo's drives to the basket.
His solid performance in the playoffs may have driven his price higher than Boston is willing to pay, but if he can be signed for a reasonable price, the Celtics should look to bring him in.
Shaun Livingston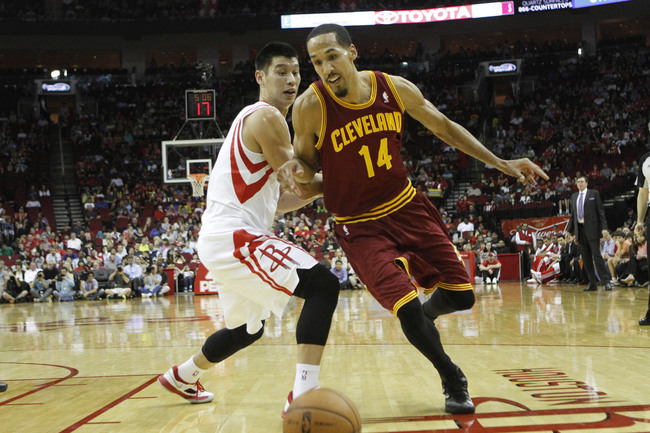 USA TODAY Sports
Here we have another guard being pursued by the Nets who would be a good fit with Boston. Tim Bontemps of the New York Post reported that Brooklyn has reached out to 6'7" point guard Shaun Livingston.
Livingston, who is still most known for his gruesome knee injury when he was with the Los Angeles Clippers, found a niche last season, appearing in 66 games with Washington and Cleveland. For the 2012-13 season, he averaged 6.3 points, 2.4 rebounds and 3.3 assists on 48 percent shooting from the floor.
Though he is not the transcendent athlete he once was, Livingston has learned plenty in his eight NBA seasons and become a more savvy player. He knows how to read defenses and, because of his height, is able to see over the top of defenders to find passing lanes.
While not a three-point shooter, Livingston does still possess a quick first step, as well as the ability to rise up over opponents and knock down mid-range jumpers.
As a playmaker, Livingston is able to collapse a defense and kick the ball out for open shots and run the pick-and-roll consistently. He is also a good decision maker, averaging just 1.2 turnovers per game in 23.2 minutes per game with the Cavaliers.
Bringing Livingston to Boston would not solve their outside shooting issues, but it would give them a quality backup to Rondo who could also potentially play some short stretches at the 2, as he did with Cleveland.
The 27-year-old will never be the star many believed he would blossom into with the Clippers, but he could be a decent option off the bench in an 18-20 minutes-per-night capacity and has shown the ability to be a spot starter, averaging 10.9 points, 3.3 boards and 3.9 assists on 47.3 percent shooting in 16 starts.
Chris Wilcox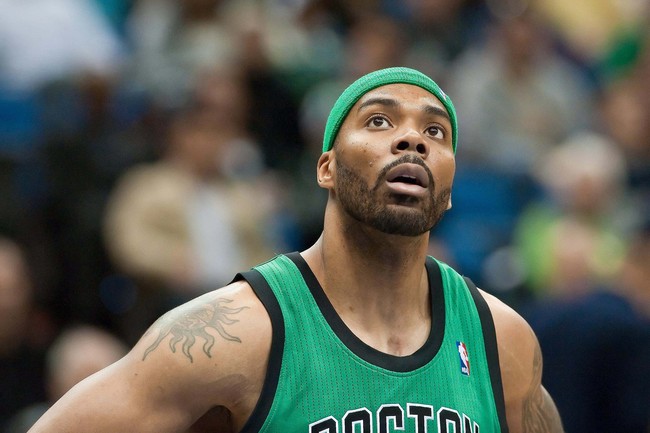 Greg Smith-USA TODAY Sports
The only familiar face on this list, Chris Wilcox has spent the past two seasons as an energy guy and role player off the Celtics' bench behind KG and Bass and been effective in limited minutes despite injury troubles.
In 2012-13, Wilcox struggled with a thumb injury but averaged 4.2 points and 3.0 rebounds in 13.6 minutes per game while shooting an absurd 71.9 percent from the field. Shooting probably is not the right word though, as the 30-year-old power forward barely attempted a shot that wasn't a dunk off of the pick-and-roll or an offensive rebound putback.
With Garnett gone, Boston could use another power forward capable of playing consistent minutes, and while Wilcox's athleticism has diminished, he remains a capable finisher at the rim and a solid rebounder. Bringing him back to play in a similar 10-15 minutes-per-game capacity would be an unflashy but solid move for the new-look Celtics.
Though not much of a shot-blocking threat, Wilcox is an active defender who does a decent job of denying his man down on the low block.
On the offensive end, he would also provide these younger, more athletic Celtics with another big man who is willing to run the floor hard and play in transition, a skill the team will need to exploit now that they have lost a lot of their scoring talent.
Wilcox earned the veteran's minimum last season and should receive a very similar salary for the 2013-14 campaign. He also told the Boston Globe's Gary Washburn he wants to return and feels he can help this team, so expect Boston to at least discuss a third season in green with Wilcox in the coming weeks.
Jason Maxiell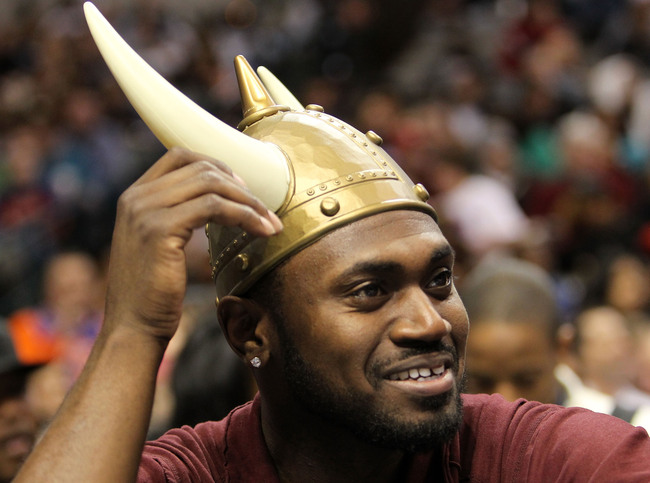 Couldn't pass up the opportunity to use this picture.
Ronald Martinez/Getty Images
After spending the first eight seasons of his NBA career with the Detroit Pistons, power forward Jason Maxiell is an unrestricted free agent and would be an ideal pickup for Boston to play behind Bass and Sullinger.
In 2012-13, Maxiell averaged 6.9 points, 5.7 rebounds and 1.3 blocks per game in 24.8 minutes of work per night. Though he shot just 44.6 percent from the field, a low number for a frontcourt player, he was effective as a starter before Andre Drummond's emergence reduced his minutes.
The 6'7" Maxiell is undersized but makes up for it with his grit, weight and physicality. He is capable of defending the block against taller players and uses his leaping ability and timing to contest shots.
Though Maxiell is not a rim-protector in the mold of Dwight Howard or Serge Ibaka, he would immediately become the best shot-blocker on a Boston team whose bigs do not turn away many shots.
He took a few too many mid-range jumpers last season, attempting 3.1 shots per game 10 or more feet away from the basket, but has shown that he can hit shots at a decent clip if left open. Boston always values a big man that can shoot from the perimeter, and while Maxiell is no KG or Bass, he is at least an option.
Most importantly, Maxiell is a good offensive rebounder who makes multiple efforts on the boards and can hold his own against taller, longer players. He finishes at a 68.3 percent clip at the rim and would give Boston, one of the league's worst offensive rebounding teams over the past few years, someone willing to work for easy baskets and putbacks.
Maxiell earned $5 million in 2012-13 but, due to the detached retina he suffered in late March, will likely be available for far less than that.
Carlos Delfino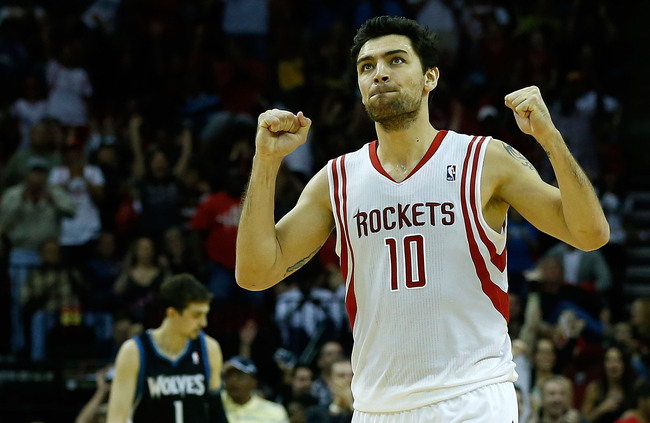 Scott Halleran/Getty Images
A casualty of Houston's pursuit of Dwight Howard, the Rockets waived Carlos Delfino in an effort to free up more cap space, according to ESPN Los Angeles' Ramona Shelburne.
Delfino proved to be a quality bench payer for a young Houston team that exceeded expectations and gave Oklahoma City a run for its money in the first round of the playoffs. The 30-year-old swingman was a major part of that, notching 10.6 points, 3.3 rebounds and 2.0 assists per game while shooting 37.5 percent from three-point range.
During the postseason, Delfino fractured a bone in his foot, making it possible that Boston could sign him for less than the two-year, $6 million deal he signed with Houston back in the 2012 offseason.
At 6'6", Delfino has the ability to play both 2-guard and small forward, which is important since Boston is lacking consistent outside shooters at either of those spots besides Jeff Green. Delfino is a major threat in catch-and-shoot situations and can use his shot fake to get opponents into the air and drive to the rim.
According to John Hollinger's Value Added statistic, a number that measures the amount of points a player adds to his team's total above a replacement player, Delfino produced more than Harrison Barnes, Evan Turner and Kevin Love.
Although not much of a shot creator, Delfino is a willing passer and a capable defender who could form a scrappy small-ball defensive unit with Rondo, Bradley and Green or Wallace.
He's far from a glamorous player, but Delfino is a perennially underrated player capable of contributing on both ends of the floor.
Samuel Dalembert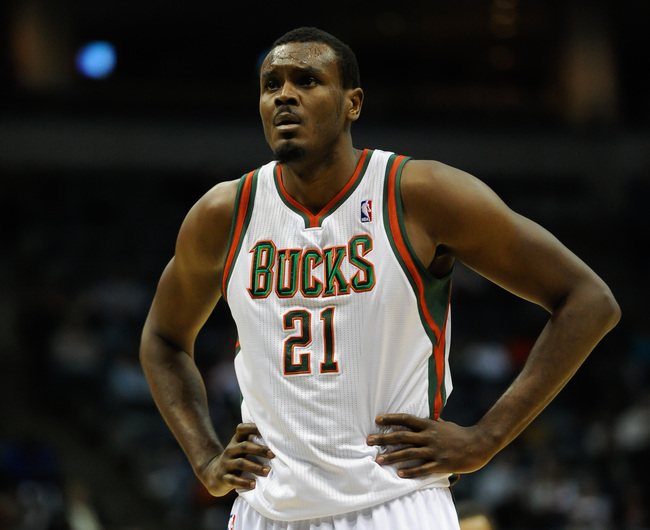 Benny Sieu-USA TODAY Sports
Despite the additions of Kelly Olynyk and Colton Iverson through the draft, the Celtics still lack a known quantity at center. While they could try to use Sullinger as another center, as I suggested in my 2013-14 Boston depth chart, they could also pursue a veteran free agent center as a stopgap.
Per Chris Haynes of CSNNW, Portland and several other teams have already reached out to Dalembert, but if he wants an opportunity to still start, he could look at spending a season or two with the Celtics.
In 2012-13, Dalembert averaged just 6.7 points, 5.9 boards and 1.1 blocks per game on 54.2 percent shooting overall, but struggled to play regular minutes once Larry Sanders emerged defensively.
For his career, though, Dalembert has averaged 8.0 points, 8.1 rebounds and 1.8 blocks per game, using his length and 6'11" frame to play effective help defense, control the offensive glass and finish at the rim.
Signing Dalembert would give Boston the interior defensive presence they are lacking without Garnett, someone who can defend the post, protect the paint and cover up for his teammates mistakes. Though there are not many elite offensive centers in the league today for Dalembert to contain, having a versatile defensive big man would be a major boost for the C's.
Offensively Dalembert does not produce much besides dunks and the occasional mid-range jump shot, but he did manage to post a PER of 18.60, ranking above Joakim Noah, J.R. Smith and Paul George.
Dalembert earned $6.7 million in 2012-13, a sum that no team is going to offer the offensively limited 32-year-old during the 2013 offseason. Boston could potentially get him for a one or two-year deal for $3-4 million annually.
Antawn Jamison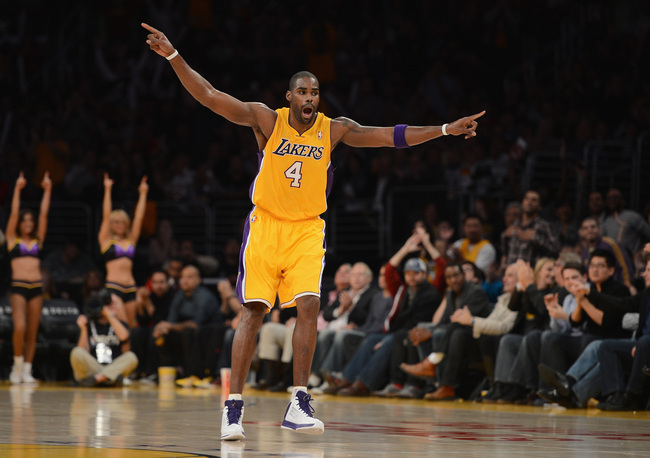 Harry How/Getty Images
While Antawn Jamison is unlikely to want to join a rebuilding team at this stage in his career, he has shown a willingness to take pay cuts in the past, joining the Lakers in 2012-13 on a veteran's minimum deal. More importantly, Jamison's skill set would mesh extremely well with Boston's current personnel and could give the team a valuable locker room leader.
Jamison has been linked to the Washington Wizards, one of his former teams, through Yahoo! Sports' Marc J. Spears, but no concrete information has come out about a potential deal between the two parties. Though Jamison does have history with Washington, the team is no closer to title contention than the Celtics despite possessing a promising young core.
As a bench player for the Lakers, Jamison had some difficulty adapting to Mike D'Antoni's offensive system, despite seeming like an ideal fit because of his ability to play the stretch-4 spot. Still, his averages of 9.4 points and 4.8 rebounds on 46.4 percent shooting overall and 36.1 percent from three-point range were perfectly respectable.
With Boston, Jamison could come off the bench and provide instant offense for a team that just lost its two most consistent scorers in Pierce and Garnett. Though he cannot carry an offense like he could during his days in Washington or Golden State, Jamison's unorthodox game still makes him an effective scorer. He can pull up for jumpers, put the ball on the floor and even utilize his quickness in the post on slower forwards.
Having a three-point shooting power forward would allow Boston to run a lethal pick-and-pop with him and run lineups with Jamison and Bass or Olynyk to give the C's guards plenty of room to work.
Besides his on the court contributions, the 37-year-old former All-Star has been regarded as one of the game's classiest players and a valuable locker room leader, two qualities any rebuilding club would value.
Keep Reading

Boston Celtics: Like this team?