Florida Football: Power Ranking Every Positional Unit in 2013
Kim Klement-USA TODAY Sports

Many people say that a team is only as strong as its weakest link. However, the Florida Gators somewhat proved otherwise in 2012.
Despite having an offense that was extremely difficult to watch at times, they still won 11 games and were in national contention throughout the entire season.
For the most part, the Gators were able to ride their stellar defense and pull out close victories. It was only against Louisville in the Sugar Bowl that the opposite was the case.
No matter what you believe, however, the story for the 2013 Gators should be the same. They have a great defense and an offense that needs to be much more effective. This list reflects that.
With the season quickly approaching, here is an overview of the Gator roster.
Begin Slideshow

»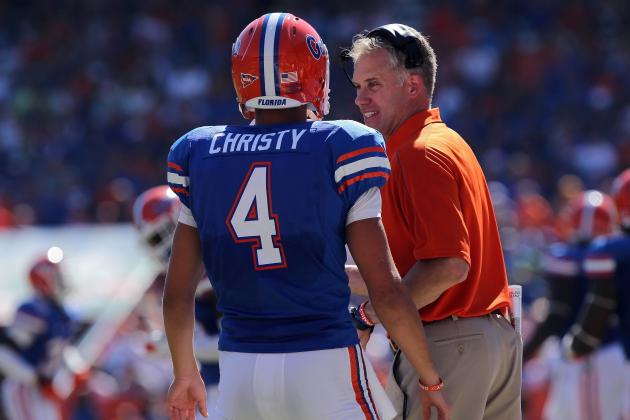 Kim Klement-USA TODAY Sports

Simply put, Florida's punting and kicking units are at opposite ends of the spectrum.
Kyle Christy is one of the leading contenders for the Ray Guy Award and one of the most valuable players on the Gator roster. He can swing field position with one punt and never seems to make a mistake.
The Gators are also one of the nation's best teams at blocking kicks.
Meanwhile, both Austin Hardin and Brad Phillips are very unreliable as kickers. Neither has much, if any, game experience, and neither has appeared to claim the starting job yet.
For the most part, special teams should be a big strength for the Gators. With the unreliability of their kicking game, however, they could see a drop-off in 2013.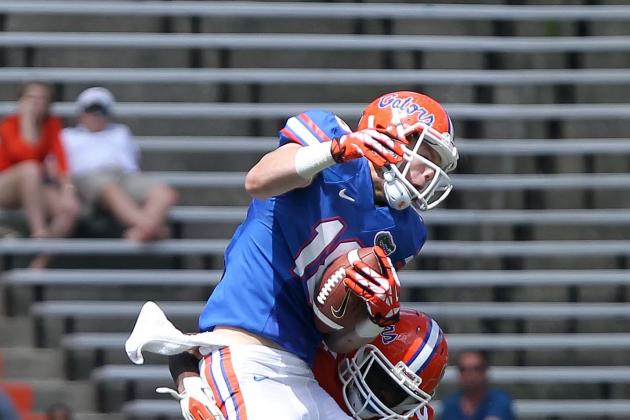 Kim Klement-USA TODAY Sports

Although the Gators have a lot of talent to work with at tight end, the position is a big question mark.
Kent Taylor and Colin Thompson have the most offensive potential. However, they clearly need time to develop. Taylor at least had a couple of flashes of brilliance last season, but they were too far apart to merit any attention.
At this point, Clay Burton is the most complete tight end. Although limited offensively, he is a solid blocker and can help both Jeff Driskel and the Gators running game. He should be the main option, at least in the immediate future.
There are pieces to work with. However, none of them are completely ready to be a star.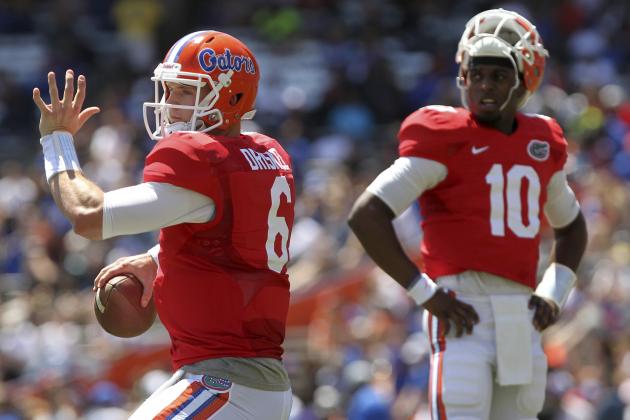 Kim Klement-USA TODAY Sports

Although Jeff Driskel should significantly improve this season, this is an appropriate spot until he can prove it.
There is no denying that Driskel struggled mightily during his sophomore season. Although he limited turnovers and made big plays on the run, his technique and mental acuity in the pocket left much to be desired. Granted, he had few offensive weapons and a sometimes shaky offensive line protecting him. Still, he could have been better, and he will be better in 2013.
If for some reason he can't play, Florida is in trouble. Tyler Murphy and Skyler Mornhinweg have no significant college experience to speak of. Perhaps they have hidden talent, but all the talent in the world will not help them in the middle a brutal SEC schedule.
Everything is on Driskel's shoulders. If the Gators want to win, he will have to be at his best.
Kevin Liles-USA TODAY Sports

Florida is finally starting to build depth at wide receiver. It's not a ton, but it's something.
Quinton Dunbar could be set for a breakout season. Aside from tight end Jordan Reed, Dunbar was the most reliable Gator pass-catcher in 2012. He isn't much of a deep threat, but he finds ways to get open and move the chains.
The best hope for a Gator deep threat might be freshman Demarcus Robinson. He has good size and hands. His inexperience will probably hold him back, though, at least in the immediate future.
Other than those two, the pickings are slim. Andre Debose has the talent needed to be a star, but his work ethic is awful. Solomon Patton is extremely fast, but he is only used on end-arounds and trick plays. Then, there is a group featuring Latroy Pittman and Raphael Andrades from which someone might emerge from but probably won't.
It will be another couple of years before the Gators can completely build extra depth at receiver. In the meantime, the situation has at least been made much better.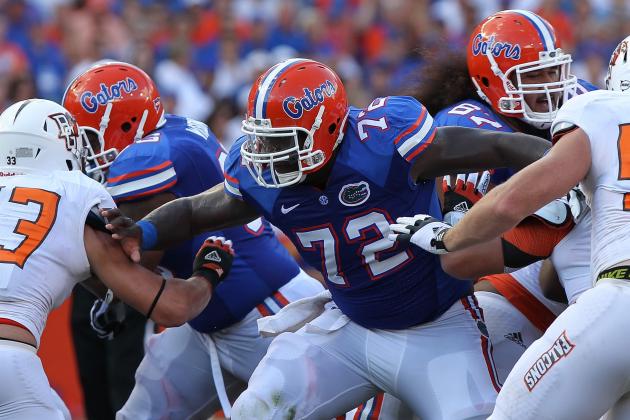 Kim Klement-USA TODAY Sports

Although it was in dire straits a few weeks ago, the Gators' offensive line should be rejuvenated by this point. Furthermore, it should be one of the better units throughout the 2013 season.
One huge advantage for Florida's offensive line is its collective experience. Center Jonotthan Harrison and guard Jon Halapio are both redshirt seniors with plenty of playing time. Maryland transfer Max Garcia sat out last season, but he has one full year as a starting guard under his belt.
Although younger, tackle D.J. Humphries is also experienced. More importantly, his size and athleticism make him one of the most promising linemen in the SEC.
Tackle Tyler Moore is another interesting prospect. He had a great freshman season at Nebraska. However, it might be hard for him to readjust to the Division I level after a season in the community college ranks.
The main worry for this unit is pass-blocking. If Halapio and company can keep Driskel upright and out of trouble, the Gators' offense could open up dramatically.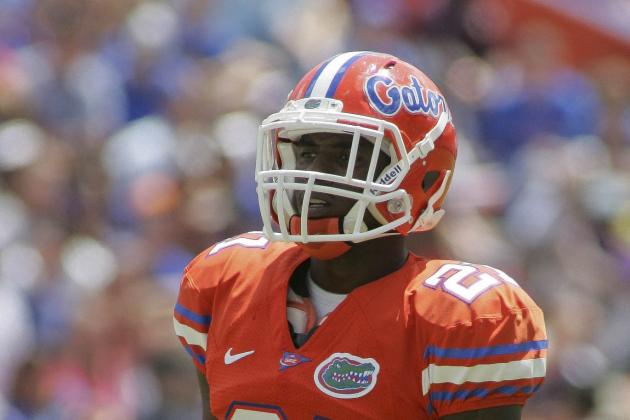 Phil Sears-USA TODAY Sports

Although the talent level at the position may not be elite, the Gators will have a ton of depth at safety in 2013.
Assuming Jaylen Watkins stays at safety, he will be a ball hawk who complements Florida's talented corners.
Behind Watkins sit multiple candidates for a breakout campaign. Jabari Gorman, Marcus Maye and Valdez Showers are the three important names. In particular, Maye is very versatile. He seems like the clear favorite among them.
In addition, Keanu Neal and Marcell Harris will fill out the lineup as talented newcomers.
There is definitely a lot of work to be done by the Gator defensive staff. But if the right pieces are put in place, Florida's secondary could be downright lethal.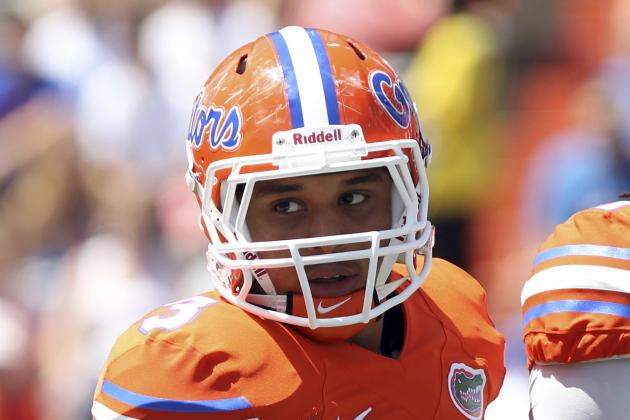 Kim Klement-USA TODAY Sports

Florida lost talent at linebacker to the NFL draft, but the team can quickly reload with its current pieces.
Although his recent arrest is a concern, Antonio Morrison is a star in the making. Morrison gives full effort on every play and is arguably the biggest hitter on the team. If he stays out of trouble, he will be an absolute force.
In addition, Ronald Powell's return gives the Gators a great weapon at the Sam linebacker position.
They also loaded up with freshman talent in their most recent recruiting class. Daniel McMillian and Alex Anzalone could easily develop into dependable players during their initial season on campus.
No Jon Bostic or Jelani Jenkins? No problem for the Gators.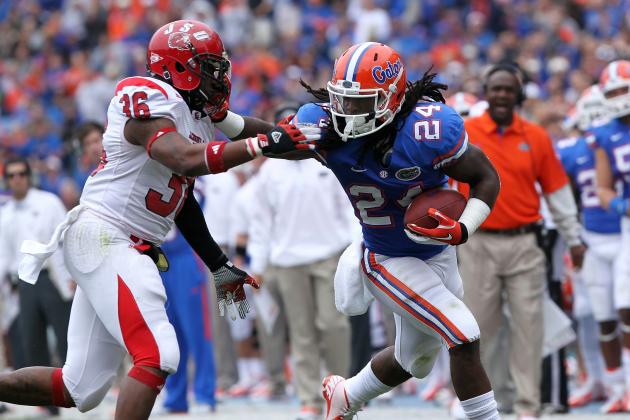 Kim Klement-USA TODAY Sports

The strength of Florida's offense in 2012 was the running game, which offered signs of the immense potential of Will Muschamp's "ground-and-pound" philosophy.
Expect to see the same this fall.
Matt Jones is nearly identical in style to Mike Gillislee, and he will get the bulk of the carries. He should easily hit 1,000 yards and double-digit touchdowns.
Behind him is talented freshman Kelvin Taylor. His combination of toughness and agility has Gator fans excitedly anticipating his emergence as a superstar. However, it probably will not happen this year.
In addition, Wildcat specialist Trey Burton will be frequently used to give opposing defenses one more element to worry about.
Finally, Mack Brown should serve as a very dependable third-string back.
Expect the Gators to run the ball and run it often. It will once again be their offensive bread and butter.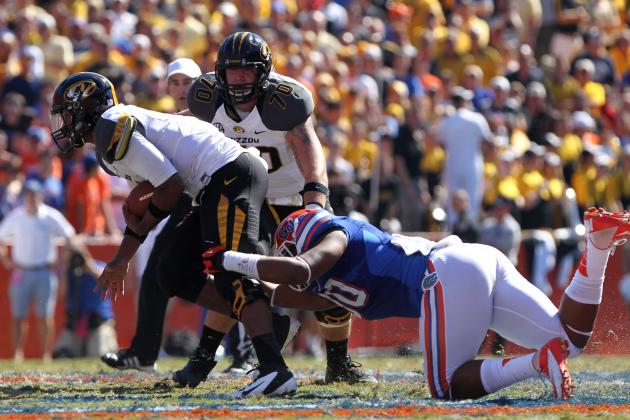 Kim Klement-USA TODAY Sports

Of all units on the Gators' roster, the defensive line is one that is being somewhat underestimated.
Even without Sharrif Floyd, Florida's front four (and sometimes more) will form one of the elite units in the conference.
After a four-sack season in 2012, Dominique Easley is clearly the most explosive lineman on the team. He has good burst out of the gate and terrific athleticism. He may approach double-digit sack numbers as an encore.
He will have help from Jonathan Bullard and Dante Fowler. Bullard and Fowler both impressed as freshmen. The latter will be able to make a lot of plays at the hybrid Buck linebacker position.
With added depth from Leno Orr and others, this line should give opposing quarterbacks nightmares. The pressures and hits should come at a furious pace in 2013.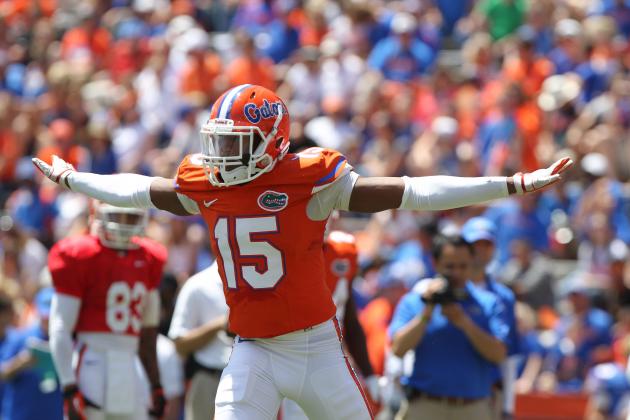 Kim Klement-USA TODAY Sports

If you are looking for the position with the best combination of depth and talent, look no further than Florida's cornerback lineup.
Leading the charge is one of last season's breakout Gator defenders, Loucheiz Purifoy. Although he did not intercept any passes, he built his reputation as a shutdown corner and emotional leader in 2012. He blocked punts, forced fumbles and deflected passes. He is always one to watch.
His supporting cast is pretty good, too. Marcus Roberson is always around the ball, and he can realistically reach the five-interception plateau. Another interesting player is freshman Vernon Hargreaves III, who was one of the nation's top recruits. It will be interesting to see if he can quickly acclimate himself to the collegiate level and be a game-changer.
This is one of the best secondary trios in the nation. Florida's defense will be solid in all aspects, but it will be excellent at cornerback.