Ranking Mark Henry's 10 Greatest Moments in His WWE Career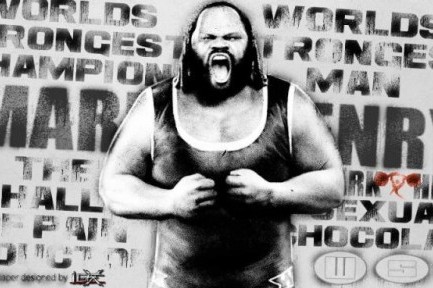 photo courtesy of wrestling123.org
Mark Henry has accomplished a great deal in his 17-year career in the WWE, including world titles, being a member of one of the most notorious factions of the Attitude Era and, of course, being the father to a hand.
Most recently, Henry shocked WWE fans around the world with his fake retirement speech. The World's Strongest Man delivered the World's Strongest Swerve.
Where does this moment rank among Henry's greatest as a WWE Superstar?
Here I will break down Henry's top moments and you will see how most of his accomplishments came during the later part of his career. Ranking is based on level of accomplishment, shock value, and quality of segment or match.
Begin Slideshow

»
Originally billed from Austin, Texas, Henry achieved success in his debut match against Jerry "The King" Lawler. Although it was his first match in WWE, it was very slow and lasted less than 10 minutes.
The speed of the match may be more due to Lawler's antics and mind games, but nonetheless, it was not a particularly great match.
Henry won the match using a backbreaker, causing Lawler to submit. While the finishing maneuver shows off Henry's strength, it doesn't measure up to the World's Strongest Slam.
It is certainly an accomplishment to make the transition from Olympics to the WWE, but Henry had a long way to go until he achieved major success in the company.
At WrestleMania 29, Henry took on another WWE monster in the form of Ryback. Ryback had been coming off multiple pay-per-view losses, and I fully expected him to win this match.
Ryback and Henry's match didn't mean much in terms of storyline progression, but it seemed like an opportunity for Ryback to shell shock Henry.
It's always difficult for two big men to put on a great match, and you can even hear the crowd with boring chants throughout the match.
Shockingly, Henry was victorious in this match after a failed shell shock by Ryback. Unfortunately for Henry, Ryback would deliver the move after the match was over.
In 1998, The Rock had just taken over as leader of the Nation of Domination and was feuding with Ken Shamrock over the intercontinental title.
A week after the Nation attacked Henry, the World's Strongest Man and Ken Shamrock teamed up against The Rock and D'Lo Brown.
However, Henry would shock the WWE Universe as it was a set up for him to join the Nation. During the match, as Shamrock was about to put The Rock into an ankle lock submission, Henry attacked Shamrock.
The Rock ripped off Henry's "Rocky Sucks" shirt to show that Henry had a Nation of Domination shirt underneath.
After turning babyface, Henry began his famous "Sexual Chocolate" character, which saw him become the romancer of the WWE. Even more famously, Henry began an on-screen relationship with Mae Young.
Although this moment deals more with Young than Henry, WWE fans will always associate this moment with Sexual Chocolate.
Young would give birth to a hand in one of the grossest and surprising moments, not only in Henry's career but WWE history.
Why is this moment ranked here?
Well aside from its shock value, it is one of the standout moments in Henry's career and his most famous moment as part of the Sexual Chocolate character.
Would you have preferred when he was caught with a transvestite?
In August 2011, Henry participated and won a Battle Royal on SmackDown to become the No. 1 contender for the world heavyweight title. Superstars knew how difficult it would be to eliminate Henry as they all attacked him at the start of the match.
Henry was even able to eliminate the Great Khali all by himself.
After Sheamus knocked Henry out of the ring, Henry remained outside where he would attack Superstars who had just been eliminated. Henry did not go over the top rope and thus was not eliminated himself.
Henry would last eliminate Sin Cara en route to his opportunity to challenge Randy Orton for the world title.
In 2008, Henry was drafted to the ECW brand where he quickly became the new champion. He defeated Kane and Big Show in a Triple Threat match at Night of Champions to earn his first world title in the WWE.
The ECW Championship at this point was not looked at as at the same level as the WWE or world heavyweight title. However, it was a sign that WWE was putting Henry at the top of one of its brands.
This was only the second title Henry had held in his career, and the first one (European Championship) was merely handed to him.
In any case, Henry would receive WWE Hall of Famer Tony Atlas as his manager in what was clearly his most dominant run in the company up to this point.
In one of the most shocking moments in WWE history, Henry suplexed Big Show from the top rope, causing the ring to collapse. At Vengeance 2011, Henry defended the world heavyweight title against Big Show. The match had to end and be declared a no-contest after the destruction.
Rarely does a big man deliver such maneuvers. Then, take two giants of the WWE and the ring just couldn't handle all of that weight.
Big Show would continue to challenge Henry for the world title after Vengeance, but on this night, Henry was able to keep his gold.
On July 17, 2011 Henry began what was to be known as the Hall of Pain. Henry laid out Big Show after their match. He attacked Big Show and injured his ankle with the use of a steel chair.
Henry's wrath of hurting people was just beginning as he would induct other Superstars into the Hall of Pain.
Whether it was Kane or the Great Khali, size didn't matter to Henry.
No one was able to stop Henry, and it would be a while until anyone did.
The strength of Henry was never clearer as he delivered the World's Strongest Slam to each victim.
After teasing his retirement on Twitter and backstage with fellow WWE Superstars, Henry pulled off one of the most surprises moments in recent history.
After WWE champion John Cena gave his thoughts on remaining champion following WWE Payback, Henry entered. The World's Strongest Man gave a very convincing speech that led the entire WWE Universe to believe he was retiring.
However, when Cena went in to hug Henry, the World's Strongest Man delivered the World's Strongest Slam.
Just when one thought Henry's career may be over, he is the new No. 1 contender for the WWE title. Henry will now challenge Cena at this year's Money in the Bank in hopes of accomplishing something he has never been able to do. The WWE title is the only world title Henry has not held.
His fake retirement may earn him some awards, but will it lead to the WWE Championship?
Of all the moments in Henry's career, the greatest must be his world heavyweight title win over Randy Orton.
It may not have been the most surprising moment, but it is the greatest accomplishment in Henry's career. He held the European and ECW title prior to this win, and that is all the gold Henry had on his resume.
Henry had previously won that Battle Royal to become Orton's challenger, and he seemed ready to be the top of the SmackDown brand. Orton was on his way to babyface boredom as Henry was as dominant as ever.
Henry's fake retirement and opening the Hall of Pain helped lead him to challenge for a world title. But after 15 years in WWE, Henry was finally able to claim the same title as Ric Flair, Sting and The Undertaker.
How would you rank Mark Henry's greatest moments in his WWE career? Please share your thoughts in the comment section below.
You can continue the conversation by following me on Twitter (@sethgutt), and check out my site, guttwrenchpowerblog.com.
Like GuTTWrenchPowerBlog on Facebook here.