Handing out First-Half Awards to San Francisco Giants Players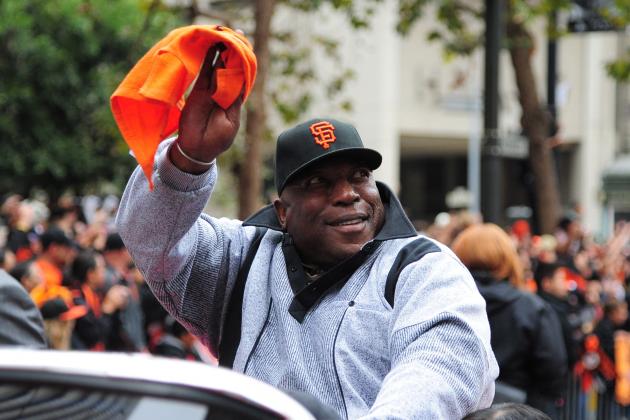 Kyle Terada-USA TODAY Sports
The Giants have a special award named after Willie McCovey.
The San Francisco Giants began the second half of the season with a loss and currently stand four games under .500. The Giants are 39-43 and fourth in the NL West.
The Giants have lost nine of their last 11 games and are struggling mightily. The lengthy string of injuries has caught up with them, and they need to get some of their players back. Look for general manager Brian Sabean to also make some deals to fortify the pitching and maybe add an outfield bat.
In the meantime, with half of the season in the books, let's take a look at the Giants' award winners for the first half.
All stats are courtesy of baseball-reference.com.
Begin Slideshow

»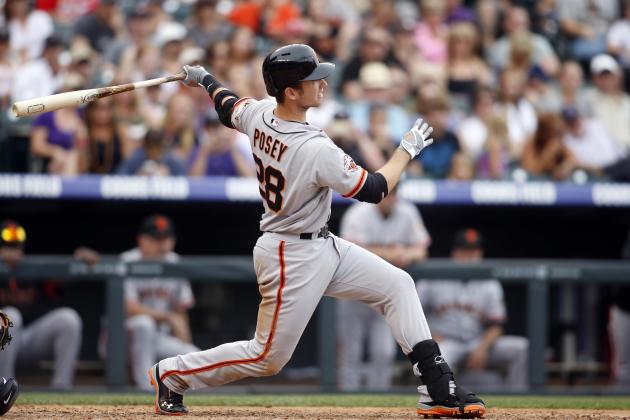 Chris Humphreys-USA TODAY Sports
Buster Posey is having another excellent season.
Buster Posey won the NL MVP award in 2012 and is having another outstanding season. He is currently hitting .322 with 12 home runs and 48 RBI.
Posey's RBI total leads the team, as does his OBP of .397, SLG of .543 and OPS of .940.
In addition to his stats, Posey is a team leader and does a tremendous job with the Giants pitching staff. Posey has caught 66 of the Giants' 82 games, more than manager Bruce Bochy planned.
Bochy has been reluctant to give Posey games away from catching because his backups are flawed.
In 2012, Hector Sanchez was a pleasant surprise as Posey's backup. He was very productive offensively and steadily improved behind the plate.
Unfortunately, Sanchez came into spring training overweight and out of shape. He fought injuries early on and has regressed both offensively and defensively.
Bochy seems to have lost confidence in Sanchez behind the plate, and his throwing woes have made it tough for Bochy to use him as the backup catcher.
Guillermo Quiroz is a solid defensive catcher, but he is not a good hitter. He has a batting average of .196 this season and a career average of only .205.
The inherent flaws of Sanchez and Quiroz have forced the Giants to play Posey behind the plate far more than they would have liked.
Posey's offensive numbers are even more impressive given the difficult workload and physical strain of playing the catching position. He is, without a doubt, the Giants' first-half MVP.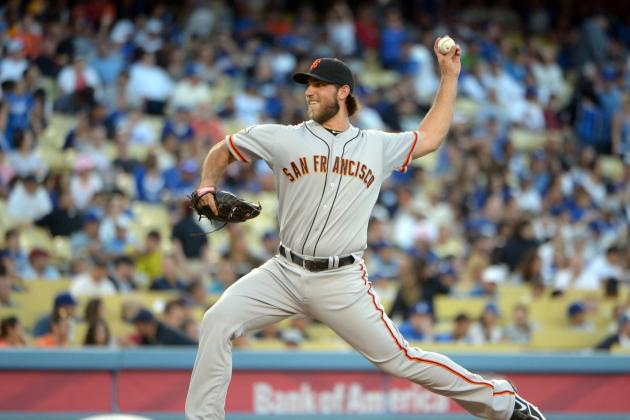 USA TODAY Sports
Madison Bumgarner has done a fine job for the Giants.
Madison Bumgarner is pitching the best of any of the Giants' starters. He is only 23 years of age and along with Matt Cain, he has become one of the dual aces of the pitching staff.
Bumgarner has thrown 111 innings and allowed only 78 hits and 33 walks while striking out 107. His ERA of 3.08 and WHIP of 1.000 easily lead all Giants' starters.
With all due respect to closer Sergio Romo, Madison Bumgarner is the Giants' Cy Young winner for the first half.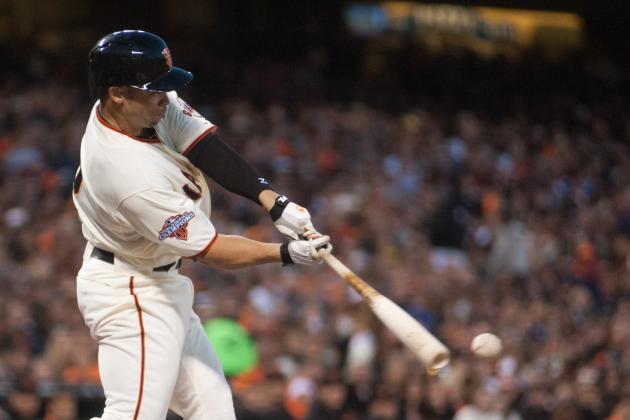 Ed Szczepanski-USA TODAY Sports
Juan Perez has played an excellent defensive center field.
Heading into the 2013 season, Juan Perez was not one of the top players on the Giants' prospect list. Perez performed well with the Fresno Grizzlies, the Giants' Triple-A affiliate.
An injury to Angel Pagan opened the door for Perez, and he has opened some eyes with his play. Perez has played outstanding defense in center field, making several great plays in the outfield.
Perez has displayed a strong and accurate arm, gunning down five runners on the basepaths.
Offensively, Perez got off to a fast start, but he has come back down to Earth in recent games. He is currently hitting .256 with an OBP of .302 and OPS of .584. Perez has only one extra-base hit on the year and three RBI.
Another area where Perez could make a bigger impact offensively is on the bases. Perez has excellent speed but does not have any steals for the Giants. If he can be a force on the basepaths, he will add value to a Giants offense that has struggled to score as of late.
The competition for the first-half Rookie of the Year award is very weak, so Perez wins this one virtually by default.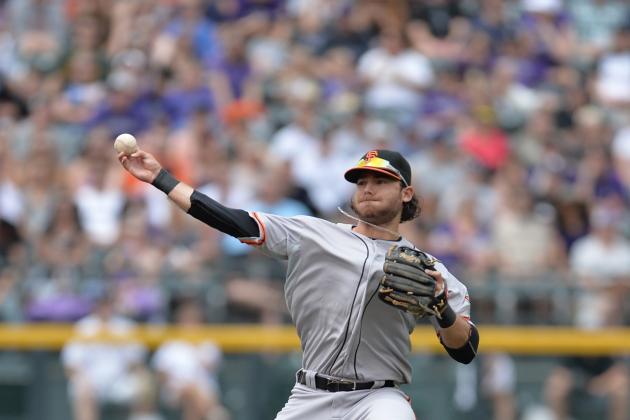 Ron Chenoy-USA TODAY Sports
Brandon Crawford has played an excellent shortstop for the Giants.
Brandon Crawford is one of the best young shortstops in the game. He is on track to win multiple Gold Gloves over the course of his career.
Crawford shined in the 2012 playoffs and World Series. That exposure put him on the map, especially with managers who do not get to see Crawford play on a regular basis.
Crawford makes spectacular plays, as well as the routine. He has a very strong arm that enables him to make plays deep in the hole at short.
Offensively, Crawford is hitting a respectable .269, with five home runs and 28 RBI. If he maintains this level of offensive productivity, Crawford will give the Giants everything they want from their shortstop.
Ron Chenoy-USA TODAY Sports
Hunter Pence leads the Giants with 13 home runs.
The Willie Mac Award, named after Giant great Willie McCovey, is the most prestigious award any Giants player can win from his teammates.
McCovey, a Hall of Fame player for the Giants, is much beloved in San Francisco. He has always conducted himself with class and is a well-respected member of the Giants family.
The award honors the most inspirational player on the team.
The 2013 Willie Mac Award goes to Hunter Pence. His constant hustle and work ethic has made him a fan favorite.
Pence was an emotional leader during the 2012 postseason. His emotional speeches rallied the Giants when their backs were against the wall.
Pence is having a good season in 2013. He is batting .284 with 13 home runs and 42 RBI. He also has 13 steals.
Defensively, Pence has played a solid right field, not an easy task at AT&T Park. The cavernous right-center field and brisk winds can make it very tough to play in the San Francisco outfield.
Pence's infectious personality and all-out hustle earn him the 2013 Willie Mac Award for the first half of the season.