UFC 162 Predictions: Pros Make Their Picks for Anderson Silva vs. Chris Weidman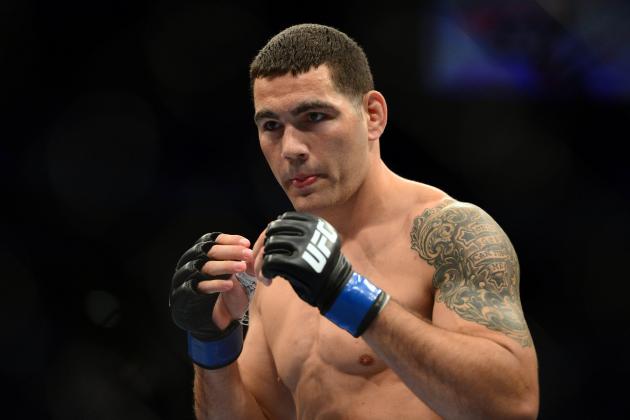 Kyle Terada-USA TODAY Sports

UFC 162 is getting ever closer, and the talk leading into the July 6 fight card has mostly been focused on which fighter is going to walk away from the main event with the middleweight title strapped around his waist.
On one side of the Octagon will be the man recognized by many to be the greatest mixed martial artist of all time. The fighter who has defended his UFC title a record 10 consecutive times, Anderson Silva.
On the other side of the cage will be the unbeaten fighter who many feel has the perfect skill set to end the 16-fight UFC winning streak Silva is currently in the midst of, Chris Weidman.
The UFC recently polled a number of its top fighters on who they were picking to walk away from the MGM Grand Garden Arena, what follows are the picks of those fighters.
*All quotes provided to Bleacher Report via the UFC.
Begin Slideshow

»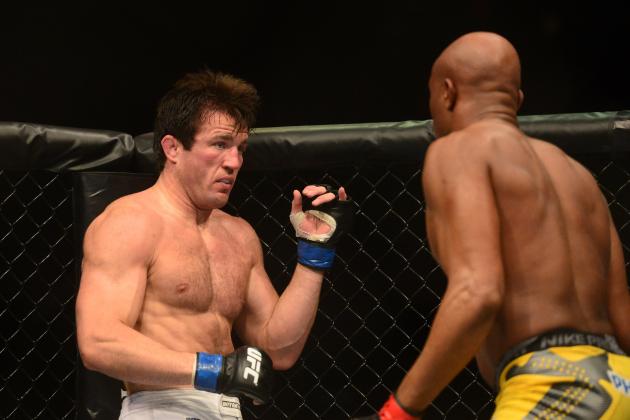 Mark J. Rebilas-USA TODAY Sports

"Listen, he has two wins over me, it does me no good at all to bash Anderson publicly now that our thing is over. But that's not what I am doing here. I think Anderson is an excellent fighter, an awesome fighter, but he's just not winning this fight.

I think Weidman takes Anderson down at will, I think he blows past Anderson's guard, and I think he finishes him. Taking Anderson down isn't a hard thing to do. Chris will get to Anderson's head, hurt him with ground-and-pound, and submit Anderson within three rounds with a D'arce choke or similar. Weidman is a younger version of me—and a better version when it comes to aspects like top game. I took Anderson down repeatedly, and while I punched him all night, I don't have the submissions Weidman has. Weidman is going to have the same success I had with a ground attack but then he's going to choke Anderson.

The seven-year reign is over. That's genuinely what I feel."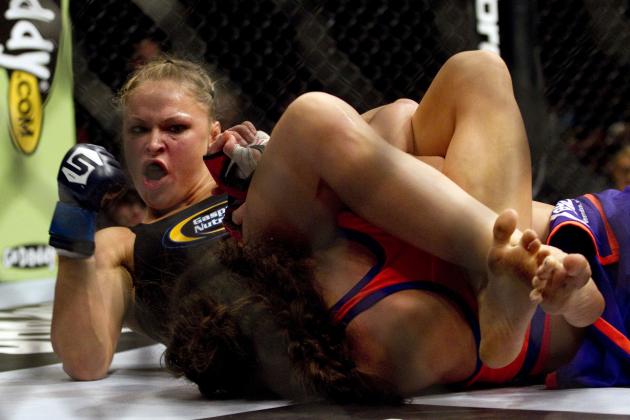 Greg Bartram-USA TODAY Sports

Ronda Rousey: "I think Anderson Silva is the best pound-for-pound fighter in the world, but Weidman is the absolute worst possible matchup for him. It'll definitely be interesting and I'm excited to see what happens on the night."
Miesha Tate: "Chael Sonnen almost beat Anderson based on being a wrestler. And Weidman is a more dynamic wrestler than Sonnen—and Weidman doesn't get caught in submissions. Weidman's wrestling definitely gives him a chance."
Josh Hedges/Zuffa LLC via Getty Images
Georges St-Pierre: "I believe it's a bad matchup for Anderson Silva. Very bad, style-wise. Anderson's weaknesses are Weidman's strengths. I've trained with Weidman and his wrestling is on another level. Not only is Chris Weidman going to beat Anderson Silva, I believe he's going to finish Anderson. I believe it's not going to last too long, this fight. This fight will shock a lot of people. I've trained with Weidman and I know how good he is. He will be the champion. Anderson is smart, though, and is fighting Chris after a long layoff for injury. That's why it is important for Weidman to have a great camp. But if Weidman gets though camp with no problems, he will win this fight."
Matt Serra: "Chris is going to shock a lot of people. The combination of Chris's skill set, which is a bad matchup for Anderson on any day, and his mentality to win is going to result in a huge win. Everyone sees what this kid has skill-wise, and Chris doesn't take 'no' for an answer. He's a beast, he's an animal. He will take this fight to Anderson Silva—but unlike some of the other guys, he will do it with aggression and skills. He's the complete fighter to beat Anderson."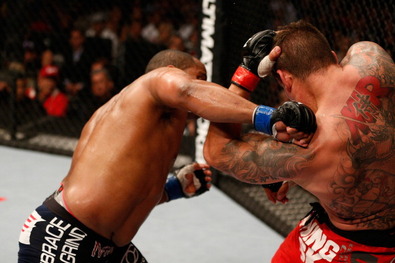 Daniel Cormier: "I am always partial to wrestlers, but I honestly think Weidman has the tools to win this fight. Anderson is the greatest of all time, but Weidman has the blueprint set by Chael Sonnen. It's not like he has to spend a round or two figuring out what he has to do to win. Just follow the game plan that Chael had success with: take Anderson down and pound on him. I think Anderson's takedown defense has improved over the years, but Chris is such a good wrestler he will get the job done. I pick Weidman by decision."
Frank Mir: "Anderson has shown one weakness—he can be controlled on the ground by powerful wrestlers—and Weidman is the most powerful wrestler there is in the division. Everyone is making the comparison to Chael Sonnen, but while Chael controlled Anderson on the ground and landed shots, he couldn't hurt Anderson and that was his undoing. Weidman can hurt Anderson with ground-and-pound and he can submit Anderson.

The only way I see Weidman not winning is if he has a macho thing where he has illusions of striking with the best striker in the world. But I think he's too smart for that. I'm not just saying he's got a great shot, I am picking Weidman to win."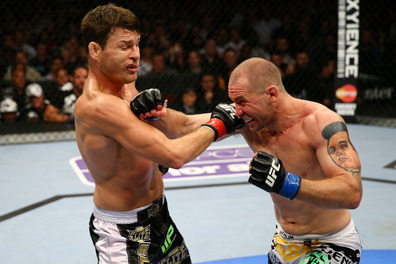 Al Bello/Zuffa LLC/Zuffa LLC Via Getty Images
Michael Bisping: "With Weidman, I think he's got a hell of a shot at becoming the new champion. Anderson Silva is the greatest of all time but, believe me; Weidman has a very bad style for him. A nightmare style, really. Weidman will be able to take Anderson down and do serious damage when he does so. Weidman has a great ground game, and that's where Anderson has shown vulnerabilities. Chael Sonnen took Anderson down at will and Anderson hardly ever got himself up; he had to wait for the end of the round. When I fought Chael, I got up every time and punched him in the face. Anderson is the best fighter of all time, but his weakness is wrestling and Weidman is at least as good as Chael in that area.
Also, you have to factor in that Anderson has been doing this for a very long time now. He's put his body through a lot in the gym over the years and we all get old eventually. Beating guys like one-legged Canadians and broken down, semi-retired light heavyweights is one thing, but if Weidman can back his mouth up and really take the fight to Anderson, I think he can do this."
Alan Belcher: "Weidman has all tools; on paper he can do this. Anderson always seems to find a way to win, but everyone is human, and style-wise, I don't like this for Anderson. Weidman's really good on the top, and he could sub Anderson. He's that good on the ground. What worries me about Weidman is he knows just enough to get himself into trouble on the feet. He is just good enough to land a shot or two and think he can win standing up. But he can't. No one can beat Anderson standing. Weidman has to get this to the ground, and when that happens it is Chris Weidman's fight, Chris Weidman's world. If this hit the floor in the first round, it is going to be insane because Weidman could sub Anderson Silva in the very first round."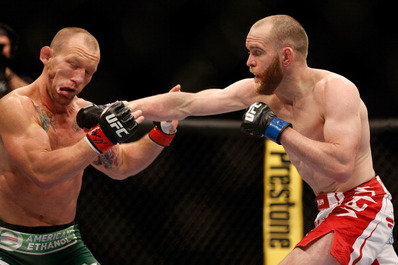 Josh Hedges/Zuffa LLC/Zuffa LLC via Getty Images
T.J Grant: "Personally, I feel Weidman has the tools to win. He's young, confident and his grappling is on a completely different level. You never want to pick against Anderson Silva, but I give a slight edge to Weidman."
Gray Maynard: "If anyone is going to beat Anderson Silva, and stop this guy retiring with the belt, undefeated in the UFC, for sure it is Chris Weidman. Weidman is the only guy I can point to in the division and go 'This guy can do it, this guy can beat Anderson.'"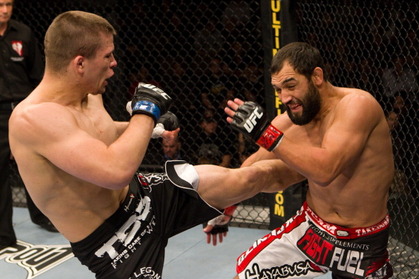 Josh Hedges/Zuffa LLC/Zuffa LLC via Getty Images
Rick Story: "I can see Weidman grinding out a points win by controlling most of the fight on the ground. Ask Chael Sonnen, five rounds is a long time not to make a mistake in Anderson's guard, but Chris is so young and hungry I think he can do it."
Johny Hendricks: "Anderson doesn't like to start fast, but I think in this fight he needs to get going early. Weidman is coming off a long layoff and Anderson should take advantage, jump on him and go for the first-round KO. But if Weidman gets to the later rounds, his wrestling and being so young will take over. I think Weidman has the style and the skills to win this fight, and I pick him to win a decision."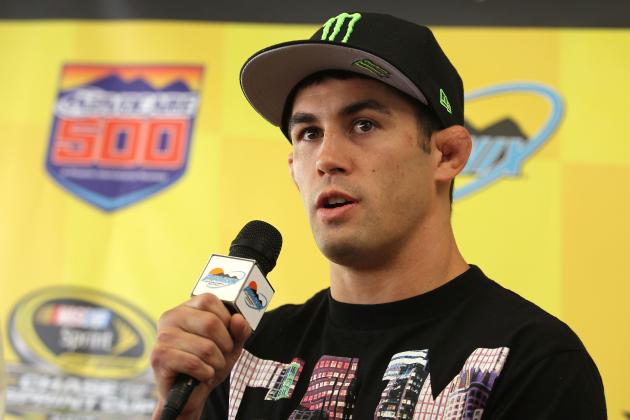 Todd Warshaw/Getty Images

"Weidman can absolutely do it. But against Anderson Silva the pressure is on not to make a mistake while he uses his strikes to set up a takedown. That is the critical thing for Weidman. I've spent some time with Chris, he's a smart dude, and he knows he's not going to try to strike with Anderson. And he has to be conscious of that fact: Striking-wise, Weidman cannot compete against Anderson on any level. At all. The reason he was able to land that elbow against Mark Munoz was Munoz was trying to set up for a takedown just as much as Weidman was and, knowing that, Weidman was waiting for the overhand right and that allowed him to land that elbow. He cannot land anything like that against Anderson.

Weidman has to have the exact same game plan as Chael Sonnen; everyone is saying that is the blueprint for him to win this fight. But here's the problem: Anderson had two fights with Chael and has had over 30 minutes of Octagon time with that exact strategy. Anderson went through at least two camps expecting that to be his opponent's strategy. Anderson's takedown defense is light years away from where it was even two years ago. Remember, takedown defense is only one aspect of one discipline in MMA—and it is one of the easiest aspects to improve on.

But Weidman can still get him down. Anderson takes anything from a minute to half a round to figure out his opponent's distance and timing, and Chris has to make use of that to score a takedown. Once he has Anderson down, he can strike very well, and I expect him to pass and force Anderson into a scramble. Anderson usually waits in his guard for a chance to escape or counter, but Chris hits hard enough and is active enough to force Anderson to try to get back up fast. That's where I see Weidman winning the fight, in the scramble as Anderson tries to get back up."