Re-Ranking Every Team's Top 10 Prospects After the 2013 NHL Draft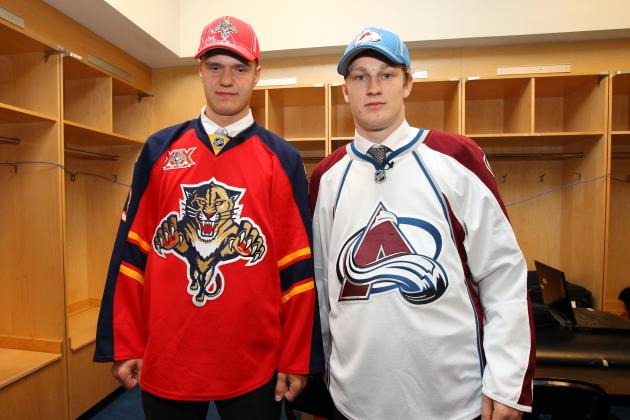 Mike Stobe/Getty Images
Alexander Barkov and Nathan MacKinnon
The 2013 NHL draft seemed like a blur compared to most drafts. The three-minute intervals in between selections felt like a blink compared to years past when a sundial would have been sufficient to track the intervals between picks.
There were some big winners at the draft. Teams such as the Winnipeg Jets, Calgary Flames and Columbus Blue Jackets added some very good players and stockpiled their minor league systems in a meaningful way. Other teams such as the Boston Bruins and the St. Louis Blues weren't nearly as active.
They did not need to be relative to more needy clubs.
Most of the picks from the 2013 NHL draft won't be making an impact in the NHL for a number of years; however, there is a handful that could be significant to their respective teams in the 2013-14 season.
In re-ranking every team's top 10 prospects, I have followed the general guidelines of eligibility for the Calder Trophy of having played 25 games in the previous season (with a few minor exceptions).
The other Calder criteria of playing more than six games in two previous seasons excludes some players whom I would consider prospects, so I will use a total of 60 games played in the NHL previously as another cut-off.
Top prospects are ones that are either on the cusp of playing in the league or they have exemplary talent at the present stage of their careers.
Finally, I've tried to use players that are under the age of 24 exclusively.
Begin Slideshow

»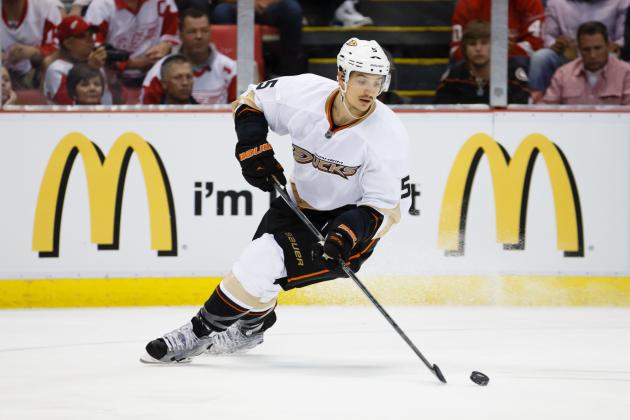 Rick Osentoski-USA TODAY Sports
Anaheim Ducks
The Anaheim Ducks have good organizational depth at most positions right now, although there are no exceptional talents in their system. The Ducks have integrated new players into their team over the past year, so Emerson Etem and Kyle Palmieri are no longer classified as prospects.
The Ducks are poised to remain a very good team for a number of years
Top 3 Prospects: 1. F Devante Smith-Pelly, 2. G John Gibson, 3. D Hampus Lindholm
Devante Smith Pelly is an above-average talent with the ability to run over guys as well as score an important goal when needed. Goaltender John Gibson is likely NHL-ready and has the ability to develop into an NHL starter. Hampus Lindholm continues to learn the North American game and had a solid season with the Norfolk Admirals last season, putting up 11 points.
Other top prospects: Rickard Rakell, Shea Theodore, Max Friberg, Nick Kerdiles, Kevin Roy, Shea Theodore, Peter Holland, Sami Vatanen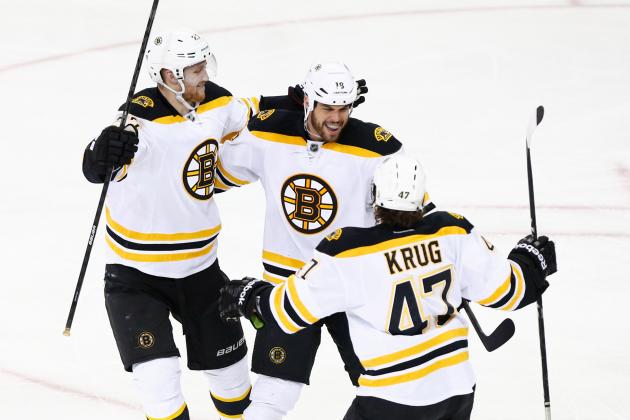 Debby Wong-USA TODAY Sports
Boston Bruins
The Boston Bruins were not particularly active during Sunday's draft, but GM Peter Chiarelli has a lot to consider internally, as his roster may shift by as many as three or four significant players this summer. The Bruins have had some good drafts in recent years. Their current roster features more players picked up via trade or free agency, but there are some good prospects in the system.
Dougie Hamilton will be excluded as he played as a regular for the better part of this season, but he is obviously a key part of the Bruins' future. Linus Arnesson was the Bruins' first pick in the draft but doesn't fit into this list yet.
Top 3 Prospects: 1. D. Torey Krug, 2. C. Ryan Spooner, 3. D. Max Chudinov
Torey Krug should be patrolling the blue line for the Bruins next year. He was very good in the Bruins' run to the Eastern Conference championship. Former Peterborough Pete Ryan Spooner has been knocking on the door for the past two seasons. He's improved his defensive game and should be a bottom-six player for the Bruins next year.
Defenceman Max Chudinov hasn't committed to playing in North America yet, but he seems to have the type of hard-nosed game that would transfer well to Beantown.
Other top prospects: Malcolm Subban, Jared Knight, Anthony Camara, Alexander Khokhlachev, Seth Griffith, Brian Ferlin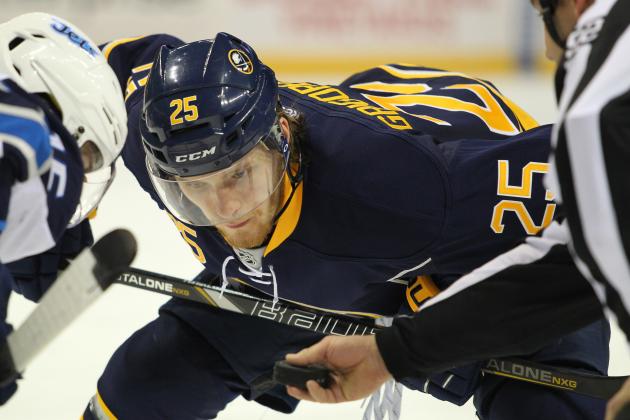 USA TODAY Sports
Mikhail Grigorenko
The Buffalo Sabres had a very good day at their NHL draft table. They added some key components for down the road and have a real foundation on defence now. Rasmus Ristolainen and Nikita Zadorov have the potential to be top-pairing defencemen in a few years.
Later picks Justin Bailey and J.T. Compher are a few years away but offer a great deal of promise up front. Marcus Foligno has been excluded from the list based on his NHL games played.
Top 3 Prospects: 1. C Mikhail Grigorenko, 2. D Jake McCabe, 3. RW Joel Armia
Mikhail Grigorenko has come along slowly in Buffalo, but he's 19 years old, so it is way too early to panic. Big centers with all of this offensive upside are hard to find. Jake McCabe continues to develop at Wisconsin. He's got decent size and can contribute offensively.
Armia has great size and loves to shoot the puck. His SM Liiga stats are solid given the level of competition.
Other top prospects: Matt Hackett, Rasmus Ristolainen, Nikita Zadorov, Johan Larsson, Brayden McNabb, Daniel Catenacci, Mark Pysyk, Andrey Markov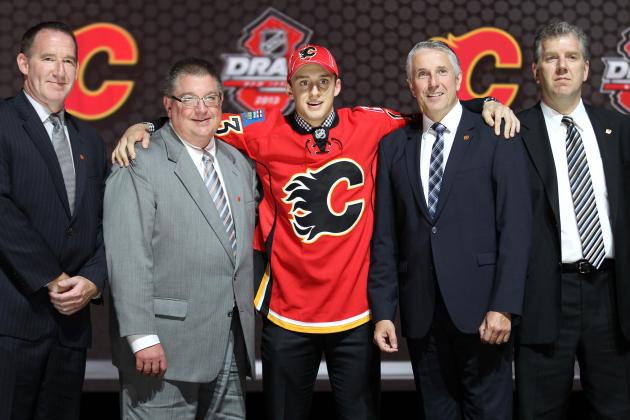 Ed Mulholland-USA TODAY Sports
Calgary Flames
The Calgary Flames had a great day in Newark, N.J. The club added some great talent and general volume to its minor league system. The Flames may have been tempted to trade at least one of their first three picks but did well to resist.
They have some excellent prospects up front, and this team will be an exciting one to watch as the core group of forwards grows together.
Top 3 Prospects: 1. LW Sven Baertschi, 2. C Max Reinhart, 3. C Sean Monahan
Sven Baertschi is a great winger. He has blazing speed and is a brilliant playmaker.
He should challenge for the Calder Trophy next year. Center Max Reinhart is a top-six talent, although he may be a year or two away from those minutes on a regular basis. He's got good size and plays a solid 200-foot game. Center Sean Monahan has bulled his way into the top-three-prospects list for the Flames. He will get every opportunity to be an NHL regular next season.
He should be a good fit in Calgary going forward.
Other top prospects: Laurent Brossoit, Akim Aliu, Morgan Klimchuk, John Gaudreau, Mark Jankowski, Markus Granlund, Greg Nemisz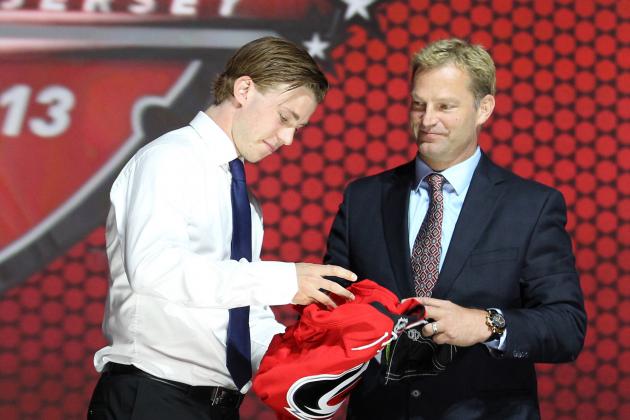 Ed Mulholland-USA TODAY Sports
Carolina Hurricanes
The Carolina Hurricanes have depth at the NHL level up front and an adequate defensive corps. In their larger system, they also have some good defensive prospects but lack quality forwards that are locks to be top-six forwards.
Elias Lindholm, the fifth overall pick in the 2013 draft, will help in that department. He is very close to being NHL-ready, and depending on what the Hurricanes would like to do, he may get his chance next season.
Top 3 Prospects: 1. D. Ryan Murphy, 2. D. Danny Biega, 3. C. Elias Lindholm
Ryan Murphy has the chance to become a special NHL player. He's one of the better defensive prospects in the entire league. He's not huge in size, but his offensive numbers have been big in junior. Danny Biega has just ended his career at Harvard, and the Montreal native has the makings of an NHL defenceman with some AHL seasoning.
Elias Lindholm has world-class ability. He could play in Carolina next year as a top-nine forward.
Other top prospects: Jacob Slavin, Trevor Carrick, Victor Rask, Zac Dalpe, Daniel Altshuller, Evgeni Dadonov, Phil Di Giuseppe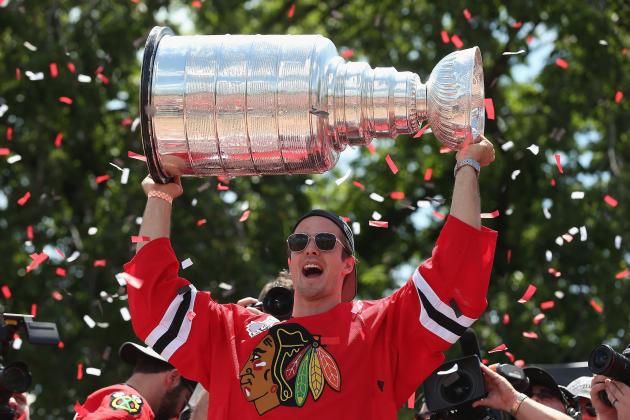 Jonathan Daniel/Getty Images
Chicago Blackhawks
The Chicago Blackhawks have used the draft in the past to build their team. Many of their key components were drafted when the Blackhawks were near the bottom of the league, seven and eight years ago now. They selected some good players yesterday, but no one that will make an immediate impact at the NHL level.
Frankly, they did not need to, as they have very good depth at the NHL level and throughout their farm system.
Top 3 Prospects: 1. C. Teuvo Teravainen, 2. G. Antti Raanta, 3. LW Jeremy Morin
Teuvo Teravainen has put up solid numbers in Jokerit in the SM-Liiga. Teuvo is not large, but he plays an all-zone game that should be welcomed in Chicago in another year or two. The Blackhawks have recently signed Antti Raanta, who has all kinds of potential. He could be on their NHL roster next year.
Left wing Jeremy Morin has been a good producer with the Rockford Ice Hogs. He's on the verge of being an NHL regular with his aggressive style and ability to put the puck in the net.
Other top prospects: Brandon Whitney, Maxim Shalunov, Ben Smith, Terry Broadhurst, Brandon Pirri, Drew LeBlanc, Shawn Lalonde
The Colorado Avalanche had the top pick in the 2013 draft, and with the addition of Nathan MacKinnon, they have a new claimant to the title of best NHL prospect.
The Avalanche have some good pieces in place in the minor league system; however, they will continue to be asked questions about not taking Seth Jones.
Top 3 Prospects: 1. C Nathan MacKinnon, 2. D Duncan Siemens, 3. G Calvin Pickard
Nathan MacKinnon is a world-class talent. He has all of the tools to be a top-line centre. He may not get that opportunity right away in Colorado, but he should challenge for the Calder Trophy with his level of play where it is already.
Duncan Siemens has been a very good junior defenceman. He has a lot of promise and should be a top-four defenceman in a few more years.
Goaltender Calvin Pickard has put up good numbers everywhere he has played. He had a .918 save percentage with the Lake Erie Monsters this past season.
Other top prospects: Garrett Meurs, Mike Connolly, Joey Hishon, Stefan Elliott, Chris Bigras, Michael Sgarbossa, Kieran Miller
It is a fool's game to guarantee that 18-year-old hockey players are sure bets in the NHL, but observers can be assured that the Columbus Blue Jackets added some quality young prospects in the 2013 draft.
They didn't trade away early picks and selected some great forwards as well as a defenceman in Dillon Heatherington, who had first-round talent despite being a second-round pick.
Due to games played, Cam Atkinson and Tim Erixon were excluded from this list.
Top 3 Prospects: 1. D Ryan Murray, 2. C Boone Jenner, 3. G Oscar Dansk
Defenceman Ryan Murray has all the physical tools to be a No. 1 defenceman in the NHL. He has battled injuries, but he has an excellent offensive game that should allow him to be a good point producer at the NHL level.
Center Boone Jenner plays with high energy and loves to engage physically. He's got great hands and should be a top-six forward, or at least a top-nine forward, in another year or so.
Oscar Dansk's numbers weren't great in junior this year with an .888 save percentage, but the Erie Otters were awful despite the sublime play of Connor McDavid.
Other top prospects: Alexander Wennberg, Maksim Mayorov, T.J. Tynan, Cody Goloubef, Kerby Rychel, Joonas Korpisalo, Lukas Sedlak
The Dallas Stars have developed some excellent young prospects in recent years, headlined by Jamie Benn. They have a number of good young players but none that could be considered in the upper echelon of prospects. The Stars added a very good right winger in Valeri Nichushkin, who immediately enters their top 10 in terms of prospects.
It remains to be seen if he can make their NHL roster next season, although many seem convinced that he will do just that.
Top 3 Prospects: 1. RW Brett Ritchie, 2. G Jack Campbell, 3. D Jamie Oleksiak
Right wing Brett Ritchie has all the makings of being an impact NHL player. He has great size at 6'4" and over 200 pounds. He has all kinds of skill and speed. He ripped apart the OHL and his game is well-suited to the NHL style of play. Goalie Jack Campbell has the makings of a starting NHL goalie. He has starred for the U.S. in international hockey and been a very good AHL goaltender.
Jamie Oleksiak is a towering rearguard at 6'7", and the Toronto native is becoming a premium all-around defenceman. He can score and dominate physically in his own end. A lot of promise in his game for this young prospet.
Other top prospects: Alex Chiasson, Valeri Nichushkin, Radek Faksa, Devin Shore, Mike Winther, Joe Morrow, Patrik Nemeth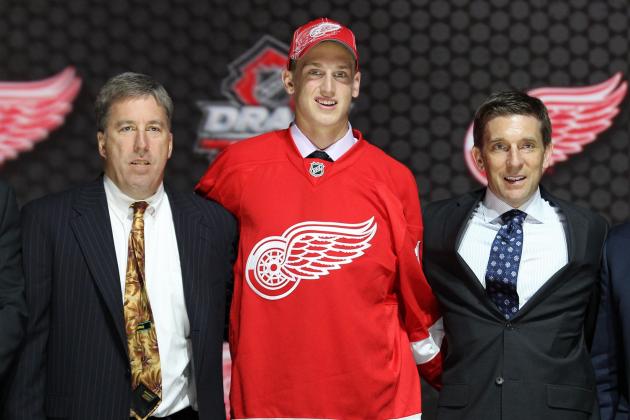 Ed Mulholland-USA TODAY Sports
Detroit Red Wings
The Detroit Red Wings have had one of the better minor league systems in the NHL over the past 20 years. They certainly add free agents and make trades, but they prefer to grow from within. It has served them well, and they continue to have a number of very good prospects both on defence and up front.
Anthony Mantha, selected in the 2013 draft, will join the group of top-10 prospects with his size and scoring ability.
Top 3 Prospects: 1. D Dan DeKeyser, 2. LW Tomas Tatar, 3. G. Peter Mrazek
Defenceman Dan DeKeyser will not be a No. 1 NHL defenceman, but he has all of the tools to be a very good top-four defender. He's a good skater who adjusted well to NHL play this past season.
Left wing Tomas Tatar is on the verge of regular NHL duty. In most other organizations, he would be there already. He's not a huge player, but he plays a bigger game than his size and is a good scorer.
Czech goalie Peter Mrazek has decent size and has put up very good numbers both in junior and at the pro level. He could challeng to be a starting NHL netminder in short order.
Other top prospects: Teemu Pulkkinen, Martin Frk, Anthony Mantha, Andreas Athanasiou, Riley Sheahan, Ryan Sproul, Landon Ferraro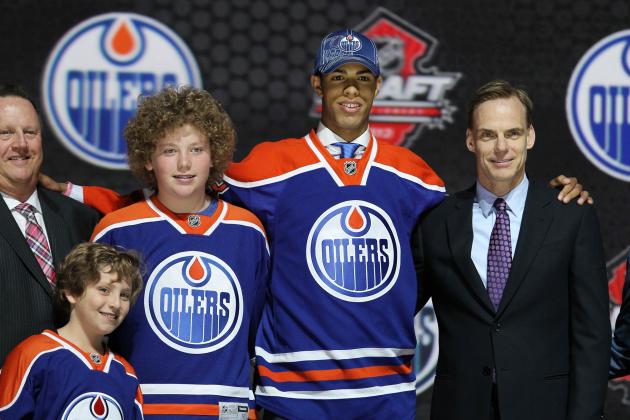 Ed Mulholland-USA TODAY Sports
Edmonton Oilers
The Edmonton Oilers have focused on their minor league development system and it has begun to pay dividends. Their AHL team is competitive and there is a system of play in place from the ECHL through the NHL. They need some young defencemen to make it to the NHL sooner rather than later, but it may be another year for a defenceman like Martin Marincin to do so.
The Oilers added some good pieces Sunday, and the two Russians selected in later rounds could develop into NHLers if they come to North America in the next year or two.
Top 3 Prospects: 1. D Oscar Klefbom, 2. D Martin Marincin, 3. RW Toni Rajala
While at least half a season in the AHL might make the most sense for Swedish defenceman Oscar Klefbom, it appears he will get every opportunity to play in Edmonton next year. Martin Marincin had a very good year with the Oklahoma City Oil Barons and is a dark horse to play in Edmonton next year.
Toni Rajala is another small forward in the Oilers system, but he has exceptional speed and a good set of hands. The Oilers need to take a long look at him in training camp in a few months.
Other Top Prospects: Darnell Nurse, Mark Arcobello, Tyler Pitlick, Taylor Fedun, David Musil, Martin Gernat, Olivier Roy
The Florida Panthers upset the apple cart at the 2013 NHL draft by selecting Finnish center Alexander Barkov. It's not that Barkov's talent didn't merit this selection, but most observers felt GM Dale Tallon would select Seth Jones.
The Panthers have a few good defensive prospects in their system and some talented forwards. They should be much better in a few years if these prospects continue to develop.
Top 3 Prospects: 1. C Nick Bjugstad, 2. LW Quinton Howden, 3. C Alexander Barkov
Center Nick Bjugstad has size, skill and speed. He could become a very good NHL center in the next few seasons. He has all the tools to dominate. Winger Quinton Howden has a good shot and has the kind of size that all NHL teams are looking for in today's NHL. He should be a big part of the Panthers' future.
Alexander Barkov could be an exceptional NHL player. He's got it all and he's not even 18 years old. Look for him to challenge for a roster spot this fall and be one of the youngest players in the NHL.
Other Top Prospects: Jacob Markstrom, Zach Hyman, Yaroslav Kosov, Rocco Grimaldi, Mike Matheson, Alex Petrovic, Kyle Rau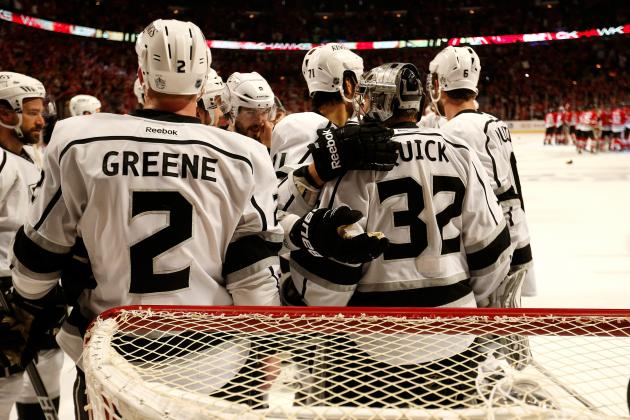 Gregory Shamus/Getty Images
Los Angeles Kings
The Los Angeles Kings have some very good prospects in all positions. They have a number of players that would be playing on other NHL rosters if they weren't facing the depth the Kings boast. It will be interesting to watch these talented players try to crack the Kings roster in the next year or two and see who might be moved if they do.
Valentin Zykov is a top-10 prospect based on his excellent play in the QMJHL last year; don't count him out to be a member of the Kings in another season or two at most.
Top 3 Prospects: 1. C Tyler Toffoli, 2. LW Tanner Pearson, 3. G Ben Scrivens
Center Tyler Toffoli made quite a splash this year and will only improve thanks to his experiences in 2013. He could develop into a top-line center over time—not that the Kings need one with the underrated Anze Kopitar in place. Tanner Pearson has very good potential and could offer some good size and speed off the left wing.
Goalie Ben Scrivens has not been discussed a lot since the trade that sent Jonathan Bernier the other way. He has some great upside and is NHL-ready based on his previous play.
Other Top Prospects: Jean-Francois Berube, Linden Vey, Nikolai Prokhorin, Derek Forbort, Nicolas Delauriers, Jordan Weal, Valentin Zykov
Rob Grabowski-USA TODAY Sports
Minnesota Wild
The Minnesota Wild added some depth players in the 2013 draft, but with their minor league riches and players that have now cracked their NHL roster, they are more in a position to move some of these assets for established NHL game-changers.
The Wild integrated Mikael Granlund, Charlie Coyle and Jonas Brodin this season, so with their games played, they are not included in this list.
Top 3 Prospects: 1. D Matthew Dumba, 2. C Tyler Graovac, 3. LW Nino Niederreiter
Defenceman Matthew Dumba is an elite prospect who is expected to develop into a top-pairing defender. He has average size but hits like he is much bigger. He has great offensive skill and loves to mix it up. All of this served him well in the WHL.
Tyler Graovac has good size at center and projects as a second- or third-line center. He plays a very good two-way game.
Nino Niederreiter recently joined the Wild from the Islanders. He has great skills and can play the game at a high speed.
Other Top Prospects: Johan Gustafsson, Jarod Palmer, Jason Zucker, Zach Phillips, Tyler Cuma, John Draeger, Darcy Kuemper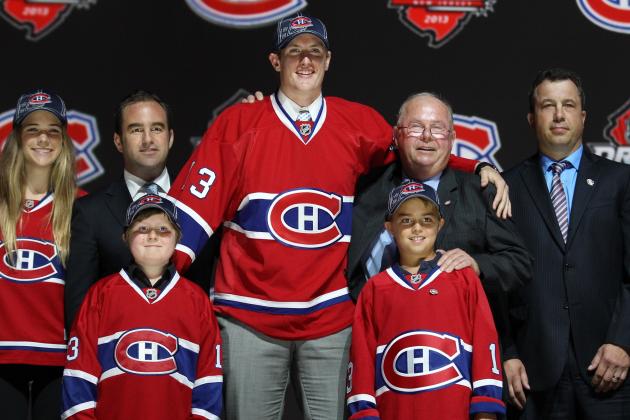 Ed Mulholland-USA TODAY Sports
Montreal Canadiens
The Montreal Canadiens came into the 2013 draft needing to add some size and grit. They did this, and although these players aren't NHL-ready, they drafted some very good prospects. They picked up the best goaltender in the draft in Zachary Fucale and now have one of the better goaltending groups, top to bottom, in the NHL. He is immediately one of their top prospects.
The Canadiens have some very good defensive prospects and the team seems poised to be good for a number of years.
Top 3 Prospects: 1. LW Charles Hudon, 2. D Nathan Beaulieu, 3. D Jarred Tinordi
Left winger Charles Hudon is a dynamic young player. He's a very good skater and there is no reason to think he won't be an impact player when he arrives in the NHL. Defenceman Nathan Beaulieu has size and a bit of a mean streak. Coach Michel Therrien will enjoy his strong play in all three zones.
Hulking defenceman Jarred Tinordi is going to make life miserable for opposing forwards. He is a beast in his own end.
Other Top Prospects: Dustin Tokarski, Zach Fucale, Tim Bozon, Louis Leblanc, Michael Bournival, Dalton Thrower, Morgan Ellis
The Nashville Predators had Christmas come a little early this year with defenceman Seth Jones coming to them at the No. 4 pick. Jones should make the club next year and has the potential to be a superb defenceman for multiple seasons. The Predators already had some good talent in their system, but Seth Jones suddenly becomes their top NHL prospect.
The Music City is going to be even more challenging to visit for NHL teams. The Nashville defensive corps is very good.
Top 3 Prospects: 1. D Seth Jones, 2. C Filip Forsberg, 3. C Austin Watson
Defenceman Seth Jones has top-pairing potential and specifically, No. 1 potential. He'll learn the pro game from Shea Weber, and that can only serve him well. Center Filip Forsberg has a lot of talent and is still just 18 years old. He is a former No. 1 pick for the Washington Capitals and it will be exciting to see him grow in Nashville.
Center Austin Watson is a former Memorial Cup winner and projects as a very good top-nine forward. He's imposing in the middle and offers some secondary offence at the pro level.
Other Top Prospects: Magnus Hellberg, Jimmy Vesey, Zach Stepan, Mattias Elkholm, Anthony Bitetto, Joonas Rask, Jeremy Smith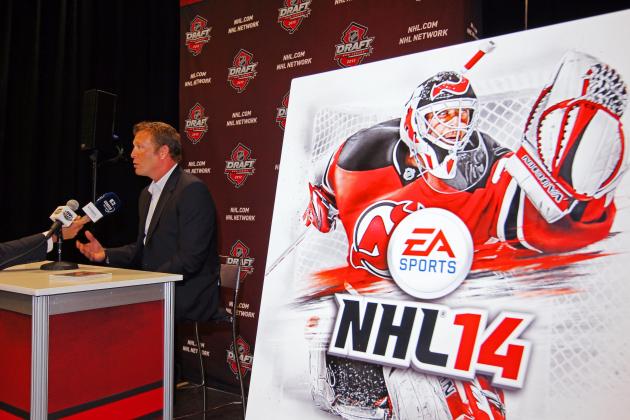 Ed Mulholland-USA TODAY Sports
New Jersey Devils
The New Jersey Devils have a number of ongoing needs to fill in their minor league system, although outside of right wing and between the pipes, they have some good prospects in most positions. Defenceman Steve Santini becomes one of their better prospects, although they do have good defensive depth in their system.
The Devils are lacking elite scoring, though, and will have to think about adding that through trade or free agency.
Top 3 Prospects: 1. LW Reid Boucher 2. D Jon Merrill, 3. D. Damon Severson
Reid Boucher has some scoring ability. His game features a great shot and he knows how to use it to his advantage. He's not a big player but has learned to use his body to get open in the offensive zone. Jon Merrill has played some good hockey at Michigan and his skating appears to be above average with his ability to rush the puck or get back to defend.
Damon Severson has played well for Canada internationally and projects to be top-four defenceman if he continues to grow his defensive game.
Other Top Prospects: Steve Santini, Maxime Clermont, Artur Gavrus, Stefan Matteau, Mike Sislo, Ben Johnson, Blake Coleman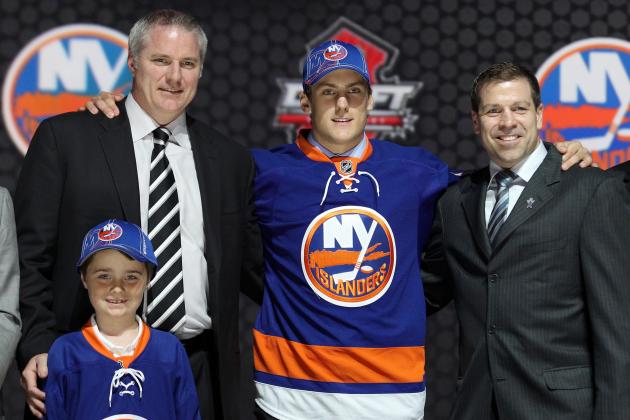 Ed Mulholland-USA TODAY Sports
New York Islanders
The New York Islanders have one of the most talented groups of defencemen in the minor league system. They added to that with the addition of Ryan Pulock. Pulock has top-pairing potential in a few years, if there is a spot for him in the Islander organization. The team added a goaltending prospect at the 2013 draft as well, and that helped to address one need in the organization.
There should be some exciting years ahead for Islander fans.
Top 3 Prospects: 1. C Ryan Strome, 2. D Griffin Reinhart, 3. D. Ville Pokka
Center Ryan Strome has the potential to be a top-line center in the NHL, although that won't happen soon with the Islanders. He may even have to play on the wing next year if he makes the NHL team. Defenceman Griffin Reinhart is an excellent skater with size. He should be a calming influence on some of the offensive-minded Islander defenders.
Ville Pokka is not a flashy player, but he does offer steady play and some advanced hockey instincts.
Other Top Prospects: Anders Nilsson, Kirill Kabanov, Ryan Pulock, Brock Nelson, Matt Donovan, Adam Pelach, Calvin de Haan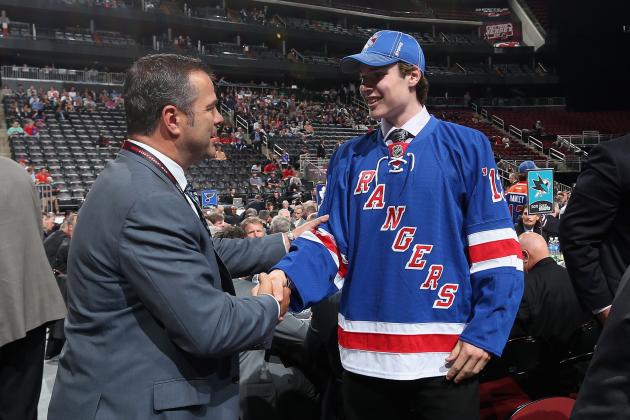 Bruce Bennett/Getty Images
New York Rangers
The New York Rangers did not have any early picks in the 2013 draft but did manage to add some potential NHL players in the later rounds. Adam Tambellini, Pavel Buchnevich and Anthony Duclair are years away from playing NHL hockey, but they all have upside.
The Rangers do need to add a goalie in their system but otherwise have some solid prospects in all positions.
Top 3 Prospects: 1. LW Chris Kreider, 2. RW J.T. Miller, 3. Dylan McIlrath
Chris Kreider has great skating ability and could develop into a top-six winger at the NHL level. J.T. Miller did play 26 NHL games this year, but he is treated as a prospect. He shows good scoring potential and has good size on the wing at over 6'1" and 200 pounds. The former No. 1 pick of the Rangers has very good upside.
Defenceman Dylan McIlrath has size and a real mean streak. He plays an aggressive game and will not back down from anyone on the ice.
Other Top Prospects: Cam Talbot, Jesper Fasth, Christian Thomas, Steven Fogarty, Brady Skjei, Cristoval Nieves, Michael St. Croix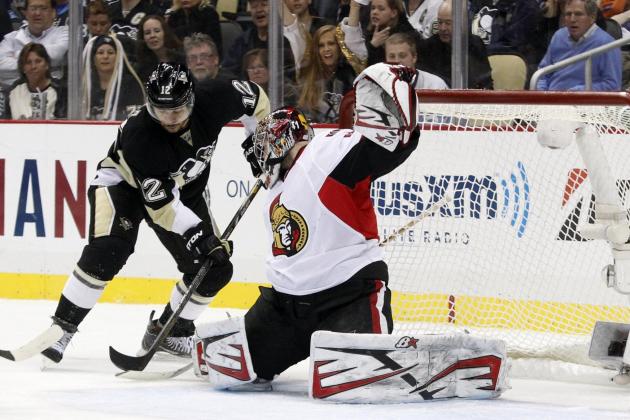 Charles LeClaire-USA TODAY Sport
Ottawa Senators
The Ottawa Senators have one of the better minor league systems in the NHL.
They have a number of players that are on the cusp of playing at the next level. They also added Mika Zibanejad and Jakob Silfverberg to their NHL roster and they played some solid hockey for the Senators this year.
The Senators added Curtis Lazar at this year's draft, making him one of their top prospects due to his great all-around game and leadership qualities. The Senators have some very talented players in their pipeline.
Top 3 Prospects: 1. G Robin Lehner, 2. LW Matt Puempel, 3. D Cody Ceci
Robin Lehner is a very talented netminder who has a chance to be a No. 1 goalie in time. He has no major flaws in his game and continues to improve with the Senators.
Left wing Matt Puempel is a slick-skating winger who can put the puck in the net. He has soft hands and great ability to make his teammates look good in the offensive zone.
Defenceman Cody Ceci is dynamic on the point and has top-pairing potential in the NHL. He's a few years away, but look for him to be an impact defender at that time.
Other Top Prospects: Curtis Lazar, Chris Driedger, Mark Stone, Shane Prince, Nikita Filatov, Jim O'Brien, Andre Petersson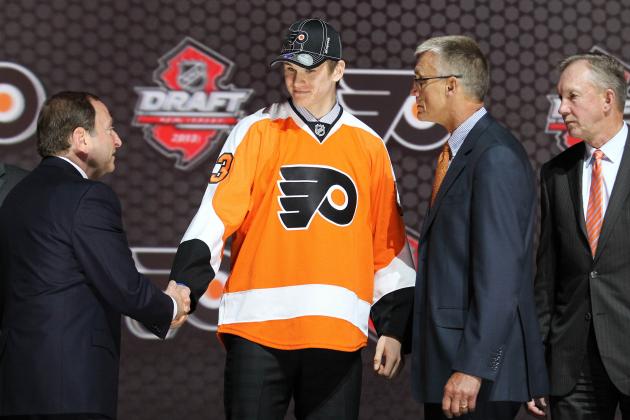 Ed Mulholland-USA TODAY Sports
Philadelphia Flyers
The Philadelphia Flyers selected two very good defencemen with their first two picks in the 2013 draft. The Flyers needed to add some defencemen that project to be top-four guys, and both of these players fill that requirement.
That won't be right away, but given the right opportunities, both of these players might become very good defenders. The Flyers can still use more centers at the minor league level, but otherwise, outside of still needing a blue-chip netminding prospect, they have a good foundation for the most part.
Top 3 Prospects: 1. C Scott Laughton, 2. C Nick Cousins, 3. RW Jason Akeson
Scott Laughton has been a good two-way center at the CHL level and projects to do the same thing at the NHL level. He plays with a lot of aggression and likes to take the body, which he did on many nights in Oshawa. Center Nick Cousins is a smaller center that has put up very good numbers in the OHL. He has soft hands and is a very good playmaker.
Right wing Jason Akeson has been a good scorer at the AHL level. The Flyers aren't very deep at right wing in their system, so Akeson is a valuable commodity.
Other Top Prospects: Anthony Stolarz, Brandon Manning, Shayne Gostisbehere, Samuel Morin, Robert Hagg, Mitch Wahl, Taylor Leier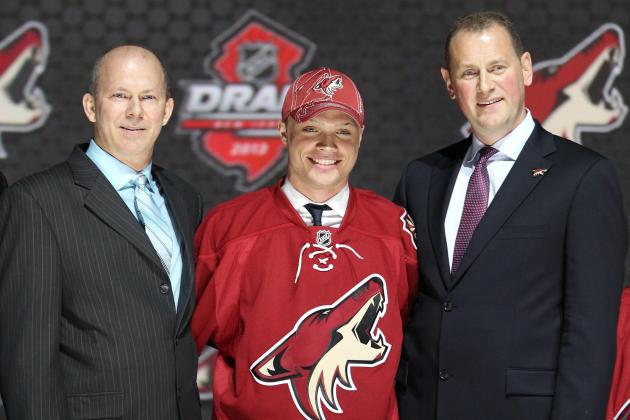 Ed Mulholland-USA TODAY Sports
Phoenix Coyotes
The Phoenix Coyotes have ongoing issues off the ice but continue to move forward with good drafting and by building for the future. The Coyotes added two talented forwards Sunday in Max Domi and Laurent Dauphin. Domi instantly becomes one of the top three prospects in the Coyotes system and Dauphin joins their top 10.
Domi has a good chance of playing in Phoenix next year under Dave Tippett. The Coyotes need more depth at the forward position organizationally, but their high-end talent is strong.
Top 3 Prospects: 1. C Max Domi 2. D Brandon Gormley, 3. LW Lucas Lessio
Max Domi can play either on the wing or at center, so he'll offer some good versatility to coach Dave Tippett. He could be a top-six forward next year if he has a great training camp. Defenceman Brandon Gormley is a responsible defender who can contribute offensively.
Lucas Lessio has good size and teamed with other talented Oshawa Generals to dominate opposing teams on many nights in the OHL. The Toronto native has a bright future.
Other Top Prospects: Mark Visentin, Mike Lee, Henrik Samuelsson, Andy Miele, David Rundblad, Michael Stone, Laurent Dauphin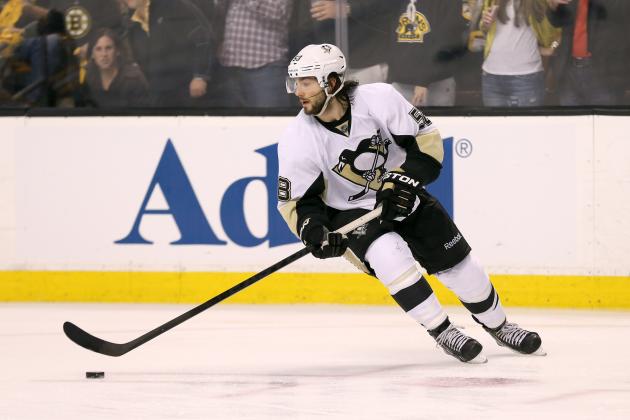 Bruce Bennett/Getty Images
Pittsburgh Penguins
The Pittsburgh Penguins have very good depth in their organization and had few needs coming into the 2013 draft. They added one of the best goalies in the draft in Tristan Jarry, and he instantly becomes one of their better prospects. Finding roster spots for many players that are on the cusp of playing in the NHL is likely the Penguins' biggest issue.
They have prospects at varying degrees of NHL readiness, so they seem to be set at most positions for a number of years.
Top 3 Prospects: 1. D Derrick Pouliot, 2. F Beau Bennett, 3. D Olli Maatta
Defenceman Derrick Pouliot had a great junior career with the Portland Winterhawks. He's a defenceman that can do it all and plays a three-zone game. He's a point-getter and someone who can take care of his own end. He's got a bright pro future.
Forward Beau Bennett did play 26 games last season in the NHL but is included in this list as a prospect. He's 21 years old and is just two years removed from the University of Denver. He's got good size and should be a solid top-nine forward moving forward for the Penguins.
Defenceman Olli Maatta was a big contributor for the London Knights. He's a big defenceman who can play in all game situations. He earned almost a point per game in the OHL playoffs in the past two years with 37 points in 40 games.
Other Top Prospects: Tristan Jarry, Brian Durnoulin, Scott Harrington, Josh Archibald, Robert Bortuzzo, Teddy Blueger, Scott Wilson.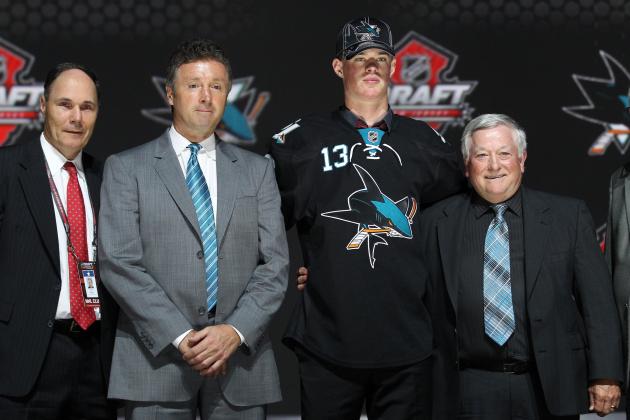 Ed Mulholland-USA TODAY Sports
San Jose Sharks
The San Jose Sharks selected Everett Silvertip Mirco Mueller with their first selection and added to their already impressive group of young prospects. The Sharks did not have acute weaknesses to address but could use some more size in their minor league system, particularly at forward.
They don't really have any true game-changers in their organization, either.
Top 3 Prospects: 1. C Tomas Hertl, 2. C Freddie Hamilton, 3. LW Matt Nieto
Tomas Hertl has been a very good point producer in the Czech Elite League. He is a natural goal scorer and is not afraid to engage physically. He could be a top-six forward in the NHL in the coming years.
Freddie Hamilton doesn't have the size of his brother Dougie, but he's a very bright player who gets the most out of his game. If he can transfer his junior scoring to the NHL, he could be a productive top-nine player, at the very least.
Winger Matt Nieto had an impressive career at Boston University and projects as a top-six forward in the NHL. He's a California-born player and is one of a wave that is beginning to hit the NHL.
Other Top Prospects: Mirco Mueller, Harri Sateri, Max Gaede, Matt Tennyson, Chris Tierney, Konrad Abeltshauser, Sebastien Stalberg, Dan O'Regan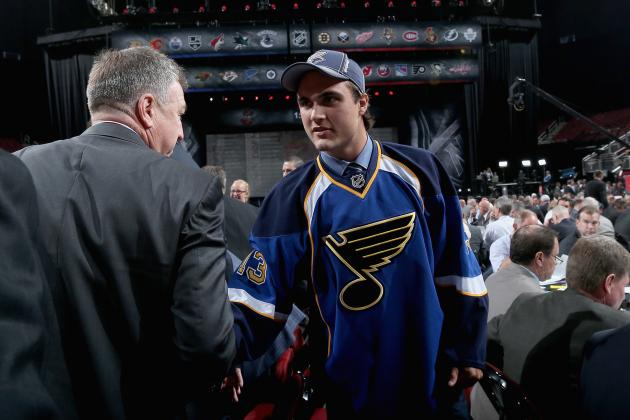 Bruce Bennett/Getty Images
St. Louis Blues
The St. Louis Blues have one of the deeper talent pools of all NHL organizations. They have top talent at both forward and defence. They also have a good prospect in goaltender Jake Allen.
In William Carrier, they added a player who joins their list of top prospects, as he was a steal for the Blues when they got him as late they did. St. Louis should be very pleased with their depth.
Top 3 Prospects: 1. RW Ty Rattie, 2. C Max Gardiner 3. G Jake Allen
Ty Rattie could become a top-line forward in the NHL. He has to get stronger and continue to develop his overall game, but he's well on his way to being an impact player at the NHL level. Center Max Gardiner is years away from playing in the NHL, but he's got good size and is a talented passer.
Goaltender Jake Allen has been a good pro to date and has size and athletic ability. He could develop into a No. 1 goalie in a few more years as he's just 22 years old.
Other Top Prospects: William Carrier, Jordan Binnington, Sam Kurker, Yannic Veilleux, Jordan Schmaltz, Cade Fairchild, Dimitrij Jaskin
The Tampa Bay Lightning had the third selection in the NHL draft. They selected the most offensively talented player in the draft class. Left wing Jonathan Drouin will be able to play in the NHL next year, and the already powerful Tampa Bay offence will be even more explosive with his addition.
The Lightning also selected winger Adam Erne, who is an above-average NHL prospect.
Top 3 Prospects: 1. LW Jonathan Drouin, 2. G Andrey Vasilevskiy, 3. C Tyler Johnson
Jonathan Drouin is a potential Art Ross Trophy winner in a few years. He is going to flourish amid all the talent in Tampa Bay. There is every reason to believe that he can make the team next season and blossom immediately. He's an excellent talent.
Goalie Andrey Vasilevskiy could become a dominant NHL goalie. He's got size, skill and excellent fundamentals. He is capable of stealing games.
Tyler Johnson is small but scores everywhere he goes. He plays with an edge and you count on him to continue to push for a regular NHL roster spot.
Other Top Prospects: Nikita Kucherov, Tanner Richard, Slater Koekkoek, Dylan Blujus, Vladislav Namestnikov, Radko Gudas, Matthew Peca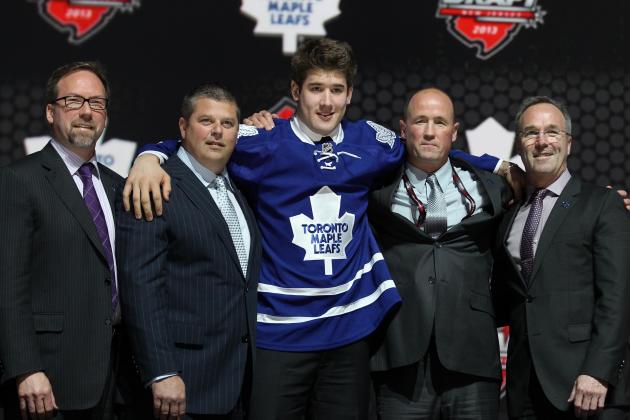 Ed Mulholland-USA TODAY Sports
Toronto Maple Leafs
The Toronto Maple Leafs needed to add some size to their organization and they certainly did in 6'5" center Frederik Gauthier. This helps out with their overall organizational depth, which continues to improve over time. Brian Burke began the process and GM Dave Nonis is continuing it in the same vein. The Leafs are right on the verge of becoming a contending team on a regular basis.
With Jonathan Bernier and returnee James Reimer in net, the Leafs have a good tandem moving forward.
Top 3 Prospects: 1. C Joe Colborne, 2. D Morgan Reilly, 3. LW Tyler Biggs
Center Joe Colborne has that lethal combination of size, speed and strength. At 6'5", he's going to be given every opportunity to develop into a top-six forward. He's a quality prospect.
Defenceman Morgan Reilly should have Leafs fans very excited. He's the total package on defence and could develop into a top-pairing defender.
Oshawa General Tyler Biggs dominated several OHL games this season and is a big body with skill. He's a few years away, but he has a bright pro career ahead of him if he continues to work hard.
Other Top Prospects: Carter Ashton, Matt Finn, Mark Owuya, Josh Leivo, Stuart Percy, Jesse Blacker, Spencer Abbott
The Vancouver Canucks had a very good draft day. They didn't get to select a franchise player, but adding Bo Horvat and Hunter Shinkaruk were great moves. Shinkaruk could develop into a prolific scorer at the pro level, and Bo Horvat has a lot to offer the Canucks as a complete player.
Both players are now in the top 10 of Vancouver's prospects. The organization does need to add to its goaltending depth and defensive corps in the minor leagues
Top 3 Prospects: 1. RW Nicklas Jensen, 2. C. Brendan Gaunce, 3. D Frank Corrado
Nicklas Jensen has been a good scorer at all levels of hockey to date. He likes to shoot the puck and has good size. He should push for a regular role in Vancouver next season. Center Brendan Gaunce has size and skill. He's a playmaking center who can also shoot the puck. He likes to get his nose dirty as well.
Defenceman Frank Corrado isn't likely to put up big numbers in the NHL, but he has the potential to be a solid defender for the Canucks. They need to continue to get younger, and Frank could be a part of that movement. The Toronto native is still a few years away from regular NHL duty, though.
Other Top Prospects: Bo Horvat, Patrick McNally, Hunter Shinkaruk, Joacim Erikkson, Joseph Labate, Darren Archibald, Alexandre Grenier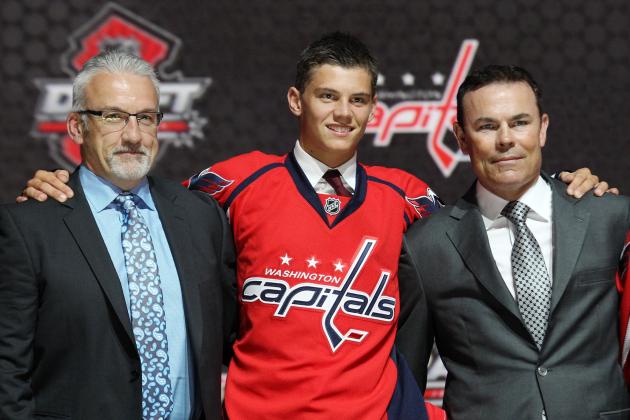 Ed Mulholland-USA TODAY Sports
Washington Capitals
The Washington Capitals had a good draft by adding some talented prospects in Andre Burakovsky and Madison Bowey. Burakovsky cracks the top-10 list of Capitals prospects.
The Capitals have a lot of prospects in their system but not a lot of players that project to be upper-tier guys. Their defensive group is thin on players who project as top-four defenders. Regardless, Adam Oates has a solid team at the NHL level for the time being.
Top 3 Prospects: 1. F Evgeny Kuznetsov, 2. LW Stanislav Galiev, 3. C Caleb Herbert
Kuznetsov has a lot of potential and has been a star in the KHL. He has a lot of strength and plays the game with a lot of energy. He is a great skater and can attack with high speed. Stanislav Galiev has put up good numbers everywhere he has played. The native of Moscow, Russia is a shoot-first player with soft hands. He's got good size to go along with his skill.
Caleb Herbert continues to develop in the WCHA with the University of Minnesota-Duluth. He is a good scorer and isn't afraid to muck it up in the corners. He projects as a good top-nine forward if he continues on his current path of development
Other Top Prospects: Andre Burakovsky, Tom Wilson, Riley Barber, Chandler Stephenson, Connor Carrick, Thomas Kundratek, Cameron Schilling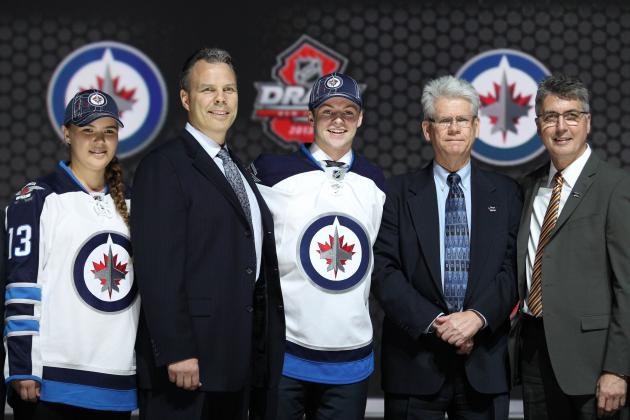 Ed Mulholland-USA TODAY Sports
Winnipeg Jets
The Winnipeg Jets had a very good day at the 2013 NHL draft. They added some quality young men who can play the game. Josh Morrissey qualifies as a top-10 prospect already and should be top-four defenceman down the road. Nicolas Petan is a wild card that could become a top-six forward if he can manage to elevate his play at the pro level despite his size.
They do need to continue to acquire elite talent, but there are a few solid prospects at each position
Top 3 Prospects: 1. C Mark Scheifele, 2. D Jacob Trouba, 3. C Lukas Sutter
Mark Scheifele has tremendous upside and has dominated at the junior level. He was one of the better players in the entire CHL this past season. He has size, speed and tremendous skill. He could develop into one of the better centers in the NHL in a few seasons.
Defenceman Jacob Trouba has all the tools to make him a top-pairing rearguard. He's currently starring at the University of Michigan and has been a standout there to date.
Lukas Sutter doesn't project to be first-line player, but he has the kind of all-around game that coaches love. He plays with grit and a chip on his shoulder. He could be a very good second-line center or possibly a third-line center at the pro level.
Other Top Prospects: Jason Gregoire , Connor Hellebuyck, Thomas Kubalik, Adam Lowry, Zach Redmond, Scott Kosmachuk, Eric O'Dell