The NBA's free-agency period officially got underway on Monday, as teams lined up to pursue some of the league's brightest stars.
There are several high-profile big men on the market this summer, including one that is flying under the radar a bit.
As teams look to complete their rosters after the 2013 NBA draft, here's a look at the latest buzz surrounding some of the top free agents this summer.
3. Al Jefferson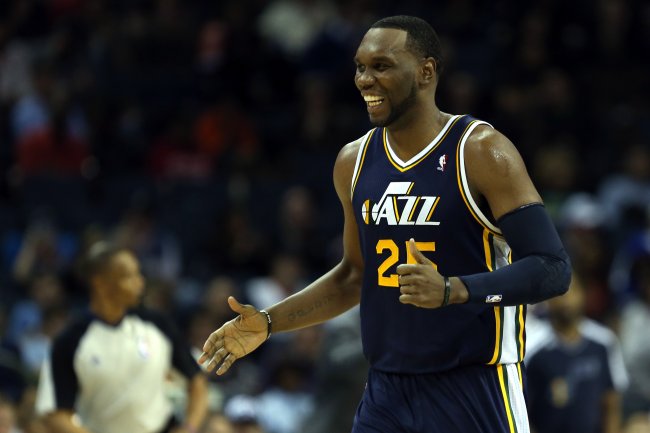 Streeter Lecka/Getty Images
According to Ken Berger of CBSSports.com, the Charlotte Bobcats are pursuing Al Jefferson:
As free agency opens, the Charlotte Bobcats are pursuing Jazz forward Al Jefferson, a league source tells @CBSSports.

— Ken Berger (@KBergCBS) July 1, 2013
Adrian Wojnarowski of Yahoo! Sports added that the Bobcats were planning on meeting with Jefferson on Wednesday:
Free agent Al Jefferson is expected to visit Charlotte on Wednesday to meet with Bobcats officials, league source tells Y! Sports.

— Adrian Wojnarowski (@WojYahooNBA) July 1, 2013
According to Yahoo! Sports, the Utah Jazz want to re-sign Jefferson, but the price tag may be too high. Matt Moore of CBSSports.com writes, "The Jazz have sent mixed signals about their intentions regarding efforts to re-sign Jefferson."
Jefferson may be one of the most underrated players in the game today. He averaged 17.8 points, 9.2 rebounds, 1.1 blocks and 1.0 steals last season with the Jazz. That included registering a PER of 20.9, 19th in the NBA among players who played at least 30 games, per Basketball-Reference.com. More importantly, he's healthy, playing in 78 games in 2012-13.
2. Andrew Bynum
Harry How/Getty Images
According to Yannis Koutroupis of HoopsWorld.com, the Portland Trail Blazers, Cleveland Cavaliers, Atlanta Hawks, Dallas Mavericks and Houston Rockets are all interested in Andrew Bynum. Koutroupis cites the Trail Blazers and Cavaliers as being mentioned specifically by his source.
According to Tim MacMahon of ESPN Dallas, the Mavericks have already contacted Bynum's agent, David Lee.
Lee said that Bynum will begin training in Atlanta in July in preparation for next season, according to Yahoo! Sports. Lee added that Bynum will not be working out for interested teams.
Bynum missed the entire 2012-13 campaign due to knee problems, but he's one of the best centers in the league when healthy. In the 2011-12 campaign with the Los Angeles Lakers, he averaged 18.7 points, 11.8 rebounds and 1.9 blocks while shooting 56 percent from the field. He ranked eighth in the NBA in PER among players who played at least 40 games, via Basketball-Reference.com.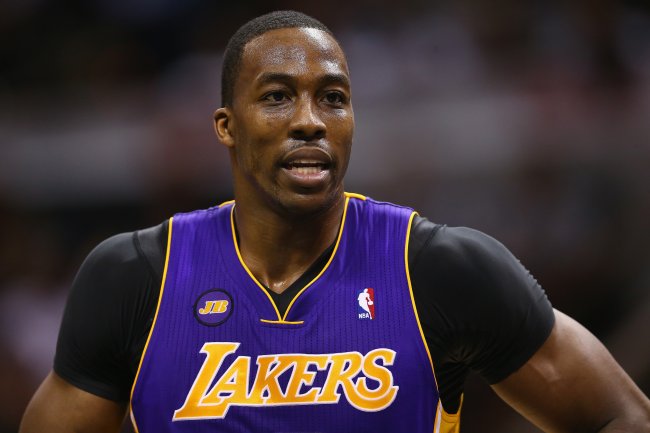 Ronald Martinez/Getty Images
The Houston Rockets, Dallas Mavericks, Atlanta Hawks and Golden State Warriors have been linked to Howard. As of now, many seem to believe he will end up with the Rockets if he doesn't re-sign with the Lakers.
According to Jonathan Feigen of the Houston Chronicle, in his meeting with the Rockets on Monday, Howard inquired about the possibility of the Rockets adding a third superstar if he joins the team.
Feigen wrote:
Rockets general manager Daryl Morey discussed not only the plans going forward, but was also asked about how the Rockets were built to position themselves to be able to offer a second max contract.
The Rockets have an All-Star in James Harden and some nice complementary players in Chandler Parsons, Jeremy Lin and big man Omer Asik, but apparently Howard wants a "Big Three" like they have in Miami.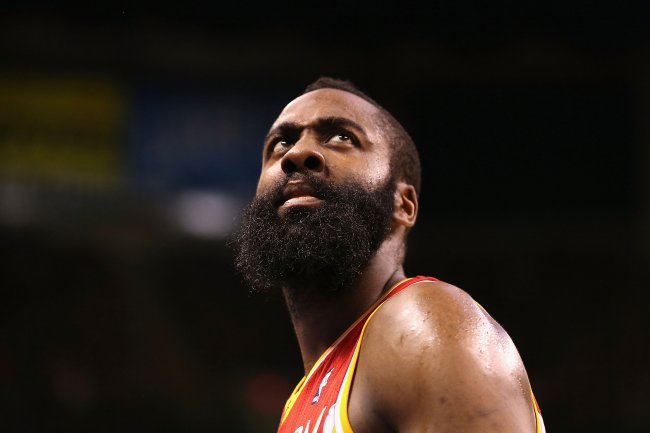 Christian Petersen/Getty Images
The Lakers were the first to meet with Howard, per Dave McMenamin and Ramona Shelburne of ESPN Los Angeles. According to the report, Howard was most interested in the Lakers' decision-making process and what the Buss family plans to do moving forward.
Howard also met with the Hawks on Monday, with the meeting going "well," according to the report.
Tim Kawakami of the San Jose Mercury News thinks the Golden State Warriors are a long shot to land the 27-year-old center because a) they would have to acquire him via a sign-and-trade and b) he's never expressed a strong desire to join the club.
The Lakers will meet with Howard again on Tuesday, with Kobe Bryant and Steve Nash being part of the pitch, according to the ESPN Los Angeles report.
In fact, Nash has already gotten things started via Twitter:
Flying from NYC to LA. @DwightHoward we're coming for you. You're going to love the statue we build for you outside Staples in 20yrs!

— Steve Nash (@SteveNash) July 1, 2013