If you were to tell me last week that Spain would lose 3-0 in the Confederations Cup Final, I would have called you crazy.
Spain had plans to lift yet another trophy, but Brazil dismantled them from top to bottom.
Brazil was able to decisively beat the best team in the world on their own turf, a task that, as I mentioned before, was not expected.
After such a wild result, is Spain's international dominance finally over or was it simply a one game slip?
Let's let some great soccer minds guide us through some of the key facets of the game.
The only people not surprised by the win were Brazil themselves
Brazil has a rich soccer history, but over the last few years they have seen a clear decline.
Ronaldo, Roberto Carlos, and Ronaldhino are long gone, but the Brazilians have entered a new era of soccer with their latest win.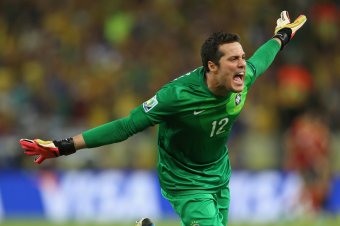 Jasper Juinen/Getty Images
Julio Cesar, who spent 10 years on the national team, never thought their dominance was escaping, like many had alleged before.
J.César: "With all my respect to Spain, but in football there is a hierarchy, and Brazil will forever be on top of it. The win is normal."

— Seleção Brasileira (@BrazilStats) July 1, 2013
It's nice to see this level of confidence from the Confederations Cup top goalkeeper, but this statement is ignorant, considering Spain won the last World Cup and Euro competition.
Spain wasn't playing a man down, but it certainly seemed like it
People have said it before, and I will reiterate it right now; it's not fair that Brazil had an extra day of rest going into the championship game on Sunday.
Spain played a grueling game against Italy in the semifinals, winning 7-6 in penalty kicks. Not only did the Spanish side play an extra 30 minutes, but it was the day after Brazil's stunning victory over Uruguay.
For Spain, it is a big let-down, but they were run ragged in their semifinal. No excuses, though.

— FOX Soccer Trax (@FOXSoccerTrax) June 30, 2013
I disagree with the notion that this is a big letdown for Spain.
Every team loses a game or two here or there, and it is better to get a loss out now than next summer when it actually matters.
Ray Hudson of BeIN Sport cites both Spain's fatigue and Brazil's class as the reasons they won.
Brazil BOSSA-NOVA'd Spain right off the stage tonight. Spain looked like they'd had half of their blood drained from them,but best team won!

— Ray Hudson (@RayHudson) July 1, 2013
Whatever the reason, Spain will most definitely come back stronger next World Cup
Is Spain's dominance over?
Simply put: No.
In case you didn't know, the Confederations Cup has little to no importance in the actuality of International competition. In tournaments like this, results are not important; what you learn through the competition is what will set you apart in the World Cup.
Hall of Fame American soccer player John Harkes, cites the perfect example of why one game doesn't matter.
#confederationscup how quickly some people forget. 2009 @ussoccer defeats Spain, fast forward to 2010. Spain World Champs. #onegameonly

— John Harkes (@johnharkes6) July 1, 2013
Yes, this has happened before. The United States, without Jozy Altidore consistently scoring goals, defeated Spain in the 2009 Confederations Cup.
Spain went on and won the World Cup and the United States barely advanced past the group stage.
In reality a tired Spain team lost to a very good Brazilian team on extended rest, playing in front of almost exclusively Brazilian fans. There's not much you can take away from this game, except that Neymar deserves all of the praise he has gotten over the last few years.
Brazil is now a favorite for the World Cup and Neymar is undoubtedly one of the best players in the world.
If the Confederations Cup is any indicator of the talent and competition that the World Cup will bring next summer, then we are in for quite the show next summer.