The courting of Dwight Howard just went from annoying to comical.
ESPN's Arash Markazi reported that Howard could be offered some sort of reality television deal should he re-sign with the Los Angeles Lakers.
There had already been preliminary talks between Dwight Howard and Time Warner on a show if he returned to the Lakers.

— Arash Markazi (@ArashMarkazi) July 1, 2013
TWC is desperate for original programming as it is and if giving Dwight his own show helps the Lakers it's a win-win.

— Arash Markazi (@ArashMarkazi) July 1, 2013
Think of how grating Howard presently is. Now just imagine getting to watch him even more in a weekly program. Somebody should probably go ahead and contact the representatives of the Peabody Awards now.
This is just another move in the Lakers' campaign to bring the big man back for next season.
Do you live in Los Angeles? If the answer is no, then you've missed out seeing the massive billboards the team has placed around the city. Luckily, the Lakers have posted said billboards on their Twitter account.
Anyone driven down Figueroa by @STAPLESCenter today? #STAYD12 pic.twitter.com/pC0aZbg28d

— Los Angeles Lakers (@Lakers) June 26, 2013
Sunset & La Brea. #STAYD12 pic.twitter.com/0LO7PDjEHx

— Los Angeles Lakers (@Lakers) June 27, 2013
Good morning Los Angeles. #STAYD12 pic.twitter.com/7ofxSz1v0K

— Los Angeles Lakers (@Lakers) June 29, 2013
#STAYD12 pic.twitter.com/azI12oh2AY

— Los Angeles Lakers (@Lakers) June 29, 2013
This is a franchise that has won 16 championships and been home to some of the greatest players to ever play the game. Yet, the Lakers still feel the need to go after Dwight Howard so hard. It's simply not befitting the reputation Los Angeles has built over the decades.
It's one thing to make a player feel wanted. It's quite another to plaster signs all over town imploring the player to stay and dangling a reality show as an incentive to stay.
If this is a team like the Charlotte Bobcats, you could understand why it would want to go that extra mile to sign Howard. The Bobcats don't have a great reputation, so they'd need a lot to convince Howard that Charlotte is the place for him.
Since the Lakers are the team resorting to such tactics, this whole campaign just reeks of desperation.
Quite frankly, the Lakers should be in a position where the player courts the team. If 16 world titles and countless retired numbers aren't enough to make a player want to stay, then maybe he's not the kind of player who fits the organization.
The other point that bears discussion is if Howard is even worth the effort.
He's a very good player and arguably the best big man in the game. He's not without his flaws, though, and most of those flaws come on the offensive end.
For his career, Howard has only averaged 18.3 points a game. His highest season average is 22.9 points, and only four times in nine seasons has Howard gone over 20 points a game.
He hasn't become the offensive monster you would have expected him to when you looked at the player four or five seasons ago. Howard has few moves in the post, nor does he have any sort of offense that's evolved much from hitting shots close to the rim.
Here's a comparison of Howard with some of the more recent great big men after they were in the league nine years. Notice the points disparity.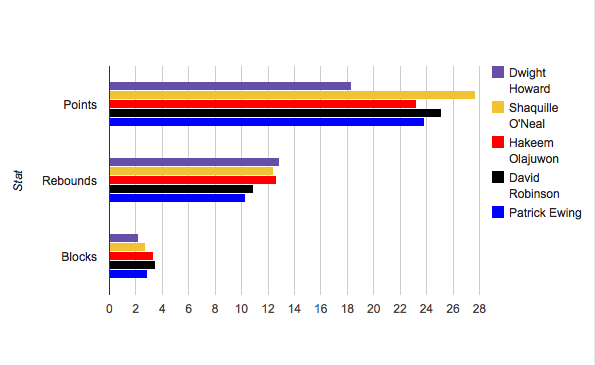 Howard is not a transcendent player. He's simply a talented big man in a league that lacks any sort of depth at the position. You don't have skilled centers right now like you've had in past eras. The prototypical back-to-the-basket big man is being outmoded by European bigs who have more versatility in their games.
Having Howard is an advantage, no doubt. But it's not going to make the Lakers title contenders anytime soon. They're much better off avoiding Howard this offseason, thus saving themselves from the drama and baggage that he'll carry with him.