2013 NHL Draft Prospects: 5 Potential Busts from the 1st Round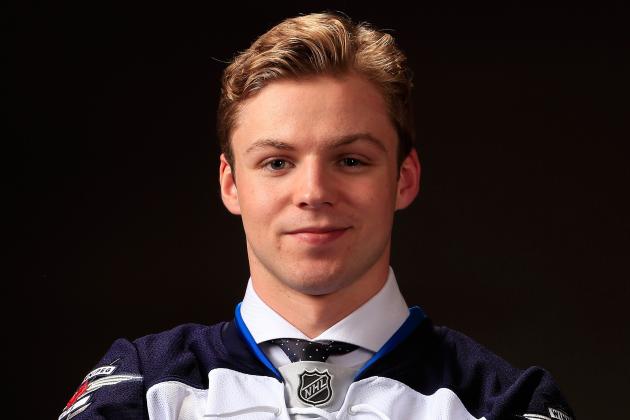 Jamie Squire/Getty Images

The first round of the 2013 NHL draft was full of its usual dose of surprises.
Highly discussed prospect Seth Jones fell to pick No. 4, Cory Schneider was dealt to New Jersey in a shocking trade and more than a few players were chosen out of deep left field.
Each notable first-round reach stirred up a to-be-expected cornucopia of debate. Some argued the player was a true diamond in the rough, while others questioned the impulsiveness of the selection.
Regardless of the current public perception, however, the real evaluation of this year's first-round decisions won't be completed fully for years—and, as history has proved, at least a few picks will be able to be legitimately labeled as busts by that time.
Which prospects taken early Sunday afternoon are most likely to be scoffed at four or five years down the road? We examine some of the first round's potential busts on the coming slides.
Begin Slideshow

»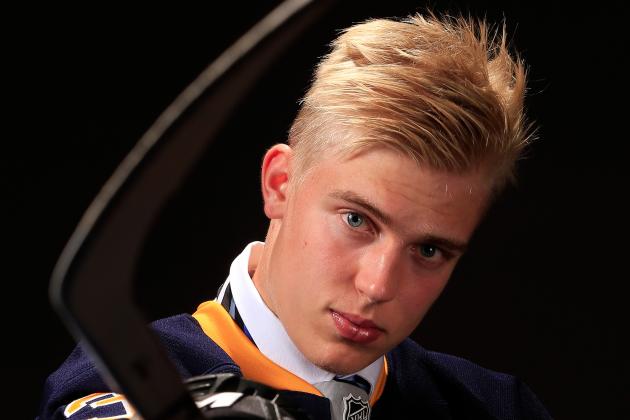 Jamie Squire/Getty Images

The Buffalo Sabres' first of two first-round picks went to Rasmus Ristolainen, a hulking (6'4") but unremarkable defenseman from Sweden.
No. 8 selections have a legacy of disappointment more than any other high pick—see 2009's Scott Glennie, 2007's Zach Hamill and 2004's Alexandre Picard, for example. That unusual trend may stem from the mentality of the teams picking there more than anything, as they seek to find a top-five talent with a non-top-five choice and end up with a rushed, underdeveloped prospect.
We can only hope Buffalo doesn't make that mistake with Ristolainen, who suffers from the same problem that recently traded Sabre Andrej Sekera did—he's a solid blueliner overall, but his lack of a specific skill area limits his ability to find a niche on an NHL defense.
Half a decade down the road, Ristolainen's lack of star capacity could invite regrets that Buffalo didn't choose a forward like Max Domi, Alexander Wennberg or Andre Burakovsky instead.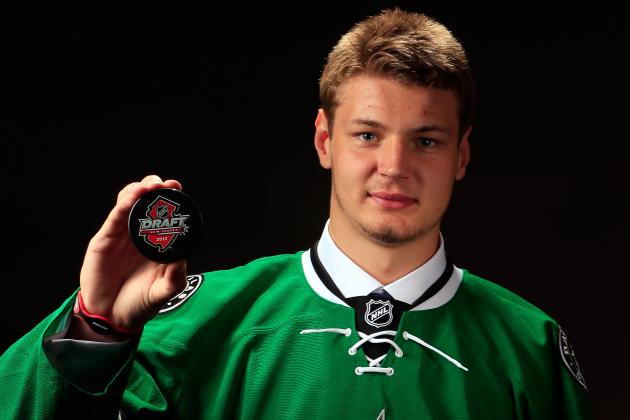 Jamie Squire/Getty Images

The well-documented "Russian Factor" that so dominated pre-draft Valeri Nichushkin conversations eventually led to his abrupt fall, dropping from the top five down to the Dallas Stars at 10th.
Nichushkin has publicly stayed steadfast to his plans to come to North America in 2013-14, but that hasn't been enough to fully erase all doubts about it. The star power forward's rights are owned by the pushy KHL club of Dynamo, and his continental transition may not play out as easily as he's implied.
Secondly, some scouts have also questioned Nichushkin's willingness to be a team player. "Some question his vision, feeling he can be a little selfish," notes Corey Pronman of Hockey Prospectus. "He [also] needs to improve his defensive play."
Will Nichushkin struggle with the same reputation issues and backchecking laziness that other KHL transfers (like Alexander Semin in Washington) have? Only time will tell.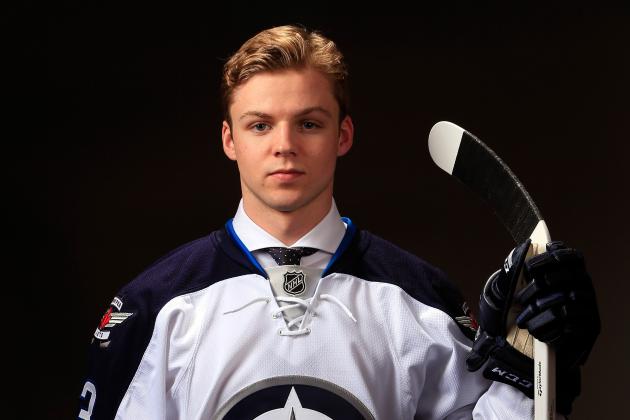 Jamie Squire/Getty Images

Josh Morrissey's selection at 13th overall immediately raised many eyebrows—he was spotted 28th in the final TSN rankings—but one must not forget that the Winnipeg Jets have a penchant for riskiness at the draft. Mark Scheifele at No. 7 in 2011, for example, was a similar surprise.
At 5'11", 186 pounds, Morrissey is severely small for a defenseman. He's also discovered to be weak in board battles and easily outmuscled for pucks; CBS Sports' Chris Peters writes that "his defensive game needs a lot of work."
Undersized offensive defensemen taken early in the first round like Morrissey haven't always panned out so well. The 5'10", 175-pound Ryan Ellis (No. 11, 2009) and 5'11", 190-pound Thomas Hickey (No. 4, 2007) can tell that story already.
Morrissey could be following in their footsteps.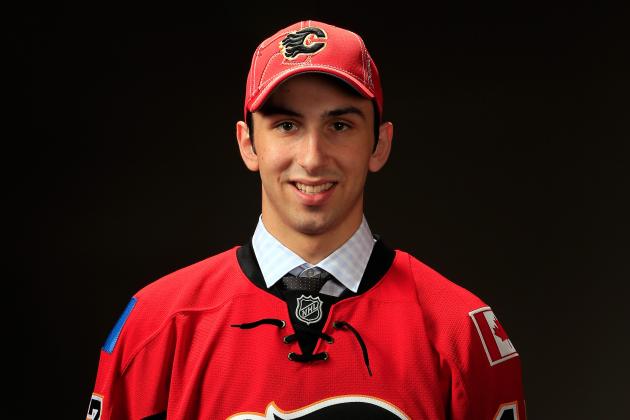 Jamie Squire/Getty Images

Calgary Flames general manager Jay Feaster has grown famous (or infamous) for his outrageous first-round reaches over the years—just look at the use of last year's No. 21 selection on high school student Mark Jankowski.
Emile Poirier is hardly Jankowski, but he's still a puzzler in the first round. The Quebec-born winger has impressive raw skills, but he needs to fill out both in frame (he's 6'1" but only 186 pounds) and overall playing style.
All things considered, Poirier is a long-term project prospect. He could pan out into a fine second- or- third-line winger by 2018 or so, but he could also never even touch the NHL.
Consider busts like Philippe Paradis (No. 27, 2009), Anton Gustafsson (No. 21, 2008) and Angelo Esposito (No. 20, 2007) as unfortunate yet possible comparables.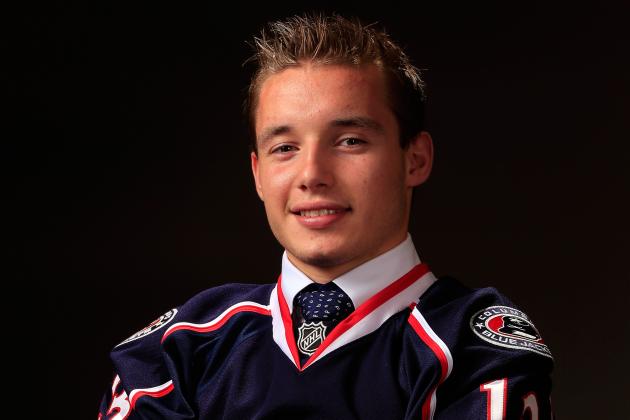 Jamie Squire/Getty Images

Although Marko Dano isn't Russian, he's currently set to enter the KHL in 2013-14 and thus carries that obvious risk.
Moreover, the Slovakian winger was drafted in the first round largely for his scout-reported potential rather than his ongoing on-ice success (just three goals and four assists in 37 appearances for Bratislava in 2013).
His grittiness and rough-and-tumble mentality have been praised frequently, but Dano can also be a pesty and occasionally dirty agitator (see this brutal cross-check video).
Think of him as a Chad LaRose with top-six expectations.
Not a pretty picture? We didn't think so.
Dano was most definitely one of the riskiest picks of the first round and could be labeled the most likely bust of all 30 selections.