Upsets marked the early rounds of Wimbledon this year, and while Monday held another tremendous upset in the women's draw, the men's draw played out very much as expected.
No. 1 seed Novak Djokovic allowed No. 13 Tommy Haas back into the match in the third set, but Djokovic closed out their round of 16 contest in a tiebreak to earn the three-set victory and a quarterfinals berth.
That match ended almost simultaneously with the showdown between No. 7 Tomas Berdych and Bernard Tomic, via Wimbledon's Twitter feed. Many were watching Djokovic and Haas in hopes of another upset, but Berdych and Tomic produced perhaps one of the most exciting matches of the entire tournament thus far.
Wimbledon's Twitter feed encompassed the feel of each match with these tweets:
#Djokovic repels the advancing #Haas 6-1 6-4 7-6. Through to #Wimbledon QF v Berdych. #ManicMonday pic.twitter.com/NTT3auzh7u

— Wimbledon (@Wimbledon) July 1, 2013
No.1 and Centre Court matches end simultaneously #Berdych beating Tomic 7-6 6-7 6-4 6-4. #Wimbledon #ManicMonday pic.twitter.com/Yg7AEvlPiN

— Wimbledon (@Wimbledon) July 1, 2013
On the women's side, No. 1 Serena Williams fell victim to another shocking Grand Slam upset, dropping a three-set affair to No. 23 Sabine Lisicki in stunning fashion.
#Lisicki's #magicmoment on #ManicMonday at #Wimbledon pic.twitter.com/c2N1u1iIcl

— Wimbledon (@Wimbledon) July 1, 2013
While those three matches weren't all impressive from start to finish, each offered at least one tremendous performance worth taking a closer look at. Let's break down each match and highlight what made each showdown an intriguing Wimbledon affair.
No. 1 Novak Djokovic vs. No. 13 Tommy Haas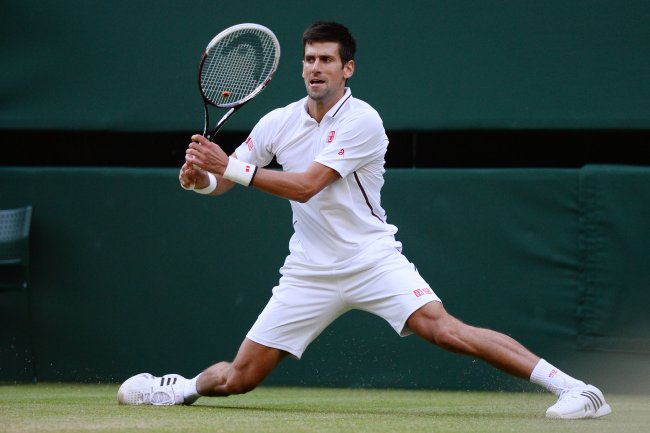 Mike Hewitt/Getty Images
Djokovic's straight-set victory over Haas was an interesting contest, but in the end, the world No. 1 proved why he is the favorite to traverse the Wimbledon field for a shot at the title.
The 26-year-old got off to a tremendous start in the match, taking a 4-0 lead before taking the set 6-1. It looked as if Djokovic would cruise to an easy victory in the round of 16, but Haas gained some steam in the second set to take a 4-3 advantage before fading to a 6-4 defeat.
But the third set highlighted why the crescendo of this match was both entertaining and encouraging.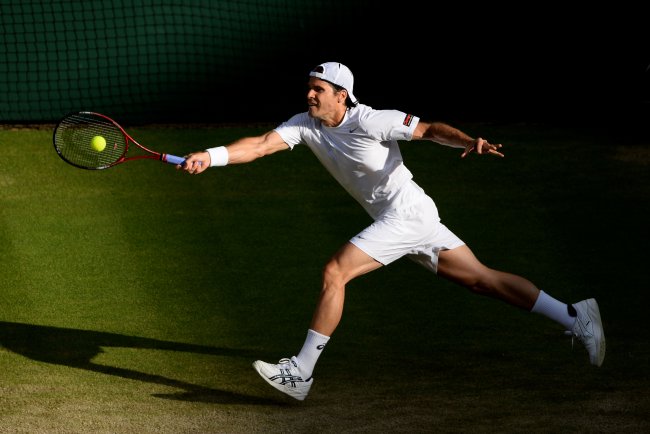 Mike Hewitt/Getty Images
Despite falling behind 5-3, Haas once again battled after overcoming early issues with his forehand. The 35-year-old forced a tiebreak, seemingly feeding off his momentum for renewed energy against the tournament's top seed.
The match itself wasn't all that impressive (and Berdych and Tomic put on a much more compelling show), but Djokovic's resiliency and poise stood out, especially in the final set of the match. Haas simply wouldn't go away, and Djokovic's ability to overcome the challenge was itself impressive.
As Djokovic moves on the quarterfinals against Berdych, he'll do so with the confidence of both winning his round of 16 match handily while showing grit and determination to not let the match slip away against an opponent who has given him problems in the past, as he pointed out after the match (via Wimbledon's Twitter feed):
#Djokovic on Haas "I had a bad record against him on grass.... It was a tough challenge for me and I played a really really good match"

— Wimbledon (@Wimbledon) July 1, 2013
No. 1 Serena Williams vs. No. 23 Sabine Lisicki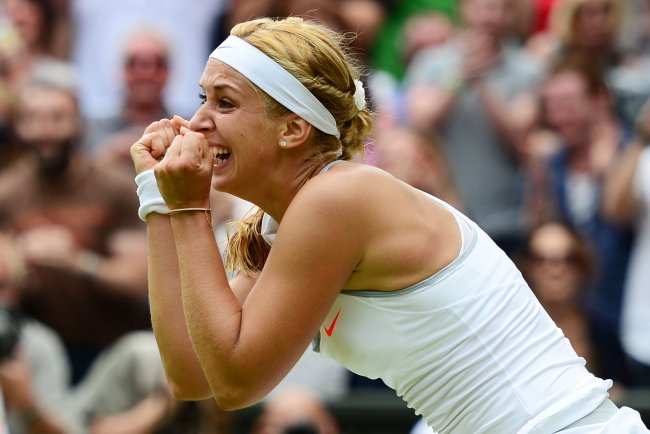 Mike Hewitt/Getty Images
This wasn't an impressive match for Williams, but the same can't be said for the 23-year-old Lisicki.
Lisicki was impressive from the onset in securing a 6-2 opening-set win, later to go on a nine-game drought to drop the second set 6-1 and find herself at a disadvantage in the final frame.
But the German showed immense poise to rally back in the final set, winning three of five break points and capitalizing on 11 unforced errors from Williams. The No. 1 seed didn't exactly play her best tennis in that set, but she also made Lisicki earn the upset victory.
As Williams explained after the match, she didn't take advantage of big points—but she wasn't taking anything away from Lisicki:
#Serena: "I didn't play the big points good enough. I had a little hesitation. That explains it." #Wimbledon #ManicMonday #Lisicki

— Wimbledon (@Wimbledon) July 1, 2013
#Serena: "It's not a shock. She plays really good on grass. Has a massive serve so go into it knowing it's not going to be an easy match."

— Wimbledon (@Wimbledon) July 1, 2013
For the 23-year-old upstart, the victory could be a massive springboard for her semifinals match against unseeded Kaia Kanepi. An impressive performance against the tournament's top seed should instill plenty of confidence going forward.
No. 7 Tomas Berdych vs. Bernard Tomic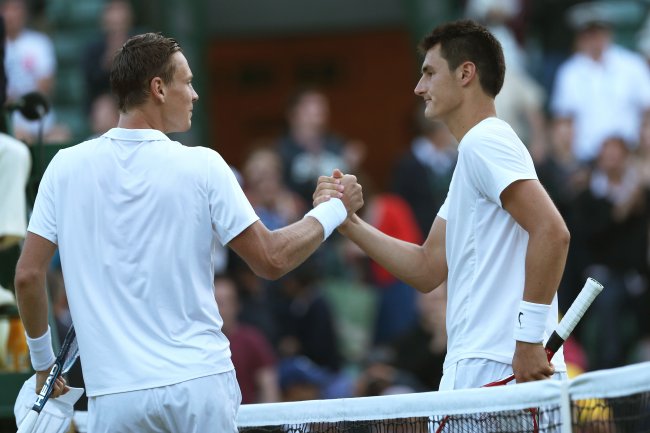 Clive Brunskill/Getty Images
While Djokovic and Haas were battling it out on the opposite court, Berdych and Tomic were giving fans a reason to turn their attention away from the No. 1, toward a match that was one of the most enjoyable of the first four rounds.
Each of the first two sets of this match went to tiebreaks as the pair split the opening frames. For Tomic, the second set was a massive opportunity to take a commanding lead of the match, but Berdych's overwhelming power was too much to pull off a tiebreak victory.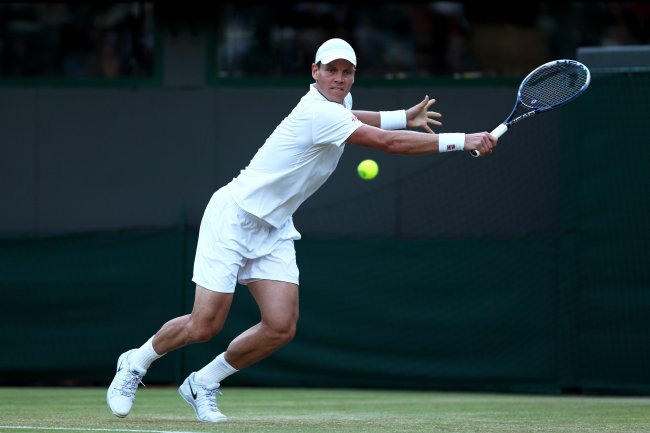 Clive Brunskill/Getty Images
That particular set took the wind out of Tomic's sails, but the world No. 59 didn't bow out without a fight. In the final two sets, Tomic committed just 11 unforced errors combined and made Berdych earn the victory.
The match was a blend of creativity and power, and while Berdych certainly looked like the better player in the late stages, tennis fans were given an impressive show. If the world No. 6 can play in a similar fashion against Djokovic in the quarterfinals, the hunt for the Wimbledon title could get extremely interesting.