The Dallas Stars and Boston Bruins have agreed to the first major blockbuster deal of the 2013 NHL offseason, and it will shake the core of the defending Eastern Conference champions.
According to TSN's Darren Dreger, the Bruins will send winger Tyler Seguin, center Rich Peverley and defensive prospect Ryan Button to Dallas in exchange for wingers Loui Eriksson and Matt Fraser and prospects Joseph Morrow and Reilly Smith:
Seguin, Peverly and Button to Stars. For Eriksson, J.Morrow R.Smith and Matt Fraser.

— Darren Dreger (@DarrenDreger) July 4, 2013
Dreger first reported that the trade was in the works earlier on Thursday:
Huge trade in the works. Boston and Dallas close on a deal sending Tyler Seguin to Stars for Loui Eriksson. Other parts involved as well.

— Darren Dreger (@DarrenDreger) July 4, 2013
For most Boston fans, the imminent departure of Seguin has been brewing since the end of the playoffs. The 21-year-old winger was the Bruins' No. 2 overall draft pick in 2010 and was considered a potential superstar in the making, but he has had a career marked with inconsistencies.
He made an immediate debut with Boston, avoiding the team's minor league system, and scored 22 points as a rookie in 2010-11. Emboldened by his success as a rookie, he burst onto the scene as a difference-maker the following year, scoring 67 points and becoming a vital cog in the team's future.
The Bruins then rewarded him with a new six-year contract that averaged $5.75 million before this past season began, with the expectations that his level of play would continue rising.
That didn't happen. The lockout-shortened season was filled with frustrations for Seguin, as he scored only 32 points in the 48-game campaign. And when Seguin disappeared during the Bruins' postseason run, scoring just once in Boston's 22 playoff games, there were more rumblings about the move.
Bruins General Manager Peter Chiarelli spoke with The Boston Globe's Fluto Shinzawa late last month, criticizing the young star and saying he needs to be "more professional."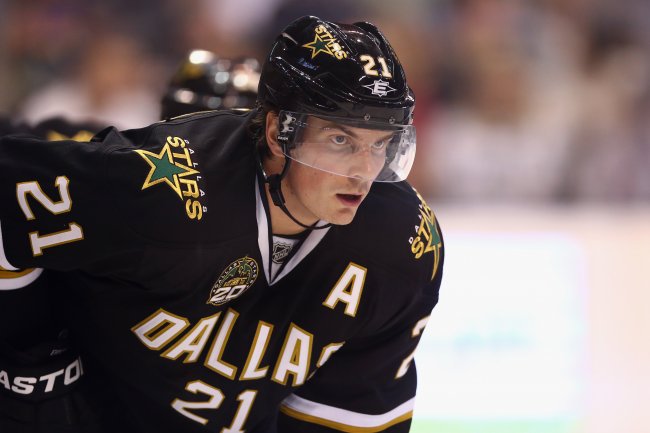 Ronald Martinez/Getty Images
In Eriksson, Boston gets a proven player who could help the team's push for another Stanley Cup run. The 27-year-old winger is a former All-Star who will help offset the loss of Seguin while not coming at as high of a cost.
Fraser, Morrow and Smith all have the potential to make an impact down the line.
Peverley has been with the Bruins each of the past two-plus seasons. A noted assists man, Peverley fell deep into Boston's growing rotation of players and only had 18 points last season. He has a cap charge of $3.25 million for next year, which likely played a large role in his ouster.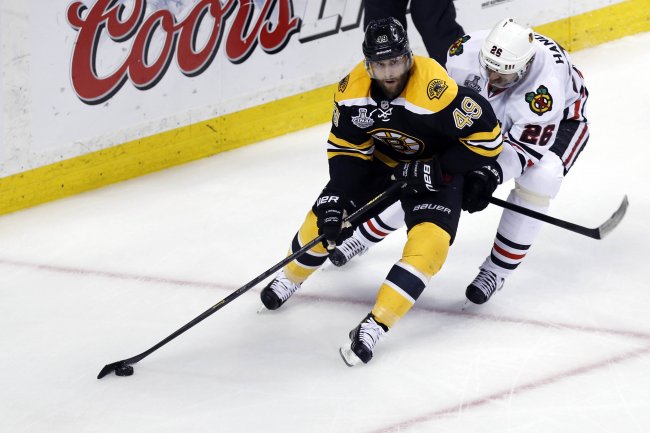 Greg M. Cooper-USA TODAY Sports
The Stars finished last season 11th in the Western Conference with 48 points. Still rebuilding, they can afford to take on the cap charge of Peverley while acquiring a potential superstar in Seguin.
Dealing Seguin and Peverley is not the first big offseason news for the Bruins. First-line winger Nathan Horton has also let Boston know he intends to leave via free agency.
Horton's agent, Paul Krepelka, spoke with CSN New England's Joe Haggerty and said he was looking for a "new beginning." The 28-year-old winger scored 19 points in Boston's 22-game playoff run this past season.
The Seguin move, on the other hand, was fully of the Bruins' accord. Whether the motivation was Seguin's high cap number, his lack of playoff prowess or simply a deal they could not pass up is unclear. But this Boston team is shaping up to look far different than the one that lost to the Chicago Blackhawks in six games in the Stanley Cup Final.
Follow Tyler Conway on Twitter: