UFC 162 Preview: Full Fight Video of Anderson Silva's 4 Career Defeats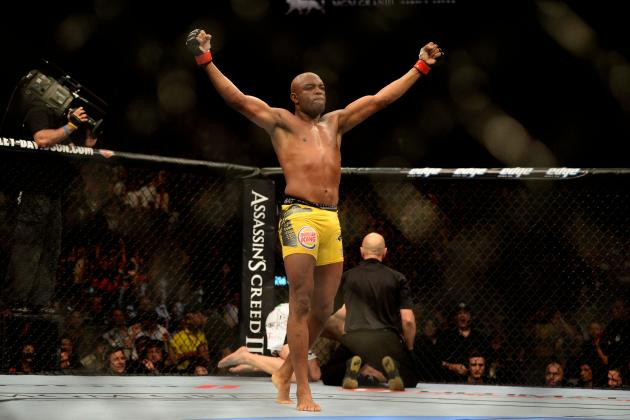 Mark J. Rebilas-USA TODAY Sports

MMA fans have become accustomed to the above image: UFC middleweight champion Anderson Silva raising his hands in victory while his vanquished opponent is tended to by the referee, cutman or cageside physician. After all, we've seen nothing but Silva wins since he joined the UFC in 2006.
If you're counting, that's 16 straight victories for Silva, a UFC record, but Silva is not without blemishes on his career record. Since making his professional debut in 1997, Silva has been defeated four times.
What follows are the complete fight videos of each of those defeats.
Begin Slideshow

»
Anderson Silva entered this fight against Luiz Azeredo with a record of 2-0. He would not make it to 3-0. The young Silva showed plenty of swagger when he walked to the center of the ring to stare down Azeredo, but after that, the fight was mostly controlled by the ground game of Azeredo.
Silva did try to implement his striking game during this bout, and when he did, he showed brief flashes of the fighter he would become, but the takedowns and ground control of Azerdo kept Silva from fully displaying what he could accomplish as a striker.
Not the most exciting fight for Silva.
After losing to Luiz Azeredo, Silva ran off nine straight victories, moving his record to 11-1 when he entered his Pride 26 fight against Daiju Takase. Heading into the bout, Takase was a rather unassuming 4-6-1.
Takase took Silva down early in the bout and never gave up control. Takase was aggressive with his ground game, attempting multiple submissions before transitioning into the triangle choke and forcing the tap from Silva.
As Bas Rutten said on the broadcast, "This is unbelievable."
Anderson Silva followed his loss to Daiju Takase with three consecutive victories outside of the Pride organization. When he returned to Pride, it was to face Ryo Chonan, a fighter who was coming off of an upset victory over Carlos Newton in his previous outing.
That victory over Newton would end up being the second biggest win of Chonan's career at the end of the night on December 31, 2004. Chonan looked like he was on his way to a decision victory when he decided to get all fancy and whip out a flying scissor heel hook and force the tap from Silva.
To this day, the submission remains one of the most impressive and memorable stoppage wins in MMA history.
Anderson Silva would recover from the upset loss to Ryo Chonan by earning knockout wins over Jorge Rivera and Curtis Stout. When he stepped into the cage to face Yushin Okami, he was 16-3.
Silva was very active early in this fight, dominating the striking game. When they did go to the ground, Okami postured up and Silva delivered a kick to the head that put Okami flat on his back. It was a brutal kick that left Okami stunned and staggered. The bad thing is that the kick was illegal, as Okami was still on his knees.
The fight was ruled a disqualification loss for Silva after Okami was unable to continue. Silva has not had another loss during his career.