Sparq National Championship 2013: Live Results, Ratings and Analysis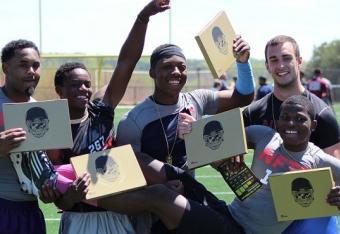 Photo Credit: 247Sports

This week, the best of the best in the 2014 college football recruiting class have gathered at the Nike World Headquarters in Beaverton, Ore. for The Opening: the elite high school football camp in the nation.
The most talented prospects in the 2014 class have been whittled down to a group of just 162 elite athletes for the competition in Beaverton.
The three main events for The Opening will all be televised on ESPNU.
Following tonight's SPARQ competition, Tuesday will bring seven-on-seven pool play, with the seven-on-seven finals coming on Wednesday night.
Tonight, we'll be covering the SPARQ National Championship at 7 p.m. EDT, featuring the Top 10 finishers from the preliminary SPARQ competition.
Four events—the 40-yard dash, kneeling power ball toss, agility shuttle and vertical jump—will be rated and combined to determine the best overall athlete in the 2014 class.
Note: All player ratings based off 247Sports Composite Ratings, unless otherwise noted.
Thanks to everyone who followed along tonight!
One for the road: here's a breakdown of the Top 10 40-yard dash times from today's competition.
Noil actually improved on his 153.51 SPARQ rating from earlier today, as his 153.90 ranks second all-time behind Ohio State linebacker Mike Mitchell.
FINAL RESULTS
| | |
| --- | --- |
| Name | SPARQ Rating |
| Speedy Noil | 153.90 |
| Terry McLaurin | 149.88 |
| Nick Chubb | 142.59 |
| Trey Marshall | 139.62 |
| Braxton Berrios | 138.78 |
| Lorenzo Carter | 135.06 |
| Edward Paris | 133.95 |
| Joey Alfieri | 133.32 |
| Tony Brown | 128.49 |
| Elijah Hood | DNF |
Here's Noil's 45.3" vertical from earlier today.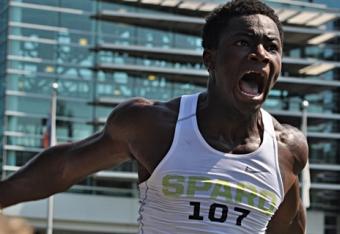 Speedy Noil rocking a Superman tat across his chest as he wins the 2013 SPARQ national title.
He's officially the best athlete in the 2014 class.
That should do it. McLaurin needed a 4.37 to win but he'll stick with his original 4.40.
Noil with the victory lap now.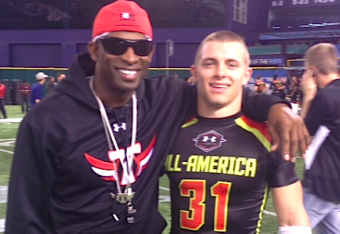 Berrios isn't known as the best straight-line runner but he is mobbed by fellow competitors after notching a 4.48.
Couple that with a 3.81-second shuttle—this kid has some speed!
TREY MARSHALL with the best 40 time yet at a blazing 4.34 seconds.
Just to have a taste of what these athletes are feeling now, wake up early tomorrow and workout.
Go through your whole day then come back and work out again at 7 p.m.
Speedy Noil with a 4.52...McLaurin has a chance!
Terry McLaurin with a great 4.40 40.
Will that be enough to top Speedy?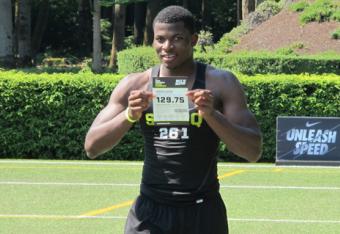 Woah, Lorenzo Carter with a 4.56!
Incredible for a 6'5", 234-pound defensive end.
Alfieri ran a 4.68 earlier in the day and a 4.71 just now. Both very respectable times for a 230-pound linebacker.
As ESPNU reported, Notre Dame commit Elijah "Roll Toilet" Hood is out of the competition with cramps.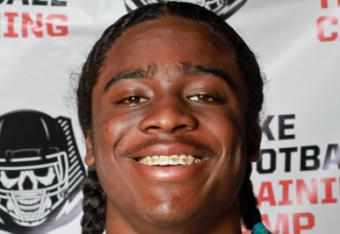 He looks a little disappointed in his 4.42. Give him a pity follow on Twitter.
Tony Brown in tenth had the best 40 time at 4.35 seconds in the prelims.
UPDATED SCORES (Pre 40)
| | |
| --- | --- |
| Name | SPARQ Rating |
| Speedy Noil | 119.61 |
| Terry McLaurin | 112.26 |
| Nick Chubb | 106.98 |
| Braxton Berrios | 106.20 |
| Lorenzo Carter | 104.94 |
| Joey Alfieri | 103.56 |
| Edward Paris | 101.37 |
| Trey Marshall | 99.87 |
| Elijah Hood | 97.08 |
| Tony Brown | 91.92 |
Here we go. Time for the main event: the 40-yard dash.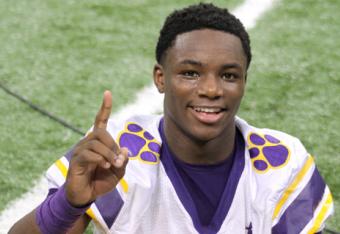 Speedy Noil is the real deal. Add that 41' toss to an already excellent final round.
McLaurin continues to impress with a 42' toss.
There's just no way he's still a 3-star for much longer.
As Tony "TB" Brown tosses the power ball 37 feet, take a close look at that hair.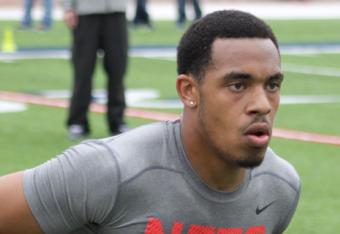 Edward Paris matches Carter's 42' toss.
He'll be joining LSU next season, which is almost becoming Defensive Back U lately.
This drill just looks awkward.
Kneeling on a padded board and throwing a medicine ball soccer throw-in style can't feel natural.
Though Lorenzo Carter makes it look easy with a 42' toss.
This article is
What is the duplicate article?
Why is this article offensive?
Where is this article plagiarized from?
Why is this article poorly edited?