Biggest Takeaways from the Boston Bruins' 2013 Draft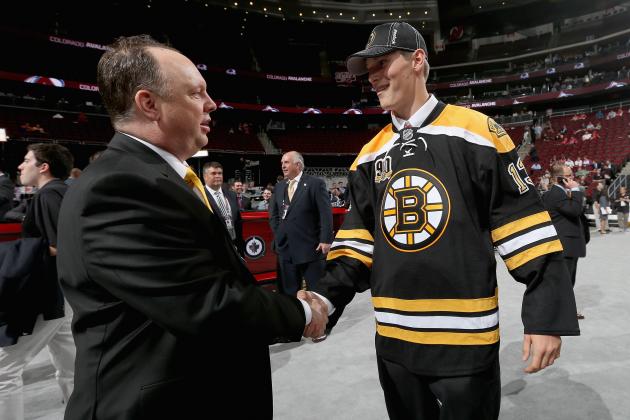 Bruce Bennett/Getty Images

Less than a week after a historically painful defeat in the Stanley Cup Final, the Bruins started their recovery with the 2013 NHL draft. GM Peter Chiarelli and the Bruins left New Jersey's Prudential Center with six new prospects.
It was a day short on fireworks, but nonetheless Boston enjoyed a successful draft. The Bruins stood pat on the trade front, despite not having a first round pick, suggesting that free agency should offer more excitement.
Here are a few takeaways from Sunday's events:
Begin Slideshow

»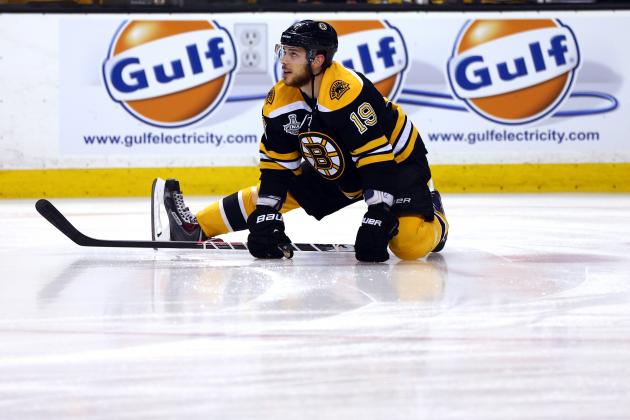 Elsa/Getty Images

A hurricane of trade rumors swirled around Tyler Seguin entering the NHL Draft on Sunday. The Bruins leader in both goals and points in 2011-12, Seguin hit the trade block after a highly disappointing season.
Seguin mustered only 32 points in the regular season and just one goal in the playoffs. As a result he seemed to be headed for the exit just three years after being drafted second overall. The 21-year-old was expected to fetch a top-10 pick at the very least, but after Sunday's first round it became clear that the Bruins winger was staying put.
Bruins GM Peter Chiarelli clarified during the draft that Seguin was pulled off the market days ago. According to CSNNE's Joe Haggerty, the Bruins stopped considering a trade when Nathan Horton announced his intention to test free agency.
Chiarelli suggested that the trade talks were intended as a wake up call for Seguin, saying:
"He's gotta commit his mind and focus. He's gotta be more of a pro."
Seguin signed a six year extension last summer that goes into effect this season, and he is set to make $34,500,000 over the length of the deal according to Cap Geek. At his age, he certainly still has the potential to justify the deal, but the pressure is on.
With Nathan Horton and Jaromir Jagr out of the picture, he will likely return to Boston's top-six, but if he does not find his goal-scoring form, he could be headed out of town.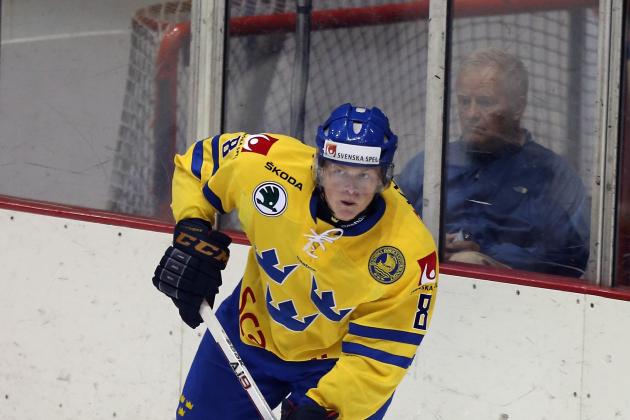 Bruce Bennett/Getty Images
Second Round Pick Linus Arnesson
From 2007 to 2012 the Bruins selected just four players from European leagues, so it was a bit of a shock that they left Sunday's draft with three prospects who currently ply their trade in Sweden.
After years of sticking to North American trained players, the Bruins have fundamentally changed their philosophy. Perhaps the shift comes as a result of Sweden's recent international success at both the junior and senior levels.
Sweden has reached the final of the World Junior Championships in each of the last two years, winning gold in 2012, and the Tre Kronor won the senior World Championship in May.
However, the shift is more likely influenced by the NHL success of Swedish stars like Henrik Zetterberg and the arrival of Carl Soderberg and Niklas Svedberg this past year.
Svedberg signed with the Bruins last summer after leading Brynäs IF to the Swedish title, and he enjoyed a superb season in net for Providence. He received the Baz Bastien Memorial Award as the AHL's most outstanding goaltender and will likely back up Tuukka Rask at the NHL level this fall.
Carl Soderberg has yet to build much of a resume in North America, but the Swedish Hockey League's leading goal-scorer in 2012 will play a larger role in Boston next season, with a full training camp under his belt. Soderberg's transfer saga brought the Bruins into direct conflict with the Swedish Hockey Federation, who hoped to keep the gifted forward available for the World Championships, but the spat has not scared the Bruins away from Swedish talent.
The Bruins selected reliable defenseman Linus Arnesson, high-scoring Slovakian-born winger Peter Cehlarik and deep sleeper Anton Blidh, and all three could contribute down the line.
Arnesson projects to be a solid stay-at-home defenseman in the Dennis Seidenberg mold, while the rapidly emerging Cehlarik could provide a scoring spark. Cehlarik only reached Sweden's top flight league late this season, but he managed three goals and six points in eight games.
Selected 180th overall, Anton Blidh is a mystery to much of the hockey world, but perhaps he could be the next Zetterberg. The Detroit Red Wings Swedish captain was selected 210th in the 1999 draft suggesting that any of Sunday's 211 draft picks could become a star.
For now, it seems like the Bruins expect to find their next surprise star in Sweden.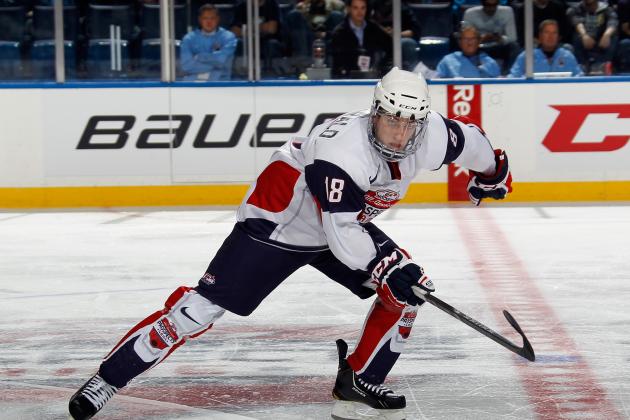 Bruce Bennett/Getty Images
Fourth Round Pick Ryan Fitzgerald
The Bruins didn't have to go far to find Ryan Fitzgerald and Wiley Sherman. Both prospects hail from black and gold territory.
The fourth and fifth round selections continue a trend of New England selections by the Bruins. Last year Boston selected Charlestown, MA native Matt Grzelcyk, who currently skates for Boston University, and the previous year Boston selected defenseman Rob O'Gara who is studying at Yale University.
Fitzgerald and Sherman will both be playing NCAA hockey in Boston this fall, with Fitzgerald headed to Boston College and Sherman set to suit up for Harvard University.
The 6'6" Sherman has elite size, but Fitzgerald could end up being the Bruins' best find of this draft. The son of former-Bruin Tom Fitzgerald, Ryan was expected by some to be off the board before the Bruins made their first pick at the end of the second round. TSN's Craig Button ranked Fitzgerald 42nd among draft-eligible prospects, ahead of several first round picks.
The Bruins will have no trouble monitoring both prospects, especially considering the duo will take the ice at Boston's TD Garden for the annual Beanpot Tournament in February.
In a few years, Fitzgerald and Sherman could help Americanize a Bruins team that didn't feature a single American-born player on its opening day roster this past season.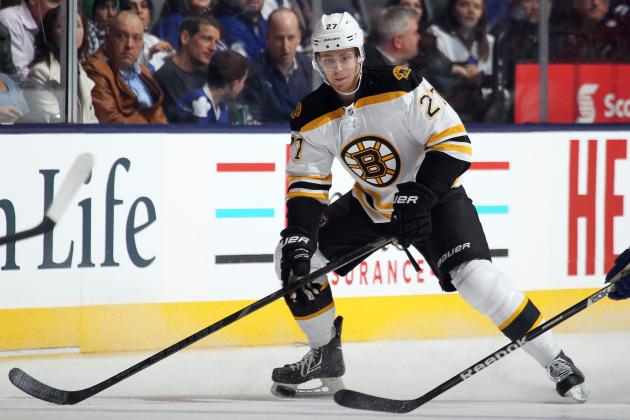 Claus Andersen/Getty Images
2011 First Round Pick Dougie Hamilton
It should come as no surprise considering Boston did not have a first round pick that none of their 2013 selections are likely to make the team this fall. This draft was focused squarely on the future, not the present.
Second round pick Linus Arnesson is a fine prospect, but he is a long shot to play NHL hockey any time soon, and despite Ryan Fitzgerald's considerable talent, he will spend at least a few seasons honing his craft under coach Jerry York at BC.
Two years ago, Tyler Seguin made the jump straight from the Ontario Hockey League to the NHL after being drafted second overall, and the Bruins are now left wondering whether some extra time with the Plymouth Whalers could have helped him reach his potential.
This past season Dougie Hamilton made the team out of training camp just one year removed from being drafted in the first round, and although he played well, he spent most of the postseason on the bench.
It isn't impossible for later picks to crack NHL rosters on the first try. Second round picks Patrice Bergeron and Milan Lucic each debuted as teenagers, but nonetheless, the 2013 draft class seems destined to wait.
As a result, it will be difficult to judge this group for at least 5 years. Come 2020 the Bruins success or failure on Sunday will finally be apparent.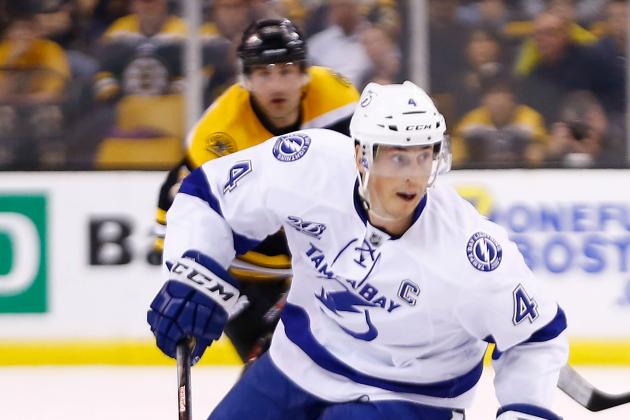 Jared Wickerham/Getty Images

With Nathan Horton announcing his intention to test the market, the Bruins will definitely be in the hunt for a top-six forward when free agency begins on July 5. Before the shopping begins, GM Peter Chiarelli will ideally have stars Tuukka Rask and Patrice Bergeron locked up for the foreseeable future.
The Bruins budget will be determined by what those players get paid, but if Boston does have money to spend, there are plenty of big fish in the sea to go after. Compliance buyouts have made the likes of Danny Briere and Vincent Lecavalier available, and the sharks in NHL front offices across North America are preparing for a frenzy.
Zdeno Chara and Shawn Thornton were the only Bruins acquired via free agency to play this past postseason, demonstrating Chiarelli's general avoidance of big spending on the open market. This year, however, things could be different.
Chiarelli has openly expressed interest in Lecavalier, who would likely play on the right wing if he signs in Boston. The Bruins met with the long-time Tampa Bay Lightning captain before the draft, and according to Fluto Shinzawa of the Boston Globe, Chiarelli pitched him on Boston's established core.
The 33-year old led the league in goal-scoring back in 2007, and he led the Lightning to their only championship in 2004. The high-scoring veteran isn't afraid to bang bodies, and he would be a perfect fit in Boston if the price is right.
If not, Boston could consider other options at right wing including Pascal Dupuis and former-Bruin Michael Ryder.