Premier League: Top 10 Grudge Matches for Next Season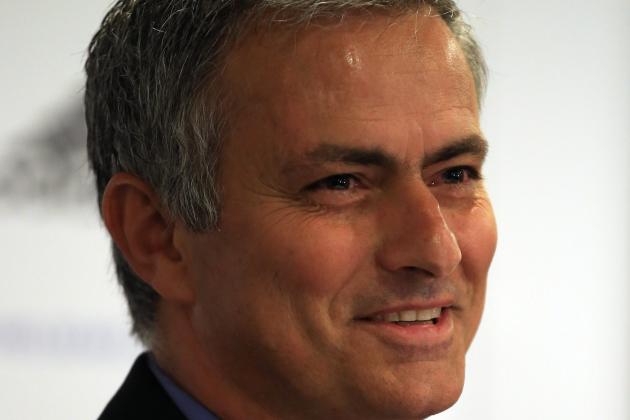 Richard Heathcote/Getty Images
The return of 'The Special One' will surely spark up some great rivalries
With the new season fast approaching, some huge matches are in the offing.
From top-two tussles to relegation scraps and the numerous local derbies on show, this seasons Premier League has the potential to be one of the best in memory.
The managerial merry-go-round has been in full swing already, which adds an intriguing twist to many fixtures.
With the transfer window finally open too, we could have a lot of new-look teams come the curtain-raiser on August 17.
Here is a rundown of the top 10 grudge matches set to take place next season.
Begin Slideshow

»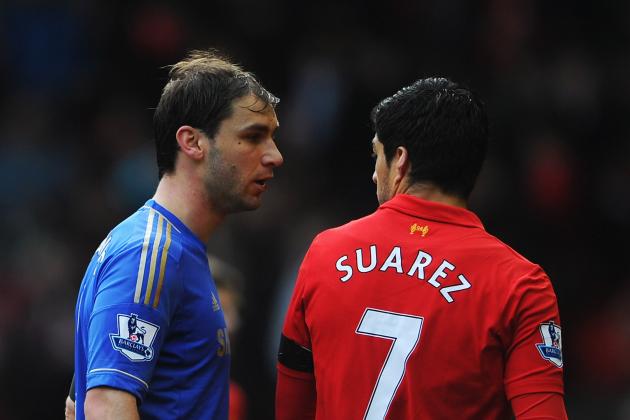 Michael Regan/Getty Images
Liverpool stirker Suarez suffered a 10 game ban after biting Chelsea's Ivanovic.
There are many interesting twists to this tale, and it has the makings of a feisty encounter.
Should Liverpool's enigmatic striker Luis Suarez still be at the club, he will be free to play in this one as his 10-game ban for biting Chelsea defender Branislav Ivanovic will be long over.
If that wasn't enough spice added, then Mourinho making his return to a stadium that still resonates with injustice (for him) should make for exciting viewing.
The "ghost goal" that he still deems never crossed the line in a Champions League semifinal is still a sore point for the newly reappointed Chelsea boss.
Further still, it is a case of master versus apprentice when Brendan Rodgers welcomes his old teacher to Anfield.
Rodgers sat in the Chelsea dugout under Mourinho's tutelage during his first stint at Stamford Bridge.
How Rodgers would like to put one over the man he gained much knowledge from and show Mourinho how far Rodgers and his evolving Liverpool side has come.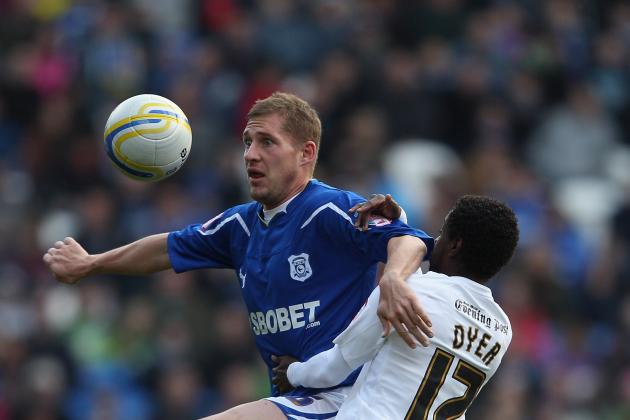 Stu Forster/Getty Images
The south Wales derby promises to be an electric encounter.
A fervent atmosphere is expected for this dynamite fixture.
There is no love lost between these sides (separated by just 42 miles) and Cardiff will be desperate to prove they aren't far from being a team as good as Swansea.
Having had to sit in their shadows for the last couple of seasons, Cardiff can at least boast that they earned promotion to the top flight as champions, whereas their neighbours had to use the playoff route two seasons ­ago.
Aside from the inherent rivalry of a south Wales derby that makes it a true grudge match, it is also worth noting that this game will be the first in Premier League history to be contested without the presence of an English side.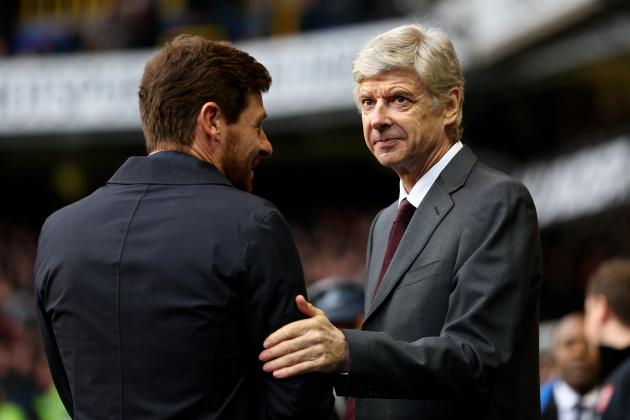 Paul Gilham/Getty Images
The north London derby is one of the league's biggest grudge matches.
With rumours abounding of Gonzalo Higuain set to seal his switch to Arsenal this week and Paulinho said to be heading to the other end of the Seven Sisters road to sign for Tottenham, this north London derby could have quite a South American flavour to it.
As grudge matches go, this is right up there in the fixture calendar and the powers that be have decided to let the two sets of fans have their first helping in just the third game of the season.
Last season the Gunners cruised, eventually, to a 5-2 win after Adebayor saw red for a reckless lunge.
The return tie saw Tottenham take three points in a 2-1 win at White Hart Lane that sparked Arsenal into a storming end-of-season run that ensured they took the coveted fourth spot, ahead of their bitter rivals.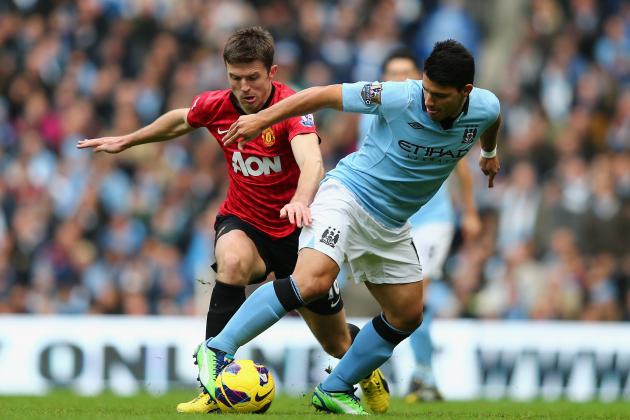 Clive Mason/Getty Images
The country's top two teams do battle under new managers.
This will be the first Manchester derby at Old Trafford in over a quarter of a century without any involvement from Sir Alex Ferguson as David Moyes starts a new era at the home of the champions.
Although it isn't quite as big a change at the helm, City, too, welcome Manuel Pellegrini into the fray—the man charged with bringing the title back to Eastlands.
Last season's top two are sure to be top title contenders again this season.
But with Manchester City having already strengthened their squad, Manchester United's biggest challenge seems to be to try and persuade striker Wayne Rooney to stay at the club.
City's record at Old Trafford has been impressive of late, winning on their last two visits there.
But new boss Moyes will desperately want to build his legacy at the club, and a win in the Manchester derby on home soil would go a long way to doing just that.
Not only could this be a relegation scrap with Newcastle and Sunderland finishing 16th and 17th, respectively, last season, it will be a huge match for local bragging rights.
The two cities in England's northeast have traditionally made this one of the loudest derbies the country has to offer, and with the added spice of the Magpies being on a revenge mission, it could be one of the loudest yet.
Last season, Paolo Di Canio took a Sunderland side struggling for confidence to St. James's Park in only his second game in charge.
The Mackems took all three points and put three past their bitter rivals in a virtuoso performance that left Newcastle fans black, white and red (faced) all over.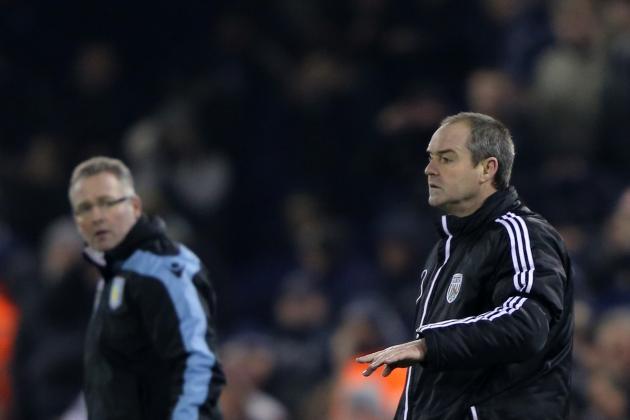 Ian Walton/Getty Images
Two teams with a bitter rivalry, get ready to do battle again this season.
Two Scotsmen who experienced differing fortunes last season do battle again in this local grudge match.
The Midlands derby often goes under the radar from a national perspective, but the local rivalry is fierce and passionate.
West Brom boss Steve Clark enjoyed a successful first season in charge at the Hawthorns whilst compatriot Paul Lambert suffered through a turbulent time with his rookie Aston Villa squad.
Both will be looking to improve upon last season's efforts, but in this one form goes out the window, as we saw in their two pulsating draws last season.
It could also prove vital for confidence for the teams.
Losing to a close and bitter rival can often hinder further displays, and these two teams will be going at each other to make sure one can leave better off than the other.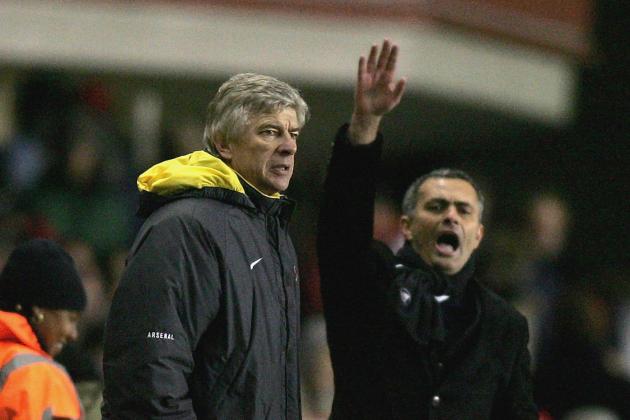 Ben Radford/Getty Images
Wenger has a torrid record against Chelsea under Mourinho.
With Arsene Wenger reportedly finally set to spend big, Arsenal could turn into genuine title contenders if they buy real quality in the transfer market.
A Chelsea side with Mourinho back at the helm will surely flourish with the players he already has at his disposal, not to mention additions he is likely to make (having already brought in the highly rated young German Andre Schurrle from Bayer Leverkusen).
The fact, too, that Mourinho is undefeated in his visits to the Emirates makes for an intriguing battle of wits.
Wenger will be desperate to get the upper hand on a man who has taken a six-year hiatus from the Premier League.
He won't want him to pitch up again after all this time and still prove he can win on Arsenal turf as and when he chooses.
There have been some titanic tussles in recent years between the two. Expect to not be disappointed when this fixture comes around.
It might not be a grudge match, as such, but this fixture was responsible for throwing up one the games of last season, a 3-3 draw.
However, the two teams who took part might be shock candidates to be dragged into a relegation scrap next season.
Despite their respectable finishes in the table (Stoke 13th and Southampton 14th), the teams were only six and five points, respectively, away from the drop zone by the end of the season.
Whilst Southampton have been lauded for the efforts in pressing high and taking the game to opponents, it might be their grand undoing next season when their small squad gets hit by fatigue.
Stoke, meanwhile, scored a paltry 34 goals (only QPR recorded lower, and look what fate they succumbed to).
There are probably three teams worse than these two in the league next season, but time and again it has been proved that it's not always the worst three to go down.
This will be a decent benchmark for two rivals, in the league table sense, to see how well they can fare against the teams around them.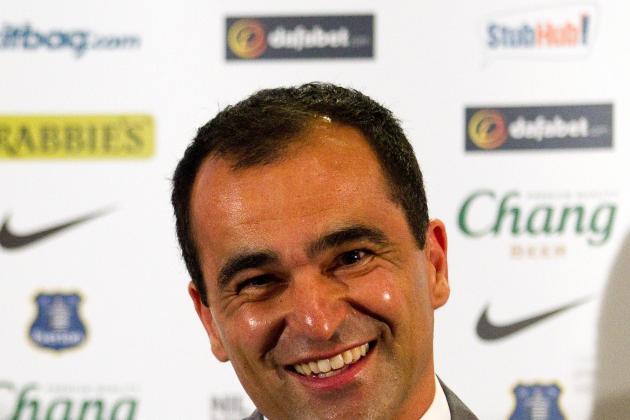 Paul Thomas/Getty Images
New Everton boss Roberto Martinez faces a new experience with derby day.
Roberto Martinez has been at the forefront of some memorable matches in his fledgling managerial career, none more so than his FA Cup triumph towards the end of his reign as Wigan boss.
But nothing will have prepared him for the goose-bump inducing atmosphere of Goodison Park on derby day.
Everton have had the upper hand on their rivals in the league standings in recent seasons.
However, Martinez will never have experienced an arena quite like this when the Liverpool half of Merseyside come to town.
In a game that is rarely without incident (who can forget Suarez's "dive" celebration in front of Moyes last season), Martinez will have to prepare himself for a battle.
The term "grudge match" can sometimes be overused or misplaced, but for the Merseyside derby, the longest running in the current top flight, this day sees a city (and often families) divided.
If Martinez doesn't already know what it means to be Everton boss and be affiliated with the club, he will find out after this physical encounter.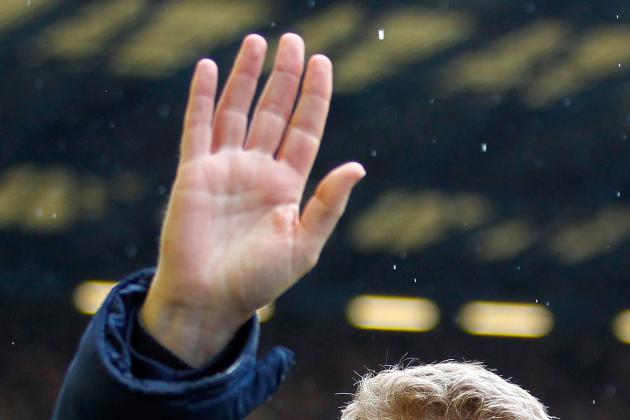 Paul Thomas/Getty Images
How will Moyes be received on his return to Everton?
David Moyes' return to Everton could be a volatile one, with the crowd creating a hostile atmosphere for their former boss.
Although he left on good terms, that might not be the view when he returns with his new club, Manchester United; especially if he takes Leighton Baines with him, as reported in The Guardian.
Traditionally, this isn't known to be a huge grudge match in the Premier League, but new rivalries are always being created and this could be next season's newest and hottest.
Roberto Martinez will also be keen to keep up the sterling work done at the club by his predecessor, and what better way to endear himself to the fans than by showing Moyes what he left behind.