NBA free agency is in full swing, and the name that's going to command the most attention over the next 10 days is that of center Dwight Howard.
Howard met with the Houston Rockets' braintrust of general manager Daryl Morey, head coach Kevin McHale, star shooting guard James Harden and emerging small forward Chandler Parsons in Los Angeles as soon as the clock struck 12:01 a.m. on the East Coast, and former Rockets greats Hakeem Olajuwon, Clyde Drexler and Yao Ming were reportedly all there to try to complete the free-agent pitch.
Where will D12 ultimately end up?
According to Adrian Wojnarowski of Yahoo! Sports on Monday, the Rockets have emerged as a front-runner for Howard's services. A pitch of multiple championships, history of past success and a quick return to the top of the playoff scene in the Western Conference all serve as talking points for Howard to move from L.A. to Houston later this month.
Howard and Harden would instantly be one of the hottest duos in the game when it comes to stardom and on-court production, but news broke on Monday that the Rockets might not be done in free agency if they can indeed woo Howard to Texas.
Could Houston be the next city in line to carry a significant "Big Three" label?
According to a report from Jonathan Feigen of the Houston Chronicle, Howard's meeting centered around questions of how he would fit with the Rockets' current collection of stars and role players and also ventured toward the question that nearly every team with cap space and two stars is asking these days—who's next?
Here's an excerpt from Feigen's report:
According to a person with knowledge of the conversations, "about 90 percent" of Howard's questions were about the team, its potential and how he would fit....Rockets general manager Daryl Morey discussed not only the plans going forward, but was also asked about how the Rockets were built to position themselves to be able to offer a second max contract.
That second max contract could be another free agent in the summer 2013 class, one that has a close tie to Howard's past and would be, on paper, a great fit in the offense that Houston is looking to employ under McHale for years to come.
The player? Long-time Atlanta Hawks forward Josh Smith. According to Nick Mathews at the Chronicle, the Hawks are making their pitch in chasing Smith as a complimentary piece to the overhaul planned in Houston this offseason:
#Rockets go after Josh Smith, a close friend and former teammate of Dwight Howard. http://t.co/UCvmeXcF6y

— Nick Mathews (@Nick_Mathews) July 1, 2013
Chris Vivlamore of the Atlanta Journal-Constitution confirmed on Twitter that Smith was meeting with the Rockets on Monday:
Josh Smith will meet with Rockets today. #ATLHawks

— Chris Vivlamore (@ajchawks) July 1, 2013
That being said, the Rockets reportedly did not mention Smith as the specific player in question during the second max contract talks. That information comes from Yannis Koutroupis of HoopsWorld:
A potential sign-and-trade for Josh Smith, a childhood friend of Howard's, was not brought up in the Rockets' meeting with him last night.

— Yannis Koutroupis (@YannisHW) July 1, 2013
As he mentions later on his Twitter profile, Koutroupis notes that avoiding talk of a specific player as a part of the plan in Houston is a smart one—the Rockets are trying to sell Howard on the promise of success now and more moves to make the team better later.
One such move would be adding Smith to the mix.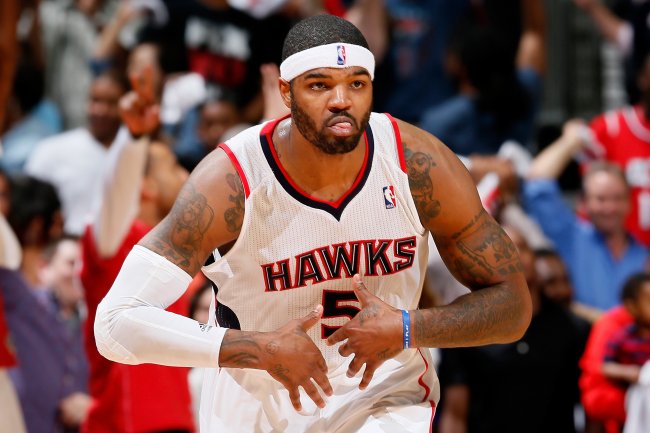 Kevin C. Cox/Getty Images
A Harden-Howard-Smith trio looks great on paper. But as it is with every tandem, including the Miami Heat's Big Three, there are pros and cons to stacking a roster of players who each have different things that make them great.
The reward, obviously, has been laid out in blueprint form by the Heat during the course of their three-year run to the NBA Finals that now includes two straight league championships. The risk is a disaster of epic proportions, or in layman's terms, too much of a good thing.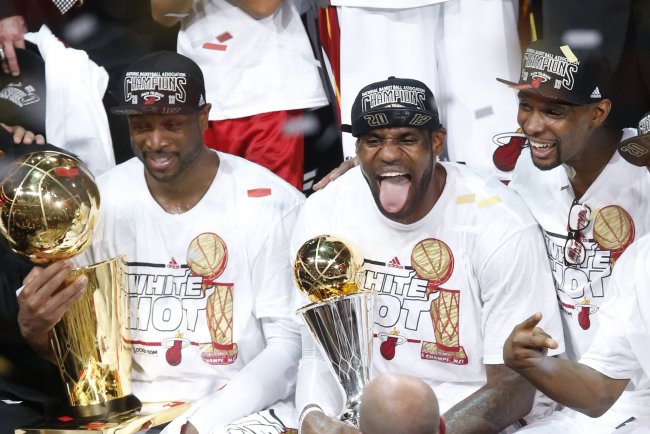 Derick E. Hingle-USA TODAY Sport
On the positive side, all three were in the top 30 in scoring during the 2012-13 regular season, a feat that would best the Heat in that category (Chris Bosh finished 32nd). Only Brooklyn's infusion of Paul Pierce into the lineup next year would have as many top scorers in its lineup as Houston would with Howard, Harden and Smith.
If there's one thing we know about Houston's offense, it's that the Rockets love to score.
Houston finished second in the league in scoring during the 2012-13 regular season, averaging 106.0 points per game on 46.1 percent shooting. The Rockets also had an adjusted field-goal percentage of 52.5 percent—another top-five mark among league leaders.
Atlanta and the Los Angeles Lakers (Howard and Smith's old teams) also finished in the top 10 in that category, and we know that all three players will be able to match the offensive production of nearly every team on the schedule if all three are clicking on the same night.
Another pro would be the ability to go head-to-head with any team in the league on any given night. The "Big Three" model has taken over in NBA executive and player circles over the past few seasons, a byproduct of LeBron James and Bosh's move to Miami three summers (has it been that long?) ago.
Although Smith might not carry the same weight in consistency and novelty that Harden and Howard bring, being the third-best player on a team would be the first time we've ever been able to say that about a the 27-year-old veteran.
Teams are always looking to gain advantages when it comes to matchups, and having this trio would give McHale versatility that knows no bounds.
Harden can slide down and play point guard when necessary, Smith has shown the ability to be an inside-out nightmare when playing power forward consistently and even Howard shows stretches of being completely dominant down on the block.
From a pessimistic point of view, the obvious question about a trio of this nature is how the ball is going to find its way into the hands of these three players for shots next season.
The scoring numbers are great, but to get those numbers guys usually have to be on different teams. Howard, Harden and Smith's field-goal attempt per game numbers come out to 43.4, which would be over half of the 82.7 that the Rockets attempted per game last season—not a bad number, but a significant chunk of the offense.
The same problem presents itself and in the fourth quarter of close games. Harden is the obvious choice, but as Shaun Powell points out, there's a fundamental similarity between Howard and Smith that is also obvious:
Rockets willing to team Dwight Howard and Josh Smith, who both want the ball.

— Shaun Powell (@Powell2daPeople) July 1, 2013
You always run the risk of egos and demands clashing when you start putting ball-domineering players together.
Another situation for Houston to monitor is the cap, where the harsh reality of the "poison pill" contracts handed out to Omer Asik and Jeremy Lin last summer set in on the cap during the 2014-15 season.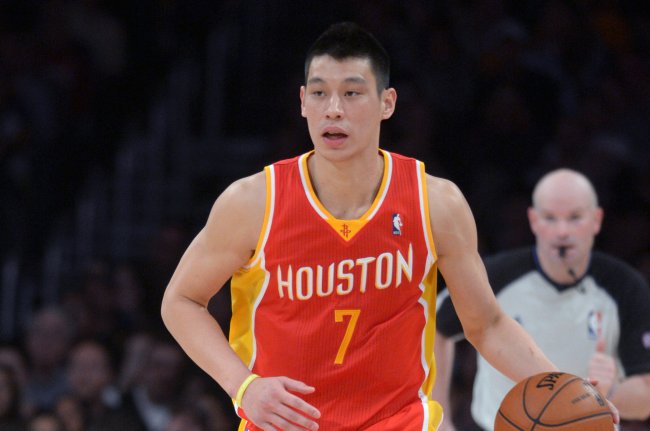 USA TODAY Sports
It should come as no surprise to many that the Rockets are now trying to trade the big signings of the 2012 offseason then, as this report from CBS Sports' Ken Berger asserts.
The Rockets would potentially be on the books for Harden ($14.693 million), Howard and Smith (max deals combined in the neighborhood of $36-$40 million) and close to $30 million owed to Asik and Lin over the final two years of their deals if all five players were to stick with Houston.
That being said, the end of the Lin era in Houston will likely come with a Smith signing.
There are pros and cons to every deal in the NBA, which is why the vast majority of the population is not involved in the decision-making process of a major franchise. Each GM will make decisions for their squad based on what they think is best, and Morey is no different.
Keeping up with the Jones' and risking the catastrophe of a threesome not working in Houston will be Morey's big talking points in the mirror when deciding on whether or not he wants to create the NBA's next big trio when the 2013-14 season begins, and what an inner struggle that contrast could turn out to be.
Houston has to get Howard in the fold first, but there's little doubt that in terms of potential for immediate success, a star already in place and the ability to be the face of the team for years to come gives the Rockets an edge the rest of the way.
Would a third star give the team an edge in the Western Conference? It's an idea that should be followed closely as Houston's step toward contender status fluctuates over the next 10 days.
Follow Bleacher Report FC Ethan Grant (@DowntownEG) on Twitter.