Fantasy Football Stars on the Decline in 2013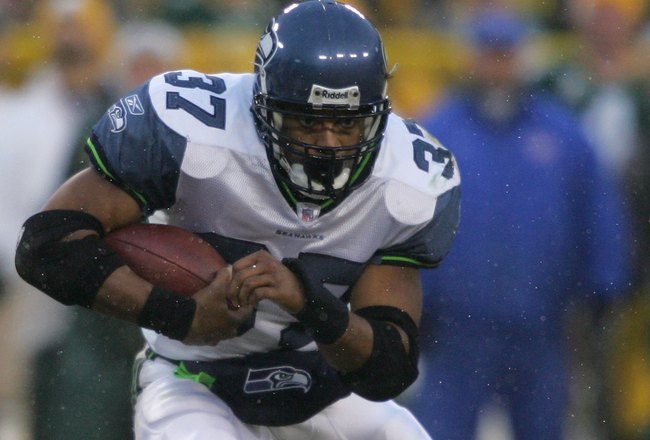 Shaun Alexander went from stud to dud in no time at all.
Matthew Stockman/Getty Images
In the NFL, players age quickly and their production dies swiftly.
It's even more brutal in fantasy football.
For example, look at Shaun Alexander, one time Seattle Seahawks running back and fantasy stud.
After a tremendous 2005, where he ran for 1,880 yards and amassed a staggering 27 touchdowns, Alexander regressed almost immediately.
He got hurt, missed even the 1,000 yard mark over the next two years and saw himself released and struggling to catch on in Washington.
As fast as the Seahawks dropped him, fantasy owners did it faster.
It's usually a better idea to be a year ahead of the curve than a year behind on a fading player.
With that in mind, here are some players who have been great fantasy performers in the past, but will be dropping off the map over the next few years.
Michael Vick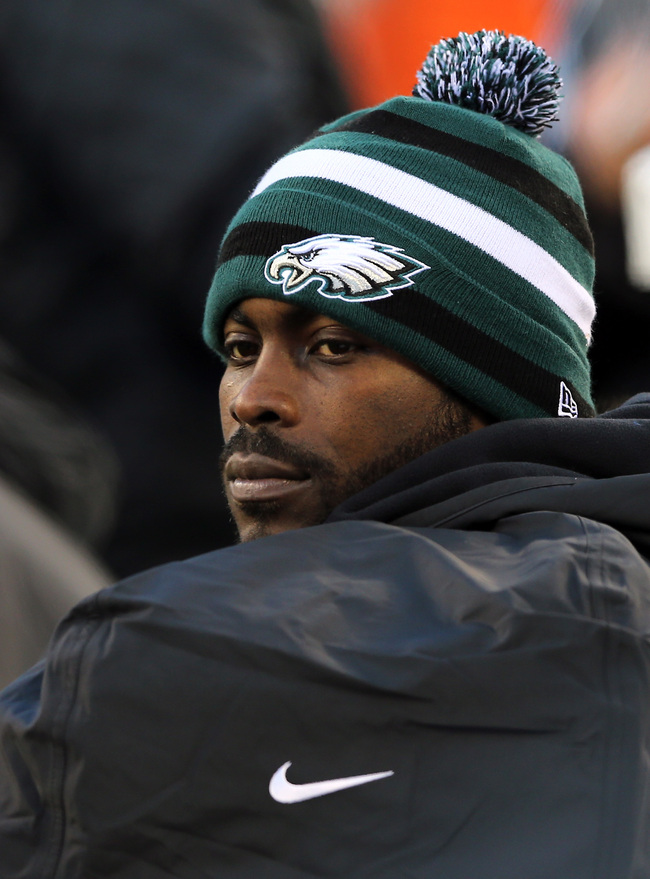 Elsa/Getty Images
We can argue when Vick's slide started exactly, but started it has.
He's always had injury issues and always been a shaky starter because of it.
The last two years have been filled with turnovers as well, though. Maybe it was the offensive line, maybe it was Vick—maybe it was both.
The reality is though, adding the ball security issues to the constant injuries is not making it any easier for him to hang on to that starting job. In fact, one can argue that Vick is only still an Eagle because he took a pay cut.
That's no ringing endorsement for your team's fantasy starter.
More than anything else, his decision-making has been poor the last two years, and with a guy like Vick, once that starts going, it's a sharp decline.
He may hang onto the job, and the team may take to new head coach Chip Kelly's offense like an eagle to the air, but more than likely there will be bumps and Vick's fantasy value will continue in a downward spiral.
Fred Jackson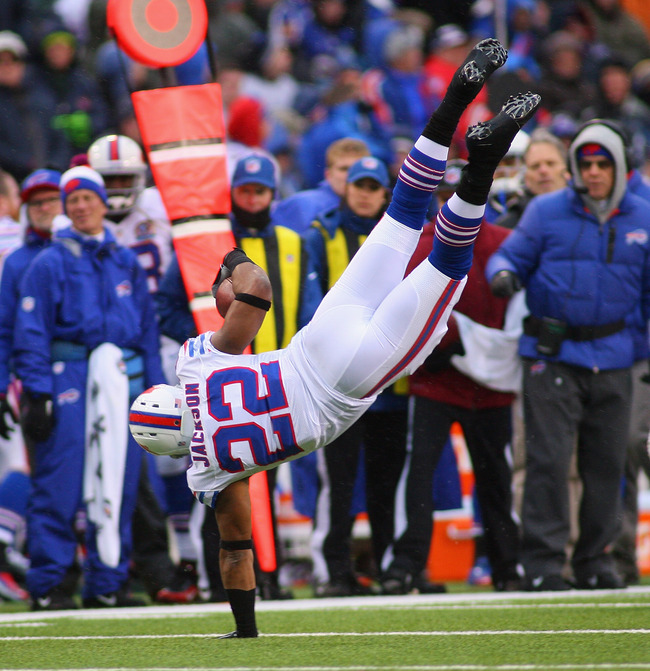 Rick Stewart/Getty Images
The beginning of the end for Jackson was when the Bills drafted C.J. Spiller early in the first round of the 2010 NFL draft.
Jackson stayed very productive for the two years following Spiller's arrival though, despite missing six games in 2011.
Unfortunately for Jackson, Spiller looked good enough when he took over the lead role that Jackson took a back seat in 2012. Then Spiller lit up the opposition for more than 1,200 yards on the ground (and another 459 receiving yards) and that was that.
Meanwhile Jackson, who had been a very solid fantasy producer since 2009, fell off the rails in 2012 even when he played, and it's going to be much worse this year.
Spiller is a far better fit in Doug Marrone's offense than Jackson is, and will get the bulk of the carries. Further, Jackson's durability is an issue after two straight years of six missed games or more.
The Bills look like they are going with a younger offense for the most part and at 32 years old, Jackson is on the wrong side of the age gap and breaking down.
Once a very reliable (and sometimes great) fantasy running back, Jackson is fading fast.
Tony Gonzalez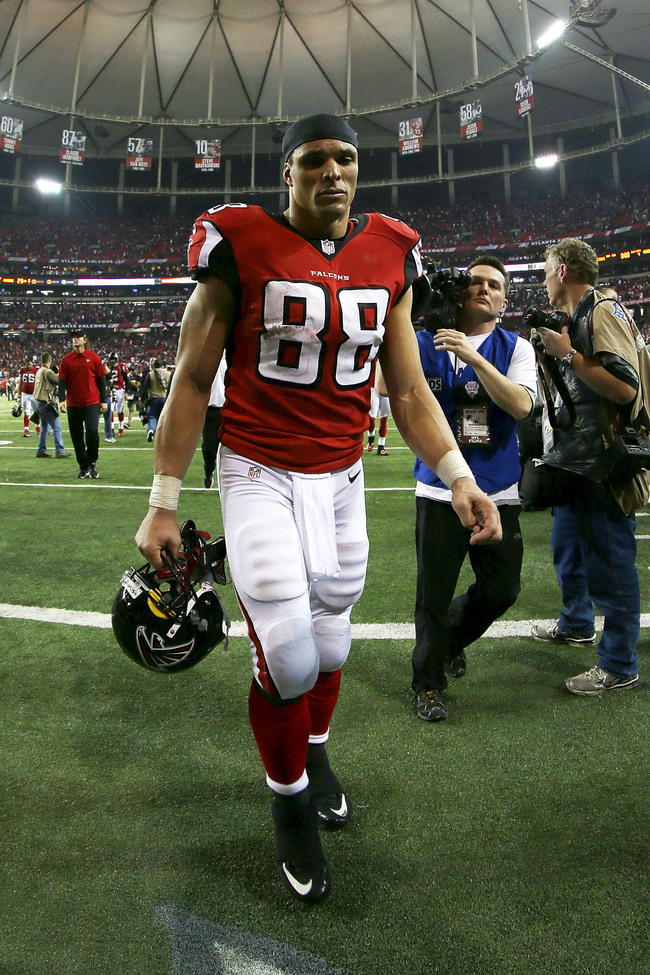 Mike Ehrmann/Getty Images
I love Tony Gonzalez. He's a fantastic player and a class act—there's nothing to to dislike about him, in fact.
That said, he's likely to have stayed in the NFL one year too many.
I can't blame him for sticking around in the hopes that the Falcons can get him that elusive Super Bowl ring.
However, despite a fantastic 2012, Gonzalez's production should drop off this season.
The fact is, that while the Falcons will look to him plenty, they have Roddy White and Julio Jones as well. Both players are significantly younger than Gonzalez and will likely be around long past the end of this season.
Which means the offense is likely to start focusing on them even more this season as the team prepares for life without Gonzalez.
While he won't drop off the face of the fantasy planet, you can expect him to be several hundred yards shy of the 930 yards he amassed in 2012. The touchdowns will drop as well, as Steven Jackson will be far more efficient than Michael Turner was last season, especially in the red zone.
Gonzalez will be a good football contributor—just not a great fantasy contributor.
Rob Gronkowski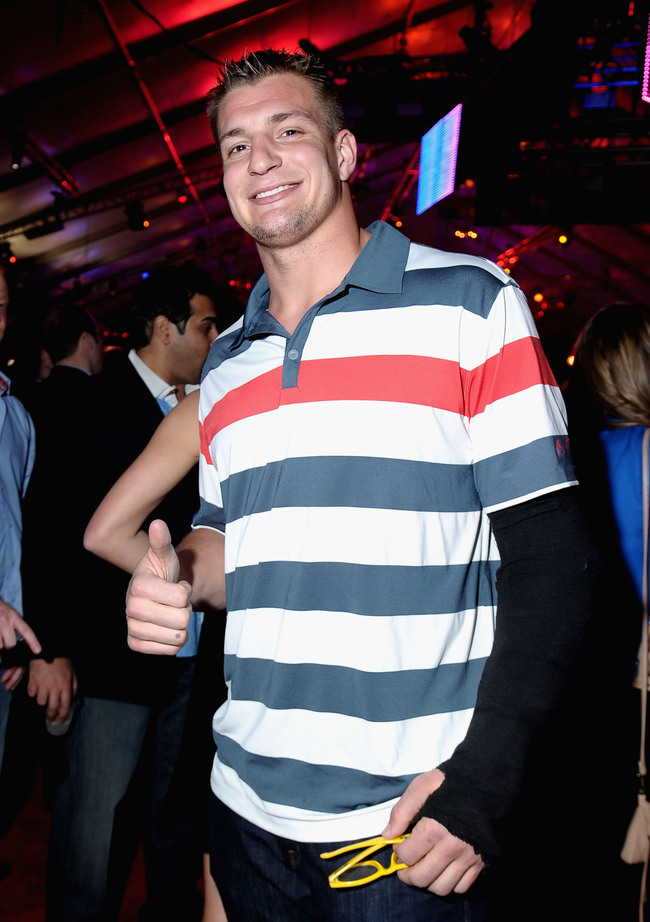 Michael Loccisano/Getty Images
Perhaps the picture shows some bias, but honestly Gronkowski has me worried.
First of all, the four surgeries on his hand and one on his back bring back the questions about his durability which were prevalent when he was selected in the 2010 NFL draft.
Then you add in the partying and start to wonder where his focus is.
When that focus is on football and he's healthy, Gronkowski is an elite tight end.
The problem comes for me when I start trying to picture him playing the way he has over the next two, three or four years.
He's already on the Physically Unable to Perform list (aka PUP list) and may not even start the season active.
Gronkowski has a lot of questions surrounding him. Last time that happened, he got fired up and put all his energy into football.
The question is whether he can do that again.
The answer feels very much like a 'no'.
Matt Schaub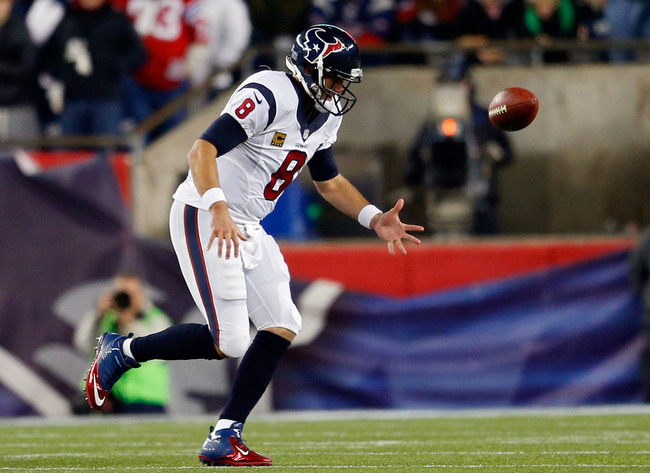 Jim Rogash/Getty Images
Yes, Schaub threw for over 4,000 yards for the third time in five years last season, but there are a few things which have me concerned.
First, would be the decreasing yards per attempt average which hit a career low since he became a starter in Houston back in 2007. His 7.4 yards per attempt is in the same shady neighborhood that Josh Freeman (7.3) and Ryan Tannehill (6.8) live in.
At least in the cases of Tannehill and Freeman, you have young guys still trying to figure it out. Schaub is entering his tenth year—there shouldn't be anything left to figure out. His yards per attempt shouldn't be going down.
Secondly, the interception to touchdown ratio is a concern. Since 2009, his touchdown total has gone down while his interceptions have remained the same. Like the yards per attempt, that's not a trend I like much.
On top of all this, the Texans are running the ball a lot.
While Houston threw the ball 544 times, it also ran the ball 479 times. When a team has Arian Foster, who can blame them?
Not only do I believe Schaub will disappoint fantasy owners this season, but I've long felt that he was on a short leash in Houston as the starter.
So from a dynasty league standpoint, this situation is just as bad for owners.
Mike Wallace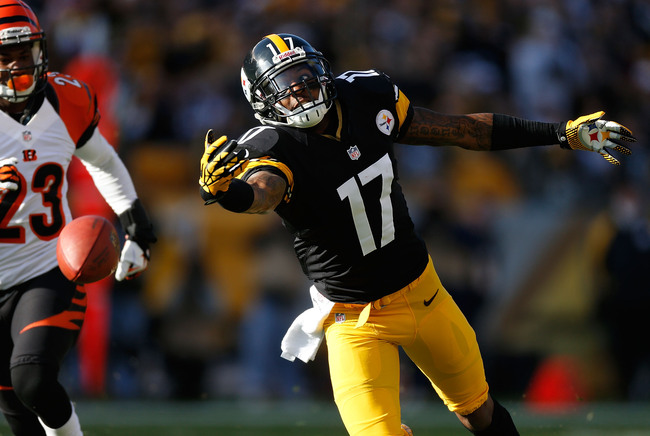 Gregory Shamus/Getty Images
During the 2010 and 2011 seasons, Mike Wallace was a fantasy receiver on the rise.
The 2012 season saw him tumble back to earth, and the disgruntled former Steeler took his talents to South Beach and the Miami Dolphins.
Can he replicate what he had in Pittsburgh before last year's regression?
The answer to that will be determined by two factors.
First of all, can Mimai quarterback Ryan Tannehill take the next step in his development? In his rookie season, Tannehill had decent, but not great, weapons.
The Dolphins got him more weapons (Wallace being one of them), but those players are only really useful if Tannehill can use them.
The second factor is Wallace himself.
His production in 2012 was a huge step back and it happened with, frankly, a much better quarterback than he will have with the Dolphins.
In the end, I don't think Wallace is quite as good as he played in 2010 and 2011, and will likely to continue to struggle at times with the Dolphins.
Whether they keep him around long enough for Tannehill to find him regularly is also a question, but even then I think we've seen his ceiling and it's downhill from here.
Miles Austin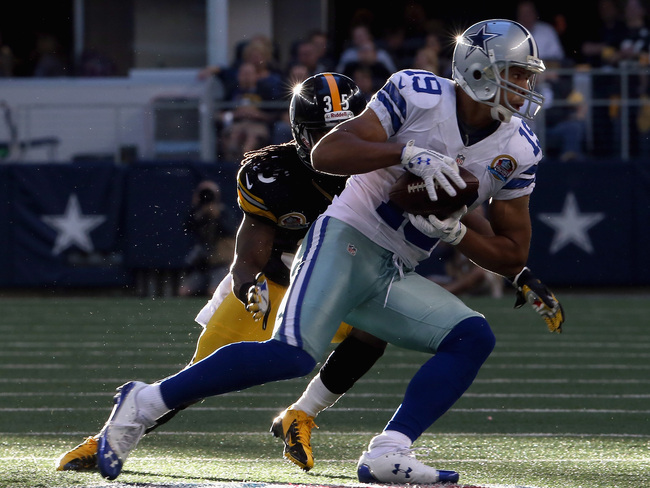 Ronald Martinez/Getty Images
After an injury plagued and unproductive 2011, Austin bounced almost all the way back with a reasonable 2012.
Don't be fooled.
Austin has had to battle sore hamstrings, while being replaced as the core of the passing offense by Dez Bryant. While Austin has the speed, aggressive playing style and a top receiver mentality, he's dropped to third in the overall pecking order (behind Bryant and tight end Jay Witten) and is just not as big a part of the offense as he once was.
In his favor is the lack of depth at wide receiver, but Austin has gradually regressed over the course of the last few seasons and will continue to fade from when he was talked about as the "next big thing" for the Cowboys offense.
Antonio Gates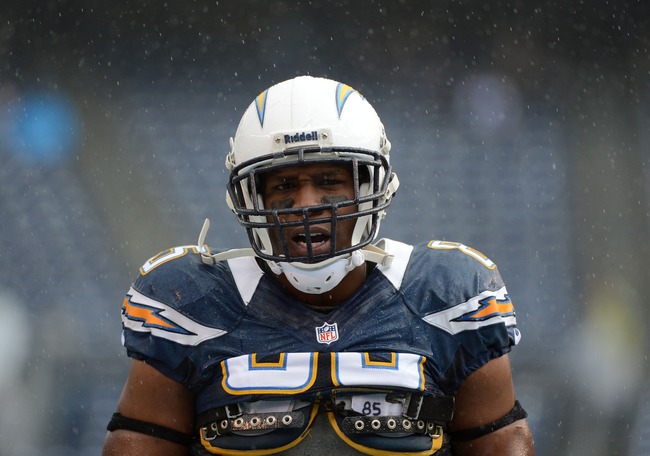 Donald Miralle/Getty Images
It's hard to bounce back once you've slipped.
As ESPN's Bill Williamson pointed out last month, it's tough for a tight end to have a great season once he hits Gates' age (33).
The last few years have shown a significant amount of wear and tear on the once dominant tight end. and while he played more games last year than he has in the two seasons before it, he was clearly less effective.
With a new coach in town, the hope is that Phil Rivers can bounce back from his own lackluster statistical dip, which could mean good things for Gates if he is healthy.
However, I see this decline as continuing. His skills have faded and he has more issues fighting off coverage and battling for balls than he used to.
It doesn't help that the offense is bereft of playmakers, meaning defenses can hang all over him without getting burned by other players too often.
Greg Jennings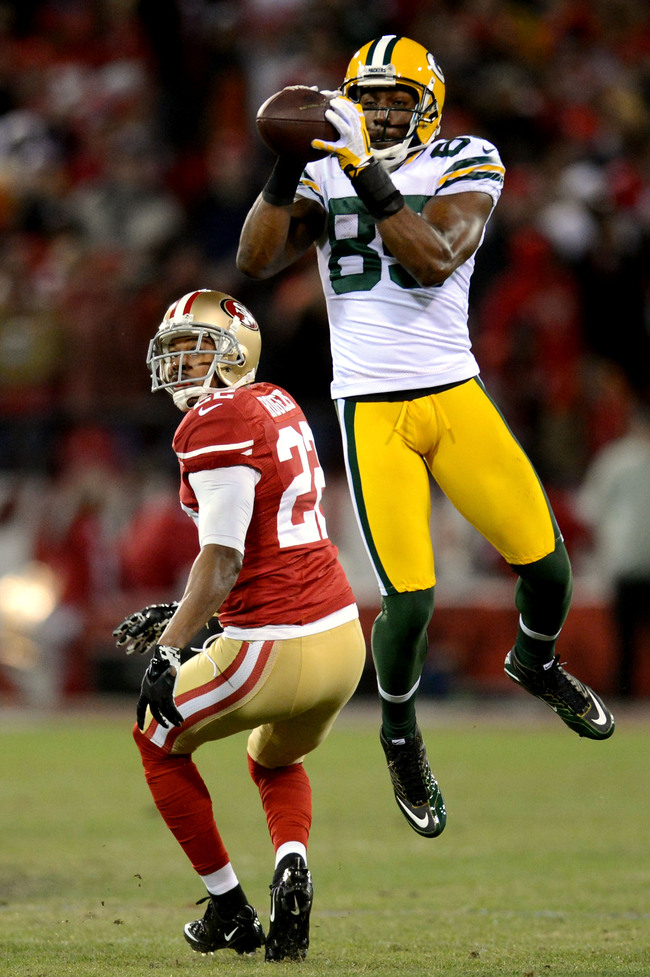 Thearon W. Henderson/Getty Images
The last couple of seasons have been rough on Greg Jennings. He missed 11 games and didn't break 1,000 yards in either year.
He was close in 2011, but last year was a disaster.
I don't foresee that changing this season.
Part of it is Jennings himself. He doesn't get separation on his vertical routes like he used to and he gets out-muscled on jump balls much more frequently.
And as I said up front, he's getting hurt more and more.
Now he joins a team with an unproven quarterback, a stud running back who is the focal point of the offense and a lot of new talent (Cordarrelle Patterson. Jarius Wright, Kyle Rudolph) to share targets with.
Jennings is likely to play for a while longer in the NFL, but his days as a potential number one fantasy wide receiver are done and not coming back.
Jared Allen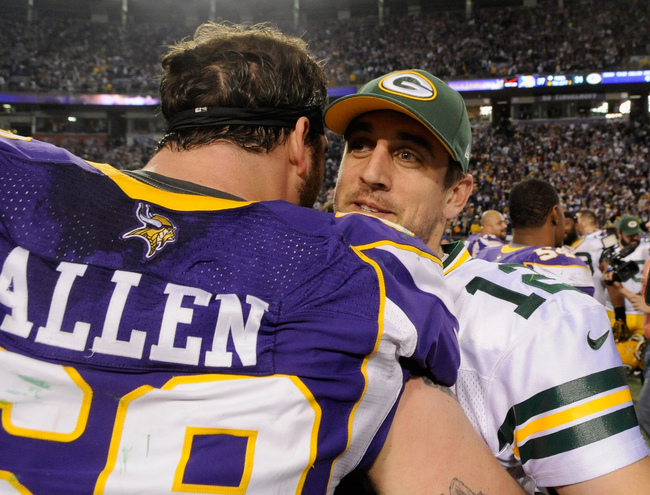 Hannah Foslien/Getty Images
Here's one for the IDP, or Individual Defensive Player leagues.
Jared Allen has been a stud fantasy defensive end since 2005 in Kansas City, but is starting to show his age.
After a huge 2011—22 sacks, 47 tackles and 17 assists—2012 saw him slow down a bit.
It's not just that his statistical totals faded by quite a bit—he just started to look old.
While still a very effective NFL defensive end, he's not going to rack up the fantasy points like he used to—especially as the Vikings look to get younger players more involved in the defense.
Allen will see his totals come down again this year as players like Lawrence Jackson and Everson Griffin have to step up.
Then it's just a short drop to fantasy irrelevance in the next two years.
Andrew Garda is a member of the Pro Football Writers Association. He is also a member of the fantasy football staff at Footballguys.com and the NFL writer at CheeseheadTV.com. You can follow him at @andrew_garda on Twitter.
Keep Reading