World Football: Ranking the Top 20 Most Valuable Players on the Planet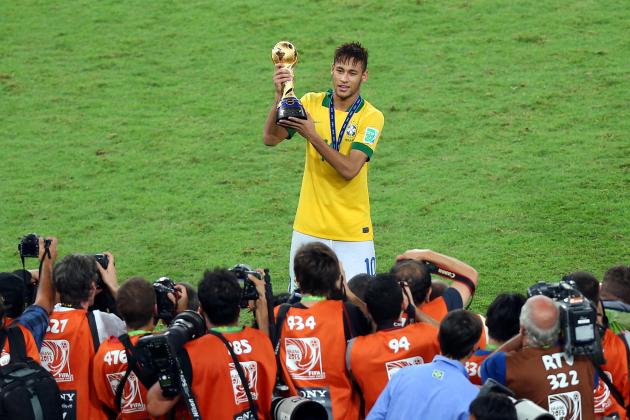 Ronald Martinez/Getty Images

Value is hard to come by in football. In the current inflated market, players regularly fetch exorbitant figures.
Recently the CIES Football Observatory attempted to rank, according to economic value, the world's 60 most valuable players. That list can be seen in full here.
It's an impressive selection of players, but the various criteria used to establish the ranking fail to take into account some of football's variable factors: age, residual value and length of contract.
Over the next 20 slides we attempt to redefine the planet's 20 most valuable players.
Begin Slideshow

»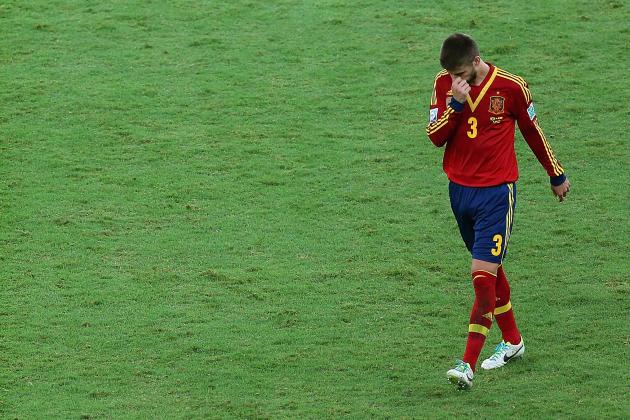 Ronald Martinez/Getty Images

Despite his Confederations Cup Final nightmare, Gerard Pique remains one of world football's most highly regarded central defenders.
Pique is a footballer first and a defender second. This occasionally lands him in trouble, but generally his outstanding technical ability allows him to dominate his opponent.
The player's celebrity marriage has increased his media profile and thus his marketing potential, adding another few million euros to his potential price tag.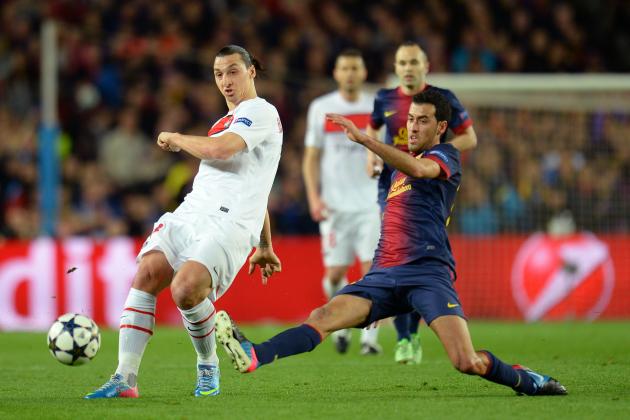 Shaun Botterill/Getty Images

Defensive midfield is not the most glamorous position in football.
It involves a lot of supposed dirty work: tackling, harrying and marking.
However, every so often a player emerges that is so specialised in this position that it elevates them to be ranked among football's most valuable players.
Like Claude Makelele before him, Sergio Busquets has become synonymous with the defensive midfield role. He is the rock upon which so much of Barcelona's attacking flair rests.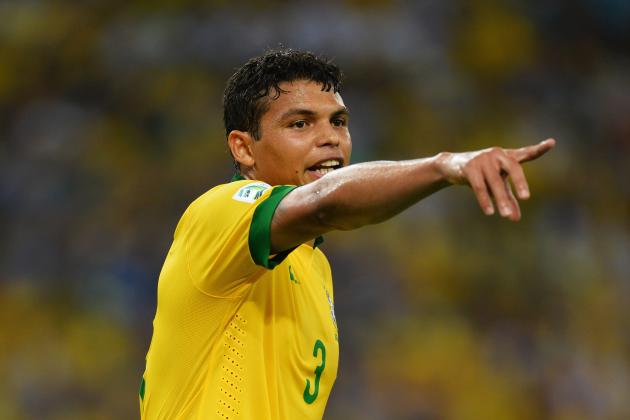 Laurence Griffiths/Getty Images

Thiago Silva's move to Paris Saint-German made him the second most expensive defender in history behind Rio Ferdinand.
Since then, the Brazilian centre-half has gone on to conquer both Ligue 1 and the Confederations Cup.
His value is not likely to decline any time soon: At 28, Thiago Silva still has four years or more of elite football left in him.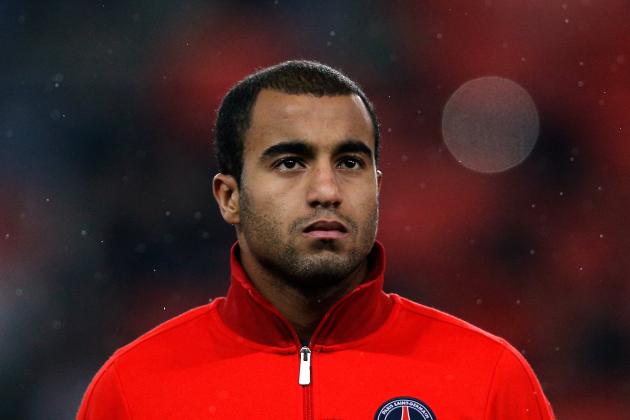 Dean Mouhtaropoulos/Getty Images

Lucas Moura was the subject of a highly publicised tug of war between Manchester United and Paris Saint-Germain. Eventually, the Brazilian winger opted to join PSG, simultaneously becoming one of the most expensive U-21 players in the history of world football.
Moura is still just 20 and a long way from fulfilling his enormous potential. That means that there is huge residual value to PSG's investment. Lucas Moura is widely expected to be one of the star's of Brazil's 2014 World Cup campaign.
What once looked an exorbitant fee could eventually come to be recognised as a bargain.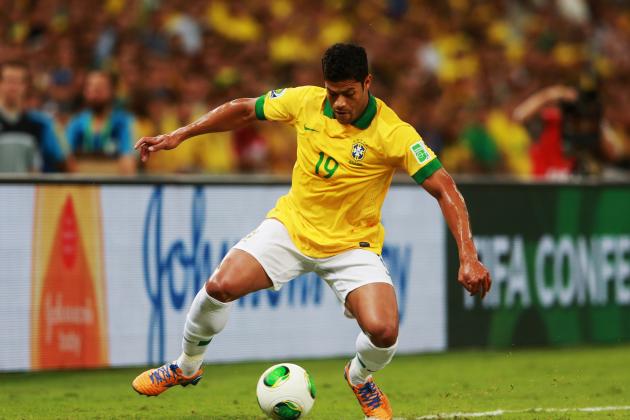 Scott Heavey/Getty Images

Hulk is nearly as valuable as he is powerful.
The man with the heroic name has come a long way from his Campina Grande origins. After spells in Japan and Portugal, Hulk now plies his trade in Russia with Zenit St. Petersburg.
The muscular Brazilian continues to go from strength to strength: Brazil coach Luiz Felipe Scolari has defied his critics to make Hulk a key component of his Confederations Cup-winning side.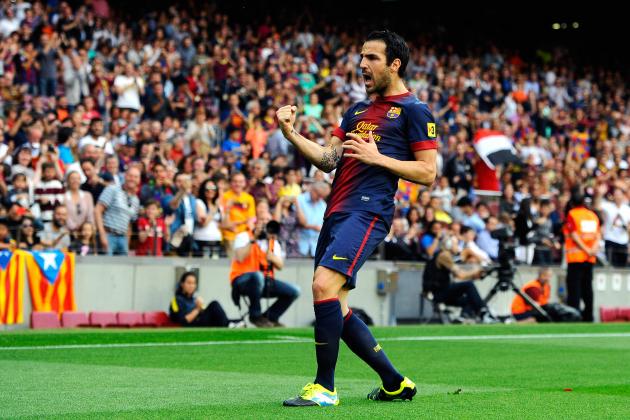 David Ramos/Getty Images

It cost Barcelona a lot to bring their prodigal son back home. If Cesc Fabregas were to move again anytime soon, the Catalan club would surely demand an enormous fee.
It's easy to understand Fabregas' worth: He combines wonderful technique with a grittiness forged on the battlefields of the Premier League.
If, as Graeme Yorke of the Daily Mail reports, Manchester United want to bring him back to England, they'll surely be required to break their transfer record.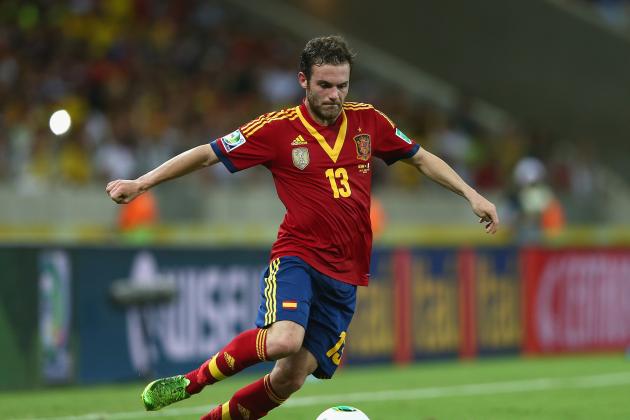 Clive Mason/Getty Images

Juan Mata is the little playmaker whose reputation continues to get bigger and bigger.
After a stunning 2012/13 campaign with Chelsea, Mata's stock has reached its peak.
If the diminutive dribbler were to return to one of the La Liga giants, his fee could be almost double what Chelsea paid for him in August 2011.
Laurence Griffiths/Getty Images

There might be question marks over Wayne Rooney's form and fitness, but no one dares to doubt his talent.
A player of Rooney's ability remains an extremely valuable commodity. A report by Sami Mokbel in the Daily Mail suggests that Arsenal are eyeing a swoop for England's star striker. If he does move South to London, the Gunners will surely be forced to shatter their existing transfer record.
What they'll get for their money is undoubted star quality. Rooney has the calibre to instantly transform a team in to contenders, and that costs.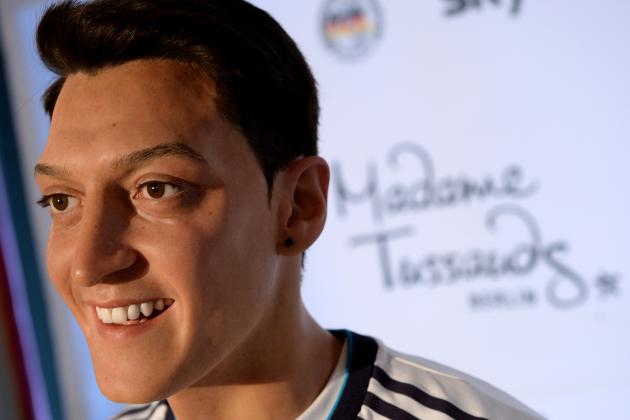 Sascha Steinbach/Getty Images

Mesut Ozil is arguably Europe's most creative midfield player.
Since bursting on to the global scene in the 2010 World Cup, Ozil has fostered a reputation as the personification of Germany's new swaggering style.
A move to Real Madrid helped transform Ozil from a youthful prospect in to a bona fide star. His transfer value would inevitably reflect that status.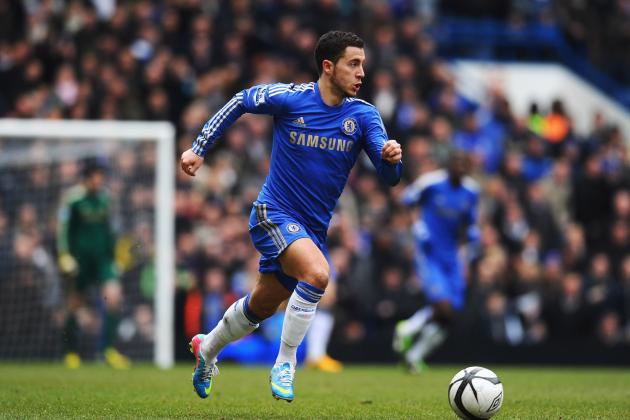 Mike Hewitt/Getty Images

Eden Hazard is the brightest talent in a fantastic generation of Belgian footballers.
He is an established international, with 37 caps to his name. However, he is still just 22—his potential is frightening.
The combination of instant acceleration and immaculate control Hazard possesses is reminiscent of a young Cristiano Ronaldo. If Hazard can add the goalscoring knack that Ronaldo has developed, his value will soar.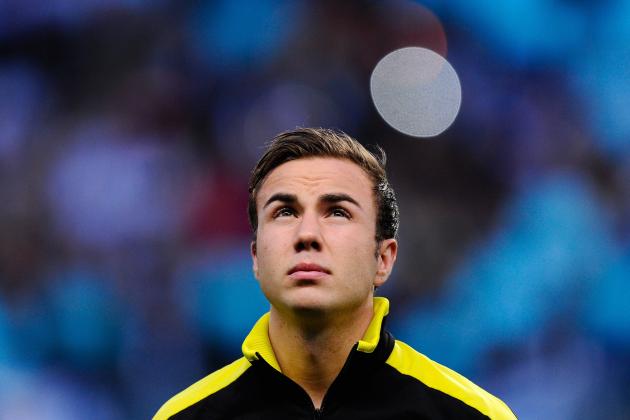 David Ramos/Getty Images

The recent signing of Mario Goetze by Bayern Munich was hugely significant.
It was a political statement, asserting Bayern's dominance over the Bundesliga. Signing Dortmund's prized asset demonstrated Bayern's enormous power over their rivals.
However, Goetze's signing is not purely political; he's also a fantastic footballer who stands to become the symbol of Pep Guardiola's new-look Bayern XI.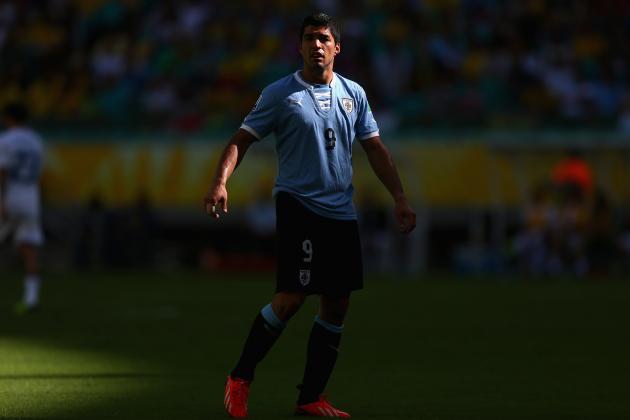 Clive Mason/Getty Images

If Luis Suarez had the charm and personality to match his talent, he would be even more valuable.
There is a lot of controversy around Suarez. The one thing that is not in dispute is his talent.
The only thing that could increase Suarez's value is if he were able to excel at Champions League level. To do that, he may be forced to leave Liverpool.
Alex Livesey/Getty Images

Sergio Aguero is one of world football's most prolific hit men.
He combines a low centre of gravity and slaloming dribbling with lethal finishing. It's a rare and invaluable combination of skills.
Aguero's value is increased by his enormous pay packet at cash-flushed Manchester City.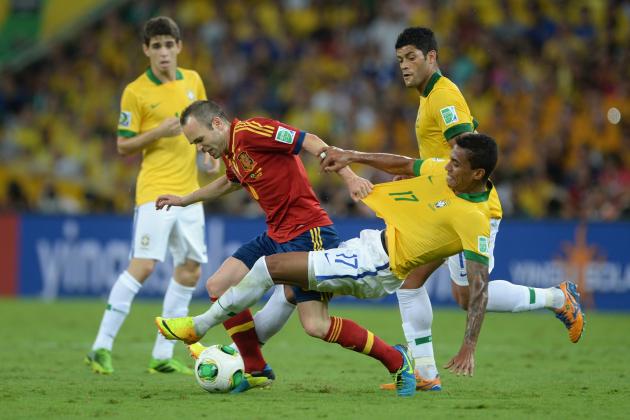 Michael Regan/Getty Images

Barcelona are unlikely to ever contemplate selling Andres Iniesta. He is synonymous with the Barcelona shirt.
However, if Iniesta were to become available on the transfer market, he would arguably be the most valuable midfielder in world football.
Iniesta is widely regarded as the best current player not to have won the coveted Ballon D'Or. There isn't a team in world football that wouldn't benefit from his presence.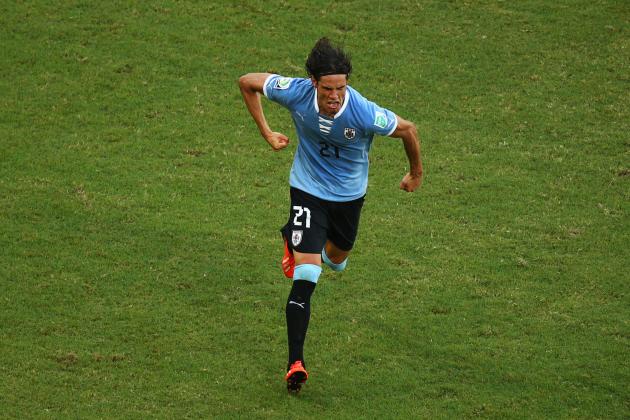 Robert Cianflone/Getty Images

According to Declan Warrington of the Daily Mail, Edinson Cavani's release clause sets his value at a staggering £54 million.
Napoli President Aurelio De Laurentiis insists they will not consider selling their Uruguayan star for a penny less.
If Cavani is forced to remain at Napoli, he is likely to supersede Diego Maradona as the club's greatest ever goalscorer.
Cavani would be a fitting successor.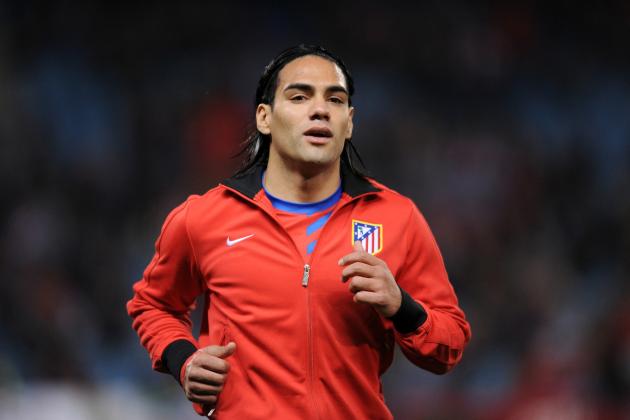 Denis Doyle/Getty Images

When Monaco signed Radamel Falcao they immediately announced themselves as one of European football's elite clubs.
Falcao seems convinced of Monaco's ambition, telling Futbolred (h/t Sky Sports):
Monaco have a long-term project, and the board want to take the club to a high level in European football. That won't happen in one season, so I will remain a long time at the club, anything can happen after that.
He's right: Anything can happen when you have Falcao.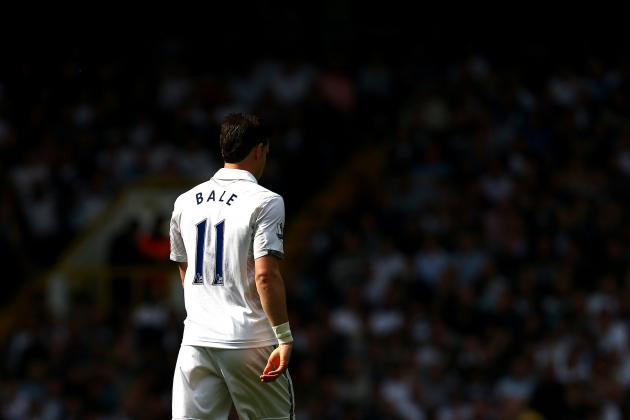 Jan Kruger/Getty Images

Gareth Bale's value has sky-rocketed in the last 12 months.
Once upon a time he was regarded as an injury-prone reserve left-back. He's now viewed as the one of the most exciting attacking talents in world football.
Like Luis Suarez, there is a prevailing feeling that Bale must play regular Champions League football in order to cement his place at the top of the football food chain.
Tottenham's ambitions must swiftly match Bale's.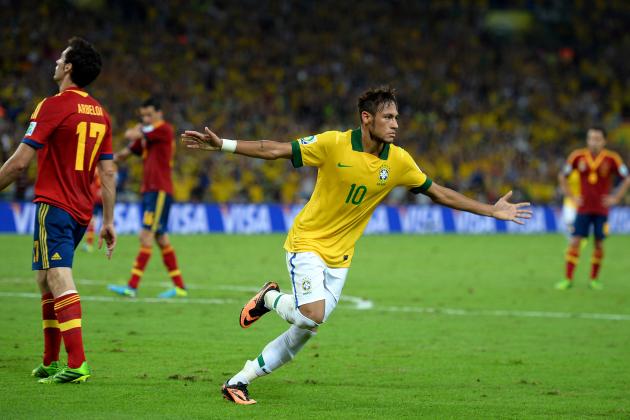 Laurence Griffiths/Getty Images

Is there a hotter talent in world football than Neymar?
The Brazilian forward has just followed a move to Spanish giants Barcelona with a series of glittering displays at the Confederations Cup. Neymar's dazzling displays allowed him to claim the Golden Ball as the tournament's best player.
If Neymar dominates next year's World Cup in similar fashion, his value could be poised to rise yet again.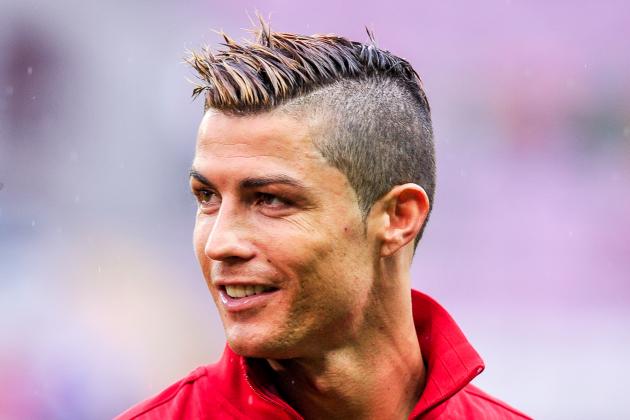 Harold Cunningham/Getty Images

In any other era, Cristiano Ronaldo would be the No. 1 most valuable player in world football.
He has it all: looks, charisma, athleticism and skill.
The flimsy and flamboyant winger of Ronaldo's teenage days is a distant memory now. He has transformed into a powerful forward and reliable goalscorer.
Ronaldo is now arguably the second most valuable footballer in history.
David Ramos/Getty Images

Lionel Messi is the world's greatest footballer. It's official: The Argentina has won the Ballon D'Or for a record-breaking four consecutive seasons.
He is truly invaluable. There is no fee that would make Barcelona consider selling their star asset.
However, if Messi were to be available on the current market, he would surely stand to break a few more records.
-
What do you think? Who are football's most valuable men? Let us know below.