No. 13 seed Tommy Haas topped world No. 1 Novak Djokovic in the fourth round of the Sony Open in March, but he wouldn't repeat the feat at Wimbledon. Djokovic cruised to take their round of 16 match 6-1, 6-4, 7-6 on Monday afternoon, further building on an impressive pursuit of a Grand Slam victory.
Despite a series of shocking upsets throughout the tournament—including those of Rafael Nadal and Roger Federer in the opening rounds—Djokovic wouldn't be another victim. Wimbledon's Twitter feed posted a photo of Djokovic following his victory:
#Djokovic repels the advancing #Haas 6-1 6-4 7-6. Through to #Wimbledon QF v Berdych. #ManicMonday pic.twitter.com/NTT3auzh7u

— Wimbledon (@Wimbledon) July 1, 2013
Djokovic didn't waste any time gaining the advantage in the early going. As noted by Live Tennis, the world No. 1 broke Haas' first serve, swaying the early momentum of the match:
Djokovic begins with a break. Given how well Nole has served at Wimbledon 2013, that could be set 1 on its way to the world No. 1.

— Live Tennis (@livetennis) July 1, 2013
Live Tennis also noted that Djokovic had yet to be broken at that point in the tournament, though Haas would hand him his first break of tournament later in the match:
Djokovic fends off three break points to hold. He still hasn't been broken at Wimbledon 2013.

— Live Tennis (@livetennis) July 1, 2013
It didn't take long for Djokovic to find his rhythm, either. The 26-year-old found himself with a 4-0 lead in the first set with almost no resistance, and it was obvious Haas was facing an uphill battle against a confident No. 1 seed.
Haas pulled back to 4-1 in the opening set, but the 35-year-old just wasn't in top form. While his terrific serve was again on display in the match, Haas' forehand gave him problems throughout the contest, never able to find much consistency in the early going as a result.
Clive Brunskill/Getty Images
It took Djokovic just 25 minutes to dispatch Haas in the first set, which ended with a couple glaring unforced errors on behalf of the 35-year-old, as noted by BBC Sport:
Novak Djokovic takes 25 minutes to win first set 6-1 v Tommy Haas at #Wimbledon http://t.co/cet0mN97xs

— BBC Sport (@BBCSport) July 1, 2013
Haas' age and injury history was one of the biggest stories entering his round of 16 match, and while there's something to be said for his Wimbledon success to that point, he certainly didn't appear to have the energy keep up with Djokovic in the early going.
And while Haas wasn't playing with much intensity, Djokovic deserved credit for how well he played through the first set-plus. The No. 1 simply wasn't missing.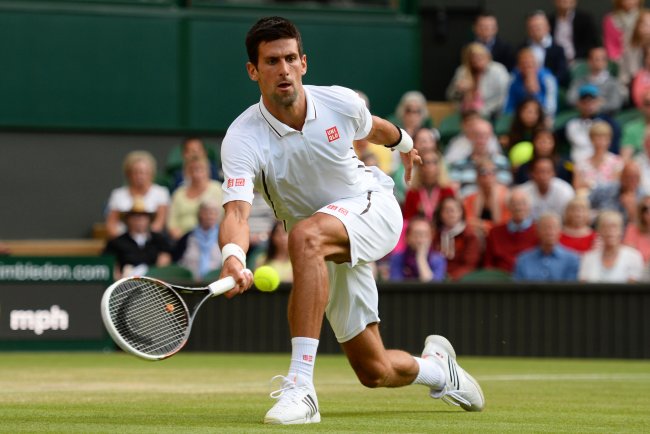 Mike Hewitt/Getty Images
It looked like Haas had turned things around in the second set, though. With the German trailing 2-1, he took a commanding lead in the fourth game with a chance to even the tally on the heels of an impressive service game that made Djokovic work for his points. After several game points, Haas finally sealed the deal to pull back to 2-2 in the set.
Haas used that momentum to take a 4-3 lead in the set, but Djokovic pulled back to 4-4 following a few tremendous rallies in the eighth game and went on to secure the second-set in a much more competitive frame, 6-4, via Wimbledon and ESPN Tennis Twitter feeds. Up 2-0 in the match, Djokovic simply had to maintain his intensity to end the contest in short order.
2-4 down to 6-4 up turn-around by #Djokovic and he leads #Haas 6-1 6-4 #Wimbledon #ManicMonday pic.twitter.com/JtCiQUSG96

— Wimbledon (@Wimbledon) July 1, 2013
Djokovic has dropped just five games in winning the first two sets against Haas. #ESPNWimbledon pic.twitter.com/26VUmvONMs

— ESPNTennis (@ESPNTennis) July 1, 2013
The third and final set played out very much like the second set ended. While Haas battled, Djokovic overcame his early second-set frustrations to settle in with new life. Djokovic conceded two late games to give Haas a 5-5 tie and an eventual tiebreak, but the No. 1 closed out in the tiebreak with tremendous poise:
#Haas saves a match point to push the third set v #Djokovic to a tiebreak. #neversaydie #Wimbledon #ManicMonday pic.twitter.com/McU23mk1gf

— Wimbledon (@Wimbledon) July 1, 2013
As he noted after the match, Djokovic hasn't enjoyed a lot of success against Haas playing on grass, and he was extremely happy with his performance against the veteran, via Wimbledon's Twitter feed:
#Djokovic on Haas "I had a bad record against him on grass.... It was a tough challenge for me and I played a really really good match"

— Wimbledon (@Wimbledon) July 1, 2013
#Djokovic "I think I'm playing really good tennis perhaps better than when I won the title back in 2011... Who knows I might succeed"

— Wimbledon (@Wimbledon) July 1, 2013
With the win, Djokovic advances to the quarterfinals for the fifth consecutive year, set to face Tomas Berdych, who won a tremendous four-set match against Bernard Tomic as Djokovic's match came to a close.
With the loss, Haas drops to 21-21 in best-of-five-set matches in his career. The former world No. 2 has reached the Wimbledon quarterfinals just once in his career, that coming in 2009 with a semifinals appearance.