Hits and Misses of Phil Steele's 2013-2014 College Football Bowl Projections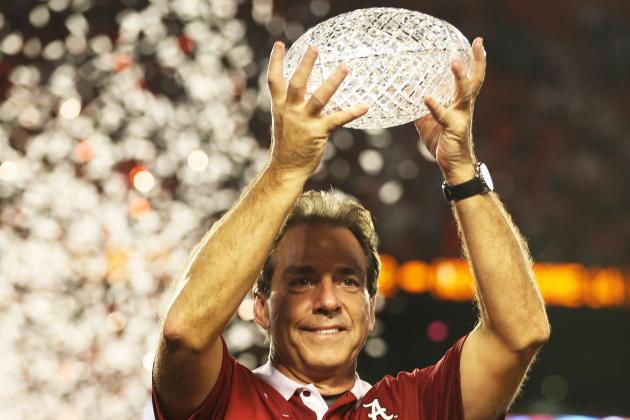 Streeter Lecka/Getty Images
Nick Saban and the Alabama Crimson Tide will make their third-straight BCS championship game.
While predicting bowl games for the entire field is tough to do before the season starts, Phil Steele is usually one of the best at doing so.
His 2013-2014 bowl projections have Alabama and Ohio State playing for the last BCS championship before a playoff is ushered into college football.
The other teams that will make BCS bowls, according to Phil Steele, include Florida State and Louisville in the Orange Bowl, Georgia and Notre Dame in the Sugar Bowl, Texas and USC in the Fiesta Bowl and Nebraska and Oregon in the Rose Bowl.
However good a prognosticator Phil Steele is, the bowl predictions still have some flaws.
Here are five hits and five misses on his 2013-2014 list:
Begin Slideshow

»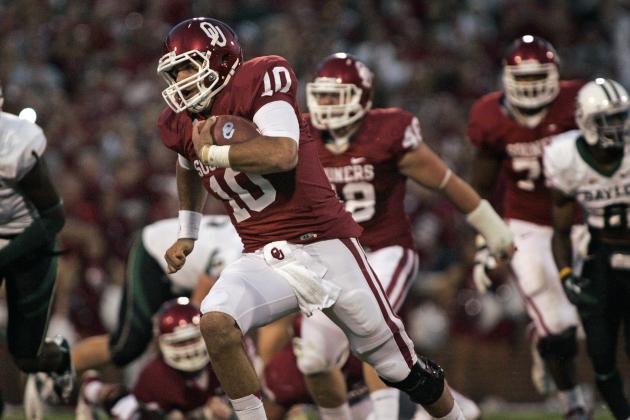 Brett Deering/Getty Images
QB Blake Bell.
Oklahoma Sooners (Big 12 No. 3) vs. Stanford Cardinal (Pac-12 No. 2)
Steele was right on the money with this prediction. The Oklahoma Sooners and Stanford Cardinal will be two great teams that will just miss out on going to BCS bowls. So the Alamo Bowl will have to suffice.
For the Sooners, who were co-champions of the Big 12 last season, they'll take a bit of a drop in the standings this year after losing quarterback Landry Jones and wide receiver Kenny Stills. Road games against Kansas State and Notre Dame, the two teams that beat them in the regular season last year, won't make things easier for the Sooners.
As for the Cardinal, they've established themselves as one of the dominant teams in the Pac-12 along with Oregon. And in 2013, their season starts off relatively easy. But three of their last four games are against Oregon, USC and Notre Dame. Kevin Hogan will play a big role for Stanford, and if he comes through, the ceiling is high for his squad.
Nevertheless, Oklahoma won't win the Big 12 or even finish second, and Stanford won't beat Oregon for the Pac-12 North title this year. That's why this prediction for the Alamo Bowl should come to fruition.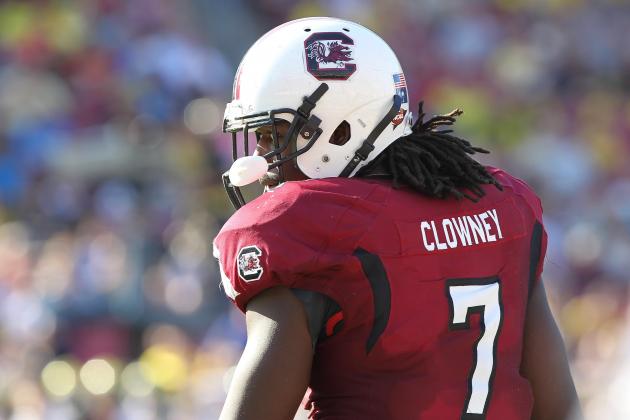 Kim Klement-USA TODAY Sports
DE Jadeveon Clowney
Virginia Tech Hokies (ACC No. 2) vs. South Carolina Gamecocks (SEC No. 5)
Okay, two things about this prediction. First, Virginia Tech won't finish as high as second place in the ACC. Secondly, South Carolina won't finish as low as fifth in the SEC.
That's why this prediction is way off.
The Hokies are not that good of a team. They struggled last year just to get bowl eligible. The fact that Virginia Tech now has to kick off its year against Alabama won't be good for their confidence either.
The team only has four returning starters, according to Athlon Sports, with Logan Thomas being the leader of that group. Unless Thomas has a breakout year after throwing 18 touchdowns to 16 picks last season, Virginia Tech will once again have troubles on offense. That's not going to get it done in a conference with Clemson and Florida State.
As for South Carolina, they have the best defensive player in the country in Jadeveon Clowney. And Steve Spurrier knows how to coach, and this team as a whole isn't bad either. With Connor Shaw set to be a senior quarterback in the SEC, the Gamecocks will have a breakthrough season in the SEC.
The only teams in the SEC that should finish ahead of the Gamecocks are Alabama, LSU and maybe Georgia. The Gamecocks should be a late-season contender for a BCS berth, and won't be demoted down to the fifth-best SEC bowl.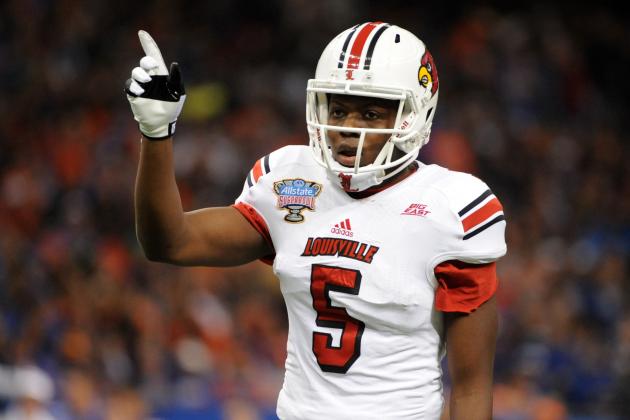 USA TODAY Sports
QB Teddy Bridgewater
Florida State Seminoles (BCS ACC) vs. Louisville Cardinals (AAC Tie-in)
In 2013, the Orange Bowl will feature two teams that are really good but won weak conferences. The ACC is nothing to write home about, with only Clemson and Virginia Tech being legitimate contenders. And the new American Athletic Conference, which will replace the Big East in football, isn't that great either.
Still, Florida State and Louisville will be two great teams in 2013, and whoever wins this game will prove to be one of the best teams in the entire country at season's end.
The Seminoles return just 10 total starters from last year's team, according to Tim Hyland of "About.com". But the roster is always loaded with talent at Florida State, and Jimbo Fisher knows how to make his team competitive.
As for Louisville, it's riding last year's hot streak of winning the Sugar Bowl into 2013. Quarterback Teddy Bridgewater will be one of the best in the nation. And with the only other team to truly worry about in the conference being Cincinnati, the Cardinals should breeze into the Orange Bowl.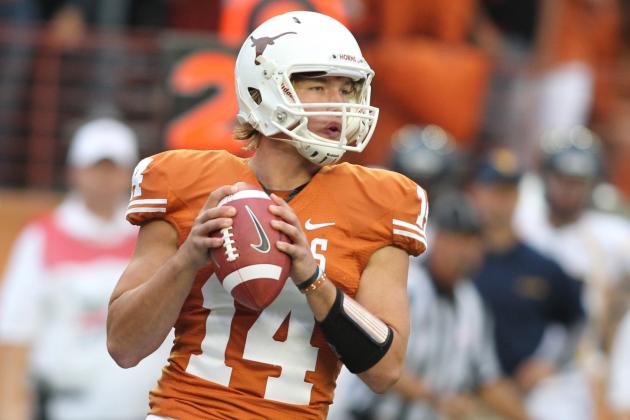 Tim Heitman-USA TODAY Sports
QB David Ash
Texas Longhorns (Big 12 Tie-in) vs. USC Trojans (BCS At-large)
While the USC Trojans should have a bounce-back season in 2013, the problem in this prediction lies with the Texas Longhorns.
Phil Steele has Texas winning the Big 12 and getting into the Fiesta Bowl. That simply won't happen in 2013 for a plethora of reasons.
The main reason though is quarterback David Ash. He's not a Big 12-caliber quarterback, and the new fast-paced offense that the Longhorns are implementing will cause him to make too many mistakes as the season goes on.
Even if Texas does have a good year, there are simply better teams in the Big 12. Baylor, Kansas State, Oklahoma, Oklahoma State and TCU should all finish above the Longhorns in the Big 12 standings.
Right now, the two teams that should contend for the Big 12 title are TCU and Baylor. The Horned Frogs have Casey Pachall, the best quarterback in a conference known for its great signal-callers. And the Bears finished last season hotter than any team in the country with four straight wins, three against ranked teams and one against then No. 1 Kansas State.
Every year for the past few seasons, the Longhorns get lofty expectations only to fall short. 2013 won't be any different, and they'll miss out on the Fiesta Bowl.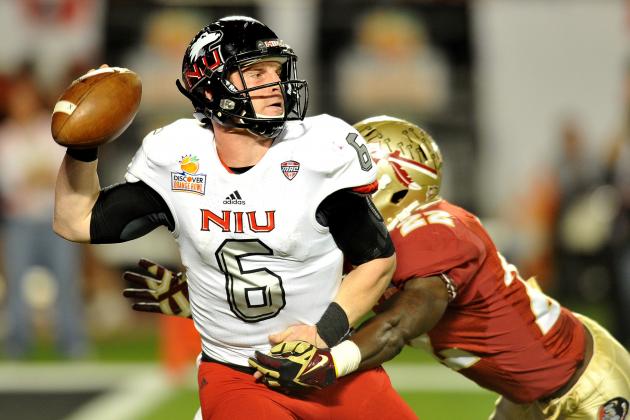 USA TODAY Sports
QB Jordan Lynch
Northern Illinois Huskies (MAC No. 1) vs. Louisiana-Monroe Warhawks (Sun Belt No. 1/2)
After last year's debacle that saw Northern Illinois take a BCS spot away from Oklahoma only to get demolished in the Orange Bowl by Florida State, don't expect the Huskies to find their way back into the BCS in 2013.
However, behind quarterback Jordan Lynch the Huskies will still be a very formidable team that should run through the MAC with ease and get that berth into the conference's top bowl.
As for the Warhawks, they should have a quiet-yet-successful year in 2013. The team went 6-2 in the Sun Belt last year and returns 17 starters from that unit, according to Collegefootballzealots.com.
Quarterback Kolton Browning is quietly one of the best returning quarterbacks in the country. Last year, he threw for 3,049 yards and had 36 total touchdowns.
With Lynch and Browning both being studs at the quarterback position, this game will be better than most will give it credit for.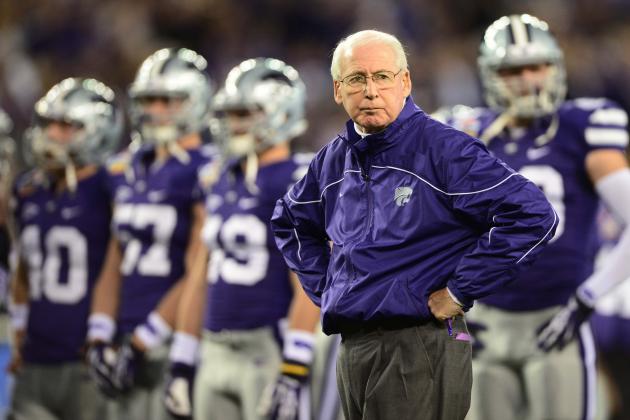 Mark J. Rebilas-USA TODAY Sports
Kansas State head coach Bill Snyder
Kansas State Wildcats (Big 12 No. 6) vs. Indiana Hoosiers (Big Ten No. 6)
Steele overestimates the Hoosiers and underestimates the Wildcats on this prediction.
There's no way Indiana finishes as high as sixth in the Big Ten, which has gotten pretty competitive lately. Especially with Ohio State being eligible for bowls again, that just leaves one less spot for everybody in the conference.
The Hoosiers are on the rise as a program. They return quarterback Cameron Coffman, who's a quality signal-caller in the Big Ten and a great game manager. He will keep the Hoosiers competitive.
But with Ohio State, Michigan, Michigan State, Wisconsin, Nebraska, Northwestern and even Purdue in the conference, it's hard to picture Indiana finishing as high as sixth.
As for Kansas State, Bill Snyder will not let the reigning Big 12 champions finish as low as fifth in the conference the following season.
Yes, the Wildcats lose all but one starter from their defense last season, and Collin Klein isn't coming back either. But Snyder still has one of the best offensive lines in the Big 12 and a great running back in John Hubert.
Plus the two guys vying for Klein's job, Daniel Sams and Jake Waters, both have great arms and the transition will be easy for them behind a quality line and a good running back to complement them.
Every year it seems the Wildcats are picked in the bottom half of the conference. But Kansas State is one of just two teams over the past two seasons to start the year 6-0, with Alabama being the other team. The Wildcats, even in a year of transition, will finish higher than fifth.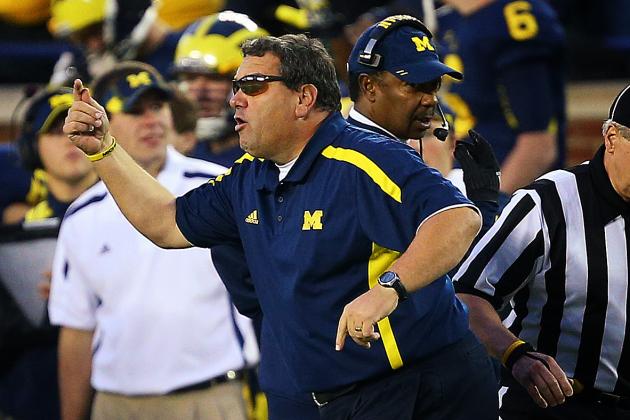 Mike Carter-USA TODAY Sports
Michigan head coach Brady Hoke
Michigan Wolverines (Big Ten No. 5) vs. Ole Miss Rebels (SEC No. 6)
Another quality prediction from Phil Steele here. After losing Denard Robinson, Michigan will have a transitional year and finishing fifth in the Big Ten is a reasonable expectation. As for Ole Miss, Hugh Freeze has that program on the rise and finishing in the top half of college football's best conference is in reach this season.
Brady Hoke is a great coach, and the Wolverines will certainly stay competitive in the Big Ten this season. But with Ohio State being eligible for bowls after being sanctioned last season, that will hurt the entire conference's chances to finish high.
Losing Denard Robinson certainly doesn't help the Wolverines either. He's been their playmaker for quite some time, and he's a guy that will take a year at least to fully replace.
As for Ole Miss, Freeze is starting to turn things around for the Rebels. His recruiting has been terrific and he returns 15 starters from last year's team that went 7-6, according to Athlon Sports.
With so many guys coming back, the Rebels are bound for a coming out party in 2013. But they're still in the SEC, and it is extremely difficult to crack the upper echelon of the conference standings. So sixth will do for now, and a date with Michigan in the Gator Bowl is a quality matchup for them.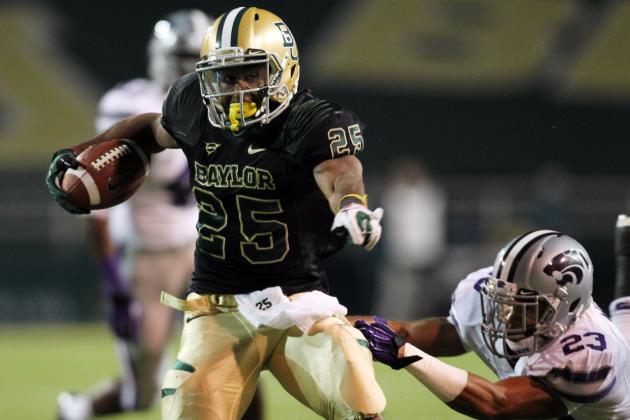 Tim Heitman-USA TODAY Sports
RB Lache Seastrunk
Baylor Bears (Big 12 No. 4) vs. Northwestern Wildcats (Big Ten No. 4)
Both Baylor and Northwestern have the potential to finish higher than fourth in their respective conferences, which makes this prediction a little shoddy.
At the end of 2012, no team in the country was hotter than the Baylor Bears. They rang up four straight wins to end the year, including the stunner in Waco where they beat No. 1 Kansas State to spoil the Wildcats' chances at a national title berth.
Now behind running back Lache Seastrunk and a stellar offensive line, the Bears are poised for great season in 2013. The Big 12 is in a bit of an off-year, with only two teams returning their starting quarterback from last season. That opens the door for Baylor's high-scoring tempo to possibly win the Big 12.
As for Northwestern, while winning the Big Ten is out of the question because of a little team called the Buckeyes, finishing third or even second may be in the cards for the Wildcats.
Pat Fitzgerald has started a winning tradition at Northwestern and with 15 starters coming back from a team that went 10-3 last season, the bar is set high for the Wildcats this season.
Expect both Baylor and Northwestern to finish better than fourth this year in the Big 12 and Big Ten respectively.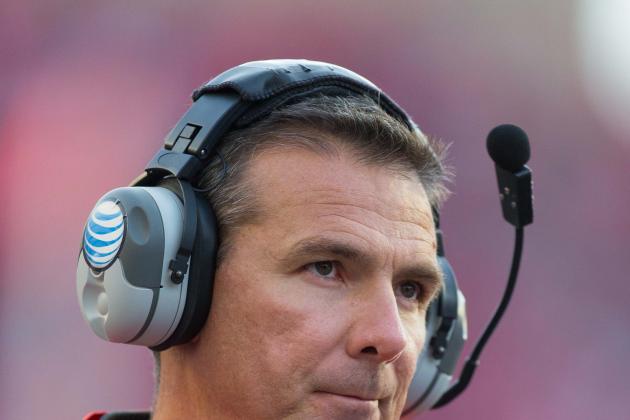 Jeff Hanisch-USA TODAY Sports
Ohio State head coach Urban Meyer
Alabama Crimson Tide (BCS No. 1) vs. Ohio State Buckeyes (BCS No. 2)
Of all the bowl games to predict, Phil Steele at least got the biggest one right as Alabama and Ohio State are destined for the BCS championship game.
Despite winning two national titles in a row, Nick Saban's best team at Alabama may very well be this year's team. They return 14 starters, according to Athlon Sports, from last year's national title winning team. That includes quarterback A.J. McCarron, one of the nation's most underrated quarterbacks. They also return C.J. Mosley, who had 107 tackles last year.
As for the Buckeyes, they would've played for a national title last season after going 12-0 had it not been for NCAA sanctions. Now imagine how good a team that went 12-0 last year and has a chip on its shoulder will be in 2013. The Buckeyes will be scary good this season.
With Braxton Miller coming back for the Buckeyes, it's hard to imagine that the offense won't put up a lot of points.
This game will be an all-out war. You better believe that it will be Alabama and Ohio State in the final BCS National Championship prior to the introduction of the college football playoff.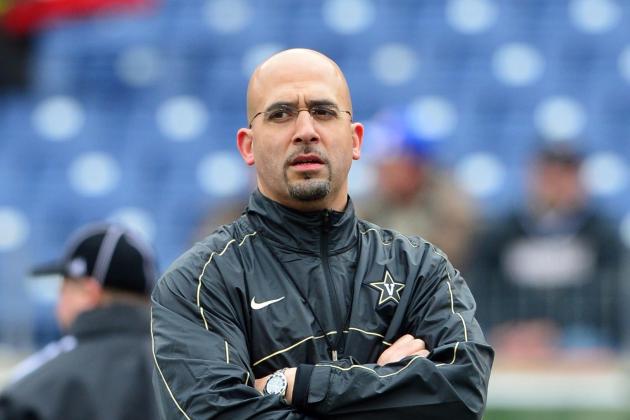 Don McPeak-USA TODAY Sports
Vanderbilt head coach James Franklin
Houston Cougars (AAC No. 5) vs. Vanderbilt Commodores (SEC No. 8/9)
Where Phil Steele got this prediction wrong is his prediction on how the Commodores will finish in the SEC.
They'll finish way higher than eighth or ninth in the SEC. James Franklin is quietly building a successful team at Vanderbilt. His squad went 9-4 last season and returns 13 starters from that team, according to Athlon Sports.
Losing Jordan Rodgers is tough for the Commodores. But with wide receivers Jordan Matthews and Chris Boyd coming back, the transition for the new signal-caller won't be as difficult.
Plus, Vanderbilt's schedule is relatively easy for an SEC team. They don't have to play either Alabama or LSU.
Eighth or ninth is a horrible prediction for the Commodores. Their ceiling is finishing in the top four of the conference, while finishing below sixth would be a bad season. They'll get into a much more prestigious bowl.