Biggest Pros and Cons of Boston Celtics Building Around Rajon Rondo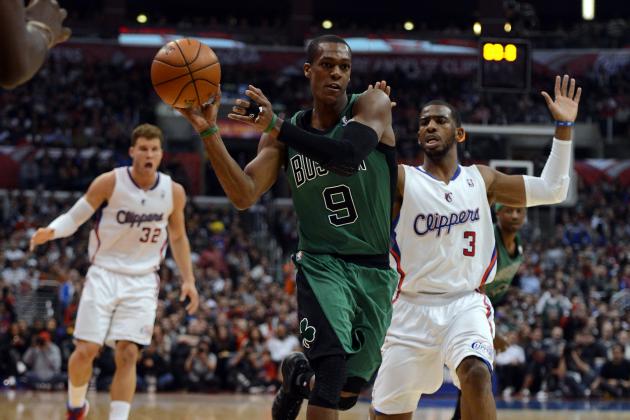 Harry How/Getty Images
When the team turns to Rondo, do the pros outweigh the cons?
A challenge has been issued to both Rajon Rondo and the Boston Celtics.
For the franchise, it is to build around said point guard and play to his strengths while minimizing some weaknesses.
For Rondo, the challenge is to lead a suddenly different-looking roster. Rondo will be expected to tie this group of new faces together as they forge into the 2013-14 season.
The world probably won't ever decide on a fitting description of Rondo's game, but with a quality season, he can go a long way toward silencing critics.
He's had a cushy past few years, running an offense that featured such talented scorers as Paul Pierce, Kevin Garnett and Ray Allen. Now the carpet has been pulled out from under him. The big names are gone, and his coach is in Los Angeles. This season, there won't be an eye in TD Garden not trained on jersey No. 9.
Before we delve into the year of Rondo, let's break out the yellow legal pad.
Begin Slideshow

»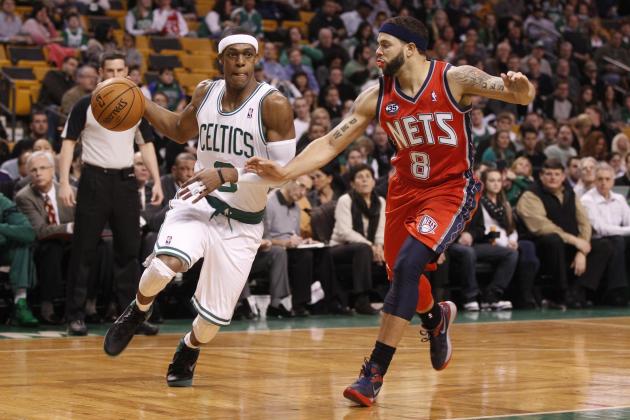 David Butler II-USA TODAY Sports

While Kevin Garnett and Doc Rivers appeared to be running from the Boston Celtics in recent weeks, fearful of a rebuilding period, Rajon Rondo has embraced the situation.
According to Sean Deveney of Sporting News, a source says Rondo will not be requesting a trade out of Boston. He seems to have decided that he is up to the challenge of leading this team next season.
That is what Danny Ainge is willing to give him one more year to do. Instead of going into full tank mode, the Celtics want to see how Rondo can lead without Garnett, Rivers and Paul Pierce in the locker room and on the floor.
This should really come as no surprise, however. Rondo has never been one to shrink from a challenge. He often raises his game in big moments and against point guards perceived as better than him. He has also often stated his feelings on the designation of best point guard in the league.
This isn't a player who lacks confidence. With a team that won't have a ton to be confident about, its leader will still consider it a contender and play that way throughout the season.
A team cannot succeed if major pieces have one eye on the door and one foot out of it. Hopefully Rondo has slammed that door shut and is focused solely on leading this new team.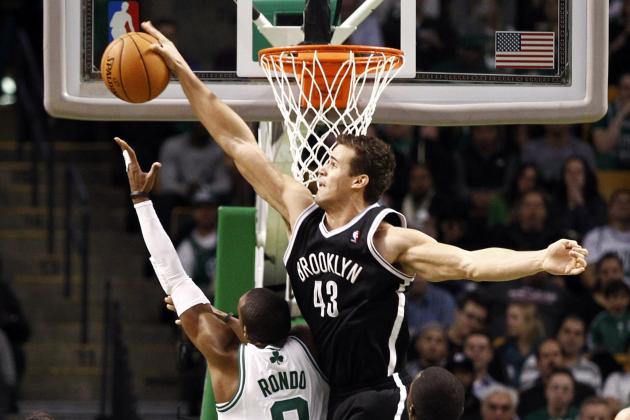 Mark L. Baer-USA TODAY Sports

There aren't many successful teams in the league that boast a top player who doesn't score more than 14 points per game.
It is simply tough to lead a team both on the floor and in the huddle when you don't score very much. Through his seven-year NBA career, Rondo has maxed out at 13.7 points per game, both last season and in 2009-10.
His shooting has improved, but along with that improvement must come a willingness to take the shot. While he did launch a career-high 12.2 field-goal attempts per game last season, even that won't be enough. Paul Pierce won't be there to bail out offensive possessions by creating his own shot. Instead, that responsibility falls on Rondo.
That improved mid-range jumper hasn't translated to success at the free-throw line. Rondo shot just 64.5 percent from there, which is sadly pretty close to a career best. A career 62.1 percent shooter from the stripe, Rondo has shown a tendency to shy away from attacking the rim in crunch time. Being fearful of late-game free throws is not the characteristic of a successful leader.
Overall, Rondo will need to help the Celtics make up for the 43.5 points per game heading to the Brooklyn Nets in this proposed trade. That is going to mean scoring closer to 17-18 points per game, a number he hasn't scratched outside the 2012 postseason.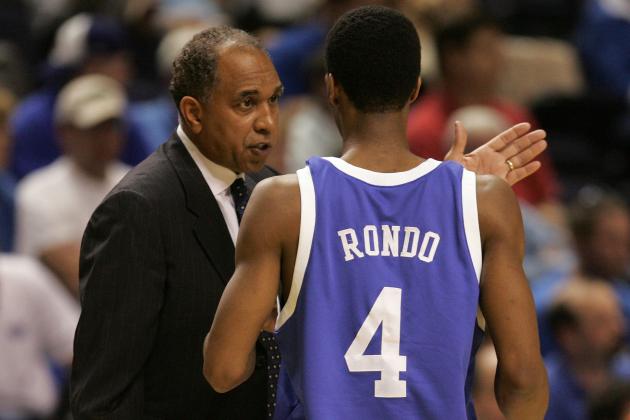 Andy Lyons/Getty Images

There is truth behind the story that Rajon Rondo hasn't led a team yet. Ever since his second year, he has had more than one All-Star-caliber player alongside him.
Now that the Boston Celtics have parted ways with Kevin Garnett, Paul Pierce and Ray Allen, Rondo is left with no sure-fire star.
However, digging deeper into history, you'll find Rondo was the leader of two very good Kentucky teams that were light on NBA talent. In two seasons with the Wildcats, Rondo amassed a 50-19 record. The only legitimate future NBA players on those teams were Chuck Hayes, Kelenna Azubuike and Rondo. Both of his co-stars left for the pros after Rondo's freshman season.
As a sophomore, Rondo led Kentucky to a second-round loss against Rudy Gay's UConn Huskies in the 2006 NCAA tournament. That team's second-best player was Randolph Morris.
Rondo played two years at Kentucky and had moderate success running an offense that didn't feature a whole lot of top-tier talent. The biggest name on those teams outside of Rondo was head coach Tubby Smith.
This coming season, the Celtics won't have the depths of talent they have boasted in recent years. They will instead be asking Rondo to again make an average team better.
Just don't say he doesn't have any experience playing basketball with second-level guys.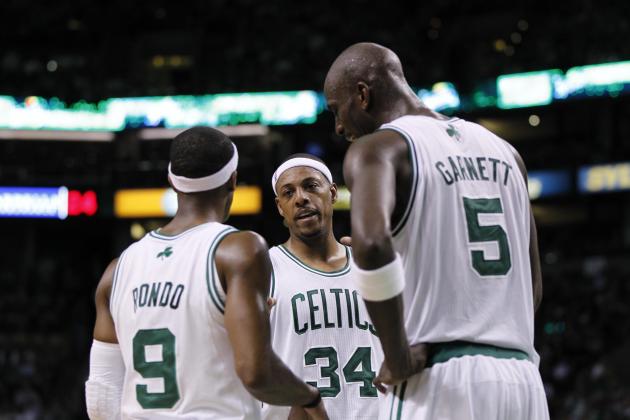 Greg M. Cooper-USA TODAY Sports

During his rookie season with the Boston Celtics, Rajon Rondo got only 47 games out of Paul Pierce. Since then, he has played with one or multiple All-Stars by his side in virtually every game for six years.
As we stated in the list of pros, Rondo has experience from Kentucky playing without superstars, but the NBA is different. The league can be a cruel place to teams without big-name stars, which is what the Celtics will be next season.
When offensive possessions break down, Rondo can no longer pass the ball off to Pierce and have him create a basket out of nothing. The automatic perimeter jumper from a tall superstar won't be there when Kevin Garnett suits up in Brooklyn Nets attire. Garnett sneaking by opposing big men for an alley-oop and the kick-out for a trailing Pierce trey won't be assist options for Rondo anymore.
Late in games, the opposition will expect the ball in Rondo's hands. No longer will they key on Pierce. Their work will be to deny Rondo's passing lanes, forcing him to take that last-second shot. The maestro of the inbounds play, Doc Rivers, won't be drawing them up during the timeout. Instead, that may fall onto Rondo's shoulders as well, particularly if the Celtics hire a rookie head coach.
Rondo is suddenly, by far, the longest-tenured Boston Celtic on the roster. He will also be one of the most experienced players on it. Does that mean he is settling locker room disputes and setting practice and workout standards?
There are so many changes behind the scenes that we don't even know about at this point. Pierce and Garnett owned and operated Boston over the past six years, but now it is Rondo's town.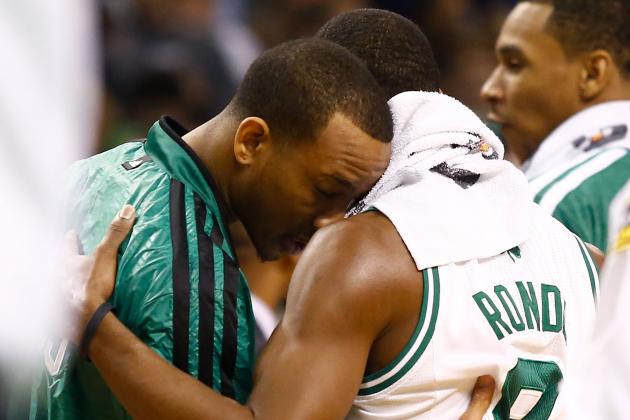 Jared Wickerham/Getty Images

The major difference between many of the NBA's top stars is that some are just outstanding players, while others make their teammates better.
Rajon Rondo falls into that second category. While a very good player on his own, Rondo becomes great because of his ability to make average players better. There are a slew of teammates over the past five or six years who wore a Boston Celtics jersey that can attest to this.
There are a few current Celtics who have to feel that way as well—none more so than Avery Bradley. Rondo's de facto running mate at this point fell a lot in league-wide stature last season when he struggled running the point.
When Rondo went down with his ACL injury, Bradley moved to starting point guard. Suddenly there was no one getting Bradley easy baskets in transition, feeding his backdoor cuts or penetrating to get him open corner threes. Bradley's offense plummeted, as he shot 40.2 percent on the season with a 2.1-1.4 assist-to-turnover ratio.
When Rondo is running an offense, people get the shots they want, where they want them. While Rondo won't have Paul Pierce or Kevin Garnett around for easy assists anymore, his abilities can make Bradley, Jeff Green, Jared Sullinger and maybe even Kelly Olynyk very good players.
Having a great player or a great scorer on your team is a wonderful asset to possess. However, if they can't make the team as a whole better, your in-season improvements will be minimal.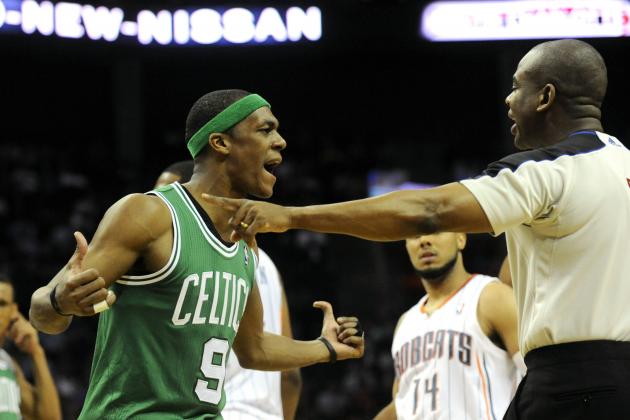 Sam Sharpe-USA TODAY Sports

When given the option, most teams would prefer to build around a good guy who has talent rather than a talented bad egg.
It may still be too early to pass final judgement on the player Rajon Rondo can be, but given what history we do have, he has some bad egg in him.
There really isn't any other way around it. He has moments when the personality seems genuinely unlikable. Whether it is attempting to intimidate or offend officials, Rondo has a sour side that appears when the team is struggling in games. That is a scary thought moving forward, as this current roster may struggle more often than not.
A team leader cannot take himself out of games for petty reasons like complaining about a call. His loyalty is well understood in defending teammates with physicality, but Rondo has to become a smarter player about where and when to be silent.
His work off the court this summer has done a good job of rectifying some of his relationship with the public, but the job isn't complete. In order to make up for clips like the one of him going after a cameraman, Rondo has to show more of a pleasing personality.
Boston fans love a player with a mean streak. That is well documented in their adoration of hockey favorites Brad Marchand and Shawn Thornton. However, neither of those players is as important to his team's success as Rondo is to the Celtics. Rondo can pick his spots to be tough or complain, but he must remain on the court to help win the game.
That is something Paul Pierce and Kevin Garnett eventually mastered. Dwyane Wade, while hated in Boston, is also a prime example.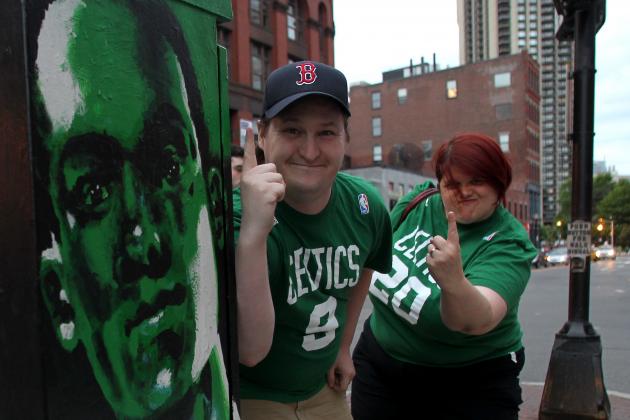 Jim Rogash/Getty Images

A pro you won't see on the court, but perhaps in the stands, on television and through the streets of Boston, is that Rajon Rondo is a marketable player.
Rondo is big into the NBA's new and emerging fashion scene and is currently No. 6 among NBA.com's top jersey sellers.
While he remains one of the league's most polarizing players, the Celtics can build a marketing campaign around Rondo. They have already started this in recent years, using him as the focal point for ads touting the "Drive for 18."
He was featured in his own "This is SportsCenter" commercial last year. Rondo makes plays that simply lend themselves to awesome commercials. He is also using this summer to show a different side of himself to fans. Rondo has made appearances on Jimmy Kimmel Live! and Joan Rivers' Fashion Police.
A lot of fans' jerseys right now are becoming out of date, with Kevin Garnett and Paul Pierce moving on to the Brooklyn Nets. The franchise not only will build the team around Rondo, but its marketing and ticket sales will also be centered on the star point guard.