Biggest Takeaways from New York Rangers' 2013 NHL Draft
Bruce Bennett/Getty Images
The 2013 NHL draft is over, and despite not having a first- or second-round pick, the New York Rangers were able to infuse some talent into their system.
From the five selections, a few trends were identified. We know there are no surefire stars, but what can we take away from their draft?
We'll explore what was learned from the Rangers' draft and what the biggest takeaways were.
Patience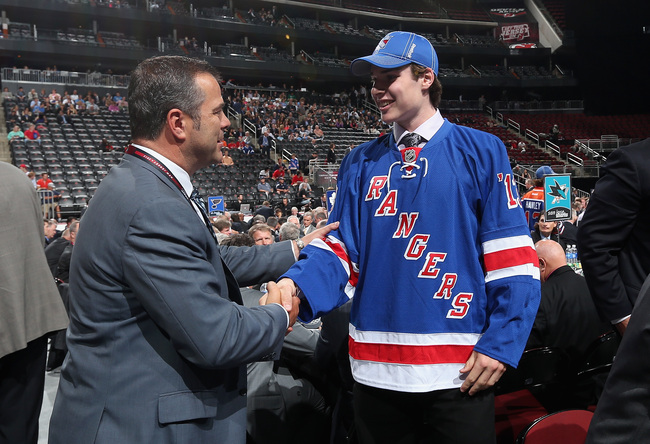 Bruce Bennett/Getty Images
Before we can even consider what the Rangers did on draft day, we have to remember the key word from their performance—patience.
Without a first- or second-round pick, the Rangers were unlikely to get a player who was close to the NHL.
Their first pick, Adam Tambellini, will head to the University of North Dakota, and, as Director of Player Development Gordie Clark told Andrew Gross of the Bergen Record, he could play there for four years.
Pavel Buchnevich has two years left on his KHL contract, and it's unclear if he's willing to come over to North America after that. According to Gross, Buchnevich doesn't yet speak English.
Their third pick, Anthony Duclair, is just 17 and is coming off a down year in junior hockey.
Duclair probably has the chance to make the team first, given his experience in junior hockey. With a big year next year, he could find his way to the AHL.
But with Tambellini expected to finish his career at North Dakota and Buchnevich an unknown, the Rangers took some chances. They won't get immediate help from this draft, and the players they selected don't really fill organizational needs.
The players selected are really question marks. Tambellini has a lot of development ahead of him. Duclair needs to show consistency in junior hockey. Buchnevich may never come over.
The three may turn into stars. But it'll be a few years before we have any idea. For a team that has immediate needs, the wait may be too long.
Ignoring Needs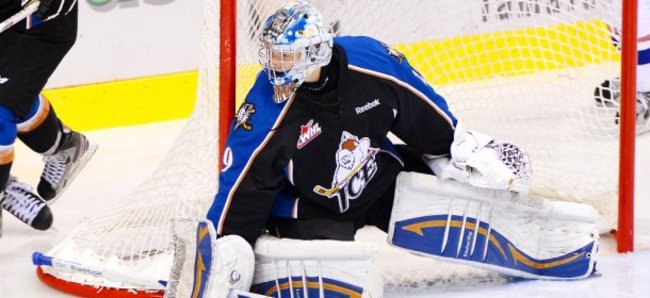 Mackenzie Skapski. CHL.ca

The Rangers entered the draft with a few pressing needs. Chief among them were goaltender depth and defensive depth.
The Rangers did not select a defenseman until the fourth round when they chose Ryan Graves from Prince Edward Island of the QMJHL. Graves, a physical defesneman, was described by Gordie Clark, the director of player development, as a "a big, 6'4" defenseman who had an average first half then his play just went uphill." (h/t the Bergen Record)
Graves probably won't make an immediate impact. In the Rangers' defense, they did acquire defenseman Justin Falk from the Minnesota Wild, who is a legitimate candidate to make the opening-day roster.
Still, a high-end defense prospect would've been nice, and Graves doesn't project as more than a bottom-pairing defenseman.
The Rangers, above anything, needed goaltending depth. They selected Mackenzie Skapski, who put up a 2.78 goals-against average and a .910 save percentage last season with the Kootenay Ice of the WHL. Sixteen goaltenders were selected before Skapski, and he was not drafted last year, despite being eligible.
Instead of drafting Pavel Buchnevich, a Russian forward who may never come over to North America, the Rangers could've drafted a higher-end goaltending prospect, like Marcus Hogberg from Sweden, or Stephon Williams from Minnesota State.
The Rangers really don't have a long-term insurance plan behind Henrik Lundqvist. Cam Talbot has been uninspiring in the AHL, while Scott Stajcer and Jason Missiaen have been unable to lock down a starting job in the minors.
Skapski may become a good goaltender, but in the sixth round, he's just filler. The Rangers should've invested in a goaltender earlier, someone with real potential to become a starter down the road. Lundqvist is 31, and he does have plenty of time left in the league. But they need a long-term backup. Martin Biron has just one year left on his deal, as per CapGeek.
Skapski is at least three or four years away. In the meantime, the Rangers will be scrambling for options. They could've made things easier by drafting a goaltender earlier.
Are the Rangers Better?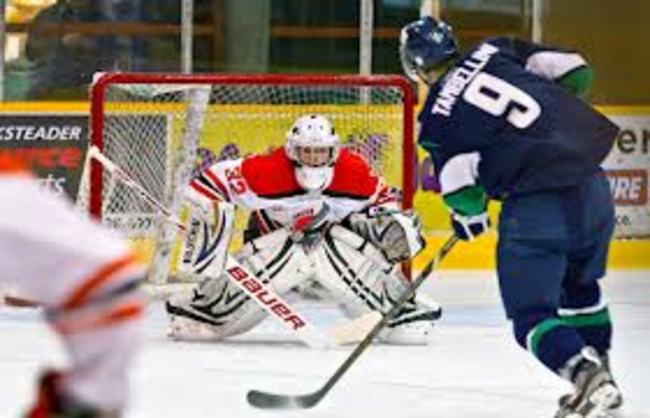 Adam Tambellini. Thenownespaper.com

Are the Rangers better? Quite simply, no. Now, part of that is due to the fact that they did not have a high pick.
But none of their picks will contribute for a long time, if they ever do.
While some of their rivals, in particular the New Jersey Devils, really upgraded their team, the Rangers stood pat.
They didn't get worse. But the status quo may not be acceptable. The Rangers do have a number of good prospects in the pipeline, but only a few who project as high-end players. That hasn't changed after this draft.
The 2013 draft will be thought of as a "maybe" draft. Maybe these guys will be good. Maybe not. We don't know. They're far too raw.
The Rangers' overall prospect depth hasn't really changed. As the teams around them get younger and more exciting, the Rangers will have to hope that their current prospects can progress as expected.
Still, it's tough to see this draft as a good one. Every team in their division got better. The Islanders are a young, up-and-coming team. The Devils have a goaltender of the future. The Flyers added much-needed defensive depth, while Columbus added three first-round picks.
To be clear, the Rangers are the exact same team today as they were before the draft started. But that's the point. In a league that is constantly changing, and constantly seeing more and more parity, standing pat is not the answer.
That's what the Rangers did.
And with little cap space available to improve during free agency—so little, in fact, that Pierre LeBrun of ESPN reported that they are trying to trade the negotiating rights to Ryane Clowe, a player who would improve the roster—they will enter next season as the same flawed team that has to rely too heavily on Henrik Lundqvist.
Maybe Alain Vigneault's offensive system will unleash this team, opening up the offense and creating more sustained chances. Maybe Rick Nash will improve on an impressive regular season. Maybe Derick Brassard will build off his hot postseason. Maybe Chris Kreider will take the next step and become a productive and consistent NHL regular.
Or maybe not. Like this draft, the Rangers' outlook can be aptly described by that simple word: maybe.
Keep Reading

New York Rangers: Like this team?