Dwight Howard wants money, but he wants his first ring even more.
While the Los Angeles Lakers can throw the most money at the top free agent, Howard is more focused on winning a championship, according to Dave McMenamin and Ramona Shelburne of ESPN Los Angeles.
Howard will choose between the Houston Rockets, Dallas Mavericks, Golden State Warriors, Atlanta Hawks and Lakers after meeting with each, per the ESPN duo. The team that provides Howard the best shot at winning a title as soon as possible will likely be the team that lands him.
For those wondering, here's how Howard would look in each of those five organizations' jerseys (h/t SportsNation):
Wanna know what @DwightHoward would look like on your team? Check out this awesome pic from @RHurstDesigns. pic.twitter.com/jeQLlArtGR

— SportsNation (@SportsNation) July 1, 2013
While Howard will physically fit just fine in any of the five No. 12 uniforms, he needs to figure out which team is the best fit in terms of championship potential. Let's take at the three teams that will offer the greatest chance to win a title in 2013-14 with Howard on the payroll.
3. Los Angeles Lakers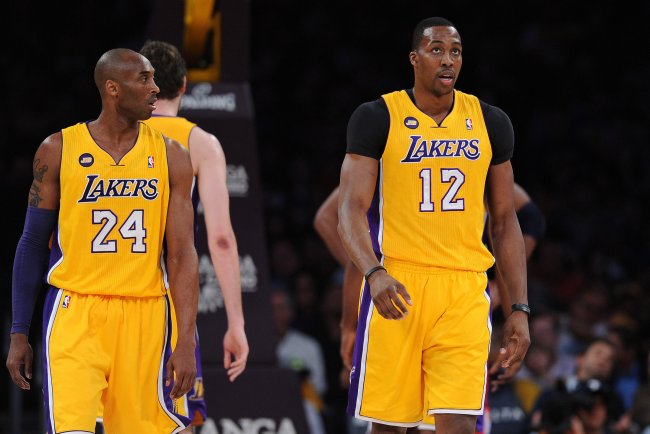 Jayne Kamin-Oncea-USA TODAY Spor
If Howard were to look for the most money this summer, there's no question that he'd land back with the Lakers. Los Angeles can offer him $118 million for five years while the other four will only be able to give Howard four years and $88 million, per Jeff Goodman of ESPN.
But Howard isn't expected to sign because of money.
It's not like the Lakers aren't a talented team, though. Kobe Bryant will be back after tearing his Achilles tendon last season and Pau Gasol is still on the roster as well. Steve Nash will continue to run the point and Metta World Peace should be at small forward yet again. Los Angeles has a solid starting five with Howard on the team.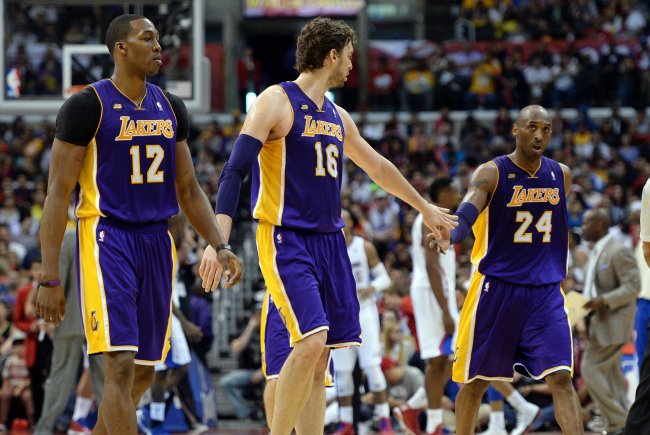 Jayne Kamin-Oncea-USA TODAY Spor
There are two problems with signing with the Lakers. One is that the Lakers will have pretty much the exact roster as they did last season, and they weren't successful. While Bryant was injured, the Lakers still lost in the first round of the playoffs. Why would anything be different next season?
Second, the window for a title in Los Angeles is going to close quickly. Bryant is an aged veteran and the same goes for Gasol and Nash. Once those three retire, Howard will be on his own again—like he was in Orlando. While the Lakers could get hot and win next season, it's unlikely their success would continue in the later years of Howard's deal.
2. Dallas Mavericks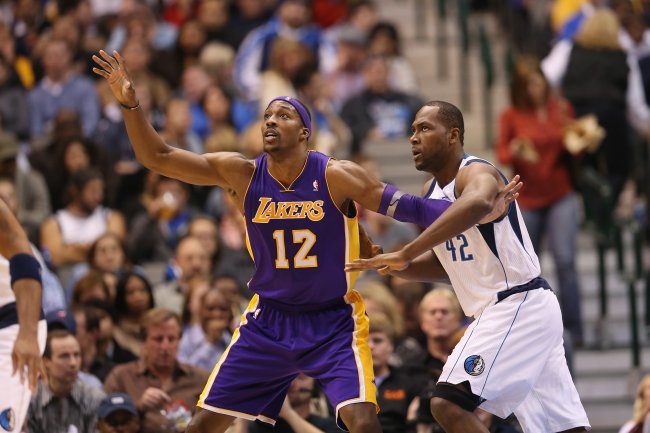 Ronald Martinez/Getty Images
The Mavericks could certainly make a deep playoff run with Howard on the payroll. Dallas should have the money to offer Howard a maximum deal and has the potential to get him the ring he so desperately wants. The free-agent center could help Dallas win its second title in four years.
That's because Howard would be joining the likes of Dirk Nowitzki and Shawn Marion in the frontcourt. Nowitzki is already one of the game's best post players and has great range that extends out to the three-point line. Marion is a versatile player who will help out on both sides of the court.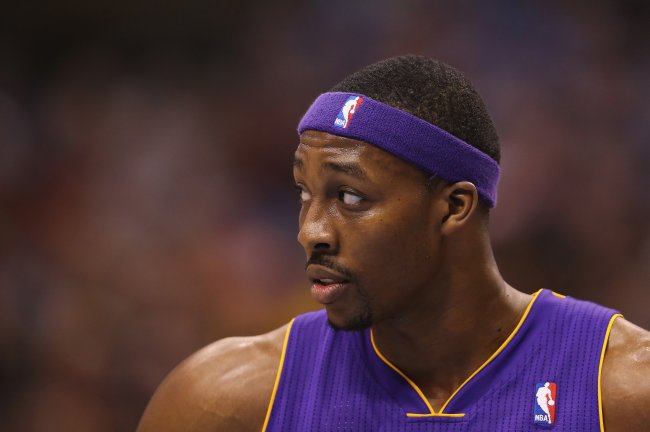 Ronald Martinez/Getty Images
If the Mavericks can bring O.J. Mayo back and find someone to supplement rookie Shane Larkin at point guard, Dallas has a strong starting five with Howard at center. One of the reasons why Dallas wasn't very good last season was because Chris Kaman played poorly—10.5 points and 5.6 rebounds per game. Howard would be replacing him.
But the Mavericks share a similar problem to that of the Lakers. Dallas is a team filled with aged veterans. Several players are well over 30 years old and the future doesn't look so bright. Once players like Nowitzki, Marion and Vince Carter, among others, are gone, Howard will have to put the team on his back.
There's a strong possibility that Dallas wins the title in 2013-14 with Howard, but after that, not so much. That's why the Mavs are only the second-best fit and not ahead of the….
1. Houston Rockets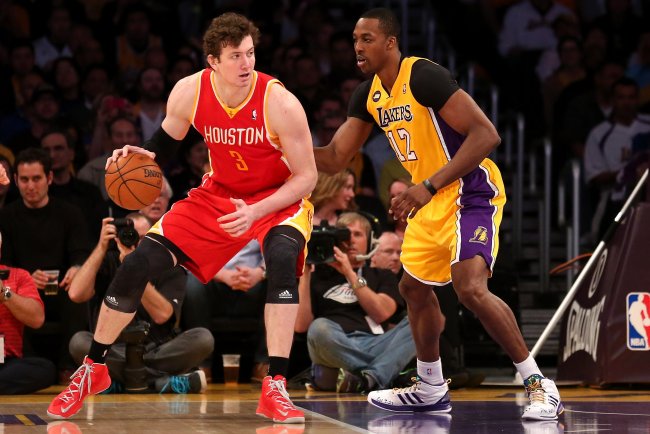 Stephen Dunn/Getty Images
Houston, we have no problems.
If Howard wants to win the title in 2013-14, Houston gives him the best shot at it. The Rockets have a balanced roster of young stars who will help the organization bring several championship trophies home in the coming years. With James Harden and Howard leading the way, there's no scenario where D12 doesn't win.
Houston won't be losing any major free agents over the summer and will have their entire starting rotation back for next season. A lineup that features Jeremy Lin, Harden, Chandler Parsons, Omer Asik and Howard is a dominant one. The Rockets would become legitimate contenders for the upcoming season if Howard signs.
Stephen Dunn/Getty Images
An X-factor in this scenario is Kevin McHale, Houston's head coach. While Rick Carlisle is a good coach for the Mavs, McHale can show Howard how to play the post better—and Carlisle doesn't have that kind of first-hand experience. That will only improve Howard's overall game and make the Rockets better as well. The other four teams don't have the McHale factor.
The most attractive feature for Houston is its youth. Howard will have the chance to win a championship in every season he's under contract with the Rockets. Harden is only 23 years old and Lin is only 24. Carlos Delfino might be the only player 30 or older on the roster next season.
With Houston, Howard could win now and in the future.