2013 Confederations Cup: Biggest Winners and Losers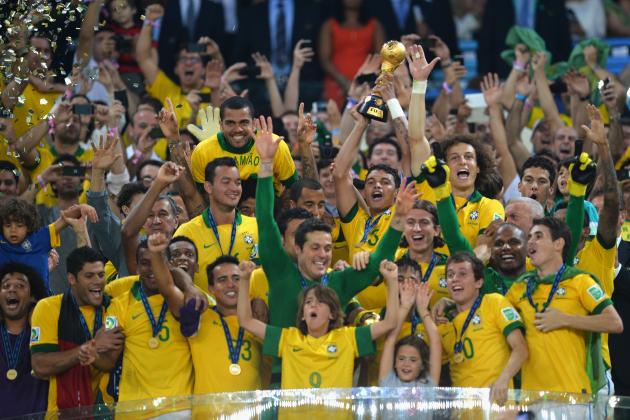 Laurence Griffiths/Getty Images
Brazil triumphed in the competition for the third successive time.
So it's all over. All we have to do between now and August is speculate on who's going where, and what colour boots they'll take...
But while we can, let's dwell on the Confederations Cup which finished, dare I say, with many neutrals' ideal result of the Spanish getting schooled panning out exactly as it should.
This is a list of the biggest winners and losers of the tournament. As in, not the best and worst—though some mentioned were the best—but those who got the most and those who took the least from this exciting two weeks.
All stats are courtesy of the FIFA Confederations Cup website unless linked otherwise.
Begin Slideshow

»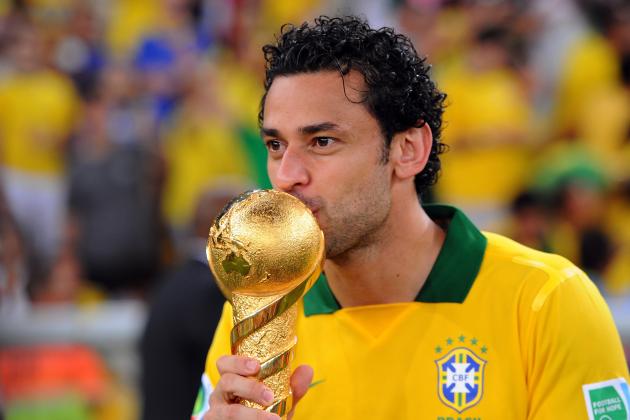 Michael Regan/Getty Images
Fred had a productive tournament, scoring five goals.
Brazil triumphed, not just on the field but as a country.
On one side of it, as the crowd were chanting during the final, "the champions are back." The lure and mystic of Brazilian football is in full swing again, and what better way for them to prepare for the 2014 World Cup than to win the warm-up act so spectacularly.
Brazil wanted to prove that they are as good as, if not better than, Spain, who have dominated world football for almost five years and did that in the best way possible—by trouncing them 3-0 in the final. A great way to build up to next year's main feature.
That said, on the other hand, we have Brazil as a nation.
There will surely be some major changes from the government between now and June 2014, as they would be foolish not to take this lifeline. After all the unrest that plagued the tournament, if Brazil had lost the final, the government would have had a hard time getting people to listen to them.
However, going by the protests, victory is the absolute minimum that the Brazilian people will have wanted from this tournament, and now that they have it they should be more receptive to what the government has to say—at least in theory, that is.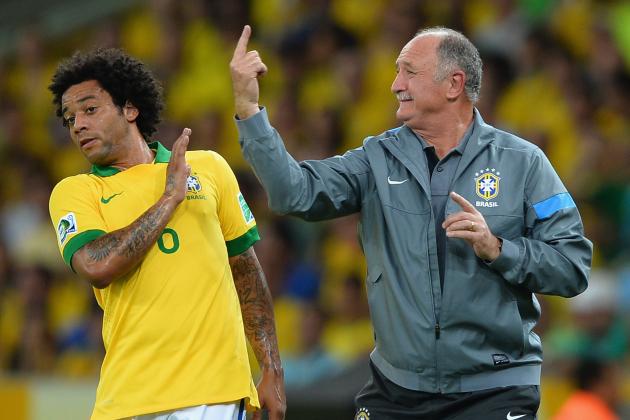 Laurence Griffiths/Getty Images
Scolari (right) was very animated on the touchline for the duration of the Cup.
"Big Phil" and Brazil seem to go rather well together. The last time that Brazil were in danger of not qualifying for a World Cup was 2002—they hired Scolari, and not only qualified, but went on to win the tournament, which was their second World Cup triumph in three tournaments.
Eleven years and a string of unsuccessful managers later, it makes sense that Brazil have turned to their former saviour in time for hosting next year's World Cup.
The pressure on the manager, like that on the players, was intense, and he rode it well in his initial games which included a friendly defeat by England in his first match. But what really mattered was the performance in this tournament, which was seen by many as a precursor as to how the team will play in the World Cup.
Like every team who want to be at the top, there is always an incumbent they have to beat, and that incumbent was Spain, who are usually close to unplayable, let alone beatable.
But Luiz Felipe Scolari got his tactics spot-on, and the unerring work-rate of his players sealed the deal in a stellar final performance that saw the Spanish rattled and unable to get going in a way that hasn't been seen for years. In fact, Brazil were so good that the 3-0 score is almost unflattering.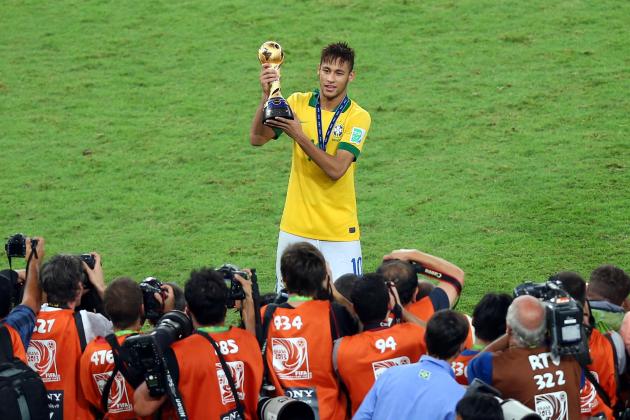 Ronald Martinez/Getty Images
Neymar holds aloft a well-deserved Confederations Cup.
Was there going to be any other player who stole the tournament?
Brazil's latest No. 10 golden boy, Neymar: if there were still any doubters before the tournament commenced, they have surely been silenced. Even I, who is usually so reticent when discussing the "next big name," have to admit that although I was sceptical for about two years, I am now a full-time member of the "We Love Neymar" club.
Although he has some way to go before being as complete a player as Cristiano Ronaldo or as prolific as Messi—though watch out for the two of them at Barcelona next season—the diminutive Brazilian showed the world why he is the most exciting young talent since the aforementioned players.
Neymar didn't just score four goals, do fancy step-overs and show-off a little bit—he dealt with the immense pressure of being the "new Pele" and used it to spur himself on, embodying the Brazilian spirit with that 5' 8" frame and showing us exactly what he is about.
He's not just a dazzler either; in those early matches where Brazil looked slightly out of sorts, Neymar carried the team through with some gritty performances, while no one can say that he doesn't get his knees dirty when he tackles (a little less theatrics when he gets tackled and we'll be on our way).
And at 20 years old, he has the whole of his career in front of him, and will only get better.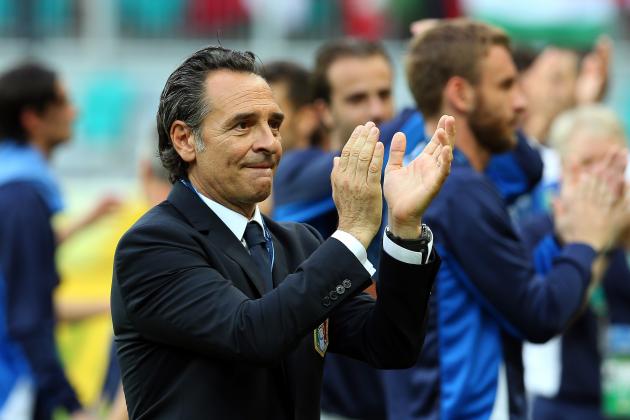 Miguel Tovar/Getty Images
Under Prandelli, the defensive Italy of old is gone, replaced by a new, more animated style of play.
After triumphing in the 2006 World Cup, the Italians endured a blip in 2010 when they failed to qualify from the group stage in South Africa, then two years later suffered a 4-0 mauling by the Spain in the Euro 2012 final.
And although they were knocked out by Spain again, Cesare Prandelli's men were desperately unlucky to go out on penalties, and, if anything, deserved to go through to the Confederations Cup final.
But their performances were a statement of intent; the comeback against Japan, the pressing of Spain—this was a very different Italian style of play compared to what we've seen previously.
One thing is almost for certain—they won't be ducking out at the group stage in Brazil 2014.
Naturally, beyond next year there will have to be reshuffling, particularly in midfield, as Andrea Pirlo will be 35, and Claudio Marchisio and Daniele de Rossi are not exactly brimming with youth either. But the confidence that Prandelli has instilled in his men was fully evident in their direct but measured play, and could very likely spell success in the coming years.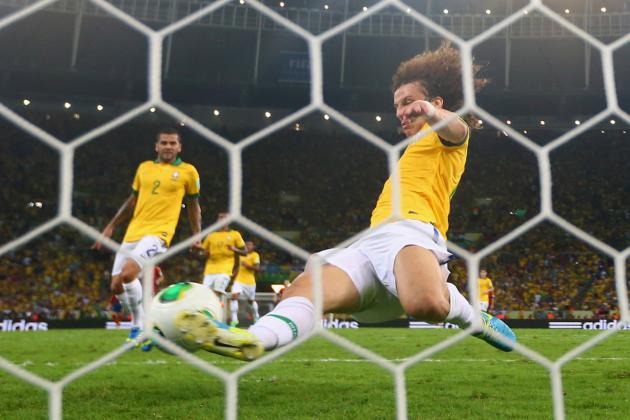 Jasper Juinen/Getty Images
David Luiz during the moment that defined his tournament.
We had to give a world-class goalkeeper a mention here, if only for the reason that he outperformed a prime selection of other world-class goalkeepers.
Cesar showed at 33 he still has years left plying his trade at the very top level.
As always, he was solid throughout, but it was in the final that he really came to the fore. A number of brilliant saves kept Spain from getting the goal that they so desperately needed to get back into the game, and he also put Sergio Ramos—usually lethal from 12 yards—off sufficiently that the Real Madrid centre-back put his spot-kick wide.
Cesar's crowning glory? The 9th minute-penalty save in the semi-final, that stopped Uruguay from getting the early goal they needed to be able to sit back and play the counter-attacking game, which may have unravelled Brazil's tournament.
A well-deserved Golden Glove.
As for David Luiz…
Well, try telling this to a Brazilian, but anyone who's watched him in the Premier League for Chelsea knows that his defensive positioning is often far from good, and his on-field antics can sometimes be downright ludicrous.
But when playing for his country this summer, Luiz was the rock that held it all together. For much of the contest Brazil had an issue with their full-backs, Marcelo and Dani Alves, leaving far too much space for teams to counter into when venturing forward. Every time that happened though, David Luiz was there to clean up the mess.
His tournament was summed up in the final, when Pedro, through on goal, stuck his shot under the outstretched legs of Julio Cesar. With ball bobbling towards the empty net and no Brazilian player in sight, out of nowhere sprung the Sideshow Bob 'fro of David Luiz, who slid his leg across goal to send the shot spiralling over the bar.
Top effort, top performances, almost a top player. Now let's see if he can carry it through into the rest of 2013 and 2014.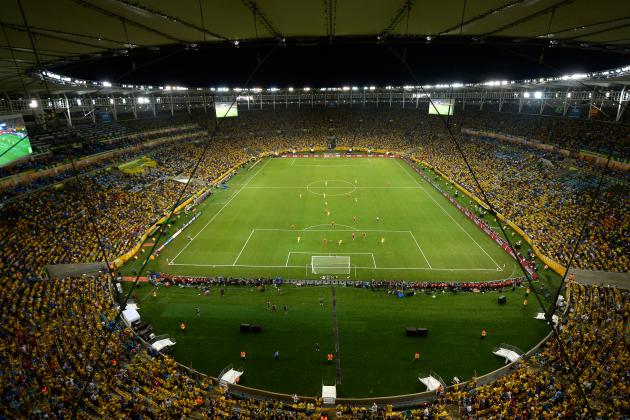 Handout/Getty Images
The Maracana Stadium: One of several multi-million pound restorations that have been funded publicly.
Not many of us saw the revolt coming, which is an element of surprise that has worked in the protestors' favour.
For the Brazilian government, the Confederations Cup was supposed to be a warm-up act. a pre-party for next year's feature event, which would bring in investment and tourism and get everyone in the right mood for the 2014 World Cup.
However, instead of the events on the pitch taking up the column inches, it is what is going outside the FIFA exclusion zone that has got everyone talking.
Brazil is a developing country, but large chunks of the population seem to believe that some people are getting more out of this World Cup than others. Protests over the hundreds of millions of pounds that has been paid by the government for rebuilding stadia instead of investing in education and health have been on-going, the effects being felt right across the country.
Now that the dress rehearsal is over, the task for the government is to win over their own people before the world descends on Brazil next June. And judging by the unrest witnessed in the past two weeks, they have a long way to go yet.
But what exactly can the government do? If the money spent on the World Cup is already spent, how can they compromise on anything? It seems as though the mistakes made are already irreversible.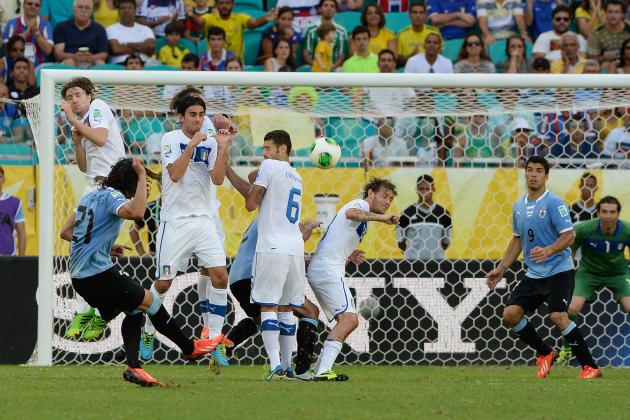 Claudio Villa/Getty Images
A rare golden moment for Cavani in an otherwise forgettable campaign.
Imagine being Edinson Cavani—you're one of the best goal scorers in the world, it's your summer of reckoning…and then your form deserts you until the (fairly) meaningless third-place play-off.
Having lit up Serie A with Napoli for the past three years—the Neapolitans have qualified for the Champions League every season since Cavani's arrival—and now aged 26, it seemed about time that one of the world's most prolific goal scorers began to draw attention from the top tier clubs.
The 2013 Confederations Cup was the perfect opportunity to showcase his talents for the interested parties.
But that didn't quite happen, with Cavani enduring a torrid time in Brazil, scoring only one goal in the tournament proper, despite being given some excellent chances, particularly against Nigeria. Apart from the third-place playoff against Italy, he cut a frustrated figure, and fell victim to his own efforts—in other words, he tried too hard.
The relief etched on his face after scoring—somewhat fortuitously—against Brazil said it all.
Obviously it's not the end of the world; he will still attract bids from the biggest names (as reported by the Daily Mail) this summer, including recently appointed Chelsea manager Jose Mourinho. But the issue is that Cavani has never really performed in tournaments, and to be considered a great player that is one obstacle he will have to overcome.
When he goes back to Brazil next year, other than the Italy game, he will be better off forgetting what happened this time round.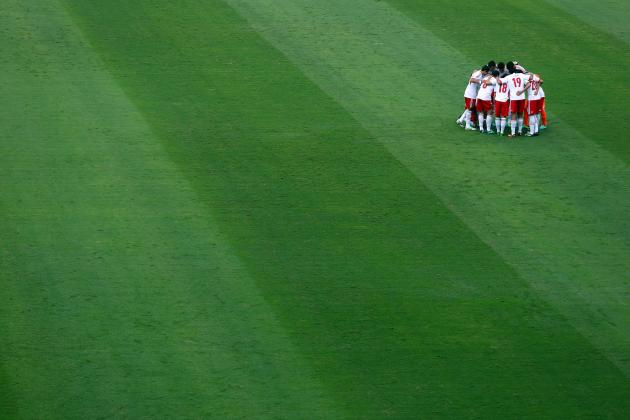 Ronald Martinez/Getty Images
Mexico were far from their usual selves during their jaunt in Brazil.
For such a talented group of players, the Mexicans have really got it wrong in the past few months.
Their World Cup-qualifying campaign is drifting way off course, while the under-par showing in the Confederations Cup will have done nothing to boost morale.
It is getting to the point where fans will—and some already have—started calling for the departure of manager Jose Manuel de la Torre, unless there is a major turnaround in not just results, but performance as well.
While Mexico were unlucky to lose against Italy, in their other games there was something lacking, and what came across on the pitch was a mixture of low confidence and lethargy. However, while the defence is relatively sound, the main issue is up front—they just cannot score or create enough good chances.
Very disappointing.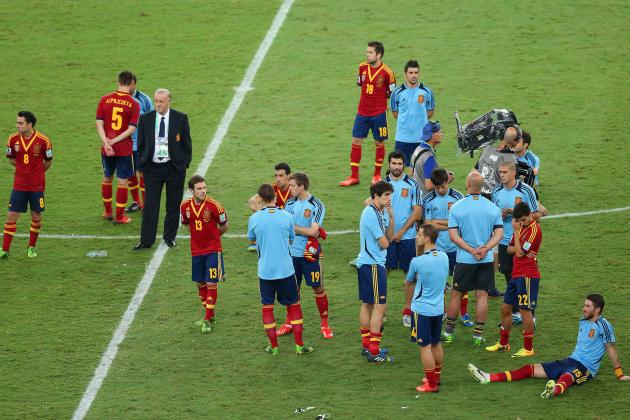 Ronald Martinez/Getty Images
Spain find themselves somewhere they had almost forgotten the feeling of: second-place.
After looking so assured throughout the tournament and the years before it, when Italy took Spain right to the death in the semi-final, everyone assumed it just a blip.
Spain won the penalty shootout, and it looked as though they would pull themselves together, as they have always done in recent years, and normal service could resume.
But if Spain were rattled by the number of chances that the Italians created against them, they were almost paralysed when they faced Brazil.
The Spanish just couldn't get their rhythm going, struggling to get that so-called "carousel" in motion. On the rare occasions that they did, they were either let down by bad touches from players who are usually unflappable, or Brazil simply jammed a screwdriver into the motherboard with some hard tackling.
However, the reason the 3-0 defeat will torment then for the next 12 months is not just the severity of the defeat; Spain will go home knowing that not just one, but two teams have worked out how to not only stifle their play, but completely reverse it on them.
When people start working you out, it's time to change faces, but seeing as the majority of the Spanish team were brought up through La Masia, taught in this very particular style of play from a very early age, how easy will that be in the space of less than a year?
That's not to say that Spain are finished, as for most of the tournament they were at their imperious best. But, when faced with the better teams later in the competition, they were not good at all, so improvement before next year is vital.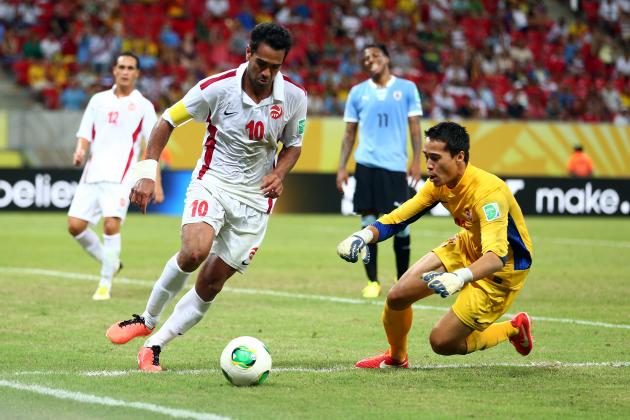 Ronald Martinez/Getty Images
The Tahitians didn't offer much, but no one will begrudge them their place in the tournament.
A bit like when North Korea qualified for the 2010 World Cup, by the third game this lot must have wanted to be nowhere but home (although the North Korea players must have wanted to go anywhere but home—bit dangerous, you see).
The San Marino of the Confederations Cup, Tahiti served purely as an opportunity for the other teams to improve their goal difference, but what did we expect from an island nation of only 178,000 people? Overall goal stats: one goal scored, 24 conceded.
But they won't care; they will not have expected things to have gone much differently, and will still be treated like heroes upon returning home. And besides, in qualifying for the tournament, they technically got further in the process than the likes of Germany and Argentina, so that's something to shout about.