Contrary to an earlier report, San Diego Chargers running back Ryan Mathews was not arrested Sunday night after being involved in an altercation outside a San Diego nightclub.
According to the San Diego Union-Tribune's Teri Figueroa and Michael Gehlken, San Diego police sergeant Robin Rose confirmed an arrest was made at SideBar on Sunday but it was not Mathews.
"We can say that he was definitely not arrested by SDPD,' Rose said. 'But there might have been a separate arrest that lead to that (report). … It was not Ryan Mathews."
Mathews also spoke to the San Diego Union-Tribune's Michael Gehlken and denied all involvement in the pending case:
Ryan Mathews: "I don't know how my name got twisted in all this (stuff) … I don't know why my name is even being brought up."

— Michael Gehlken (@UTgehlken) July 1, 2013
Ryan Mathews says he woke up 30 minutes ago, at home, to texts and phone calls about arrest. "It's crazy. It's crazy right now."

— Michael Gehlken (@UTgehlken) July 1, 2013
Ryan Mathews upset his name became involved: "I didn't hit anybody. I wasn't arrested. ... I didn't see a fight. I didn't see anything"

— Michael Gehlken (@UTgehlken) July 1, 2013
He also took to his own Twitter page, assuring fans that he was home and everything was all right:
Home healthy and happy! Don't know how my name got in this but I'm good!

— ryan mathews (@rmathews24) July 1, 2013
The police account runs contrary to a report by Examiner.com's Michael Drentea, which cited witness accounts that said Mathews was arrested. According to the report by Drentea, witnesses allege that a group of men approached Mathews and an acquaintance inside the SideBar night club late Sunday evening. The two groups exchanged words outside the club—over a woman, according to witnesses—and a man was struck in the face, knocked out cold before being taken to the hospital.
All parties involved were reportedly intoxicated at the scene. The name of the party arrested has not been released to the press at this time.
Rose could neither confirm nor deny that Mathews was at the scene of the fight. They also have not been able to determine whether Mathews was involved whatsoever.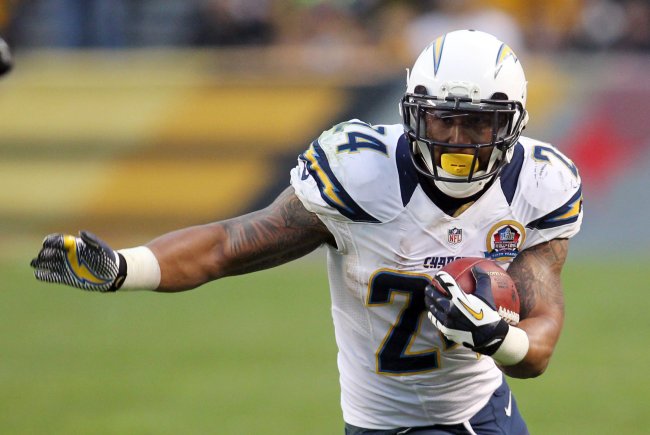 USA TODAY Sports
The 25-year-old Mathews is coming off a frustrating 2012 season. Struggling with injuries throughout the campaign, Mathews rushed for 707 yards and just one touchdown in 12 games. He also set a career low at 3.8 yards per carry, as two separate clavicle injuries marred his season.
A former first-round pick by the Chargers, Mathews has been the source of criticism and derision for his lack of production. He spoke to the San Diego Union-Tribune's Kevin Acee last month, noting the harsh words sent to him by fans via social media, while acknowledging he expects more from himself as a player.
"I got a lot of people just frustrated with my performance in the last few years," Mathews said. "They expected me to come in and do big things. And I expect myself to."
Mathews is expected to be atop San Diego's running back depth chart again in 2013, where the Chargers will look to atone for a 7-9 season. Former Denver Broncos offensive coordinator Mike McCoy took over as head coach this offseason for Norv Turner, who was fired after six years with the team after the 2012 campaign.
Mathews has not released a statement on the matter at this time. Through a spokesperson, Chargers told the Union-Tribune that they were aware of the reports, but they were waiting for the case to play out before making any further comment.
Follow Tyler Conway on Twitter: