Fun Facts and Stats for UFC 162: Anderson Silva vs. Chris Weidman Fight Card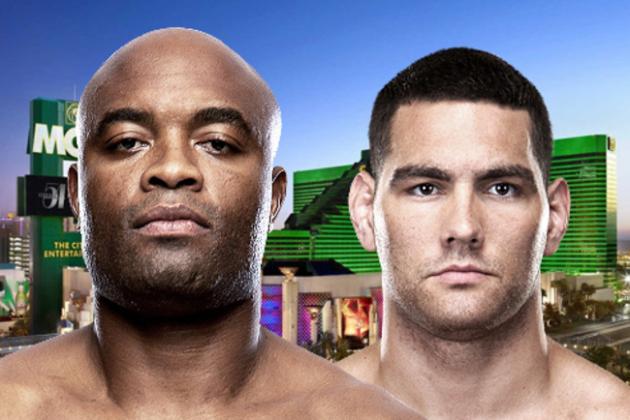 In a few days the UFC will be back from its three-week break. The fight card the promotion will offer fans of mixed martial arts will be headlined by one of the most eagerly anticipated bouts of the year, UFC middleweight champion Anderson Silva versus top-ranked challenger Chris Weidman.
The four other fights on the main card will be divided between two featherweight contests and two middleweight scraps. While these four fights may not be for a UFC title, that doesn't mean the fights will be for small stakes. Each of the eight fighters competing in these bouts will be looking to improve their standing in their division.
What follows are some interesting stats and facts about the five main card fights at UFC 162. Feel free to use them to help make your picks for who the eventual winners will be, or to win some bar bets.
All stats via FightMetric.com
Begin Slideshow

»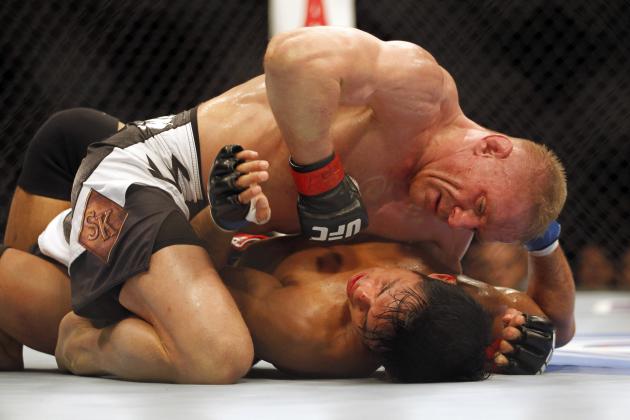 Joe Nicholson-USA TODAY Sports

Dennis Siver may only have two fights at featherweight, but he's made those fights count, winning both and earning a spot as the sixth-ranked fighter in the division.
Siver's most recent win also earned him a spot in the UFC record books. Over the course of his three-round bout with Nam Phan at UFC on Fox 5, Siver landed 222 of 389 total strikes. That number of strikes gives Siver the record for most strikes ever landed in a WEC/UFC featherweight bout.
Phan managed to land only 24 of his strikes.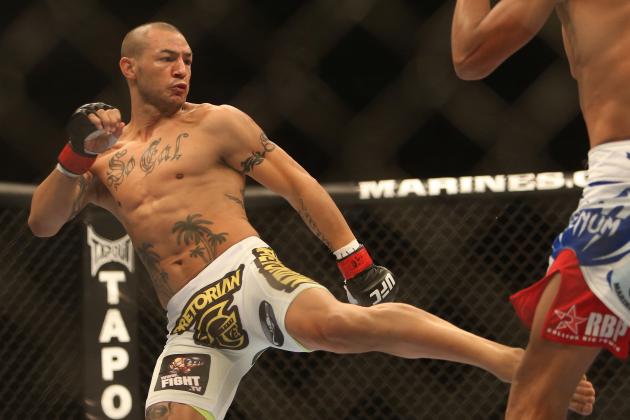 Tom Szczerbowski-USA TODAY Sports

It's probably a safe bet that Cub Swanson and Dennis Siver are going to engage in a striking battle when they meet at UFC 162, and if history is any indicator, Cub Swanson is going to hit his target at a higher rate than Siver.
Swanson's striking accuracy as a WEC/UFC featherweight comes in at 48 percent, which ranks him second all time in the division. The only fighter with a higher striking accuracy percentage at featherweight is Chad Mendes, who is accurate with 51 percent of his strikes. The featherweight average is 40.8 percent.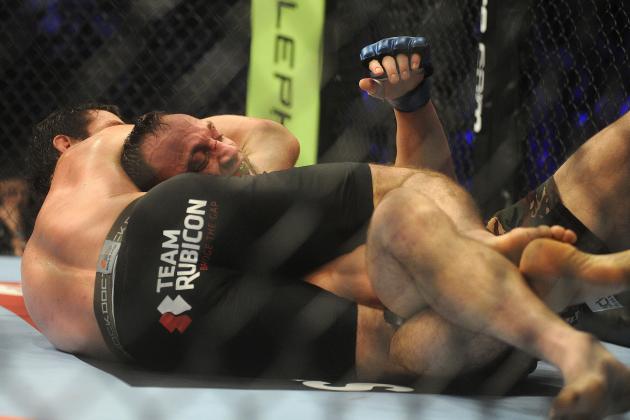 USA TODAY Sports

When Strikeforce shut its doors for good, two men stood at the top of the promotion's history with the most submission wins. Those two men, Luke Rockhold and Tim Kennedy, are both fighting in the UFC's middleweight division now.

Both fighters moved to the UFC with five Strikeforce submission victories to their names. Kennedy submitted Nick Thompson, Zak Cummings, Trevor Prangley, Melvin Manhoef and Trevor Smith during the four years he fought under the Strikeforce banner.

Kennedy will have his work cut out for him when it comes to getting a submission in his UFC debut; after all, he is facing Roger Gracie at UFC 162.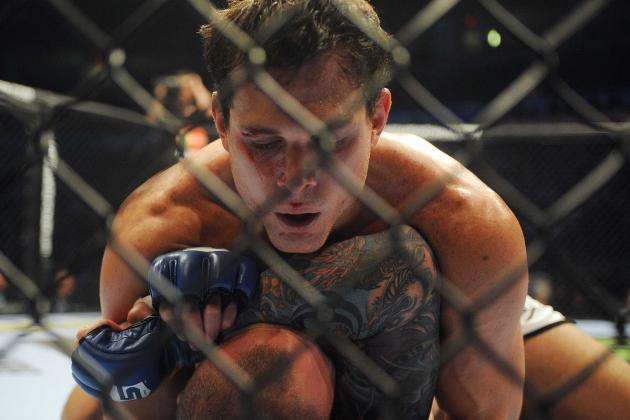 USA TODAY Sports

Roger Gracie made his debut with Strikeforce in May 2010, earning a second-round submission win over former UFC heavyweight champion Kevin Randleman. Over his next four fights, Gracie went 3-1 with two more submission wins.
It's no surprise that Gracie, a multiple gold medalist at the Brazilian Jiu-Jitsu World Championships, would rack up submission wins. After all, his family name is synonymous with the word "submission."
Roger, carrying on the family tradition, is very active in his submission game. He finished his short career in Strikeforce with the highest submission-attempt average in the promotion's history, attempting 2.54 serious submissions per 15 minutes of action.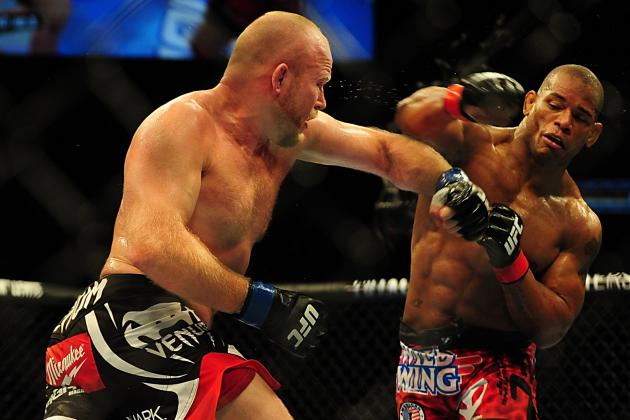 Anne-Marie Sorvin-USA TODAY Sports

Tim Boetsch may have a strong wrestling base, but he has been able to develop his striking game during his 21-fight career as a professional mixed martial artist.
Since dropping to middleweight, Boetsch has quickly rocketed up the rankings to become the second most accurate striker currently fighting in the division. His 54.4 percent striking accuracy also puts him third all time in the division.
The leader of the middleweight pack is the man who will be headlining UFC 162, middleweight champion Anderson Silva. Silva's striking accuracy is an astounding 67.4 percent.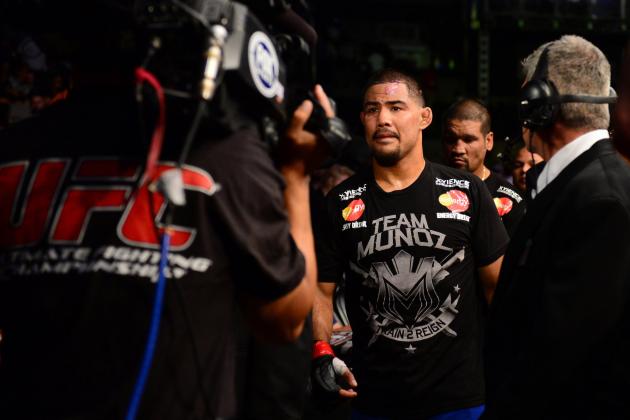 Kyle Terada-USA TODAY Sports

Mark Munoz has a career MMA record of 12-3 with seven of those victories coming before the end of the third round. All seven of those stoppages have come from strikes, with six knockouts and one submission. All but one of those stoppages have come during Munoz's tenure with the WEC/UFC. Munoz's most recent stoppage victory was his TKO win over Chris Leben at UFC 138.
Munoz's fastest stoppage was a 54-second knockout of C.B. Dollaway at UFC on Versus 3.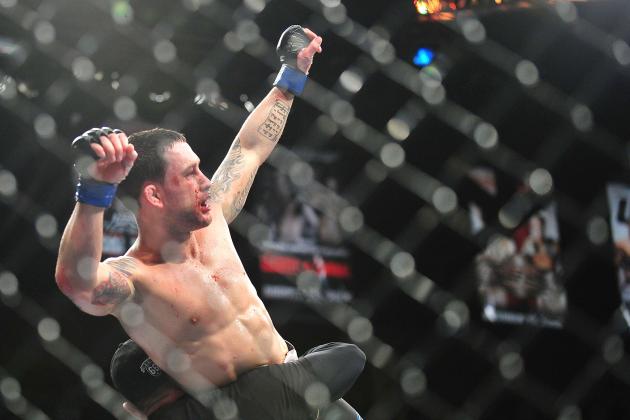 Gary A. Vasquez-USA TODAY Sports

If history is any indicator, Frankie Edgar is going to carve out a nice little place for himself in the UFC's featherweight division record book.
Edgar only has one fight at 145 pounds to his name, a five-round unanimous-decision defeat to UFC champion Jose Aldo. All of his previous bouts came at the lightweight limit, where he established himself very nicely among the all-time best in that division, at least as far as stats are concerned.
Edgar has fought a total of 3:51:09 in the UFC's lightweight division, which would give him the longest time spent in the Octagon as a lightweight.
During that time, Edgar landed 767 significant strikes, second only to Sam Stout's 911 as a lightweight.
Edgar also racked up 42 takedowns as a lightweight, putting him third all time at 155. The former champion also ranks third all time in the division in striking defense percentage, avoiding 71.8 percent of the strikes his opponents have attempted.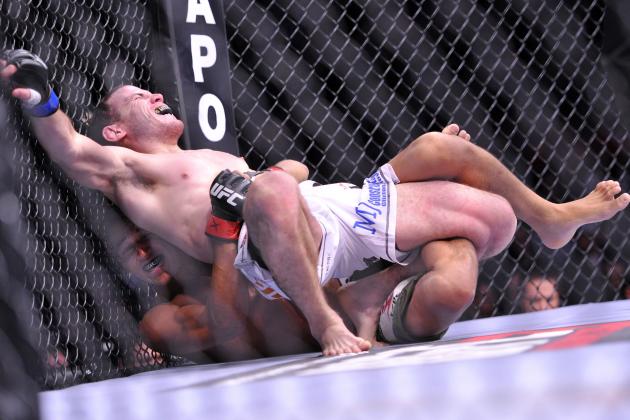 Mike Dinovo-USA TODAY Sports

Where Frankie Edgar has gone the five-round distance in six of his past seven fights, his opponent at UFC 162, Charles Oliveira, has never gone the distance in his UFC career. Oliveira is 4-3-0-1 since joining the promotion in August 2010 with a 41-second submission win over Darren Elkins.
That win has set the tone for Oliveira's tenure in the UFC. He has averaged a meager 4:37 in the Octagon per fight. That ranks Oliveira third among active UFC fighters in shortest average fight time.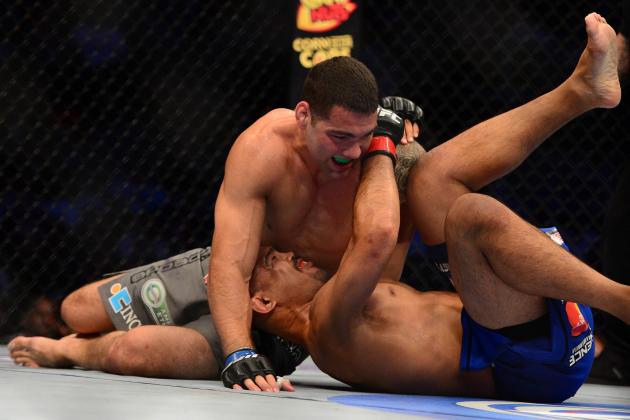 Kyle Terada-USA TODAY Sports

Chris Weidman's chances to defeat UFC middleweight champion Anderson Silva depend on two things, his wrestling and his ground game. If you look at the numbers, Weidman is impressive in both disciplines.
Weidman has landed, on average, 4.47 takedowns per 15 minutes of fighting, ranking him first among active UFC middleweights and second all time. His takedown accuracy is an outstanding 72.2 percent, putting him far above the 41 percent UFC average.
Also impressive is that once the fight does hit the ground, Weidman remains in control of the action. Weidman has only ceded control inside the Octagon for a total of three seconds.
Anderson Silva's accomplishments in the world of mixed martial arts are unrivaled. I could bore and possibly irritate you all by recounting everything " The Spider" has done since breaking into the promotion with a 49-second "Knockout of the Night" victory over Chris Leben in June 2006, but I won't do that. Instead, here are some of the more impressive records from Silva's tenure with the UFC:
16 consecutive victories

11 knockouts

14 stoppage victories

12 Fight Night bonuses

7 Knockout of the Night bonuses

Highest striking accuracy

17 total knockdowns