A "slap on the wrist" is the generous term the nation is using to describe what happened to Oregon last week when the NCAA handed down its sanctions announcement against the Ducks.
The penalties passed down to Oregon were pretty much painless.
Approximately 27 months ago, Chip Kelly's team was nailed for handing Willie Lyles a check for $25,000. Lyles was a mentor to former Ducks LaMichael James and Lache Seastrunk.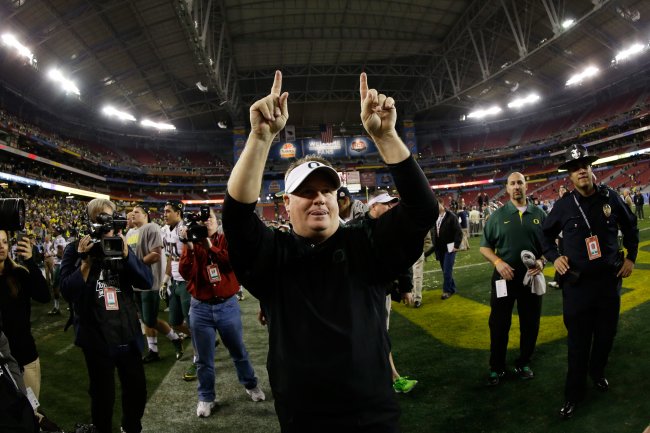 Ezra Shaw/Getty Images
Over two years later, we get the results of the NCAA investigation, results that certainly don't have Oregon fans reeling in shock.
Two of the highlights from Oregon's penalties include the loss of one scholarship over the next two seasons, as well as a reduction in official prospect visits from 41 to 37.
It is difficult to see the Ducks recovering from such brutal sanctions, is it not? Can you sense the dripping sarcasm?
The Ducks will be fine. Any lapse in the quality of the Oregon product on the field will not be a result of the sanctions against the team as much as a result of poor coaching, poor execution or superior competition.
And that's as it should be.
Fans took to Twitter to express their displeasure with the NCAA ruling—fans of one school in particular.
The NCAA: Not Consistent At All #Ducks

— Karisa Maxwell (@KarisaMaxwell) June 26, 2013
UNC blatantly cheats, no sanctions. Oregon kinda cheats, a slap on the wrist. Penn State breaks ZERO NCAA rules, major sanctions. #hypocrisy

— Dan Arnoldi (@ArnoldiPSU) June 26, 2013
That was funny, Oregon. But seriously, when are we going to hear the real sanctions?

— JoePa's Doghouse (@RowlffDogg) June 26, 2013
Penn State's sanctions make less and less sense these days.

— Ben Jones (@Ben_Jones88) June 26, 2013
NCAA should have made oregon wear Penn State's uniform this year

— Steven Bench (@Steven_Bench) June 26, 2013
And there is no denying that Penn State fans have a legitimate beef.
PSU broke exactly no NCAA rules. Joe Paterno was fired, Jerry Sandusky is enjoying a stay in prison, and yet the football program is suffering through NCAA sanctions of ridiculous proportions.
Even USC fans have a reason to be upset. Pete Carroll and his staff commited NCAA violations in the whole Reggie Bush debacle, Carroll left for Seattle, and the Trojans suffered through a two-season bowl ban. That's the short version.
And granted, it wasn't just the football team that was involved in activity that broke NCAA rules, but the penalties for that team were brutal.
Carroll received no penalties after moving on to the NFL, including no "show-cause" penalty from the NCAA or any other kind of sanction.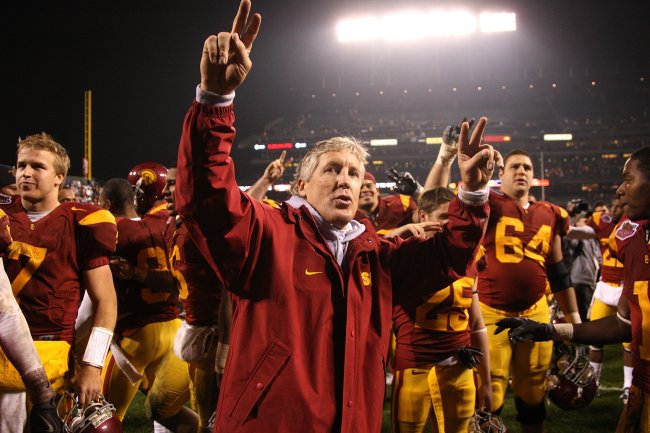 Jed Jacobsohn/Getty Images
The man in charge of the program, with all the influence, making all the decisions during that time period, got away without even the pretense of a punishment.
USC labored through the NCAA sanctions, missing the postseason in 2011 despite posting a record that should have earned it a BCS bowl bid.
Somehow, that's not right.
In the case of Oregon, football fans outside of Los Angeles and Happy Valley should be thrilled. While the program suffers through token penalties that won't effect the program in any major way, the NCAA handed Chip Kelly an 18-month show-cause penalty, which is pretty much pointless at this point, but aimed in the right direction.
Kelly is, after all, $32.5 million richer with the Eagles and has no reason to worry about the Ducks, having left them in the middle of the investigation.
Oregon's sanctions have sated my blood-thirstiness. Tho Chip Kelly's punishment is a lot like HBO coming out now and canceling The Sopranos.

— Tony Gerdeman (@GerdOzone) June 26, 2013
The NCAA's Committee on Infractions is nothing if not wildly inconsistent, and this ruling further confirms that assumption.
But though the committee proved that it is as inconsistent as Joe Johnson's jumper with this ruling, it got it right.
Oregon's infractions were a result of decisions made by Kelly and some of his staff.
Kelly is gone, so rather than destroy the team's shot of competing for several seasons, the Ducks received a "slap on the wrist," and we all move on to the next newsworthy item.
Complain all you want, USC and PSU. But this is a step in the right direction, even if it does lack a sense of fairness.