Josh Smith Rumors: Latest on Hawks, Rockets and More Interested in Free-Agent SF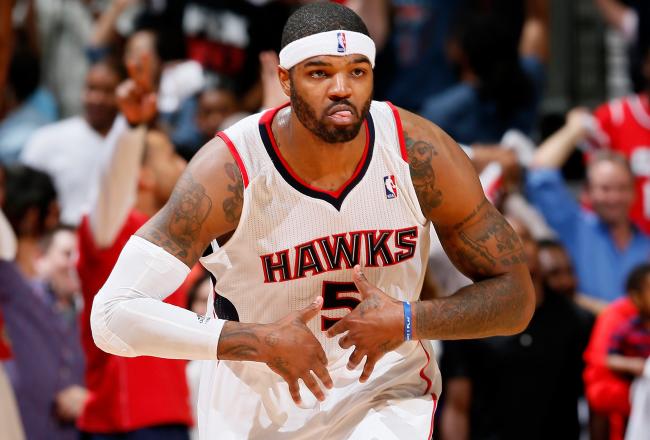 Kevin C. Cox/Getty Images
Josh Smith is one of the more coveted free agents available on the open market, but he may not be there for long.
According to Yahoo!'s Adrian Wojnarowski, Josh Smith has chosen a new home:
Josh Smith has agreed to a four year, $56 million deal with the Detroit Pistons, league sources tell Y! Sports.

— Adrian Wojnarowski (@WojYahooNBA) July 6, 2013
Yahoo! Sports' Adrian Wojnarowski reports that a sign-and-trade sending Smith to Houston isn't there yet:
Houston and Atlanta haven't discussed a Josh Smith sign-and-trade, but that's a conversation that could happen soon, league sources tell Y!

— Adrian Wojnarowski (@WojYahooNBA) July 6, 2013
ESPN's Chris Broussard presents a possible sign-and-trade scenario that could land Smith in Houston:
I'm told Hawks and Rockets working on sign&trade to bring Josh Smith to Hou, probably for Asik and JLin

— Chris Broussard (@Chris_Broussard) July 5, 2013
ABC's Zach Klein reported the latest on Smith and the Houston Rockets:
NBA league source tells me Hawks and Rockets working on sign and trade for Josh Smith

— Zach Klein (@ZachKleinWSB) July 5, 2013
Marc Spears of Yahoo! Sports has an update about what's next for Josh Smith as he tries to decide where to continue his career:
Hawks free agent forward Josh Smith is leaving LA today to return to Atlanta to contemplate his future over weekend, source tells Y! Sports.

— Marc J. Spears (@SpearsNBAYahoo) July 3, 2013
USA Today reporter Sam Amick reports the latest on the Rockets' plans for Smith:
According to two people with knowledge of the situation, the Rockets' Monday meeting with free agent forward Josh Smith in Los Angeles included a discussion about a possible partnership with him and his childhood friend from Atlanta in Howard.

Smith has long been known to be on the Rockets' radar, but he is not viewed solely as a backup plan to Howard should he decide to sign elsewhere and the possibility remains of another superteam being created with Howard and Smith joining franchise centerpiece James Harden. The people spoke to USA TODAY Sports on the condition of anonymity because of the private nature of the talks.
Jeff Goodman of ESPN has an update about the status of Josh Smith's free agency.
Josh Smith has met with Detroit and Houston thus far, source told ESPN. No "firm offer" from the Pistons. Has yet to meet with the Hawks.

— Jeff Goodman (@GoodmanESPN) July 2, 2013
Yahoo! Sports' Marc J. Spears has the latest on Josh Smith:
The Houston Rockets told Atlanta Hawks free-agent forward Josh Smith during their meeting Monday in Los Angeles that they will make him a contract offer if they don't sign Los Angeles Lakers free-agent center Dwight Howard, a league source told Yahoo! Sports.

Smith understood the Rockets' position and wasn't offended. Smith hasn't met with the Atlanta Hawks, who could pursue a sign-and-trade deal to get something in return for him.

Smith also met with the Detroit Pistons for about five hours after the free-agent market open. He could speak to other teams.
The superstar forward has already visited with the Detroit Pistons and has plans for more discussions with other clubs in the coming days.
Marc J. Spears of Yahoo! Sports is reporting that the nine-year veteran had a productive, five-hour meeting with the Motor City-based franchise, but didn't receive an offer from the team.
Hawks free agent F Josh Smith had a "productive meeting" with the Pistons for over five hours, a source told Yahoo!, but no offer was made.

— Marc J. Spears (@SpearsNBAYahoo) July 1, 2013
TNT's David Aldridge found that money wasn't discussed at all and the purpose of the meeting was to see if both parties were comfortable with a potential fit.
DET, Josh Smith didn't get specific on $ at meeting Monday, per source. It was a "feeling out" process to see if both are comfortable w/fit.

— David Aldridge (@daldridgetnt) July 1, 2013
If the Pistons are truly interested, it would behoove them to make an offer soon. Spears notes that Smith is scheduled to meet with the Houston Rockets and his current organization, the Atlanta Hawks, on Monday.
Hawks free agent forward Josh Smith is expected to meet with the Rockets and the Hawks on Monday, source said.

— Marc J. Spears (@SpearsNBAYahoo) July 1, 2013
The 27-year-old has spent his entire career with the Hawks, the team that drafted him No. 17 overall out of high school in the 2004 draft.
Since then, J-Smoove has developed into one of the more dynamic, athletic forces in the league. He's extremely versatile, capable of lining up at and defending multiple positions depending on the scenario and opponent.
He's coming off a mediocre performance—by his standards—in 2012-13, as the 6'9", 225-pound forward averaged 17.5 points on 46.5 percent field-goal shooting and 30.3 percent three-point shooting. He also contributed 8.4 rebounds, 4.2 assists, 1.8 blocks and 1.2 steals in 35.3 minutes over 76 games.
Those numbers indicate that Smith is still clearly a force all over the floor, but he has to work on his shot selection and ideally spend more time in the post when he's on offense.
If he shows that he is willing to change and improve at this stage in his NBA career, there is no doubting that Smith can garner a maximum contract offer from at least one of his suitors.
This article is
What is the duplicate article?
Why is this article offensive?
Where is this article plagiarized from?
Why is this article poorly edited?