Stock Up, Stock Down for Boston Red Sox's Top 10 Prospects for Week 13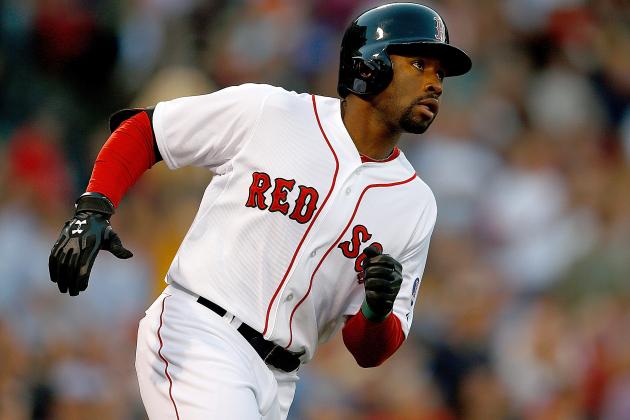 Jim Rogash/Getty Images

The first-place Boston Red Sox continue to give fans plenty to cheer about this season.
The organization's deep farm system ensures that its fans will continue to be excited with the team for years to come.
The Red Sox have developed many top-caliber prospects, which gives them the versatility of being able to move chips at the trade deadline or continue to develop guys through their own system.
Baseball America's Jim Callis ranked Boston's farm system as the fifth-best in the majors entering the 2013 season. The up-and-comers have done nothing to discredit his ranking.
Click through for a stock update on the Red Sox's top 10 prospects for Week 13 of the 2013 season.
The following players were the top 10 ranked prospects entering the season, according to Baseball America.
Please note: Players recently drafted by the Red Sox will not be included, as they do not have any statistics to draw from. If you would like more information about Boston's most recent additions to the minor league system via the draft, have a look at their scouting profiles right here on B/R.
Begin Slideshow

»
2013 Stats
.286/.369/.448, 15 2B, 6 3B, 2 HR, 26 RBI, 23 R, 6 SB
Overview
Blake Swihart has continued to impress as he plays out his season with High-A Salem.
The 21-year-old has done little to dispel the hope that he can one day step in as an effective major league catcher.
With some more strength in his legs, scouts believe Swihart can shoulder the arduous task of catching at the big league level. As for now, he is hitting fine but is a long way off from making his impact felt in the confines of Fenway Park.
Last Week's Stats
5-for-16, 1 2B, 0 HR, 2 R, 2 RBI
Stock
Up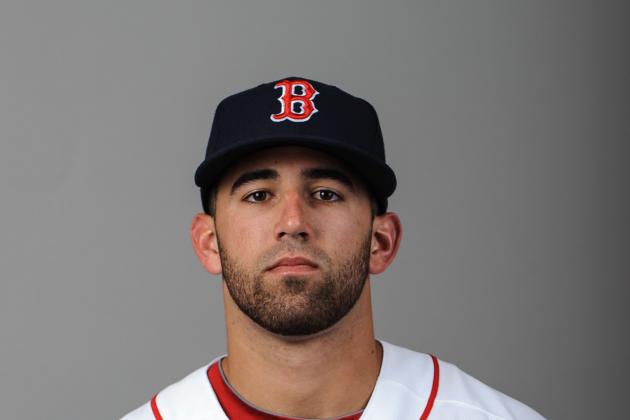 USA TODAY Sports

2013 Stats
.270/.341/.363, 16 2B, 0 3B, 1 HR, 11 RBI, 31 R, 12 SB
Overview
It seems, at least for the time being, Deven Marrero is beginning to tap his potential.
Since being picked in the first round of the 2012 draft, the Red Sox have anticipated big things from the Arizona State alum.
Though he showed enormous flashes of potential with his glove, his empty stat line early in the season was a little disconcerting to the fanbase.
However, this past week he has been hot as can be, hitting the ball all over the place (including this season's first round-tripper), and has shown what the scouting staff for Boston has seen in him.
With any luck, this recent success will carry Marrero out of his season-long slump and allow him continue his ascent on the prospect ladder.
Last Week's Stats
8-for-26, 1 2B, 1 HR, 6 R, 2 RBI
Stock
Up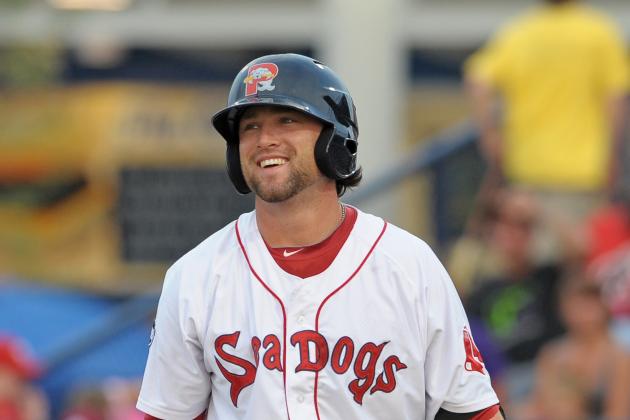 Eric Hartline-USA TODAY Sports

2013 Stats
.270/.322/.484, 14 2B, 1 3B, 15 HR, 51 RBI, 33 R, 1 SB
Overview
Bryce Brentz has been just as advertised for much of this season: a supremely gifted power hitter who strikes out a ton.
His numbers on the season highlight his power. With 30 extra-base hits at Triple-A Pawtucket, Brentz is giving every indication that he can hit for power at the highest levels of professional baseball.
He had a mediocre week, however, flashing zeros across the board while slashing five hits in 20 at-bats. He needs to get his consistency down and develop better plate discipline, but good omens surround this guy.
Last Week's Stats
5-for-20, 0 2B, 0 HR, 0 R, 0 RBI
Stock
Flat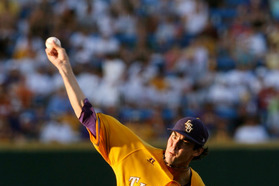 2013 Stats
15 GS, 8-2, 2.68 ERA, 29 BB, 91 K, 84.0 IP
Overview
Anthony Ranaudo's week has been a tale of two starts.
On June 24, he allowed only one run over the course of six innings, while somehow getting knocked with the loss. On June 30, he walked two and gave up nine hits over five frames, while surrendering five runs. Oddly enough, in that start, he enjoyed the victory.
The week on a whole was a downslide for Ranaudo, who has been a rejuvenated sensation this season with Double-A Portland. His struggles on the mound are probably more of a pothole than a canyon. Hopefully next time out he can regain the fine form he's displayed this whole season and continue to skyrocket.
Last Week's Stats
2 GS, 11.0 IP, 12 H, 6 ER, 6 BB, 9 K, 1 W, 1L
Stock
Down
2013 Stats
15 GS, 6-3, 2.74 ERA, 34 BB, 90 K, 77.1 IP
Overview
The 20-year-old Henry Owens continues to wow fans and scouts alike.
The lefty has been stellar this season, especially in the strikeout department; he has overpowered hitters 90 times in just 77.1 innings.
The 2011 first-round draft choice might see a promotion if he continues his current pace.
Last Week's Stats
2 GS, 12.0 IP, 6 H, 3 ER, 6 BB, 10K, 1 W, 1 L
Stock
Up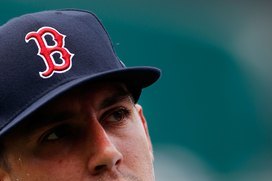 2013 Stats
15 GS, 4-4, 5.19 ERA, 25 BB, 83 K, 67.2 IP
Overview
Matt Barnes, a 2011 first-round draft choice, has traversed a rocky path this season.
As his five-plus ERA indicates, Barnes has struggled to find his way in Double-A Portland. A couple weeks ago, he put together a pair of starts in which he allowed zero earned runs and struck out 14 over nine frames.
His most recent start was not so pleasant. The 22-year-old allowed nine hits and two walks in his five innings, while allowing four baserunners to score.
In order to continue moving up the Red Sox farm system, Barnes must find some consistency. He has plenty of time to find himself on the mound, as the Red Sox have no need for him in the immediate future.
Last Week's Stats
1 GS, 5.0 IP, 9 H, 4 ER, 2 BB, 5 K, 0 W
Stock
Flat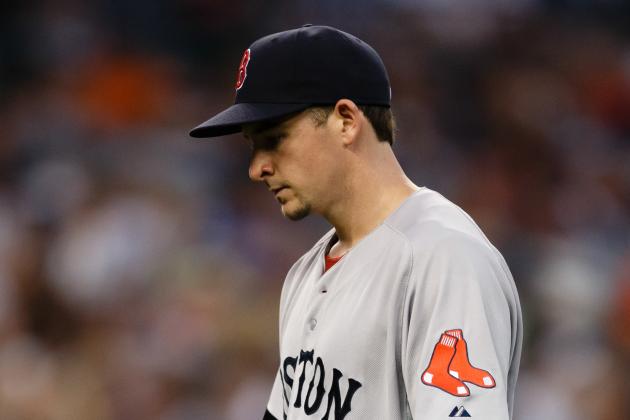 Rick Osentoski-USA TODAY Sports

2013 Stats
10 GS, 5-1, 2.98 ERA, 22 BB, 56 K, 51.1 IP
Overview
Allen Webster is teetering with a removal from this list. That's not because of underperformance; it's because he has been up with the big club this past week.
While the reason Webster has been in Boston has been an injury to Clay Buchholz, he is clearly right on the fringe of the majors in the organization's view.
Last week, Webster put up quite the fight against Josh Johnson and the Toronto Blue Jays. He didn't allow his first run until the fifth inning and even left with the lead after the sixth inning.
His first major league win eluded him, however, as the bullpen blew it before the Red Sox came back to ultimately triumph. His performance was not outstanding but certainly showed that he can be counted on for a spot start here and there.
With the issues plaguing the Red Sox bullpen, they might want to consider leaving Webster in there to give them some innings. His power and skill are well-catered to performing out of the bullpen.
Whatever Boston decides to do with Webster in the immediate future, it's clear the horizon is bright for the 23-year-old.
Last Week's Stats (with Boston)
1 GS, 6.0 IP, 6 H, 4 ER, 2 BB, 3 K, 0 W
Stock
Up
2013 Stats (with High-A Salem)
.350/.469/.547, 19 2B, 4 3B, 5 HR, 33 RBI, 44 R, 15 SB
2013 Stats (with Double-A Portland)
.364/.475/.455, 3 2B, 0 3B, 0 HR, 3 RBI, 8 R, 0 SB
Overview
Garin Cecchini has fully reaped the benefits of pulverizing baseballs at High-A Salem with a promotion to Double-A Portland.
Despite the limited sample size, his numbers are already looking eerily similar at his new level. The one difference is the fact that the home run category is a little vacant, but with more at-bats, that should come.
That Cecchini is off to a hot start in Double-A is certainly a good sign. The surprising prospect has done all he can to propel his way up the rankings in the Red Sox farm system.
At just 22 years of age, Cecchini has all the time in the world to develop his skills. If he continues at the torrid pace he has been on this season, he could be seeing time in Boston sometime next season.
Last Week's Stats
9-for-21, 2 2B, 0 HR, 6 R, 1 RBI
Stock
Up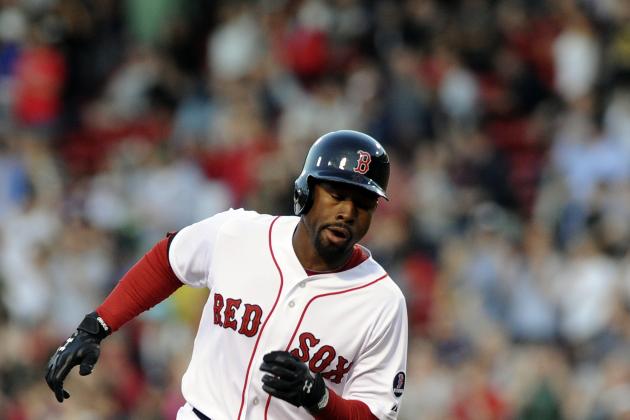 USA TODAY Sports

2013 Stats
.304/.395/.509, 17 2B, 2 3B, 4 HR, 18 RBI, 27 R, 4 SB
Overview
Jackie Bradley Jr. has been doing well with Triple-A Pawtucket.
This past week, he showed that he can put some muscle on the ball, accumulating five doubles and a home run in that frame.
Bradley is in the unfortunate position of being nearly ready for the big leagues, yet being stacked low on a quality outfield depth chart. The fact that he is developing more in the minors might prove to be a good thing in the long run. But one has to feel that his time for permanent residency in Boston is quite close.
Last Week's Stats
9-for-32, 4 2B, 1 HR, 6 R, 5 RBI
Stock
Up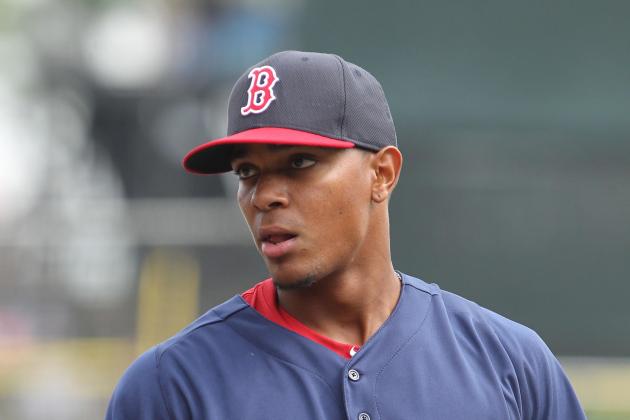 Kim Klement-USA TODAY Sports

2013 Stats (with Double-A Portland)
.311/.407/.502, 12 2B, 6 3B, 6 HR, 35 RBI, 40 R, 5 SB
2013 Stats (with Triple-A Pawtucket)
.242/.319/.435, 0 2B, 0 3B, 4 HR, 10 RBI, 9 R, 2 SB
Overview
As incredible a prospect as any organization can hope to have, Xander Bogaerts continues to thrive.
While his cumulative numbers in Triple-A Pawtucket are well-rounded like those he compiled in Double-A Portland, he has flashed nice power since his promotion.
The four home runs, 10 RBI and nine runs have all helped Pawtucket's lineup tremendously.
The time will come when Bogaerts will be a fan favorite at Fenway Park, and that time might be as soon as the rosters expand in September. At 20 years old, Bogaerts is a spectacle who will likely be a star in Boston for years to come.
Last Week's Stats
7-for-23 0 2B, 1 HR, 4 R, 5 RBI
Stock
Up