Scouting Report for All Philadelphia Flyers 2013 Draft Picks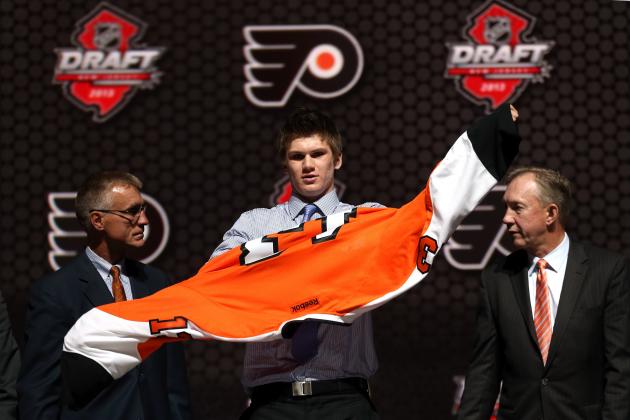 Bruce Bennett/Getty Images

The 2013 NHL draft has come and gone, and the Philadelphia Flyers are left with an interesting crop of prospects to add to their depleted farm system.
Six players were taken by the Flyers, with one pick in each round except for the fourth. Four of the picks were defensemen, with one forward and one goalie as well.
There has been a lot of debate and some negativity directed toward the Flyers' overall draft, but in reality, it is really much too early to judge this class.
Each prospect has their pros and cons, although some picks are definitely more questionable than others.
Here is a complete scouting report and breakdown of each prospect the Flyers drafted on Sunday.
Begin Slideshow

»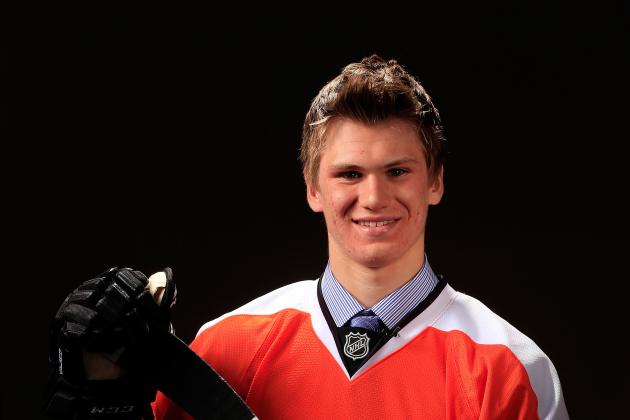 Jamie Squire/Getty Images

Samuel Morin was an interesting first pick for the Flyers. The 6'6" defenseman is a towering physical presence in his own end, but he has some question marks surrounding the rest of his game.
The easy (but misguided) comparisons are Chris Pronger, Zdeno Chara and Tyler Myers because of their comparable heights, but style-wise, Morin plays more like Luke Schenn than any of them.
The Quebec native is more of a hitter and punisher and projects as a true defensive defenseman in the NHL who will rack up the hits and clear the net while controlling his zone.
He is actually a relatively smooth skater for his size, but his decision-making and passing are major aspects that need work. Morin's shot is also pretty weak, which means he may not be a power-play quarterback like Pronger or Chara.
At 17 years old, with a lot of room to grow physically and mentally, Morin is still definitely a project and likely won't get to the NHL until the 2016-17 season at the earliest.
For more on the defenseman, check out this description of Morin from TSN's Craig Button, whose scouting reports were used for Bob McKenzie's final prospect rankings (Morin was 17th).
Being a Quebec native, it's also probably worth checking out SB Nation's Habs Eyes on the Prize's evaluation of Morin.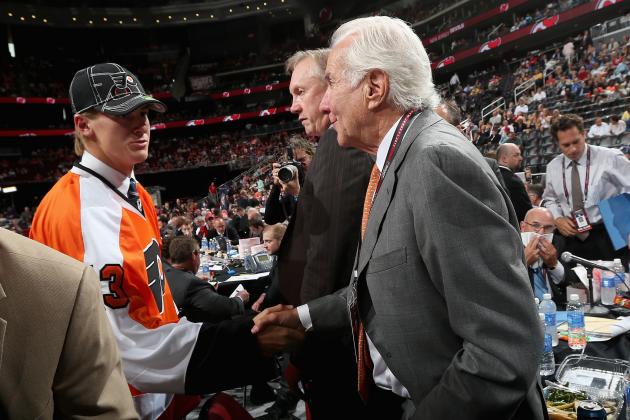 Bruce Bennett/Getty Images

While Morin was considered a reach by some, pretty much everyone agreed that Robert Hagg was a steal midway through the second round.
The Hockey News' prospect rankings had Hagg as high as 10th before falling to 22nd in their final blended rankings, which still makes him a tremendous value as the 41st pick.
Hagg is a big, sturdy defenseman at 6'2", 201 pounds who has an extremely well-rounded game. He skates at a high level and passes like an elite defenseman.
He is particularly known for playing coolly and smoothly in all situations, which can be a huge asset but also detrimental, as some scouts have voiced concerns about his effort and say he needs to play with more passion.
The Swede is a legitimate two-way defenseman who is strong enough to be effective along the boards and in front of the crease while also having the ability to carry the puck up and join the rush. He could log big minutes as a penalty-killer and also play the point on the power play.
It may not have been intentional, but the Flyers definitely have to see Hagg and Morin as potential linemates, because they would seem to compliment each other well.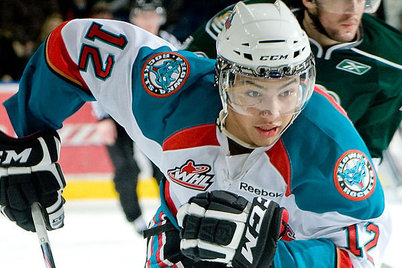 Photo via ca.sports.yahoo.com
Tyrell Goulbourne was a real head-scratcher of a third round pick. Rated pretty lowly across the board, he is more of a fourth-line agitator than anything, and it makes you wonder why the Flyers used such a high pick on him when he could have been available later.
He's a lot like Zac Rinaldo: average size, pretty good skater, extremely aggressive, plays hard every shift and is loved by teammates and coaches for his willingness to do the dirty work and fight anyone.
Goulbourne may not be much of an offensive threat, although he is truly an impressive fighter—watch him take down a much bigger foe here—but I'm just not sure why he was taken so high.
He was a plus-seven this past season for the Kelowna Rockets, so I guess there has to be some effectiveness to his game, but I just don't see his ceiling being any higher than a fourth-line forward.
Photo via facebook
Strange to see a lacrosse picture here, right? It's only here because I used the one picture online of him playing hockey in my previous draft grades article, and I guess this means Terrance Amorosa is at least a pretty good athlete.
There isn't much information available on him, although he said in his post-draft interview that he grew from 5'6" to 6'2" in the past few years, which was why he wasn't noticed by the QMJHL at a younger age.
He played for Holderness High School in New Hampshire and will go on to play for Sioux City of the USHL next year.
The Flyers' website calls him "a big defenseman with good feet." And in his interview, Amorosa said he has a good stick, too.
Seems to be a pretty random pick here, and I guess we'll have to see if he develops into anything.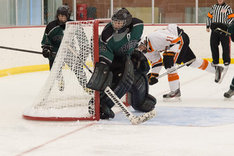 Photo via westerncollegehockeyblog.com
The only great pick from this draft (other than Hagg), the Flyers could have gotten a steal in goalie Merrick Madsen.
Another New Hampshire high school prospect (Proctor Academy), Madsen grew up in California before moving over to the Northeast to attend prep school and grow as a hockey player.
He had a 3.20 GAA and .908 save percentage for Proctor in 2012-13 and will move on to play for Des Moines of the USHL next year.
Most impressively, Madsen is committed to play at Harvard starting in 2014-15, which speaks to him as a talented player on the ice and high-quality kid off it.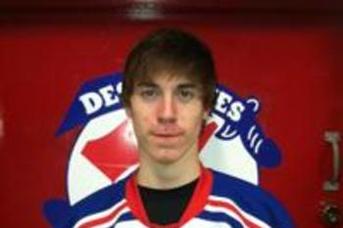 Photo via bucshockey.com
The last and most unknown of the Flyers' picks is David Drake, a defenseman taken with the 192nd pick in the draft.
The Illinois native played for Des Moines of the USHL (notice some patterns with these last three picks?) at the end of the 2012-13 season.
Prior to being called up to Des Moines, he played for the Chicago Fury (Tier I Midget). There isn't much other information available about him, and I can't find any videos of him anywhere.