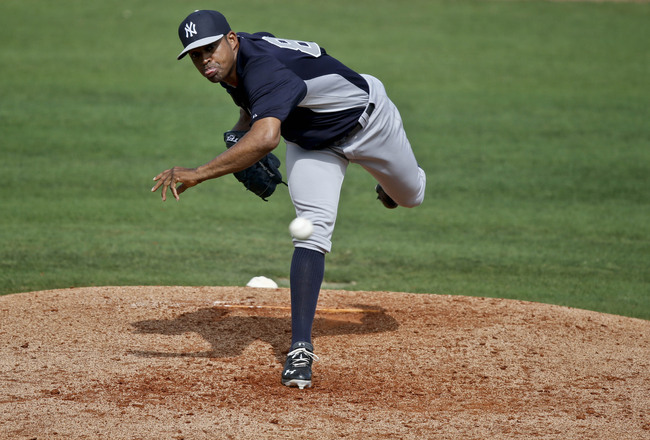 Derick Hingle-USA TODAY Sports
Reality is beginning to set in for both the New York Yankees and their fans.
The combination of age and injuries has begun to push the Yankees towards their tipping point as they continue to fall in the American League East.
The fact that old players with big contracts combined with journeymen and other veteran fillers can't produce a playoff team is more evident than ever.
Although the Yankees are beginning to realize that youth is going to need to be a part of their rebuilding in the future, it has been a stubborn transition.
Outfielder Zoilo Almonte was the first player in their top batch of prospects to finally get his chance, and he has proved that it was a chance worth getting.
So let's now check out how the other young players are doing in the system.
10. Jose A. Ramirez, RHP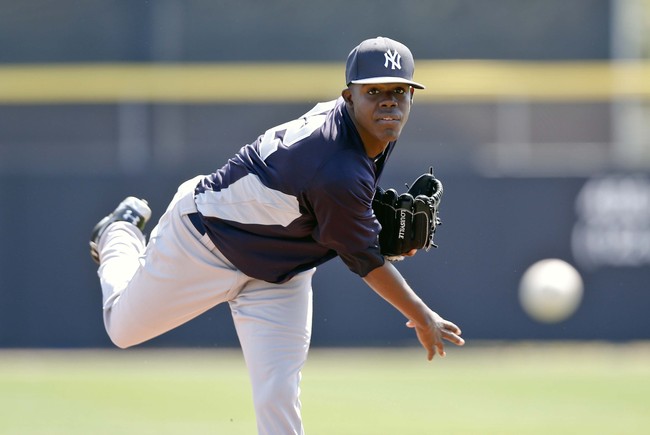 Derick Hingle-USA TODAY Sports
2013 Stats: 13 G, 2 W, 4 L, 3.03 ERA, 8 HR, 27 K, 27 BB
Overview: As Dante Bichette Jr. has pushed himself out of this top 10 list, Jose Ramirez has quietly slid in to take his place.
The young righty had two starts last week in Triple-A Scranton/Wilkes-Barre and fared well.
In his second start on Sunday, he was roughed up a little by Pawtucket, lasting only four and two-thirds innings and giving up two runs.
But Ramirez was dominant last Tuesday, picking up a win after going six innings and giving up no runs and only three hits.
Ramirez created a little buzz for himself during spring training, but quickly moved out of the spotlight when the season began.
Again, though, Ramirez is beginning to emerge as a solid pitcher.
Last Week's Stats: 2 G, 1 W, 8 K, 1.76 ERA, 4 BB
Stock: Up
9. Mark Montgomery, RHP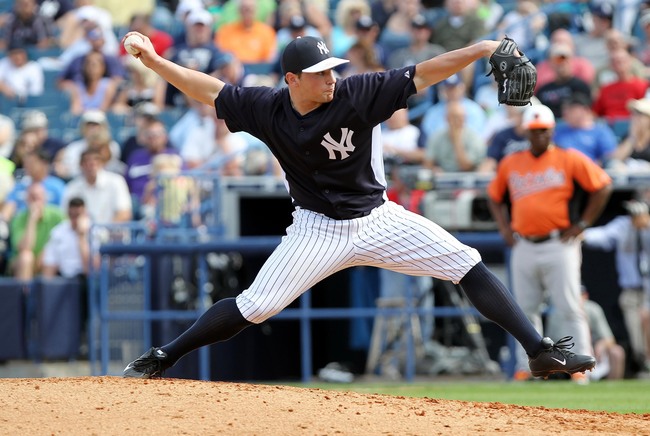 Kim Klement-USA TODAY Sports
2013 Stats: 20 G, 3.06 ERA, 32.1 IP, 31 H, 39 K, 20 BB
Overview: Mark Montgomery has been placed on the disabled list.
CBSSports.com's Chris Towers has reported that the stint on the disabled list is to give the right-hander rest.
This isn't good news for Montgomery or for the Yankees.
If Montgomery's shoulder needs rest at this point in his career, what the future holds may not be good.
The best situation for Montgomery is if his rest on the disabled list can help bring back his arm strength and control.
Last Week's Stats: None
Stock: Even
8. Jose Campos, RHP
2013 Stats: 13 GS, 1 W, 4.15 ERA, 52 IP, 12 BB, 52 K
Overview: This past week, Jose Campos had another strong outing.
The righty went four innings and scattered five hits while only giving up one run in his only start last week.
What's more impressive were Campos' six strikeouts.
Campos has an above-average fastball and solid changeup, and continues to prove himself week to week.
If Campos keeps putting together solid starts, he may find himself in Tampa sooner rather than later.
Last Week's Stats: 1 GS, 5 H, 1 ER, 6 K, 0 BB
7. Ramon Flores, Left Field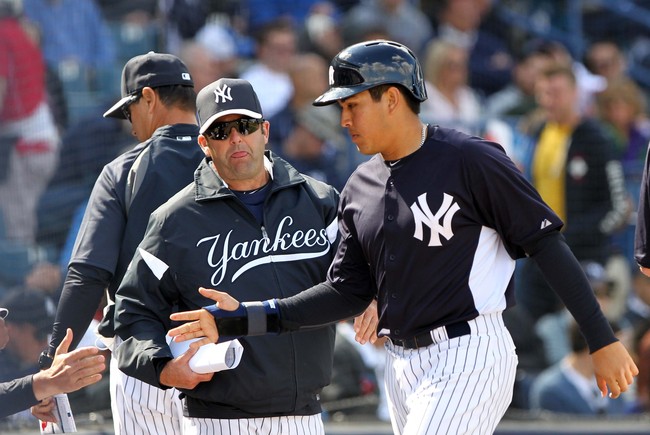 Kim Klement-USA TODAY Sports
2013 Stats: 78 G, .239 BA, 12 2B, 32 RBI, 65 K, 4 SB
Overview: Ramon Flores was able to get through a tough week and still got on base despite only picking up three hits.
Flores had five walks and added his fourth home run of the season last week, and he managed to only strike out three times.
The outfielder's stock hasn't dropped because this wasn't a terrible week. Flores still got on base and was able to impact each game.
Flores didn't have his best week, and he will need to pick it back up this week.
Last Week's Stats: 5 G, 3 H, 2 RBI, 1 HR, 5 BB
Stock: Even
6. Angelo Gumbs, 2B
2013 Stats: 47 G, .209 BA, 12 2B, 12 BB, 39 K, 9 SB
Overview: It wasn't a very good week for infielder Angelo Gumbs.
The second baseman's average continues to drop as he only collected three hits this past week.
The only good sign from this week is that Gumbs continues to show his abilities on the base paths. He added three more steals last week.
But steals won't help Gumbs out if he can't get on base.
If Gumbs can't prove that he can hit the ball, he will be staying in Single-A Charleston for some time.
Last Week's Stats: 6 G, 3 H, 2 RBI, 4 K, 4 BB
Stock: Down
5. Rafael De Paula, RHP
2013 Stats: 15 GS, 6 W, 3.31 ERA, 5 HR, 26 BB, 105 K
Overview: Rafael De Paula has finally proved that he is in fact human.
The young prospect who burst onto the scene this season had his first rough start with Single-A Tampa.
De Paula lasted only four innings and gave up six earned runs including two home runs in his only start last week.
Up until this point, De Paula hadn't really been hit around in Charleston or Tampa.
But this kind of start could be good for De Paula in the long run. On his way to the pros, there will be starts like this one, and he will need to be able to come back from it.
How De Paula responds next week will tell a lot about his progression as a professional pitcher.
Last Week's Stats: 1 G, 1 L, 13.50 ERA, 4 IP, 7 H, 6 ER 2 HR, 3 K
Stock: Even
4. Slade Heathcott, Outfield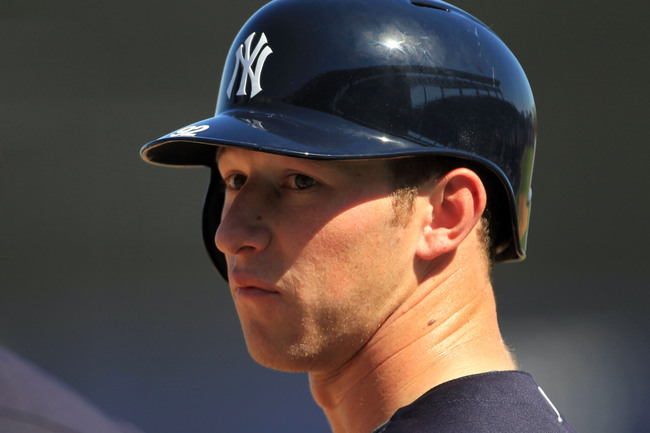 The Star-Ledger-USA TODAY Sports
2013 Stats: 68 G, .237 BA, 11 2B, 31 RBI, 77 K, 7 SB
Overview: Slade Heathcott struggled last week and was only able to pick up three hits in five games.
It has been the same story for months for Heathcott—he isn't able to put two solid weeks together in a row.
Heathcott has struggled for most of this season and has pushed himself up after this past week's performance.
The outfielder hasn't had a multi-hit game since June 19, while he has had multiple three-strikeout games in his past 10 games.
Heathcott is another player who needs to pick it up next week.
Last Week's Stats: 5 G, 3 H, 0 BB, 3 R, 5 K
Stock: Down
3. Tyler Austin, Right Field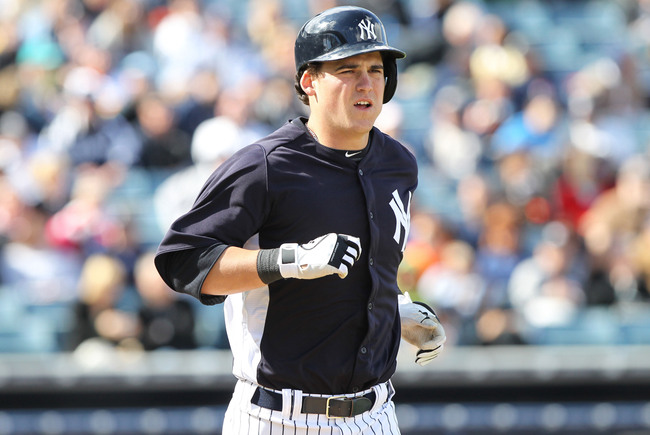 Kim Klement-USA TODAY Sports
2013 Stats: 72 G, .262 BA, 15 2B, 5 HR, 38 RBI, 70 K, .727 OPS
Overview: Tyler Austin got off to a strong start last week, going 3-for-4 against Erie on Monday.
Since then, though, Austin tapered off and didn't reach base in his final three games of last week.
Austin has been one of the most consistent prospects on this list, and this week was a slight exception.
Although the young outfielder struggled at the end of the week, don't be surprised if he has another strong start to this week.
Consistency has been Austin's way, and if he doesn't improve next week, he may find himself higher than third spot on this list.
Last Week's Stats: 6 G, 5 H, 1 RBI, 5 K
Stock: Even
2. Mason Williams, Centerfield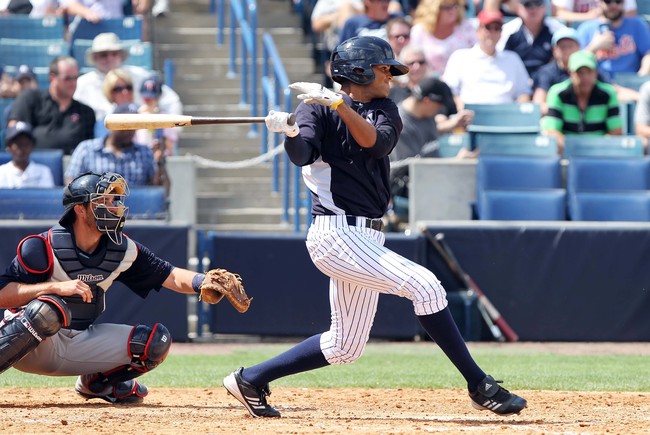 Kim Klement-USA TODAY Sports
2013 Stats: 68 G, .257 BA, 3 HR, 16 RBI, 14 2B, .336 OBP, .692 OPS
Overview: The Mason Williams whom the Yankees need seems to be back.
The young outfielder has been tearing up Single-A pitching the past two weeks.
Williams seems to be one of the only top prospects who are finding success at the plate recently, which is not a good sign for the Yankees as they head into rebuilding years.
Nonetheless, Williams is showing what all the hype surrounding him is all about. If he can continue to put his raw talent to good use, he can move up in this organization.
It's only been two weeks, but it looks like Williams may finally be cashing in on his potential.
Last Week's Stats: 5 G, 7 H, 5 R, 2 K
Stock: Up
1. Gary Sanchez, C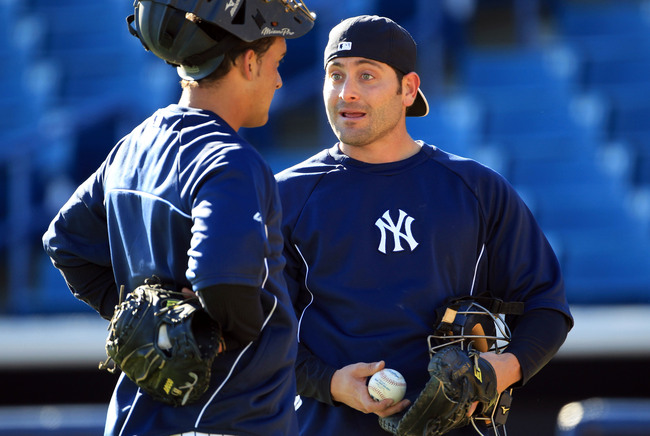 The Star-Ledger-USA TODAY Sports
2013 Stats: 68 G, .273 BA, 18 2B, 12 HR, 55 RBI, 52 K, .812 OPS
Overview: This past week, Gary Sanchez caught fire.
The young catcher reversed his recent struggles, smashing two home runs and picking up 10 RBI.
Sanchez's production had been slowly declining throughout the month of June until this past week.
The Yankees will need Sanchez to continue to improve, and this past week is a good indication of his progression.
Sanchez has struggled defensively, but he continues to prove himself at the plate.
Sanchez will need to face tougher pitching than that of Single-A if the Yankees want him to be ready for the majors in the coming years.
Last Week's Stats: 6 G, 8 H, 1 2B, 2 HR, 6 K, 10 RBI
Stock: Up
Keep Reading

New York Yankees: Like this team?
Load More Stories