Submission of the Year Watch: July 2013 Edition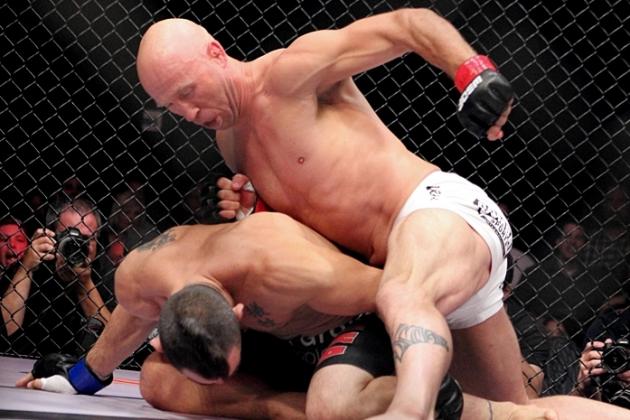 Ryan McKinnell/MMAWeekly.com
Only midway through the 2013 calender, many great candidates have emerged for Submission of the Year honors.
In June, Josh Burkman joined the race for the award by submitting former UFC welterweight title challenger Jon Fitch. Despite being overlooked heading into the matchup, Burkman required only 41 seconds to put Fitch to sleep in decisive fashion.
Where does stopping Fitch put Burkman in the hunt for 2013 Submission of the Year?
Let's take a look. Here are the five leading candidates heading into July based on rarity of submission, technical precision, quality of opposition and magnitude of the fight during which the finish occurred.
Begin Slideshow

»
Event: Invicta FC 5
Opponent: Jessica Penne
Submission Method: Armbar
Michelle Waterson earned a shot at the Invicta FC atomweight title by beating Lacey Schuckman in her debut with the promotion.
In a back-and-forth contest with then-champion Jessica Penne, Waterson was able to lock up an armbar midway through the fourth round to capture the 105-pound championship.
"The Karate Hottie" has actually turned into quite a whiz in jiu-jitsu. Of her 11 career victories, seven have come by way of submission.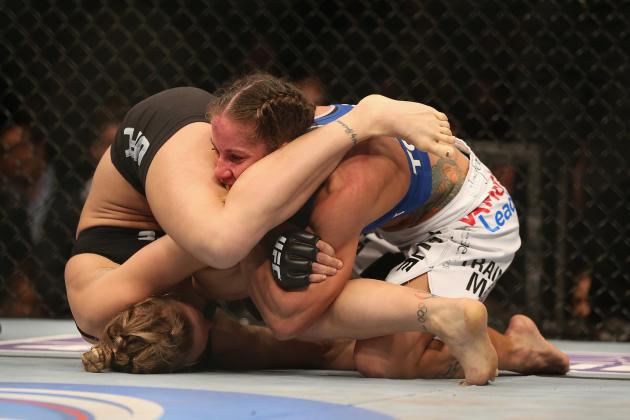 Jeff Gross/Getty Images

Event: UFC 157
Opponent: Liz Carmouche
Submission Method: Armbar
A former Olympic judo medalist, Ronda Rousey rose to the top of the women's MMA world quickly by taking opponents to the ground and catching them in her dangerous armbar.
Rousey became so skilled at securing the same submission over and over, though, that her opponents began focusing almost the entirety of their training camps on defending against that hold. That was the case with Liz Carmouche, but Rousey still found a way to lock up an armbar in the first round of their bout at UFC 157.
Carmouche did give Rousey a scare, taking the champion's back and threatening with a neck crank. However, Rousey found a way to free herself and kept her amazing streak of first-round armbars going by breaking through Carmouche's rehearsed submission defense.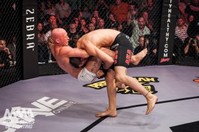 Lucas Noonan/World Series of Fighting
Event: World Series of Fighting 3
Opponent: Jon Fitch
Submission Method: Guillotine choke
Years after being released from the world's top MMA promotion with a 5-5 UFC record, Josh Burkman has emerged as the face of a major organization.
Wins over Gerald Harris and Aaron Simpson put Burkman in a position to welcome former UFC title challenger Jon Fitch to the World Series of Fighting. Although Burkman was considered a massive underdog heading into the bout, he made the most of his opportunity.
Less than one minute into the contest, Burkman locked up a tight guillotine choke and put Fitch to sleep. In becoming the first fighter to submit Fitch in more than a decade, Burkman must now be recognized as one of the world's top welterweights competing outside the Octagon.
Event: Invicta FC 5
Opponent: Kathina Catron
Submission Method: Flying armbar
Girlfriend of UFC heavyweight Pat Barry, Rose Namajunas is quickly becoming one of the more popular fighters in women's MMA. While having a notable significant other doesn't hurt in that area, it has really been Namajunas' performances inside the cage that have caught the attention of fans.
At Invicta FC 5, Namajunas picked up her second pro MMA win with a spectacular finish.
Only seconds into her bout with Kathina Catron, Namajunas attempted a rare flying armbar and ended up securing it once she hit the ground. Although it didn't occur in a high-profile fight, Namajunas is definitely worthy of consideration for Submission of the Year after scoring this flashy submission win.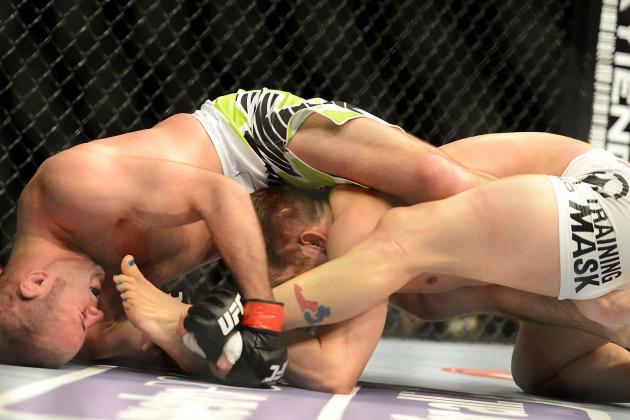 Jayne Kamin-Oncea-USA TODAY Sports

Event: UFC 157
Opponent: Brock Jardine
Submission Method: Ham ripper
It takes something special for a preliminary-card fighter to be mentioned in Submission of the Year talks, and Kenny Robertson really pulled off a jaw-dropping submission at UFC 157.
After taking Brock Jardine's back in the first round, Robertson sunk in his hooks. However, where most people would have began pounding away with punches or trying to sink in a rear-naked choke, Robertson decided to do something completely different.
Seeing Jardine's leg extended outward, Robertson grabbed near the ankle and began to extend his opponent's leg, causing immense hamstring strain. It was the first ham ripper ever used inside the Octagon.