Initial 2013 Boston Celtics Post-NBA Draft Depth Chart Projections
Steve Mitchell-USA TODAY Sports

Though the Boston Celtics' 2013-14 starting lineup should look largely similar to its 2012-13 group, there will be two glaring differences; the absences of Paul Pierce and Kevin Garnett, who are headed to Brooklyn to pursue a championship together as Nets.
The draft night trade radically altered Boston's roster, as the team sent out three veteran stars and brought in four players who will be providing valuable depth for these new-look Celtics.
The franchise will yet again be leaning heavily on the multifaceted game of Rajon Rondo, but players like Jeff Green, Avery Bradley and Jared Sullinger are all going to have to assume larger roles and more responsibility than they did when Pierce and Garnett were pacing the court in green.
While Boston's roster could look significantly different after the free agency period, let's take a moment to predict what the Celtics' depth chart will look like based on the current roster.
Begin Slideshow

»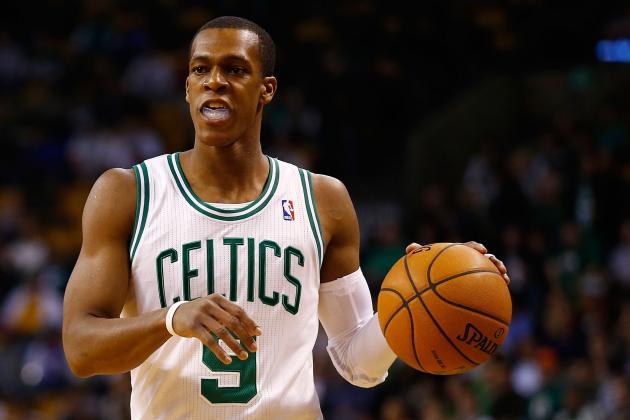 Jared Wickerham/Getty Images

Starter: Rajon Rondo
Now the lone remaining starter from the 2008 championship squad, Rajon Rondo is going to have to shoulder a tremendous burden on both ends for the new-look Celtics.
Though he averaged 13.7 points, 5.6 rebounds and 11.1 assists per game on 48.4 percent shooting from the floor during the 2012-13 season, he appeared in just 38 games, tearing his ACL in a double-overtime loss at Atlanta.
Despite the injury, Rondo is believed to be progressing well and should be ready to play by the start of training camp, according to Danny Ainge through WEEI.
Trade rumors involving Rondo have swirled since the Garnett-Pierce deal, including one involving the Dallas Mavericks. However, according to ESPN's Marc Stein, that would necessitate Dirk Nowitzki going to Boston, an unlikely proposition at best.
Still, Rondo is one of the league's most versatile players and, if his injury does not hamper him too much, should be a foundational piece for the rebuilding Celtics.
Main Sub: Courtney Lee
Courtney Lee didn't exactly impress during his first season in green, averaging 7.8 points, 2.4 boards and 1.8 assists while shooting 37.2 percent from three-point range. He had some difficulty grasping the Celtics' offensive and defensive schemes while shuffling between the point and the 2-guard spot.
However, since Boston is staggeringly thin at the point, they should give Lee some more minutes there in the 2013-14 campaign. He's a decent ball-handler, a good shooter and a tenacious defender who is capable of locking down opposing guards.
For better or worse, Lee is the best option Boston has behind Rondo.
Additional Depth: Phil Pressey
That's right, just Phil Pressey. ESPN Boston reported that the Celts waived Terrence Williams, who they used at the point in the playoffs, leaving Boston with the undrafted Pressey, a talented but turnover-prone passer who signed a contract with the team following the draft, according to Yahoo! Sports' Adrian Wojnarowski.
Expect the C's to grab a pure point in free agency or via another trade.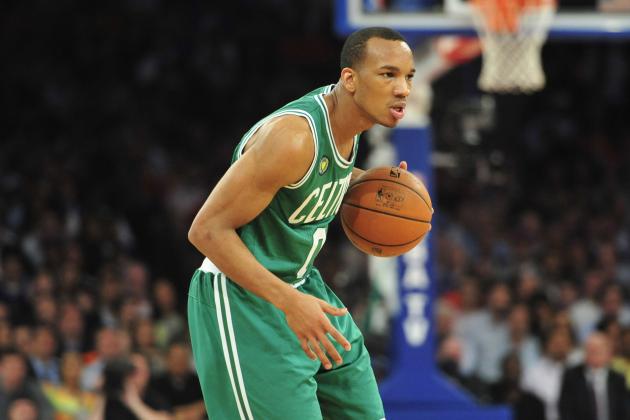 Joe Camporeale-USA TODAY Sports

Starter: Avery Bradley
Coming off of double shoulder surgery, Avery Bradley had an up-and-down junior season, averaging 9.2 points, 2.2 rebounds and 2.1 assists per game but shooting just 40.2 percent from the floor. His numbers sunk in the playoffs, as he averaged just 6.7 points and could not contain New York's Raymond Felton.
With Terry and Pierce gone, there are going to be weighty expectations for the 22-year-old Bradley, who made the All-Defensive Second Team in 2012-13 despite appearing in just 50 regular-season games.
Bradley's defense should continue to be ferocious, but his offensive game needs to expand for him to become a true dual threat. Though still a good cutter without the ball, Bradley's jumper regressed considerably over the past season. He shot 40.7 percent from three in 2011-12 but just 31.7 percent in 2012-13.
Still, Bradley has yet to play a full season of NBA basketball and remains a player with untapped potential, meaning he has the chance for a big developmental leap next season under the right coach.
Main Sub: MarShon Brooks
MarShon Brooks, one of the pieces acquired in the KG-Pierce deal, was actually drafted by Boston in 2011. Though he was buried by Brooklyn during the 2012-13 season, he has solid career numbers of 8.5 points, 2.4 rebounds and 1.6 assists on 44 percent shooting from the floor.
The Celtics have Jordan Crawford, but Brooks is a (marginally) better decision-maker, a stronger defender and a more consistent outside shooter than Crawford. Expect Brooks to earn the bulk of the backup shooting guard minutes and even play a little small forward as well.
Additional Depth: Jordan Crawford, Keith Bogans
Rounding out the Celtics' backcourt are Jordan Crawford and Keith Bogans, a pair of specialists who will likely see limited minutes next season.
Crawford is a quintessential volume scorer with dreadful shot selection, and Bogans is a defensive player good for hitting the occasional three-pointer but not much else. They'll get occasional minutes but should not be counted on for much consistent production.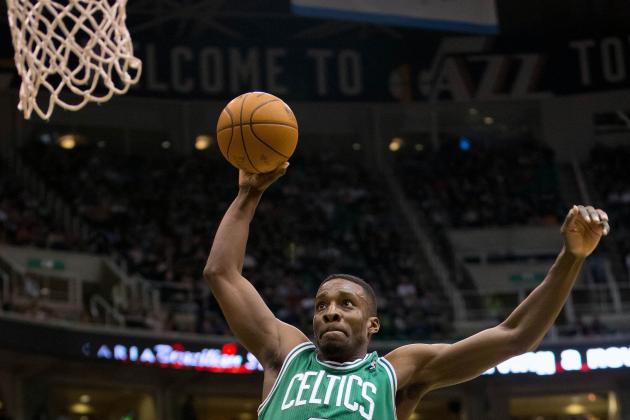 Russ Isabella-USA TODAY Sports

Starter: Jeff Green
For 15 seasons the small forward position has been an afterthought for the Celtics, but now with Pierce in Brooklyn, the duties of manning the wing will fall on Jeff Green.
Green came on slowly in his first full season in Boston following heart surgery but stunned fans and pundits as a starter, averaging 20.1 points, 5.9 rebounds and 2.9 assists while shooting a blistering 52.3 percent from the field. Though his 51.9 percent clip from three-point range is unsustainable, Green emerged as a matchup nightmare and a potential star for the C's.
While Green is also capable of playing stretch-4, he does his best work as a small forward, using his strength and length to attack off the dribble and finish over the top of defenses.
Now that Pierce and Garnett are no longer around, Green becomes the first option offensively, and the 26 year-old has the opportunity to become a true star in this league.
Main Sub: Gerald Wallace
There was a time when Gerald Wallace was one of the better small forwards in the entire NBA thanks to his aggressive play on both ends of the floor and his willingness to throw his body around with reckless abandon.
In 2012-13 however, he averaged 7.7 points, 4.6 rebounds and 2.6 assists per game, shooting just 39.7 percent from the floor and 28.2 percent from three-point range.
Now that his athleticism is waning, the 30-year-old Wallace will serve as a very pricey backup for Green. He is still a talent, though, and could be an impact reserve if he stays healthy.
Additional Depth: Kris Joseph
Green and Wallace are talented enough to play all 48 available minutes at small forward, which is a good thing, because the only depth behind them is Kris Joseph, a former second-round pick of Boston's who was brought back in the trade. He averaged 1.2 points and 0.8 rebounds as a Celtic and will be a non-factor if he makes the roster at all.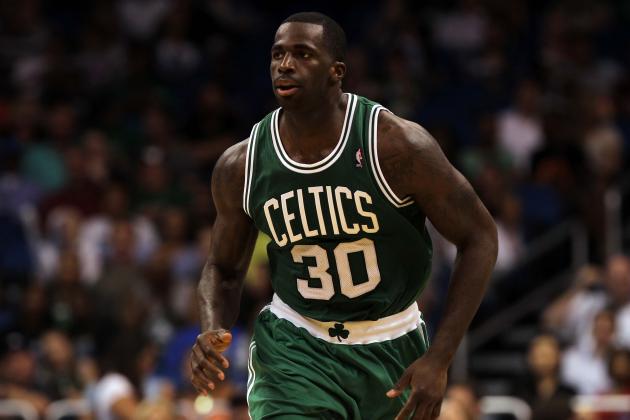 Kim Klement-USA TODAY Sports

Starter: Brandon Bass
Brandon Bass was one of the pleasant surprises of the 2011-12 season for Boston but struggled during the 2012-13 year as he battled for minutes with Jared Sullinger. Though he played well defensively, he averaged just 8.7 points and 5.2 rebounds on 48.6 percent shooting while posting a PER of 12.38.
Bass is a good jump shooter and an underrated post defender, but he has some difficulty attacking the rim or controlling the glass despite his strength and size.
He complemented Garnett well, but now is going to have to become more assertive on both ends of the court and become more than merely a good pick-and-pop big man.
Now in the second year of a three-year, $19.4 million contract, Bass has to prove that he can be a player to build around if he wants to remain a Celtic.
Main Sub: Kris Humphries
Kris Humphries had a disappointing 2012-13 season, losing minutes to Reggie Evans and finishing with averages of 5.8 points and 5.6 rebounds while shooting just 44.8 percent from the floor.
That being said, Humphries is more than just an expiring contract. He's one of the league's best rebounders, a nightly double-double threat when he gets sufficient minutes and a worthwhile clean-up player in the paint.
While he's far from the league's most popular player, Humphries should play a meaningful role for the Celtics next season as a rebounder off the bench.
Additional Depth: D.J. White, Shavlik Randolph
Both Shavlik Randolph and D.J. White were midseason additions to Boston, and while White appeared in just 12 games for the Celts, Randolph actually found a role, averaging 4.2 points and 4.4 rebounds on 58.3 percent shooting from the floor.
White may end up being cut before all is said and done, but the 29-year-old Randolph appears to have found a role on this size-strapped Boston team.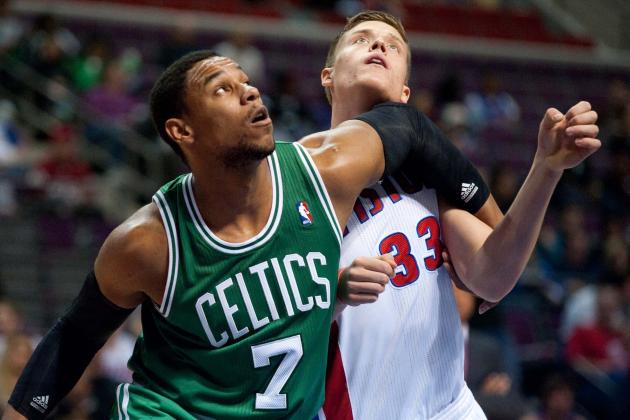 Tim Fuller-USA TODAY Sports

Starter: Jared Sullinger
Jared Sullinger might be just 6'9", but he boasts a 7'1" wingspan and is Boston's best option at the center spot currently. He had trouble finding regular minutes early in his rookie year but began to play regularly later in the season, eventually stealing minutes from Bass.
Though his first season was cut short due to back surgery, Sullinger projects to be one of the team's most important players and one of the team's pillars if he can stay healthy. Per 36 minutes in 2012-13, Sully averaged 10.9 points, 10.7 rebounds and 1.4 assists while shooting 49.3 percent from the floor.
Not a high-flyer by any means, Sullinger is primarily a below the rim player who uses his strength and his body to carve out space in the paint and dominate the glass. Despite playing limited minutes, Sullinger was Boston's most active player on the boards last season.
Sully should log more time at power forward than center in his career, but expect him to play a good deal of 5 early in the 2013-14 campaign.
Main Sub: Kelly Olynyk
Boston's first-round draft pick and the 13th overall selection, Kelly Olynyk was a revelation for Gonzaga last season after redshirting in 2011-12 to work on his body and his game. He averaged 17.8 points, 7.3 rebounds and 1.7 assists on 62.9 percent shooting while leading the Bulldogs to a No. 1 seed in the NCAA tournament.
Olynyk needs to add muscle to his frame and work on his rebounding ability, but as a seven-footer with a great offensive touch should see instant minutes in his inaugural NBA season.
Additional Depth: Fab Melo, Colton Iverson
Neither Fab Melo nor Colton Iverson are anywhere near ready to be rotation NBA players. Melo is still comically raw on offense, and Iverson does not possess the athleticism to contend with quality big men in the league. In order to get any minutes, they are going to have to seriously impress in summer league and the preseason.