2013 NHL Draft Results: Biggest Steals and Reaches
Bruce Bennett/Getty Images

After a wild 2013 NHL draft, it's almost impossible to internalize all of the moves and picks that were made over the marathon event.
There were a number of surprises, and as usual some shocking high picks as well as the unfortunate fallers who went lower than expected.
It's obviously too early to project how these picks turned out, but based on rankings and scouting that has been done already, we can see which players may be steals and who could end up being busts.
Here is a list of the top 11 steals and reaches from the 2013 NHL draft.
Begin Slideshow

»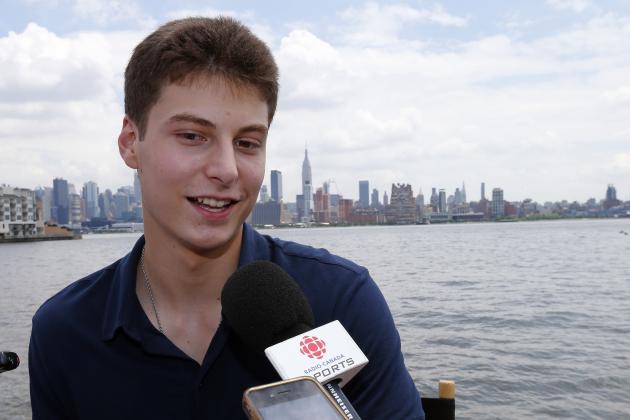 Rich Schultz/Getty Images

After the New Jersey Devils traded the ninth overall pick for Cory Schneider, there was a chance Zach Fucale would slip, but nobody thought it'd be all the way to 36th.
Fucale was the top-rated goalie prospect in this year's class, and had a lot of success on the QMJHL's Halifax Mooseheads.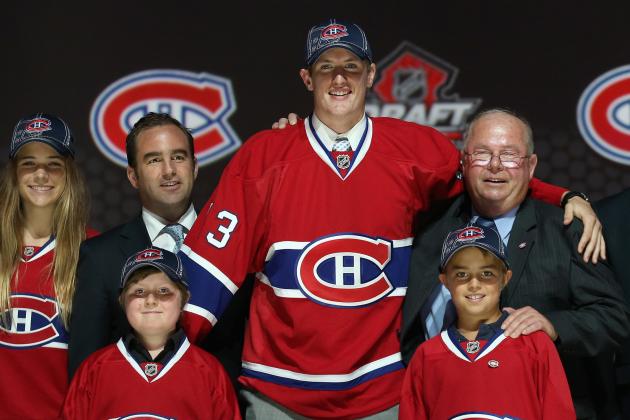 Bruce Bennett/Getty Images

I think Michael McCarron is a pretty decent prospect, and could be a good third-line power forward, but that's not what you hope for out of the 25th overall pick.
He's 6'5" and skates well, and seems like he should dominate on the ice, but his production has been very inconsistent and he is not a great defensive winger.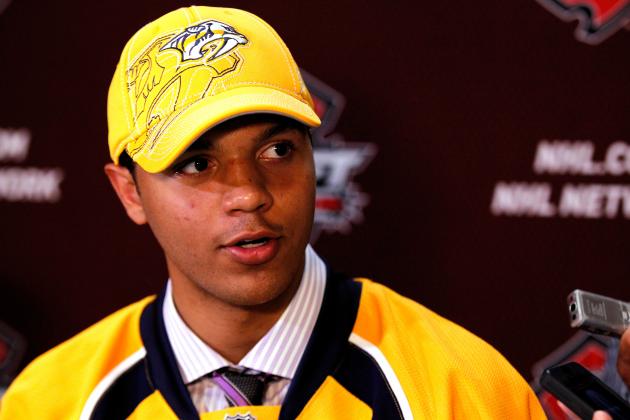 Mike Stobe/Getty Images

Although it's hard to fault any of the top three picks in the draft, the Nashville Predators have to feel like they got a steal in Seth Jones at fourth overall.
Jones has the potential to be an elite blueliner in the NHL and could step right in and contribute this upcoming season. He could be a star alongside Shea Weber in just a couple years.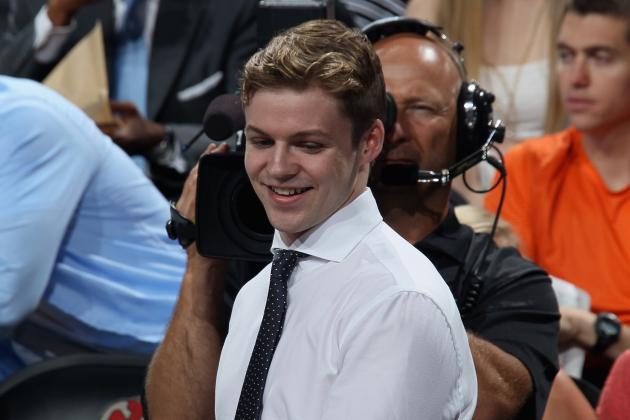 Bruce Bennett/Getty Images

This is the second time in three years that the Jets have made a questionable pick with a high first-round pick, after taking Mark Scheifele over Sean Couturier and Dougie Hamilton in 2011.
Josh Morrissey is a talented offensive defenseman, but he is undersized and doesn't give much strength in his own zone.
With defensemen like Ryan Pulock and Nikita Zadorov taken just after Morrissey, the Jets could very well regret this pick down the road.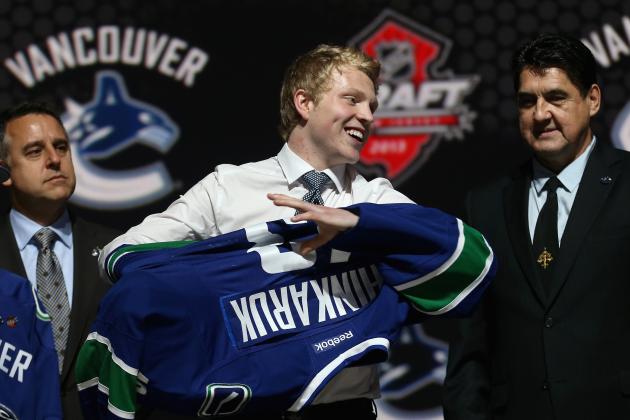 Bruce Bennett/Getty Images

After whiffing on their initial trade and first draft selection, they hit an absolute home run with their second pick when they grabbed center Hunter Shinkaruk.
Shinkaruk was a lethal goal scorer for Medicine Hat in the WHL and possesses a wicked shot to go along with explosive skating ability.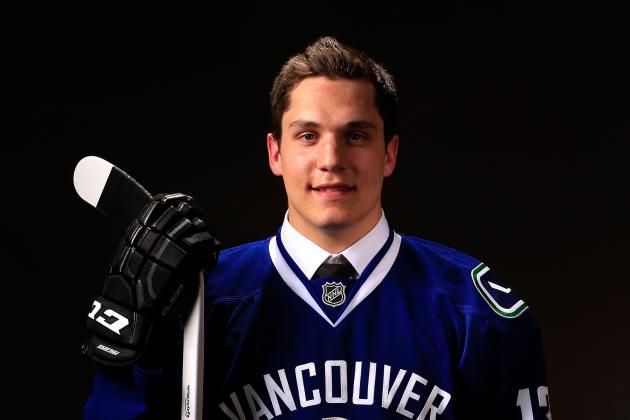 Jamie Squire/Getty Images

Boy, what a rough start to the afternoon for the Vancouver Canucks. After scrambling to trade away Cory Schneider and getting shafted in that deal, they made a questionable draft selection with the pick they received.
Bo Horvat is a great two-way forward, but I think he was more suited for the mid-teens than as a top-10 selection.
This pick is a huge reach, especially with guys like Valeri Nichushkin and Max Domi still on the board.
Madison Bowey has flown a little under the radar, but is an extremely talented two-way defenseman out of the WHL, playing for the Kelowna Rockets.
Bowey is an extremely reliable, responsible defenseman who does everything well and minimizes mistakes. He was an unbelievable plus-41 for Kelowna this past season, and could develop his offensive game and become a truly dangerous player.
The 18-year-old could compete for a roster spot in Washington right away and is a tremendous value for the 53rd pick.
Remi Elie is a grinder who can get under opponents' skin and fight with the heavyweights, but he wasn't worth the 40th overall pick.
He was ranked far lower on practically everyone's lists and doesn't seem to have any upside above being a decent third-line forward.
Valentin Zykov was slipping, and the Los Angeles Kings pounced, trading three picks for the 37th selection where they took the Russian forward.
Zykov is an uber-talented scorer who undoubtedly slipped due to the "Russian factor," with some uncertainty surrounding his desire to play in the NHL.
If he comes over and flourishes in North America, the Kings could have the steal of the draft.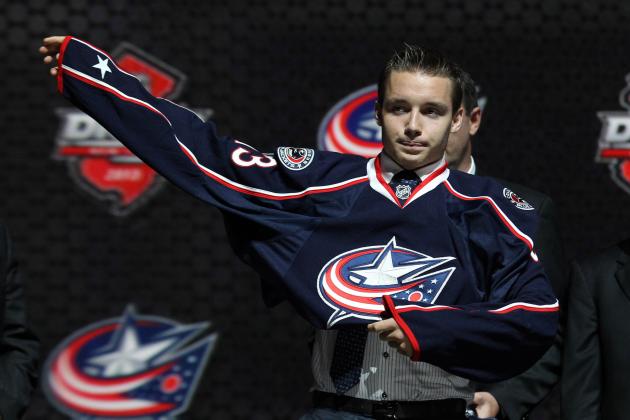 Ed Mulholland-USA TODAY Sports

After making two solid choices with their first two first-round picks, the Blue Jackets took a bit of a chance on Marko Dano.
I don't have a big problem with Dano himself; I believe that he could be a productive agitator/power forward in a couple years. The Austrian-born Slovakian player has flourished in the KHL and has a lot of talent.
But I don't think he is a first-round talent, and he definitely would have been there at 32nd, Columbus' next pick, and probably even at 50th, where Columbus had another pick.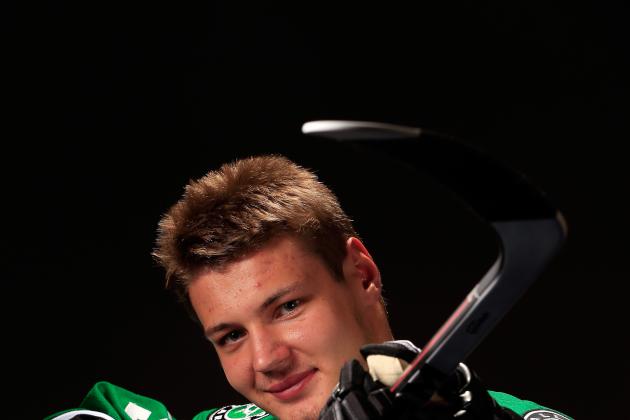 Jamie Squire/Getty Images

Although his fall was somewhat overlooked, Valeri Nichushkin was thought of by many as a top-five pick before sliding into the Dallas Stars' laps at 10th overall.
The big Russian forward is an exceptional skater with a lethal combination of power, strength, speed, and puck-handling ability that allows him to carry the puck and get scoring chances almost at will.
He could come in and make the Stars' roster next season and put up some good numbers right away.