Virginia Tech Football: Power Ranking the Strongest Positional Units for 2013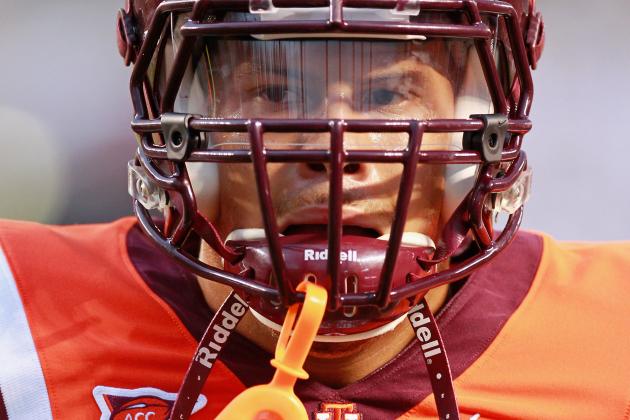 Geoff Burke/Getty Images

The Virginia Tech Hokies head into the 2013 season expected to have one of the better defensive units in all of college football. The Hokies will be tested in the season opener against the defending national champion Alabama Crimson Tide.
Things are much different on offense, though. The Hokies will be forced to replace up to six starters from last season's underachieving unit.
New offensive coordinator Scot Loeffler has his hands full installing a new offense while trying to figure out which players should be on the field.
With the season now at two months away, it's a good time to rank how the Hokies fare at each positional group.
Is the quarterback position, with senior Logan Thomas, a strength?
Begin Slideshow

»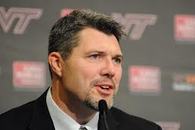 New offensive line coach Jeff Grimes may have been the most important hire of the offseason. The Hokies have struggled on the offensive line for several years now. Fortunately, athletic quarterbacks like Tyrod Taylor and Logan Thomas helped mask those deficiencies.
The Hokies will have two new starting offensive tackles in 2013. All three interior starters from last season return, as do the top two backups.
A true freshman could conceivably open the season against Alabama, protecting Thomas' blind side. That may be a good move in the long term, but for now it explains the Hokies' lack of confidence in the players already on campus.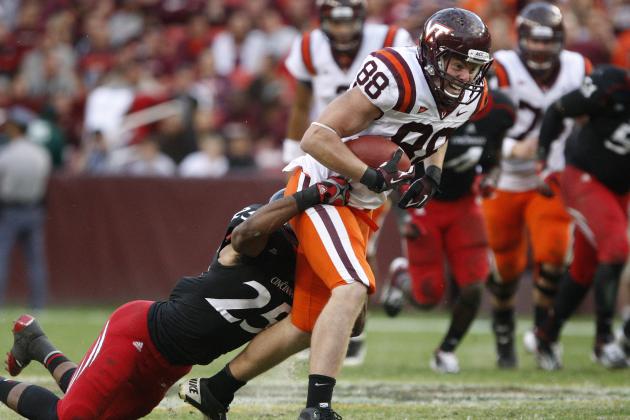 Jonathan Ernst/Getty Images

The Hokies clearly have question marks here. At receiver, senior D.J. Coles returns, but he hasn't proven he could stay on the field in the last two years.
Sophomore Demitri Knowles and freshman Joshua Stanford will be expected to contribute significantly in 2013. Knowles is an electrifying talent, but he isn't a polished receiver. Stanford looks like a future star and proved in the spring game he has a nice rapport with Thomas.
At tight end, things are a little clearer. Junior Ryan Malleck returns as the starter, and he, too, is trusted by Thomas.
If Loeffler's offense features the tight ends more in the passing game, the Hokies will be in good shape. Junior Zack McCray, Thomas' first cousin, is in his first full year at the position. He had a terrific spring game and can get down the field.
While this group has potential, it cannot be considered a strength at the moment.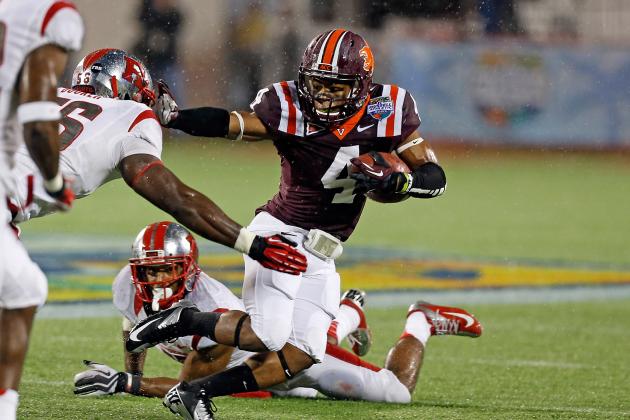 J. Meric/Getty Images

For many years, you could say running back was Virginia Tech's deepest position. In 2012, the Hokies had a plethora of backs, yet none stood out ahead of the pack.
2013 could be different.
Sophomore J.C. Coleman had a solid freshman campaign and is a terrific all-around back. While he is small, he has shown an ability to run between the tackles. He has outstanding speed and will also be a factor in the passing game.
Redshirt freshman Trey Edmunds will be Coleman's primary competition. Edmunds (6'1", 215 lbs), has the size/speed combo none of the other running backs possess. While Coleman has elite speed, Edmunds matched his 40 time in winter testing.
Whether sophomore Michael Holmes is reinstated to the team or not remains up in the air. If Holmes does return, this group will be even better. However, a successful rushing attack starts up front.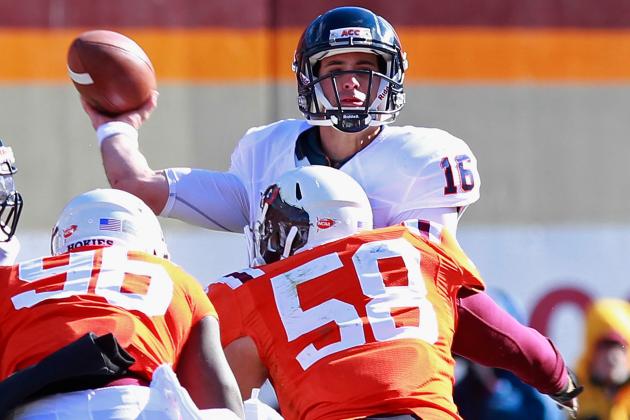 Geoff Burke/Getty Images

Senior linebacker Jack Tyler returns to man the middle of Virginia Tech's defense for a third straight season. Tyler, an All-ACC selection as a junior, led the team in tackles in 2012 and is poised for another excellent season.
Surrounding Tyler is a pair of talented and athletic players, including senior Tariq Edwards and sophomore Ronny Vandyke.
Edwards was expected to have a good year in 2012, but injuries kept him off the field for much of the season. If he can return to his 2011 form, he is a potential all-conference performer.
Vandyke is viewed as the prototypical whip linebacker for the Hokies. He has terrific size and speed and received some playing time as a freshman last season. If he can limit his mistakes early in the season, this group could be special.
Junior Chase Williams could start for many teams, yet he finds himself as the team's top backup at linebacker.
This position could be much higher, but Edwards' health and Vandyke's development will be something to watch early in the 2013 season.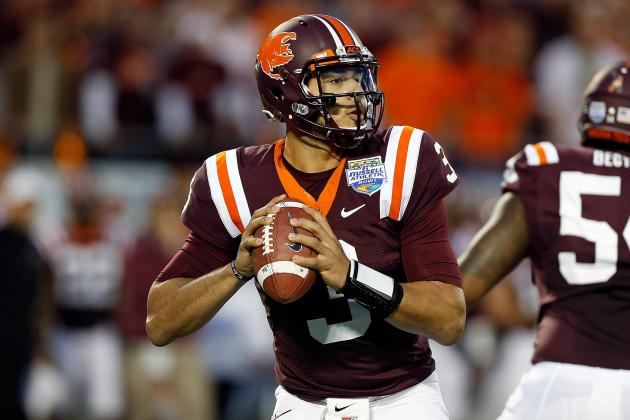 J. Meric/Getty Images

Some may argue this position is rated too high. Head coach Frank Beamer, however, would unlikely be one of those. On an offense full of questions, Thomas returning for his senior season was a coup for Beamer and Loeffler.
Keep in mind, if Thomas was as good last season as he was in 2011, this position would likely be the strongest on the team.
While Thomas struggled with turnovers in 2012, he didn't exactly have reliable route-running from his group of receivers. He spent the entire offseason working with Loeffler on his mechanics and is the most important player on the team. If he plays well, the team will follow suit.
Junior Mark Leal is the backup to Thomas and has rarely played thus far in his career. His arm has gotten stronger in each of the last two years, and his build bears a strong resemblance to former Hokie signal-caller, Bryan Randall.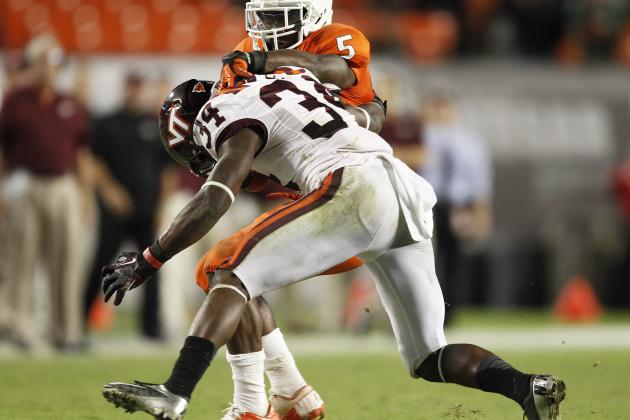 Joel Auerbach/Getty Images

Senior cornerback Antone Exum may be the headliner, but this is a pretty good group all around. Fellow senior Kyle Fuller is also a former All-ACC player and one of the more physical corners in the entire country.
If Exum is unable to play against Alabama, true freshman Kendall Fuller, Kyle's little brother and one of the top recruits in the country, could be starting opposite of his big brother.
Kendall has everything a team looks for in a cornerback, and the Hokies won't hesitate to put him on the field against the Crimson Tide if they think he is ready.
At safety, a pair of juniors, Kyshoen Jarrett and Detrick Bonner, return as the starters at rover and free safety, respectively. Jarrett was outstanding in his first season at the position, showing the cover skills that made him a top cornerback recruit while bringing a physicality to the run defense that the position demands.
Bonner had his struggles early in the season but improved as the year wore on. He, like Jarrett, is a former cornerback.
If Exum returns early in the season, fully healthy, this group has a chance to be one of the better units in the country.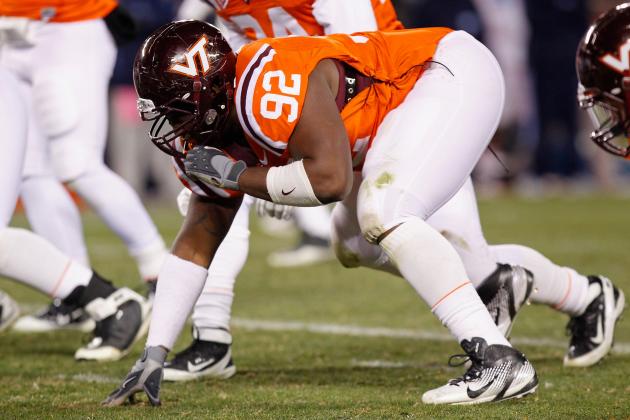 Geoff Burke/Getty Images

Some of the better defensive units in Bud Foster's 18-year tenure as defensive coordinator were so good because of a talented defensive line. Foster's 2013 group could be one of the better groups in recent Virginia Tech history.
Senior defensive end James Gayle is the group's leader. Gayle was expected to be one of the better pass-rushers in the country last season but seemingly got off to a slow start before finishing the season strong.
Gayle undoubtedly wants to improve on his five sacks from 2012 and is poised for a huge season.
A bevy of other talented defensive ends will play for the Hokies. Seniors J.R. Collins and Tyrel Wilson, along with junior Corey Marshall, will rotate at the spot opposite of Gayle. All bring unique and contrasting skill sets.
Sophomore Dadi Nicolas is the player to watch, though. He is undersized but is a relentless pass-rusher and looks the part of a future star.
Junior Luther Maddy is the Hokies' top defensive tackle. Maddy, unheralded out of high school, has blossomed into a terrific player for the Hokies.
Maddy is good against the run and provides a strong push in the middle of the line. He will be one of the top defensive tackles in the country before he's finished in Blacksburg.
Senior Derrick Hopkins enters his third season as the other starter at defensive tackle. Hopkins, an All-ACC honorable mention selection in 2012, is a consistent performer who rarely leaves the field.