SEC Football: Predicting Every Team's Biggest Breakout Star of 2013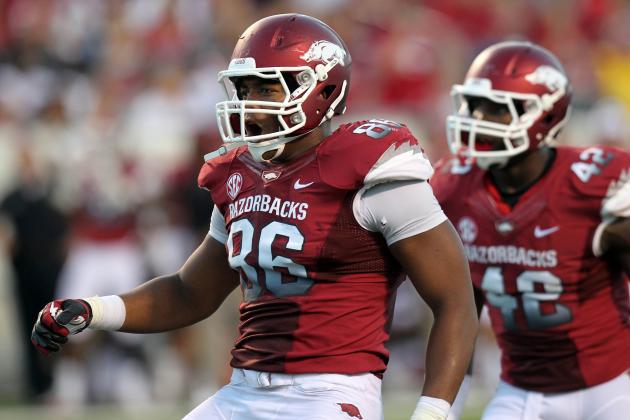 Nelson Chenault-USA TODAY Sports
Arkansas DE Trey Flowers is a quarterback's worst nightmare
Every year, the SEC loses a ton of talent. This offseason was especially rough for college football's most powerful conference. The league waved goodbye to a record-setting 63 players who were selected in the 2013 NFL draft, including a record 12 players who were selected in the first round.

Many of the big-name stars from last season have moved on to the pros. Fortunately, though, the most talented league in the country is still well-stocked with plenty of up-and-coming players who are ready to make a name for themselves this fall.

Last year, we saw SEC players such as Johnny Manziel, Eddie Lacy, Damontre Moore, Sharrif Floyd and Jordan Matthews all put together breakout campaigns and become household names.

Now, the question is, who will rise up in 2013?

Here's a look at the one player on every SEC team who has the best chance to be a breakout star this season.
Begin Slideshow

»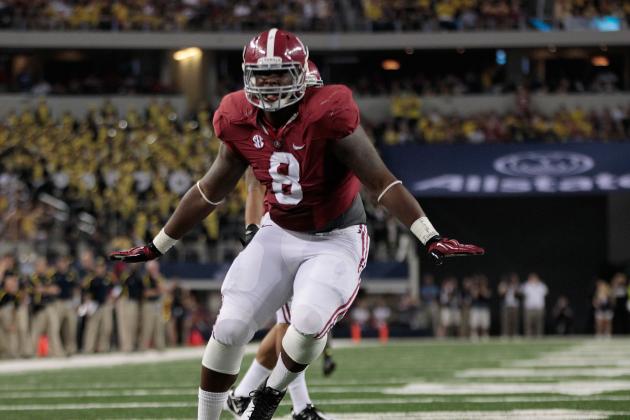 Leon Halip/Getty Images
Jeoffrey Pagan
During their time together at Alabama, Nick Saban and Kirby Smart have molded and developed numerous defensive players into standout stars. Incredibly, the Tide have had a defensive player selected in the top 10 of each of the past four NFL drafts. During that time the team has had 17 defensive players drafted overall.
If you're searching for the team's next big defensive star, players like C.J. Mosley, Adrian Hubbard and Ha'Sean Clinton-Dix immediately stand out. However, Alabama also has a potential star lurking on the defensive line as well.
That player is DE Jeoffrey Pagan.
After working his way into the defensive line rotation as a role player in 2012, Pagan will now get the chance to prove himself as a full-time starter this fall. The 6'4'', 290-pound junior is a former 4-star recruit from North Carolina who possesses all the physical tools and skills to become a dominant defender.
His more heralded fellow defenders such as Mosley, Hubbard and Clinton-Dix have received the majority of the publicity so far this offseason. Nevertheless, Pagan should still emerge as a valuable member of a defense which is shaping up to once again be one of the strongest units in the country in 2013.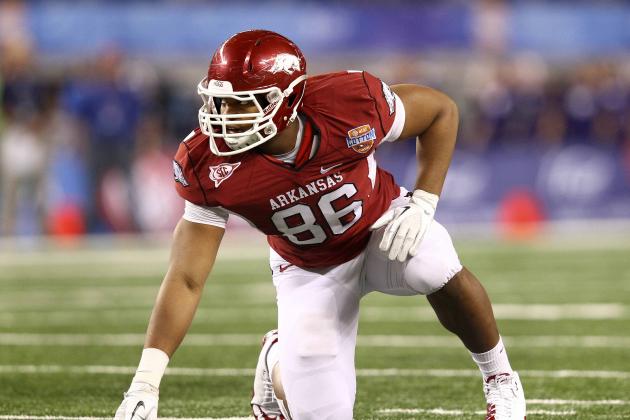 Kevin Jairaj-USA TODAY Sports
Trey Flowers
After suffering through a dreadful and disappointing 4-8 campaign in 2012, Arkansas will be looking to bounce back this season under new coach Bret Bielema. Though the Razorbacks have lost most of their key offensive weapons, there's still reason for Razorback fans to be optimistic.
The Hogs defense, which admittedly was one of the worst statistical defenses in the SEC last year, should be dramatically improved in 2013. DE Chris Smith is the senior leader of the unit, but the real player to watch out for will be the team's other end: Trey Flowers.
In his first season as a starter Flowers showed flashes of brilliance, finishing with six sacks and 13 tackles for loss.
The once lightly recruited Alabama native will be playing with something to prove this season, as he looks to make all the SEC schools who never offered him a scholarship wish they had.
In order for the Razorbacks to experience a defensive resurgence in 2013, they'll need Flowers to develop into a top-flight edge-rusher, which is something he's fully capable of doing.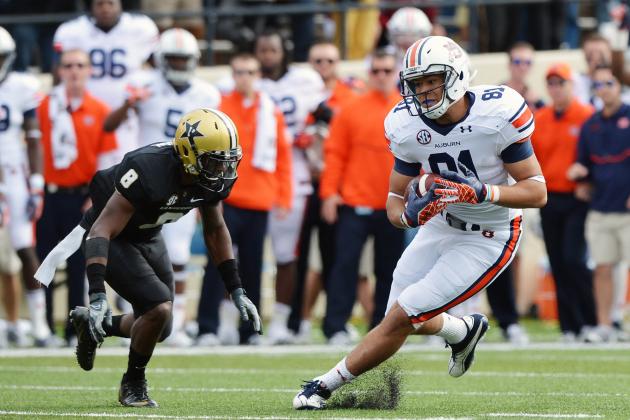 Don McPeak-USA TODAY Sports
CJ Uzomah
Auburn's offense isn't exactly overflowing with proven productive receiving options. In fact, only one returning Tiger receiver ,Quan Bray, finished last season with double-digit catches.
Whoever ends up winning the starting quarterback job in camp (Hint: Nick Marshall) is going to have their work cut out for them in 2013. Luckily, new coach Gus Malzahn has a special hybrid tight end-receiver, C.J. Uzomah, who he can feature in the passing game.
Uzomah is a former 4-star recruit from Georgia who has the size and speed to present plenty of mismatches for opposing defenders.
The 6'4'', 250-pound junior only had seven catches and one touchdown last season, but his numbers should skyrocket in Malzahn's offense.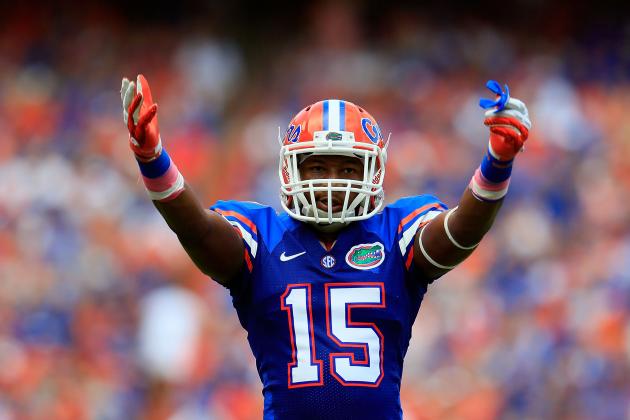 Sam Greenwood/Getty Images
Loucheiz Purifoy
There's a long list of top-notch defensive backs who have called Gainesville home in recent years. Former Gators such as Joe Haden, Matt Elam, Janoris Jenkins and Reggie Nelson all went on to become high NFL draft picks. Soon enough, current Florida corner Loucheiz Purifoy will follow in their footsteps, as he's set to be the next coveted cover man in town.
Last year, Purifoy lurked in star safety Matt Elam's shadow. But now, with Elam gone, he'll be the spotlight star of a secondary that is arguably the most talented defensive backfield in the country.
Like his predecessor Joe Haden, Purifoy has been blessed with tremendous natural athleticism and ability. The 6'1'', 185-pound junior has the size, speed and instincts to go toe-to-toe with any receiver in the country.
Purifoy will be asked to step up and become a defensive leader in 2013. If he can handle his new responsibility and handle his role as a lockdown corner, he's got the potential to be a top-15 pick in next year's NFL draft.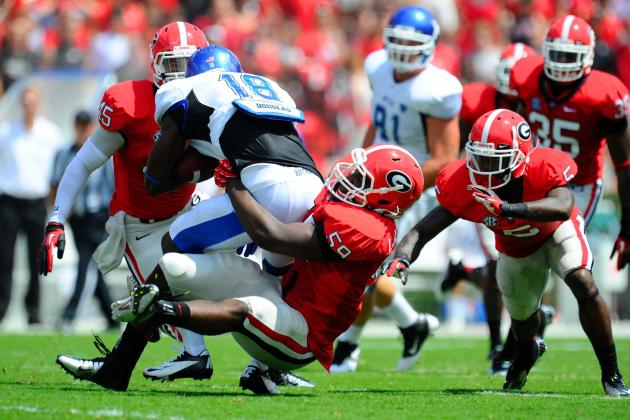 Dale Zanine-USA TODAY Sports
Jordan Jenkins
Besides Jadeveon Clowney, there wasn't another defensive player in the country who made as big of an impact as Georgia outside linebacker Jarvis Jones did in 2012. Jones put the Georgia defense on his back during his time in Athens. His leadership, instincts and natural playmaking ability will surely be missed.
Now that Jones and a host of other key defenders are all gone, it would seem that Georgia's defense is now in a rebuilding mode. But that's actually not the case. The unit is loaded with plenty of talented, young, former highly touted recruits who have had to wait their turn to be starters.
One of those new starters is Jordan Jenkins, a former 4-star recruit from Hamilton, Georgia, who will be given the tough task of trying to fill the shoes of his former mentor Jones.
Last year, as just a true freshman, Jenkins was outstanding in a limited role. He totaled 31 tackles, including 18 solo stops and eight tackles for loss, five sacks and 23 quarterback pressures.
Like Jones, the tenacious 6'3'', 246-pound sophomore has a non-stop motor, a nasty attitude and all the physical characteristics it takes to develop into a dominant defensive force.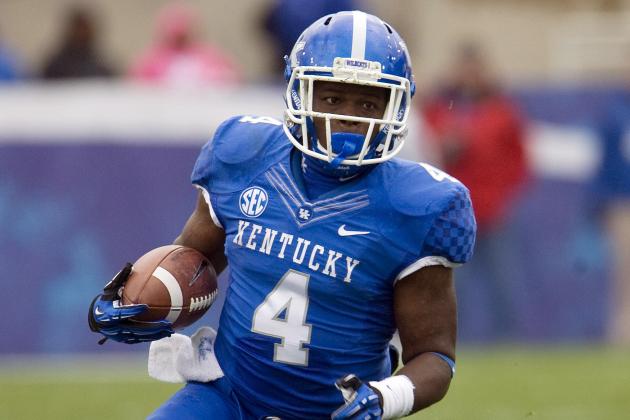 Mark Zerof-USA TODAY Sports
Raymond Sanders
Following a dismal 2-10 season, which included zero wins against SEC foes, there aren't a lot of reasons to feel great about being a Kentucky football fan right now.
The Wildcats offense was particularly awful in 2012, ranking last in the SEC in scoring offense and second to last in total offense, averaging just 18 points and 315 total yards per game.
Kentucky clearly needs an offensive spark. Luckily, RB Raymond Sanders should be able to provide that.
Last year, Sanders carried the ball just 125 times, yet he still managed to total 669 yards on the ground, averaging an impressive 5.3 yards per carry. He displayed explosiveness and elusiveness, as he totaled 22 runs of over 10 yards.
The 5'8'', 190-pound junior isn't the type of big, workhorse back who will be able to put the Kentucky offense on his back and carry the Wildcats to glory. Still, Sanders does possess the speed and playmaking ability to be a dangerous offensive threat that opposing defenses will have to be concerned about.
Marvin Gentry-USA TODAY Sports
Anthony Johnson
LSU's defense was absolutely decimated this offseason, when the team's top underclassmen defenders — Barkevious Mingo, Sam Montgomery, Bennie Logan, Kevin Minter, Eric Reid and Tharold Simon—all left for the NFL. The defensive line was hit especially hard, losing all four starters, including the dynamic defensive end duo of Mingo and Montgomery.
The team is now counting on players like Anthony Johnson, Ego Ferguson and Jermauria Rasco to step up and emerge as the Tigers' next crop of standout defensive linemen.
Johnson is the player that is really worth keeping an eye on.
Three years ago, "The Freak" arrived in Baton Rouge as an All-American blue-chip recruit from New Orleans. During his first two seasons at LSU, Johnson was overshadowed by his more heralded teammates. But now that they've all moved on to the pros, it's his time to shine.
The 6'3'', 304-pound junior is one of the most agile and explosive defensive tackles in the country. Johnson should put his superior skills to good use and become a terror in the interior in 2013.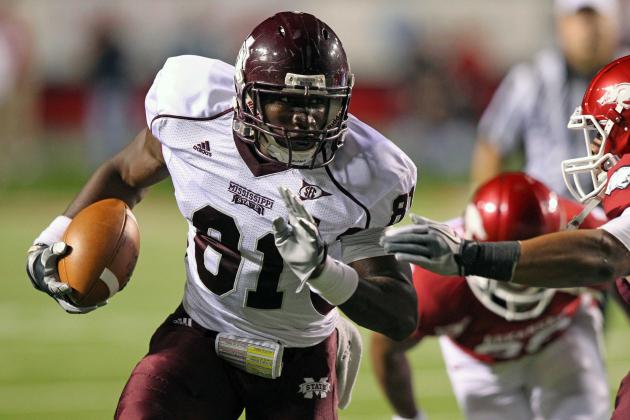 Nelson Chenault-USA TODAY Sports
Robert Johnson
Mississippi State has the chance to be the sleeper contender in the SEC this season. But in order for that to happen, the Bulldogs are going to need a receiver to step up and be a consistent downfield threat in the passing game.
Robert Johnson, a gifted 6'1'', 225-pound junior, has the talent it takes to be the playmaker in the passing game that the offense needs.
Though he only caught 17 passes and two touchdowns in 2012, Johnson is better than his numbers would indicate.
Following the departures of the team's four most productive pass catchers from last season, Mississippi State desperately needs a player like Johnson to answer the call and rise to the occasion in 2013.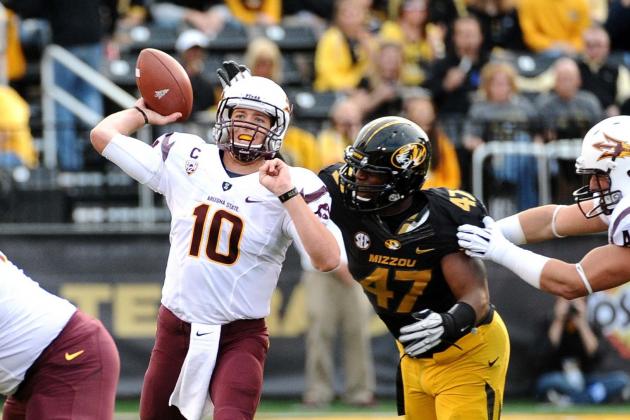 Dak Dillon-USA TODAY Sports
Kony Ealy
Back in 2009, 49ers pro bowl LB Aldon Smith, then a redshirt freshman at Missouri, made a name for himself with a breakout campaign totaling 60 tackles and 11 sacks. We would soon see the same type of performance from current Tigers defensive end Kony Ealy.
Like his predecessor Smith, Ealy is an explosive athlete who can burst upfield and cause plenty of problems for opposing offensive tackles.
Last year, the 6'5'', 275-pound junior handled himself well in his first season as a starter, totaling 37 tackles, including 10 tackles for loss, seven pass breakups and 3.5 sacks.
Now, it's time for him to take his game from good to great in 2013.
With Sheldon Richardson now in the NFL, it will be up to Ealy to lead the charge in the trenches this season.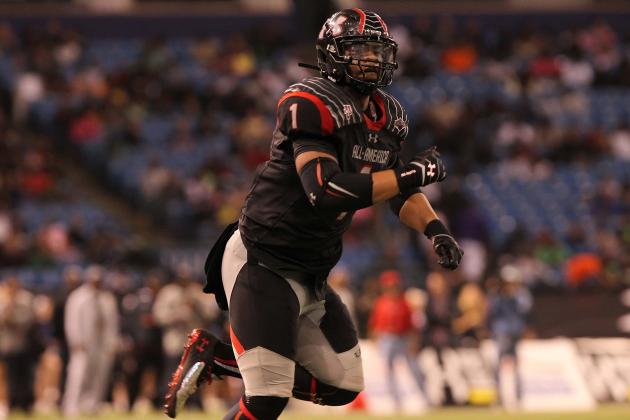 Kim Klement-USA TODAY Sports
Robert Nkemdiche
Even though some people may already be doing it, it's still far too early to even start putting Robert Nkemdiche and Jadeveon Clowney in the same sentence.
Sure, Nkemdiche may have been the undisputed No. 1 prospect of the 2013 recruiting class, just as Clowney was the consensus top recruit in 2011. Still, Nkemdiche has to prove himself against SEC competition before he deserves to get mentioned with Clowney.
Fortunately, the top dog of the 2013 recruiting class has the talent to back up his high school hype.
Playing with his older brother, LB Denzel Nkemdiche, who was the breakout star of the Ole Miss defense last year, will help the young freshman mature quicker than many of his peers.
Nkemdiche has the skill set to be the next Reggie White. But first, he's got to prove that he can play with the big boys of the SEC and prove that he can handle the spotlight that comes along with early stardom.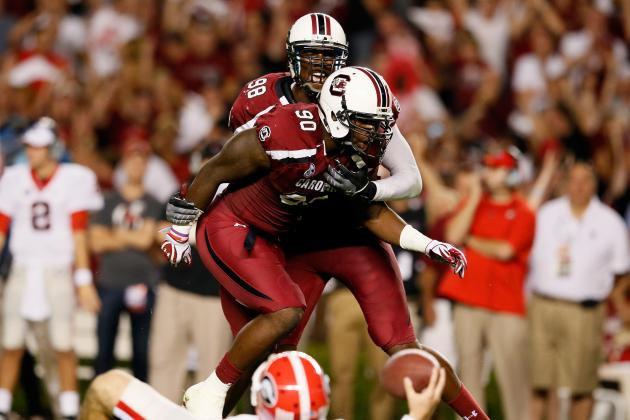 Kevin C. Cox/Getty Images
Chaz Sutton
Jadeveon Clowney seems to be the only South Carolina player that anyone wants to talk about this summer. That's completely understandable, considering Clowney is the best defensive player in all of college football. Hopefully, though, fans realize that the Gamecocks are more than just a one-man show, especially on defense.
Since Clowney is expected to garner most of the attention from opposing offensive lines this season, that should open things up for his pass-rushing partner, DE Chaz Sutton. Just like former Gamecock Melvin Ingram, Sutton is a versatile athlete who can line up all over the place and make an impact in a variety of different ways.
After totaling five sacks and seven tackles for loss last year, it wouldn't be surprising to see the 6'5'', 263-pound senior double those totals this season.
Sutton has the chance to be one of the big breakout star pass-rushers of the SEC, and he could be one of the fastest-rising prospects in the 2014 NFL draft class.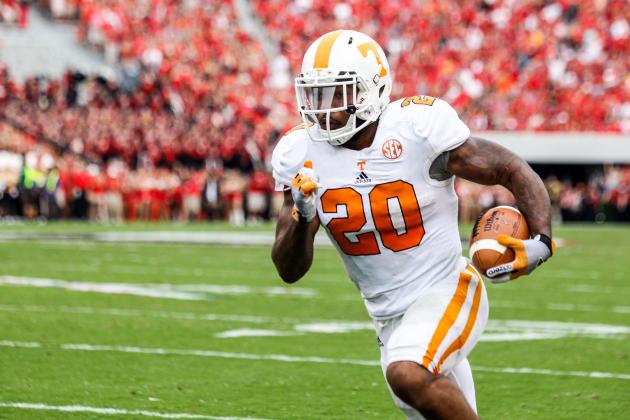 Daniel Shirey-USA TODAY Sports
Rajion Neal
The senior running back class for the 2014 NFL draft doesn't feature many big-name players, since many of the top underclassmen declared for the 2013 draft. There are, however, plenty of senior backs who could make a big push up draft boards this fall.
The senior back who could make the highest climb is Tennessee's Rajion Neal.
In his three seasons as a Vol, Neal has carried the ball 229 times, rushed for 1,039 yards, caught 31 passes and scored 12 touchdowns.
While his career stats may not be spectacular, Neal has a chance to put up some big numbers as a senior, playing behind an offensive line that will be one of the best front-fives in the country.
The Vols' rushing attack averaged 4.6 yards per carry last year, which ranked fourth in the SEC. If Neal plays up to his potential this season, the ground game should be even stronger in 2013.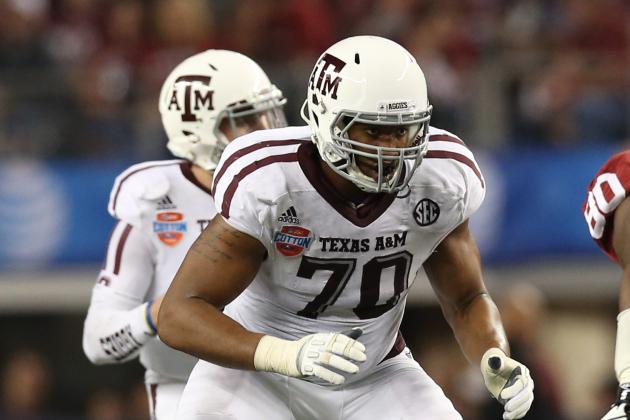 USA TODAY Sports

Last year Texas A&M had the best offensive tackle duo in the country comprised of Luke Joeckel and Jake Matthews. Joeckel, the 2012 Outland Trophy winner and No. 2 overall pick in the 2013 NFL draft, is now gone, but that doesn't mean the Aggies will experience a big drop off up front.
Matthews will now slide over to left tackle to replace Joeckel. The son of former Hall of Famer Bruce Matthews caused quite a buzz when he decided to return for his senior year. He's got the potential to be a top-20 pick in the 2014 NFL draft.
His move will allow Cedric Ogbuehi to prove himself at right tackle after spending last year at guard.
Though it's Matthews who is getting all the attention during the offseason, it could ultimately end up being Ogbuehi who impresses the most in 2013.
The remarkably nimble and athletic 6'5'', 300-pound junior proved he could handle himself inside last season. This year, Ogbuehi will be given the chance to prove himself as an outside pass protector.
If he shows that he can properly handle playing on the edge of the line, the big Texas native could end up joining Matthews in the first round of the 2014 NFL draft.
NFL Network analyst Daniel Jeremiah recently called both tackles elite players.
Yes…Matthews and Ogbuehi are elite players. RT @hembo2828: Do you think their o-line can possibly be that good again?

— Daniel Jeremiah (@MoveTheSticks) May 24, 2013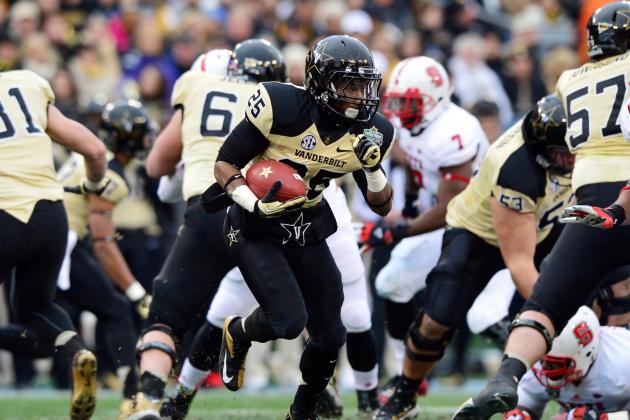 Don McPeak-USA TODAY Sports
Brian kimbrow
Zac Stacy was a true workhorse back for Vanderbilt's offense, carrying the ball 408 total times during his final two seasons. Since Stacy was relied upon so often, it didn't leave many touches for the rest of the running backs on the roster.
Brian Kimbrow didn't need many touches, though, to make an impact last season. Kimbrow carried the ball just 66 times, but he averaged a whopping 6.2 yards per carry, and had four runs of over 30 yards.
The 5'8'', 180-pound sophomore isn't as big, strong or as tough as Stacy was, but he's a better overall athlete than his former teammate, and he's a bigger threat to produce a home run play.
With defenses keying on receiver Jordan Matthews and Chris Boyd in 2013, Kimbrow should have plenty of space to do damage during his first season as a featured back.