Notre Dame Football: Power Ranking the Head Coaches on the Irish's 2013 Schedule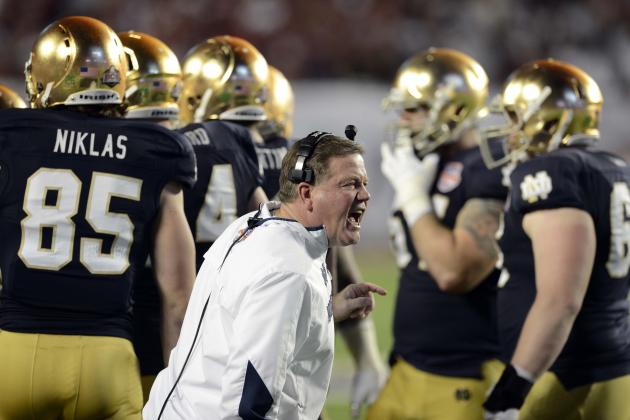 John David Mercer-USA TODAY Sports

While games are decided on the field, the quality of any program in the country begins and ends with its head coach.
And because Notre Dame plays a national schedule on an annual basis, the Irish and head coach Brian Kelly match wits with some of the biggest names in college football week in and week out.
Facing the likes of Oklahoma, Michigan and Stanford on a weekly basis, Kelly has proven his worth and ability as a head coach, having guided the Irish to an undefeated 2012 regular season, which resulted in a berth in January's BCS National Championship Game.
But among the coaches on the Irish schedule, which is the most formidable?
The answer lies within.
Begin Slideshow

»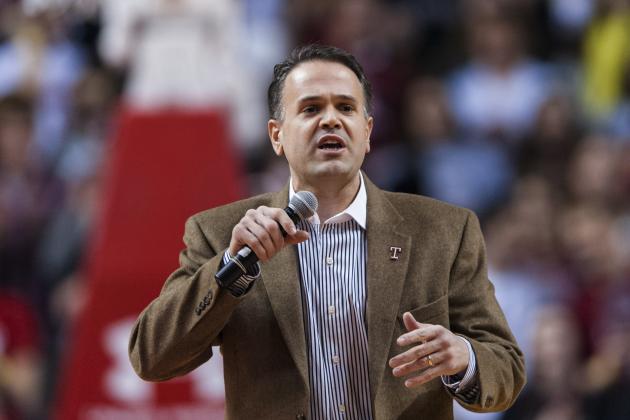 USA TODAY Sports

One overarching question is shadowing Matt Rhule: Will his experience as an assistant translate into success as a head coach at the collegiate level?
The 38-year-old Rhule is in his first season as a head coach, having been hired by Temple following the departure of former head coach Steve Addazio to Boston College.
Hiring Rhule was a sensible decision on Temple's part, as the State College, Pa., native spent six seasons (2006-2011) as an assistant under former head coach Al Golden, now the head coach at Miami.
After spending one season working for Golden, Rhule accepted a job offer with the NFL's New York Giants, becoming the team's assistant offensive line coach, before returning to Temple in an official capacity on Dec. 17, 2012.
Because Rhule lacks head coaching experience and was not a highly sought after head coaching candidate, he has been relegated to the bottom of this list.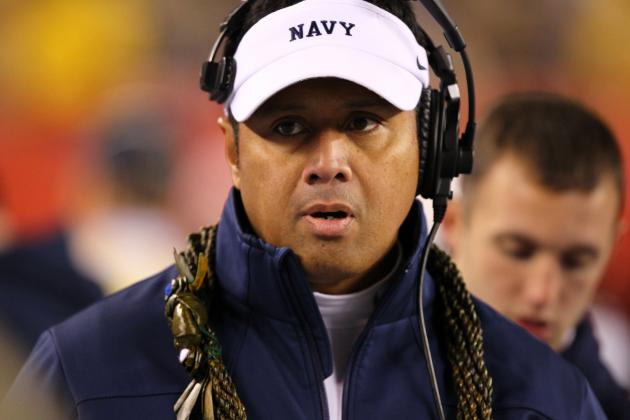 USA TODAY Sports

Although Ken Niumatalolo had Notre Dame's number for a four-year stretch beginning in 2007, the former University of Hawaii quarterback has encountered recent struggles, compiling a 13-12 record during the past two seasons.
Two of those 12 losses have come at the hands of the Irish by a combined score of 106-24, including last season's 50-10 romp in Dublin, Ireland.
Hailing from the same town—Laie, Hawaii—as former Notre Dame linebacker Manti Te'o, Niumatalolo has been around the Navy program intermittently since 1995, when he accepted a position as an assistant after serving in the same capacity for Hawaii from 1990-1994.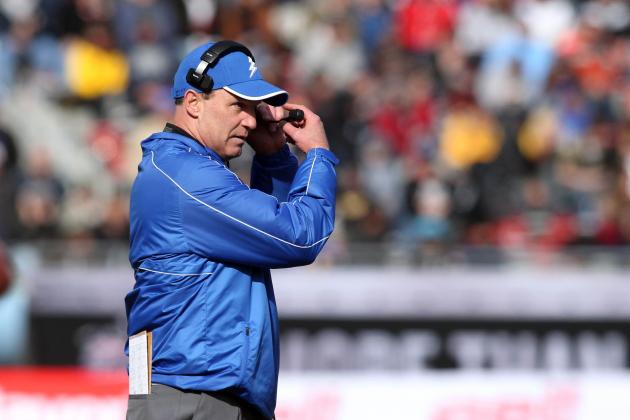 USA TODAY Sports

Perhaps, one of the most overlooked coaches in college football, Air Force's Troy Calhoun has quietly operated a rather successful program in Colorado Springs, Colo.
Since leaving his post as the Houston Texans' offensive coordinator following the 2006 season to return to his alma mater, Calhoun has posted an overall record of 47-31, including two bowl game victories—the 2009 Armed Forces Bowl and the 2010 Independence Bowl.
Calhoun has matched wits with Kelly once, a 59-33 defeat at Notre Dame Stadium on Oct. 8, 2011.
It was his second overall meeting with Notre Dame, with the first being a 41-24 victory against former head coach Charlie Weis during the Irish's abysmal 2007 season that ended with an overall record of 3-9.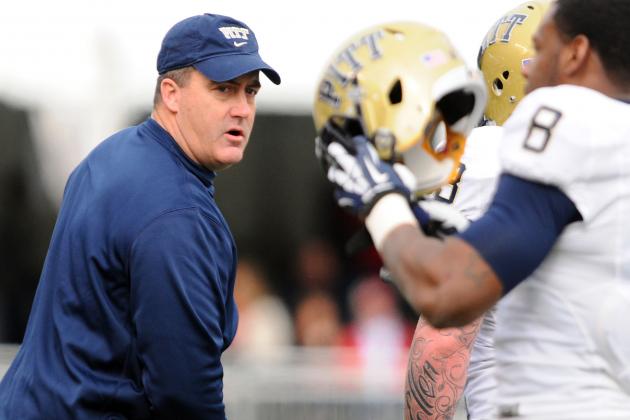 USA TODAY Sports

After spending seven seasons as the offensive coordinator at Wisconsin, Paul Chryst pursued greener pastures by accepting the head coaching vacancy at Pittsburgh on Dec. 22, 2011.
His first season at Pittsburgh transpired as many assumed it would, ending with a 6-7 record, including a 38-17 loss to Ole Miss in the BBVA Compass Bowl.
However, Chryst and his Panthers nearly pulled off the ultimate upset, narrowly losing, 29-26, to then fourth-ranked Notre Dame on the Irish's home turf in triple overtime. While some considered the game a fluke, the result established Chryst as a legitimate head coach.
The now second-year head coach will get a shot at redemption on Nov. 9 at Heinz Field.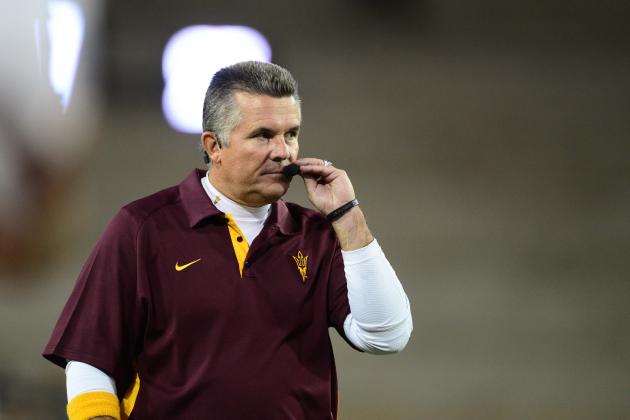 Mark J. Rebilas-USA TODAY Sports

Todd Graham has drawn the ire of the college football community in recent years, leaving Pittsburgh for Arizona State after just one season as head coach.
The decision of the 48-year-old head coach was rather amusing, as he claimed the Arizona State job was his "dream job," after applying the same distinction to the Pittsburgh job nearly one year prior to the occasion.
Despite Graham's rather interesting job path, his head coaching results speak for themselves; The Mesquite, Tex., native has compiled an overall record of 57-34 in seven seasons as a head coach.
While at Tulsa in 2010, Graham's Golden Hurricanes upset the Irish at Notre Dame Stadium, 28-27, in Kelly's first season on the job.
Andrew Weber-USA TODAY Sports

Last Dec. 5, Purdue hired one of the brighter minds of the game in former Kent State head coach Darrell Hazell.
After being hired away by Kent State from his position as an assistant at Ohio State in 2011, the Cinnamon Township, N.J., native took the Mid-American Conference by storm.
Last season, the 49-year-old Hazell guided the Golden Flashes to a record of 11-3, including a narrow 17-13 defeat to Arkansas State in the GoDaddy.com Bowl. That lone spectacular season was enough to allow Hazell to become a highly sought after head coaching candidate, with Purdue reeling him back to the Big Ten Conference.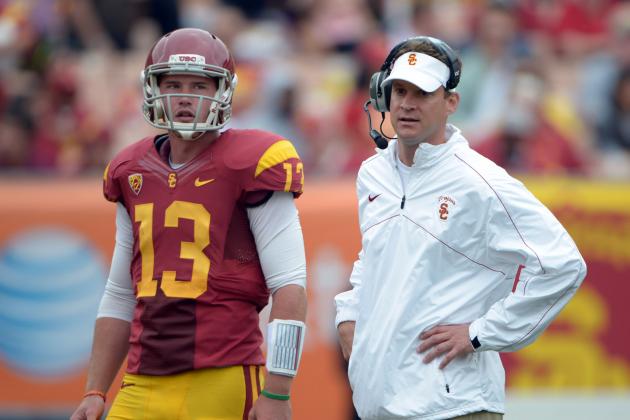 USA TODAY Sports

Deemed as college football's most hated coach in an article at LostLettermen.com, Lane Kiffin has experienced more turbulent times in the recent past than any other coach in the nation.
After a tumultuous ending of a two-year stint as the head coach of the NFL's Oakland Raiders, Kiffin accepted the same position with Tennessee, though he left the Volunteers after just one season to return to USC where he was an assistant under former head coach Pete Carroll from 2001-2006.
Yet Kiffin's tenure at USC has become rocky in recent months, after his Trojans stumbled to a 7-6 finish, despite beginning the season ranked as the country's No. 1-ranked team.
The Bloomington, Minn., native had the opportunity to salvage the mess in Los Angeles against then top-ranked Notre Dame last Nov. 24 at the Los Angeles Memorial Coliseum, but saw his team drop a 22-13 decision that vaulted the Irish into the BCS National Championship Game.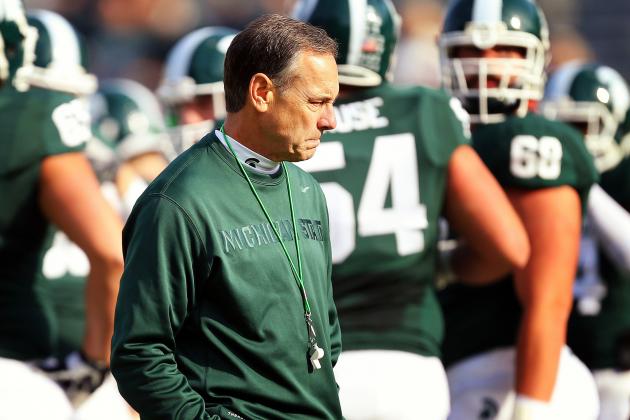 Mike Carter-USA TODAY Sports

Maybe it's his ho-hum approach to the game, but Mark Dantonio's success at Michigan State has gone largely unnoticed.
In six seasons as head coach in East Lansing, Mich., the 57-year-old Dantonio has posted an overall record of 51-28. While his Spartans have failed to reach a BCS game during his tenure, they won a share of the Big Ten Conference championship in 2010, as well as reaching the conference championship game two seasons ago.
Dantonio had early success against Notre Dame, winning three of his first four matchups with the Irish, including a victory for the ages in 2010, when his Michigan State Spartans defeated the Irish, 34-31, in overtime on a successfully converted fake field goal pass for the game-winning touchdown.
However, the El Paso, Tex., native has struggled matching wits with Kelly and Co. the past two seasons, losing by a combined score of 51-16.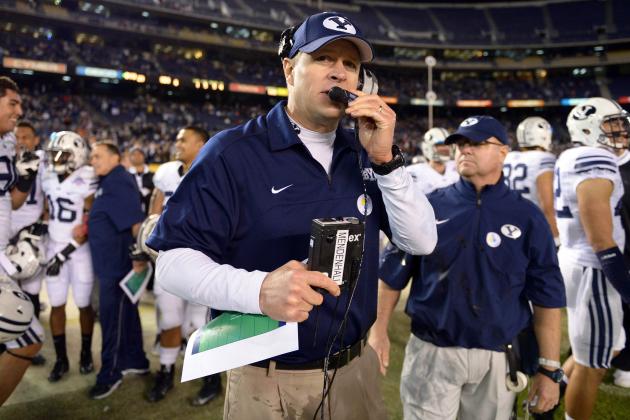 Jake Roth-USA TODAY Sports

Perhaps one of the most unappreciated head coaches in the country, Bronco Mendenhall has quietly established one of the most consistent programs of the past decade.
Since being promoted to head coach at BYU after two seasons as an assistant, Mendenhall has posted an overall record of 74-29, including six bowl victories.
Yet, the Alpine, Utah, native hasn't been able to solve the mystery that is Notre Dame, losing both contests against the Irish during his tenure, the most recent being last season's narrow 17-14 loss at Notre Dame Stadium.
However, the 47-year-old head coach will have the opportunity to duel with Kelly once again this season on Nov. 23.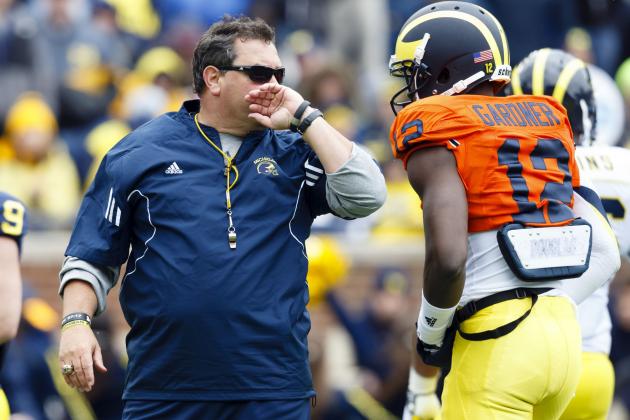 Rick Osentoski-USA TODAY Sports

Michigan fans were disappointed in Brady Hoke's hiring prior to the 2011 season, as the Wolverines failed to lure Jim Harbaugh—currently head coach of the NFL's San Francisco 49ers—back to Ann Arbor, Mich.
Those same fans are eating their words now, as Hoke guided the program to a victory in the Sugar Bowl in his inaugural season.
While his second season didn't end as hoped—the Wolverines finished with an 8-5 record—Hoke has compiled an overall record of 19-7 since taking over the program and has his team as a contender in the Big Ten Conference during the coming season.
Much to the chagrin of Irish fans, Hoke's signature victory at Michigan arrived in the form of a dramatic, come-from-behind 35-31 victory against Notre Dame at Michigan Stadium in the second game of his tenure.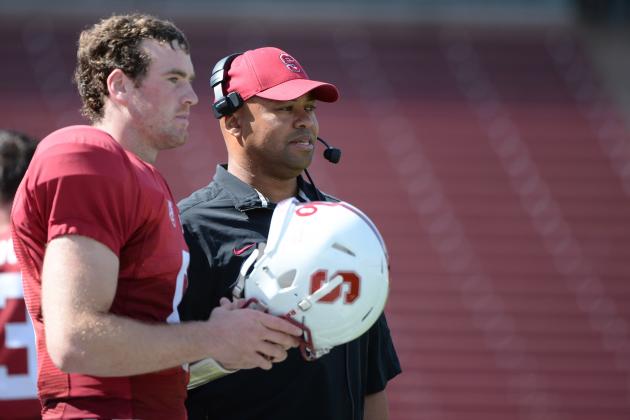 Kyle Terada-USA TODAY Sports

When former head coach Jim Harbaugh left Stanford to accept the same position with the San Francisco 49ers, David Shaw's promotion to head coach was met with little fanfare.
His ability to maintain Stanford's level of success was questioned, while many believed the Cardinal would return to the ranks of the mediocre without Harbaugh furiously pacing the sidelines.
Two seasons later, Shaw has recorded 23 victories in 27 games, including two consecutive BCS bowl berths, the most recent of which was a 20-14 win against Wisconsin in the Rose Bowl.
One of Shaw's four losses in his two-year head coaching stint arrived last season at Notre Dame Stadium, where his Cardinal squad was stunned in an overtime thriller, losing, 20-13, on a goal-line stand that has been replayed countless times on numerous highlight reels.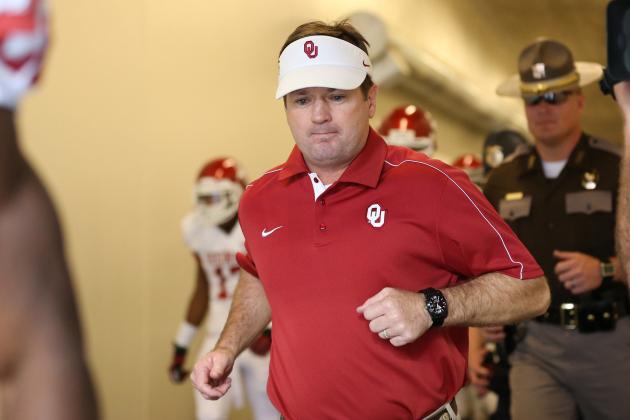 Matthew Emmons-USA TODAY Sports

While fans in Norman, Okla., have grown restless with Bob Stoops, his accomplishments speak for themselves.
In 14 seasons as head coach at Oklahoma, Stoops has guided the program to a national championship (2000) and six BCS bowl games, though the Sooners have only been victorious twice.
And in two meetings with Notre Dame, the Irish have come out on top twice—a 34-30 loss in 1999 at Notre Dame Stadium and a 30-13 loss at Gaylord Family-Oklahoma Memorial Stadium last season.
Stoops will have the opportunity to knock off the Irish for the first time in his tenure at Oklahoma, as the Sooners are scheduled to visit Notre Dame Stadium on Sept. 28.