NHL Draft 2013: Winners, Losers of Every Draft-Day Trade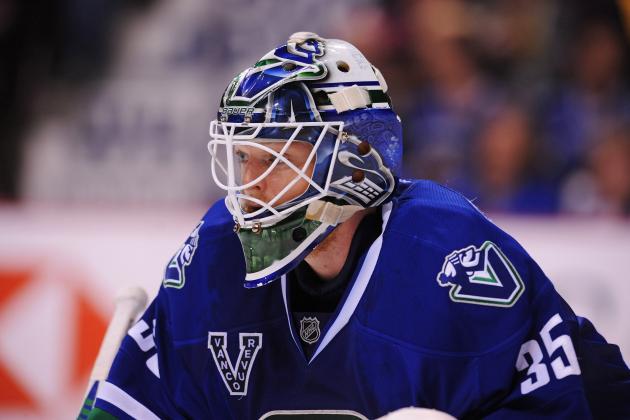 Derek Leung/Getty Images

Forget the draft picks themselves—the 2013 NHL draft is destined to be remembered for its trades.
The league was rocked throughout Sunday evening by the movement of many of hockey's most prominent names and most highly rumored players.
The Blackhawks shipped away two crucial parts of their Cup-winning roster. The Sharks landed a new bottom-six winger. The Wild and Isles swapped forwards while the 'Canes and Sabres exchanged defensemen.
And the Devils found their goaltender of the future.
What all went down on Sunday's chaotic phone lines? Which team came out ahead in each trade?
We break down every draft-day deal on the coming slides.
Begin Slideshow

»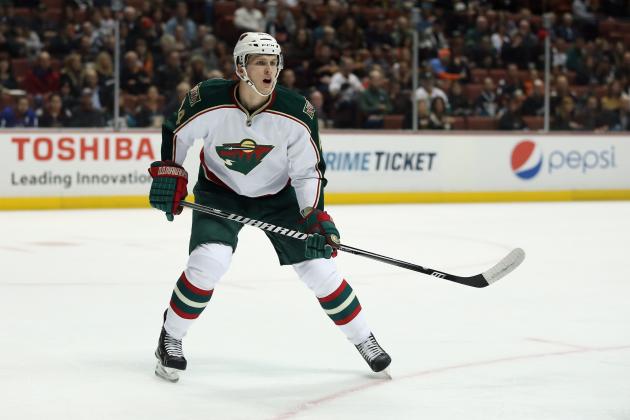 Jeff Gross/Getty Images

To New York Rangers: D Justin Falk
To Minnesota Wild: F Benn Ferriero, 2014 sixth-round pick
The Rangers added much-needed depth to their defensive corps in 24-year-old Justin Falk (not to be confused with the Carolina defenseman).
Falk appeared in 36 of 48 games for Minnesota in 2013 after playing in 47 of 82 in 2011-12. The former fourth-round selection boasts 15 points and a miserable minus-28 rating in 108 career NHL games, but stands tall at 6'5", 215 pounds and will serve as a solid sixth or seventh blueliner in the Big Apple.
Two minor pieces—26-year-old journeyman forward Benn Ferriero (who scored 30 points in 57 AHL appearances in 2013) and a future sixth-round choice—are headed back to the Wild, but the Rangers land the only noteworthy fish in this deal.
Winner: Rangers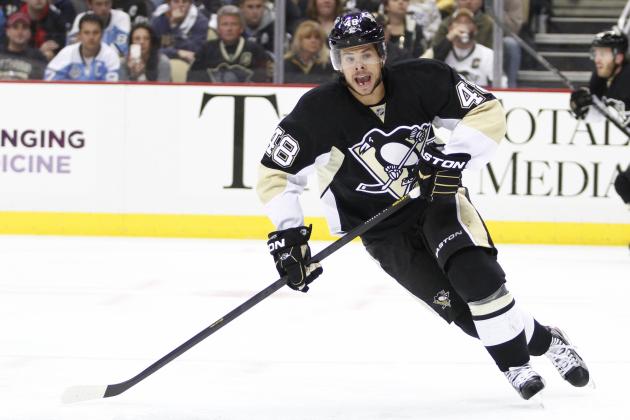 Justin K. Aller/Getty Images

To San Jose Sharks: F Tyler Kennedy
To Pittsburgh Penguins: Pick No. 50 (traded in a deal for the No. 44 pick, G Tristan Jarry)
The Sharks had been searching for a noteworthy bottom-six addition all week and finally found one in Tyler Kennedy.
Kennedy, 26, has always tallied inflated stats thanks to his talented Pittsburgh teammates, however. His 21-goal campaign in 2010-11 was an absolute fluke and his production has declined rapidly since, dropping to just 11 points and a minus-six rating in 2013.
Not only did Penguins GM Ray Shero rip off San Jose for a second-round pick, he made one of the round's smartest moves in flipping that 50th overall pick and another to get goalie Tristan Jarry at No. 44 overall. Jarry was a consensus top-three netminder in this year's class after posting a .936 save percentage in 27 games for WHL Edmonton and could be the permanent solution to Pittsburgh's goaltender problems a few seasons down the road.
Winner: Penguins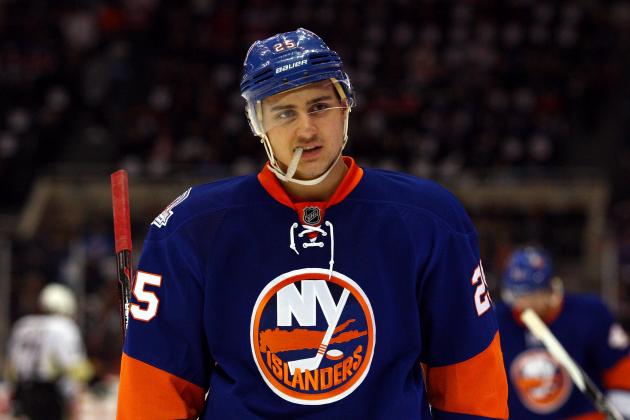 Chris Chambers/Getty Images

To New York Islanders: F Cal Clutterbuck, Pick No. 70 (G Eamon McAdam)
To Minnesota Wild: F Nino Niederreiter
For the moment, 2010 fifth overall pick Nino Niederreiter is on pace to be one of the biggest draft busts of the decade.
After scoring a measly one point in 55 appearances for the Islanders in 2011-12, Niederreiter was sentenced to the Bridgeport Sound Tigers in 2013. He did score 50 points in 74 games with Bridgeport in the AHL, but failed to even make healthy-scratch status during the Isles' playoff games.
Now he gets a fresh start in Minnesota, where he'll be met by sky-high expectations yet again.
Take it from us—he's destined to fall short again. Niederreiter has the skill to be productive in the minors, but simply doesn't possess the work ethic or playmaking creativity to succeed as a scorer in the NHL.
The Islanders were extremely clever to get what they could for him today. Heavy-hitting Clutterbuck is one of the most physical forwards in the league and will be a solid addition to their third line; McAdam will add a quality item to their prospect core.
Winner: Islanders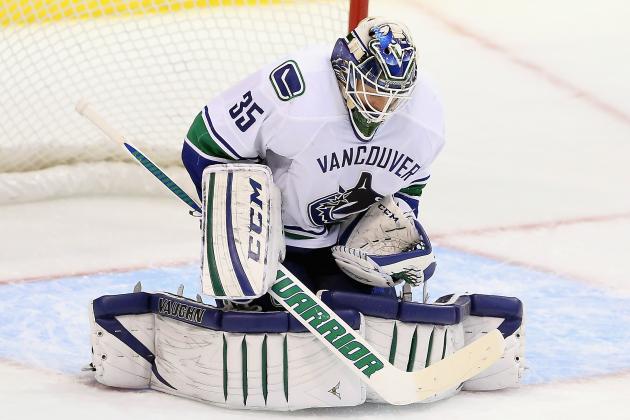 Ronald Martinez/Getty Images

To New Jersey Devils: G Cory Schneider
To Vancouver Canucks: No. 9 pick (Bo Horvat)
In trading away a potential Hall of Fame goaltender, keeping an aging and mentally unprepared goaltender and drafting an overrated prospect like Bo Horvat, the Vancouver Canucks successfully undermined the core of a team that, while controversial, had been a consistent, perennial winner.
Cory Schneider, 27, had a 2.11 GAA and .927 save percentage in 2013. Roberto Luongo, 34, had a 2.56 GAA and .907 save percentage in 2013.
Cory Schneider expected to become a Canucks franchise cornerstone for a decade to come. Roberto Luongo publicly complained about his horrible contract and not-so-discreetly mocked the Canucks on Twitter.
So GM Mike Gillis kept Luongo.
Of course.
That comically ridiculous decision, combined with the choice of Horvat (a relatively poor skater) over far more talented players like Valeri Nichushkin, Max Domi and Alexander Wennberg, makes Sunday a tremendously rough day in Vancouver.
Winner: Devils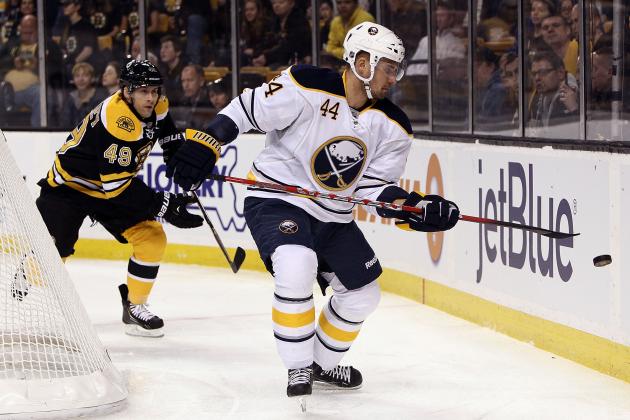 Alex Trautwig/Getty Images

To Carolina Hurricanes: D Andrej Sekera
To Buffalo Sabres: D Jamie McBain, Pick No. 35 (F J.T. Compher)
While he didn't make the heavily anticipated trade of the No. 5 overall pick, Carolina GM Jim Rutherford still made a noteworthy splash fairly early in the draft.
Sekera hopes to fulfill the gaping hole alongside Tim Gleason on the Hurricanes' second-pairing defense. He's a well-rounded, if unheralded, blueliner who tallied 12 points in 37 appearances this past year.
McBain, meanwhile, is a more than subpar replacement on the Sabres' blue line. The former second-round choice has never quite lived up to expectations and exposed a number of really terrible decision-making flaws in 2013.
However, landing the second-round pick should be enough to salvage this defensive downgrade for Buffalo. Compher is a solid prospect who would've been a first-rounder in most years.
Winner: Even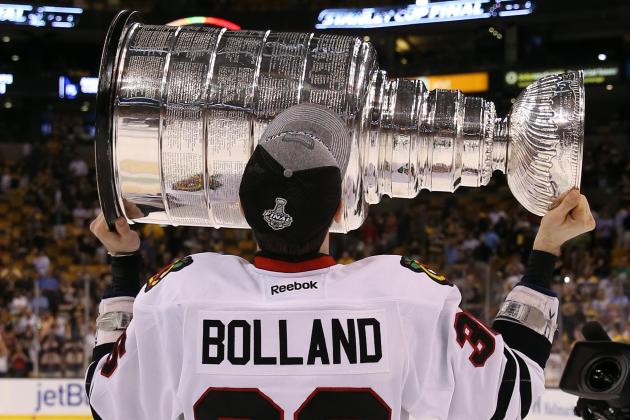 Bruce Bennett/Getty Images

To Toronto Maple Leafs: F Dave Bolland
To Chicago Blackhawks: Pick No. 51 (D Carl Dahlstrom), Pick No. 117 (became D Robin Norell), 2014 fourth-round pick
Chicago GM Stan Bowman certainly traded Dave Bolland at a time when his stock is sky-high, less than a week removed from the Stanley Cup-winning goal.
Bolland is more than just a one-goal wonder, coming off a career-high 19-goal performance in 2011-12 and then 20 combined points in the 2013 regular and postseason.
Nonetheless, Bowman's decision to ship off the hero at this time was a smart move. Three early- to mid-round picks is a hefty haul for a mediocre second-line center; while Bowman eventually traded the 117th pick (up to 111th), his two selections—especially 51st choice Carl Dahlstrom—both hold promise in the back end.
If Dahlstrom develops into the shutdown NHL rearguard he has the potential to be, the Blackhawks will look back on this trade as an unappreciated stroke of brilliance.
Winner: Blackhawks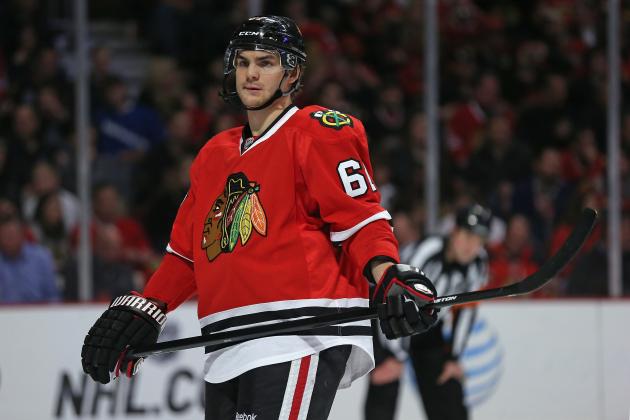 Jonathan Daniel/Getty Images

To Winnipeg Jets: F Michael Frolik
To Chicago Blackhawks: Pick No. 74 (F John Hayden), Pick No. 134 (F Luke Johnson)
Needing a spark of winning experience and two-way forward depth, the Winnipeg Jets parted with two unremarkable draft choices to land an underrated item from the Blackhawks' Cup-winning roster.
Frolik isn't a terrible offensive producer, but the majority of his value stems from his value on the backcheck and on the penalty kill. The merely 25-year-old forward led all Chicago forwards in blocked shots in the playoffs and ranked second during the regular season.
If either Hayden or Johnson pans out as full-time NHL regulars (and third- and fifth-round picks rarely do), it'll be years before either rises to level of contribution that Frolik currently offers.
The Jets acquired an elite third-line asset at a bargain price this afternoon.
Winner: Jets