As the draft continues to unfold, NHL trade rumors are starting to pick up. In particular, there is a lot of noise surrounding Tyler Seguin and some other big names.
Where could Seguin and some other players end up? Which teams are showing interest? Read on to find out.
Tyler Seguin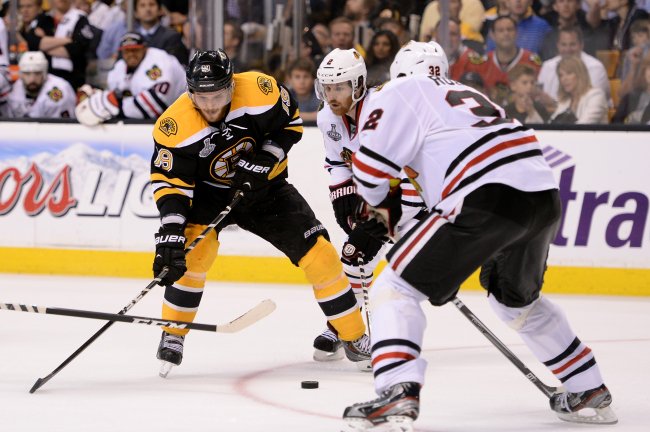 Harry How/Getty Images
Seguin is definitely on the block, according to Bob McKenzie of TSN:
Not 100 per cent yet but looks like Nathan Horton will NOT be back with BOS. B's talking trade and Tyler Seguin's name has been discussed.

— Bob McKenzie (@TSNBobMcKenzie) June 29, 2013
Seguin, who scored 16 goals and added 16 assists, is a top offensive talent that could blossom in a leading role. Pierre LeBrun of ESPN reported that the Flames had some interest in giving up the sixth overall pick for Seguin, but a deal never materialized:
Flames leaning right toward keeping No 6 pick. Had spoken to Boston (Seguin)... for now thinking they'll keep pick. Could change of course

— Pierre LeBrun (@Real_ESPNLeBrun) June 30, 2013
The Bruins need to trade Seguin because of the importance of re-signing Tuukka Rask, as Adam Gretz of CBS Sports details:
Seguin just signed a long-term extension with the Bruins prior to the lockout that has him under contract through the end of the 2018-19 season at more than $5.75 million per year. The Bruins, however, are tight against the salary cap and need to work out a long-term contract extension for starting goalie Tuukka Rask, who is currently a restricted free agent.
A team starved for offense, like the Nashville Predators, could be interested in Seguin, as could San Jose.
Renaud Lavoie of RDS reports that the Tampa Bay Lightning are interested:
Bruins are really active right now. Tyler Seguin is one of the players that could be traded. Lightning is one of many teams in the mix.

— Renaud Lavoie (@RenLavoieRDS) June 29, 2013
A deal is not a foregone conclusion, but it does seem that the B's are willing to part with Seguin to get cap flexibility. Seguin had only one goal in the postseason.
Braydon Coburn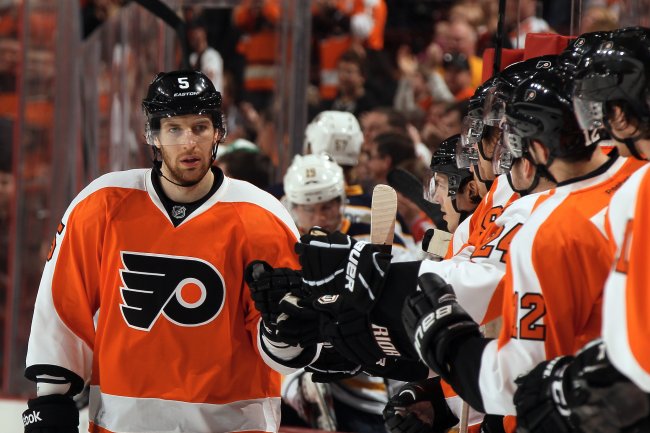 Elsa/Getty Images
The Philadelphia Flyers seem intent on moving defenseman Braydon Coburn.
Darren Dreger of TSN reported that the Carolina Hurricanes and the Edmonton Oilers are possible candidates.
In addition, Tim Paaccio of CSN Philly tweeted that the Oilers could offer two second-round picks:
The Coburn trade talk is NOT about getting EDM 1stR pick (7); it's about their 2 second-round picks which would give Flyers 3 in that round

— Tim Panaccio (@tpanotchCSN) June 29, 2013
The 6'5" defenseman scored three goals and had one assist last season while playing to a minus-10 mark. The Flyers gave up 2.9 goals per game last season, which was 22nd in the league, would seem to still need defensive help, but they did acquire a defenseman with their first two draft picks in the 2013 draft.
The Oilers need defensive help, even with drafting Darnell Nurse in the first round. The Hurricanes traded for Andrej Sekera, according to the Hurricanes' official Twitter page, which could limit their need for a defenseman:
The #Canes have traded the 35th overall pick and defenseman Jamie McBain to Buffalo for defenseman Andrej Sekera.

— Carolina Hurricanes (@NHLCanes) June 30, 2013
It remains to be seen when Coburn is traded, but as teams need defensive help, Coburn would be a nice option.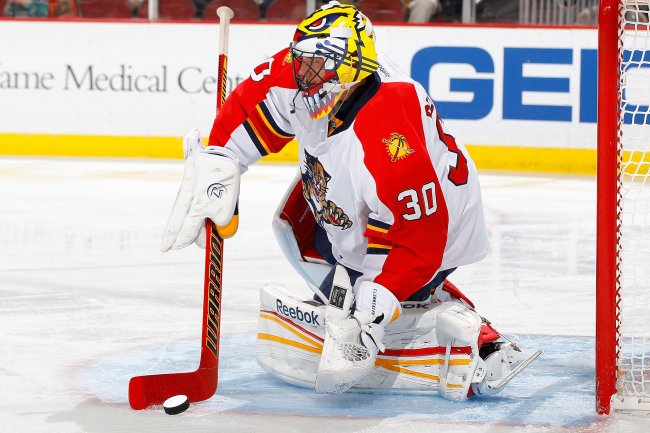 Jim McIsaac/Getty Images
With plenty of teams needing goaltending help, one option to explore could be Scott Clemmensen.
According to Renaud Lavoie of RDS, the Florida Panthers are putting Clemmensen on the block:
Talking about goaltenders, Panthers are shopping Scott Clemmensen. One year left. 1.2 M is the cap hit. #RDS

— Renaud Lavoie (@RenLavoieRDS) June 29, 2013
Clemmensen did have a rough year in Florida with a 3.76 goals against average and a .874 save percentage.
Still, Clemmensen has shown flashes of being a capable starting goaltender. In 2011-12, Clemmensen posted a 2.57 goals against average and a 14-6-6 record. In 2008-09 with the New Jersey Devils, Clemmensen played 40 games with a 2.39 goals against average and a 25-13-1 record.
For teams with goaltending help—like the Edmonton Oilers, the Calgary Flames or the Colorado Avalanche—it would be wise to at least take a flyer on Clemmensen. With just $1.2 million left on his deal, he's a low-risk option capable of becoming a decent starter.