MLB's 10 Most Underrated First-Half Performances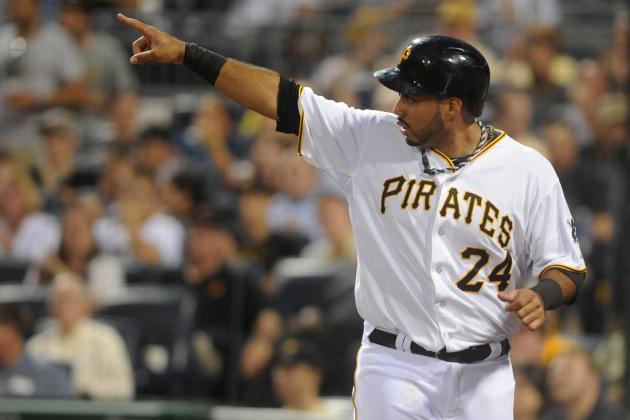 Vincent Pugliese/Getty Images

Who have been the 10 most underrated first-half performers so far during the 2013 MLB season? I'm sure that question will bring about some significant debate. There have been several players so far this season who for some reason or another have not garnished much media attention until now.
Here are 10 underrated players who have had strong starts during the first half of the season.
Stats courtesy of baseball-reference.com and mlb.com
Begin Slideshow

»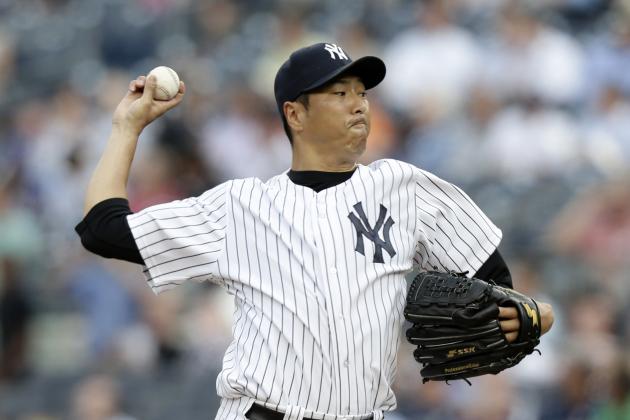 Jason Szenes/Getty Images

Where would the Yankees be without the strong first-half pitching provided by Hiroki Kuroda?
There is a good chance the Yankees would be in a deeper divisional hole if it wasn't for the consistent starting pitching provided by Kuroda. The Japanese hurler has been the most reliable pitcher in the Yankees rotation, going 7-6 with a 2.95 ERA in 17 games.
Yankees Manager Joe Girardi praised the consistent Kuroda after he re-signed with the Yankees this past offseason.
"He's been pretty consistent throughout his career," Girardi told Bryan Hoch of MLB.com. "This is a guy, it wasn't all of a sudden he put up one good year. He's been pretty good for a long time."
It seems that Kuroda has made a career of flying below the radar. On the Yankees, it seems many times it has been C.C. Sabathia, Andy Pettitte and even at times Ivan Nova who have received much more fanfare and accolades than Kuroda. However, I think it would be safe to say that Kuroda, behind perhaps Mariano Rivera, is the most valuable player on the Yankees squad.
The Yankees will need Kuroda to continue his strong pitching in the second half if they have any chance to contend for a postseason berth.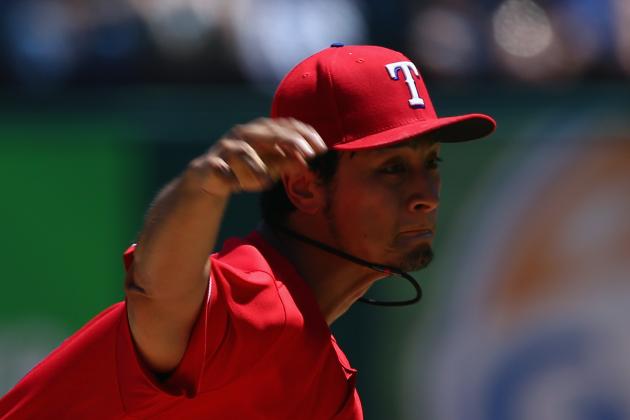 Tom Pennington/Getty Images

One of the most underrated first-half performers has been Rangers hurler Yu Darvish. Now, part of the reason why Darvish could be considered underrated is not by any fault of his own as the Rangers have struggled to score runs in his starts.
From May 27 to June 25, Darvish pitched to a 3.15 ERA but was unable to win a game. He also limited opposing batters to a .209 BA, striking out 52 in 40 innings pitched.
Speaking recently through a translator to Drew Davison of the Star-Telegram, Darvish seemed to be resigned to the fact that sometimes a stellar pitching performance doesn't always equal something positive in the win column.
"It doesn't really weigh on my mind," Darvish said. "There are some games I can shut them out and still not win the game. It's something I cannot control and I have to pitch my game every inning that I pitch."
Darvish is 8-3 with a 2.78 ERA with the Rangers this season and is one of the main reasons why the club is sitting in first place on July 1. His statistics may be a bit underrated at this point, but if he continues this strong pitching into the second half of the season, there is a good chance his name will be in the running for the AL Cy Young award.
Jim Rogash/Getty Images

One of the most underrated performers from the first half of the season in the American League would have to be John Lackey. It has been quite a roller coaster for Lackey since he signed a lucrative five-year, $82.5 million contract a few seasons ago.
Lackey was expected to be the horse at the top of the Red Sox rotation but has gone through all sorts of setbacks, including missing the entire 2012 season with Tommy John surgery. Its seems now, however, Lackey is finally living up to his expectations as he has pitched really well for the Red Sox, going 5-5 with a 2.99 ERA in 13 games this season.
Red Sox manager John Farrell told Gordon Edes of ESPN Boston that Lackey has put a lot of hard work into reconditioning his body after the Tommy John surgery.
"The Tommy John surgery, the rehab, the reshaping of the body -- it's almost like we're looking at a different guy in a couple of ways," Farrell told ESPN. "His stuff doesn't tail off as it might have early on when he signed here. He's always been a tenacious competitor, we continue to see that every time he walks to the mound.
Lackey has been exceedingly valuable to a staff who has seen Clay Buchholz miss some time recently and had some inconsistent performances from other members of the starting staff. The Red Sox will need Lackey to continue his resurgence if they are going to hold onto the top spot in the ultra-competitive AL East.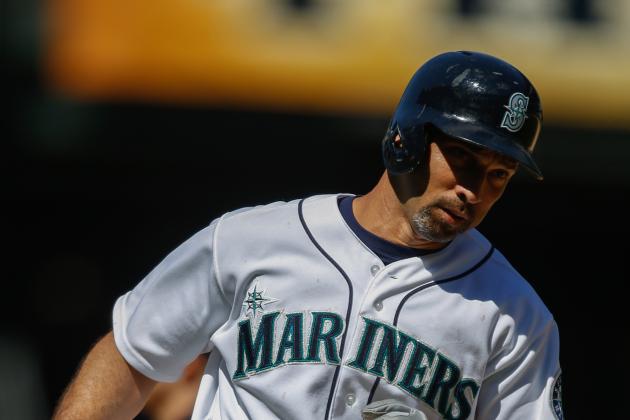 Otto Greule Jr/Getty Images

The word underrated and Raul Ibanez seem to go hand in hand nowadays. The current home run and RBI leader for the Mariners is having a great season and proving his worth to the other 29 MLB teams who didn't offer him a contract last offseason.
Ibanez had a stellar postseason in 2012 for the New York Yankees, batting .318 with three homers and five RBI in eight games. The Yankees, however, decided not to retain Ibanez and he wound up signing a one-year, $2.75 million contract with the Mariners this past offseason.
Mariners manager Eric Wedge told Greg Johns of MLB.com that Ibanez has really made himself an indispensable part of the team.
"...He's the one guy who has been playing every day and not just DHing, but playing," Wedge told MLB.com. "He's an animal, this guy, really. His body, you look at his shape and discipline. People might get on me for playing him against left-handers, but he does damage. I don't care what his average is, he does damage against left-handers."
Even though Ibanez has made himself quite indispensable in Seattle, there is a good chance that he could fill a role on a contender.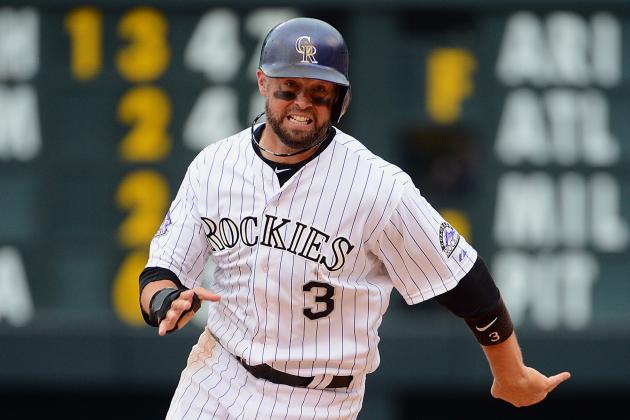 Garrett Ellwood/Getty Images

The hits keep coming for Rockies right fielder Michael Cuddyer. His strong play during the first half of the season is one of the reasons the Rockies are contending for the NL West lead. Cuddyer extended his hitting streak Sunday to 27 games, the longest streak of such kind this season.
Rockies manager Walt Weiss told Thomas Harding of MLB.com that the streak has been "fun to watch".
"It's been fun watching him do this," Weiss said. "It's nice to see him get some recognition. He's a great player."
Through 62 games, Cuddyer is batting .344 with 14 home runs and 48 RBI. Until recently, Cuddyer has been flying under the radar but if his strong play continues into the second half, there is a good chance he may find himself in the discussion for being an NL MVP candidate.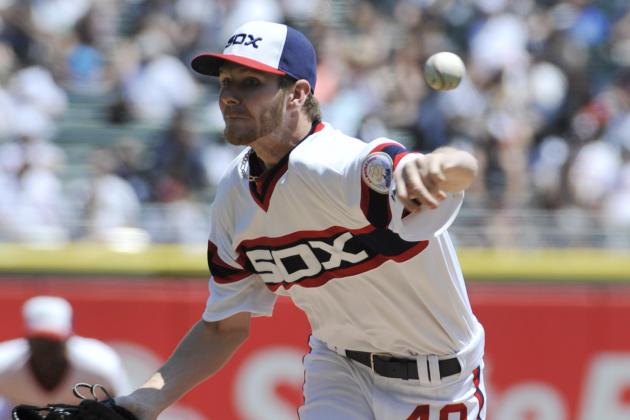 David Banks/Getty Images

Another pitcher who is having a strong first half of the season despite a losing record is White Sox hurler Chris Sale. The 24-year-old left-hander is 5-7 with a 2.79 ERA in 15 starts with the White Sox this season. The problem for Sale, as was in the 4-0 loss to the Indians on Sunday, is the fact the White Sox are just not scoring enough runs during his starts.
"Just another tough one," Sale told the AP via the Charlotte Observer. "Just got to keep your head up, keep plugging along, keep chugging and try to put this one behind us."
Still, there is a good chance that Sale will be rewarded for his strong first half with a trip to the All-Star game. Rosters for the game, which will take place at Citi Field later this month, will be announced on July 7.
For a player that was once famously serenaded "overrated" during a college game with Vanderbilt, Pedro Alvarez is doing everything in his power to silence his critics. Alvarez is one of the reasons why the Pirates are leading the NL Central and hold the best record in the majors at 51-30.
Alvarez has been so hot of late that he was named NL Player of the Week for the period ending June 23. In 72 games, Alvarez is batting .247 with 20 home runs and 53 RBI. Although Alvarez is tearing it up with the Bucs, he is still not a household name on a national level. Expect that to change if he continues his torrid hitting into the second half of the season.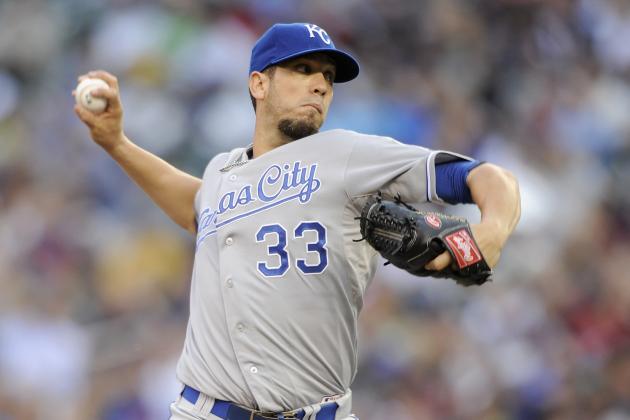 Hannah Foslien/Getty Images

Another pitcher who has suffered from poor run support is James Shields. He, like fellow AL Central mate Chris Sale of the White Sox, has been a hard-luck loser many times during the first half of the season.
"I feel like I'm having a pretty good season so far, but unfortunately the wins aren't there and that's just something I can't control," Shields told Eric Smith of the Topeka Capital Journal.
Shields has lived up to his preseason billing though, as he has recorded two complete games, 117.1 innings pitched and an 2.99 ERA in 17 starts.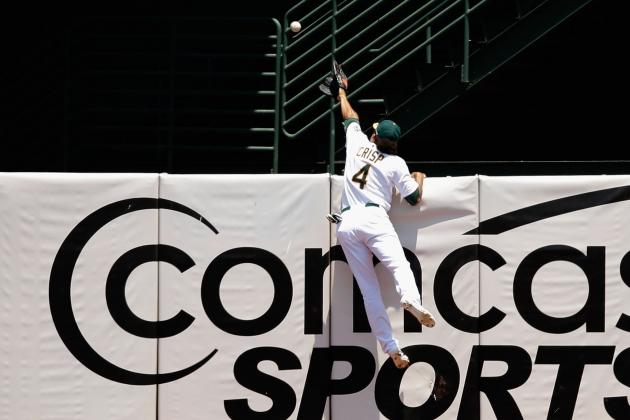 Ezra Shaw/Getty Images

One of the key contributors to the Oakland A's success during the first half of the season has been Coco Crisp. The 33-year-old center fielder has been a spark plug in the A's offense as well as a capable defender in the field.
Crisp is batting .274 with nine home runs, 28 RBI, .820 OPS in 61 games with the A's this season. He has shined in center where he has yet to make an error this season. Based on his play so far this season, AL All-Star manager Jim Leyland should consider giving Crisp a shot at playing in his first Midsummer Classic.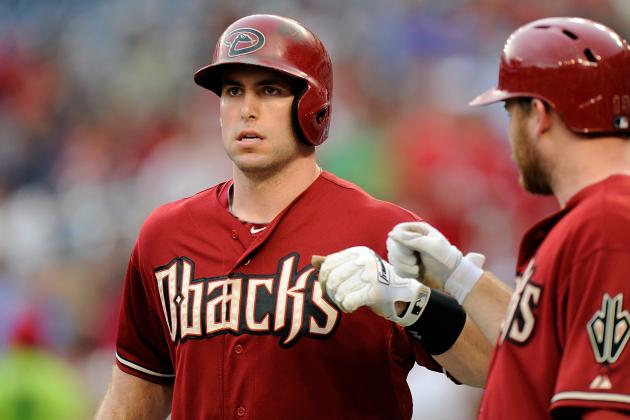 Greg Fiume/Getty Images

An underrated star in the desert is the Diamondbacks' Paul Goldschmidt. The 25-year-old slugger has been powering the Diamondbacks during the first half with a .308 BA, with 19 home runs and 67 RBI.
His contributions are one of the reasons why Arizona currently sits on top of the NL West with a 42-39 record.