Wimbledon 2013: The Biggest Takeaways from the First Week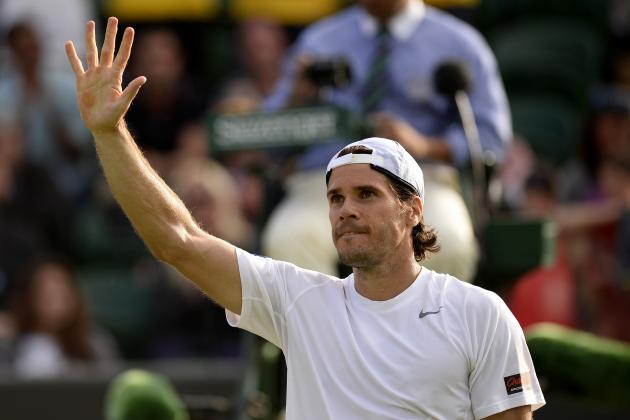 Dennis Grombkowski/Getty Images

The first week of the 2013 Wimbledon Championships has been everything we didn't expect.
Top players and seeds were knocked out routinely, and some unknowns have been fighting to stay afloat for the second week.
Injuries, upsets and shorter matches have been taking place, and perhaps, there are no clear-cut favorites on either side.
It is still too early to assess what this tournament means for the remainder of the year, if it means anything at all, but there are a few takeaways already.
Let's see what the biggest ones are.
Begin Slideshow

»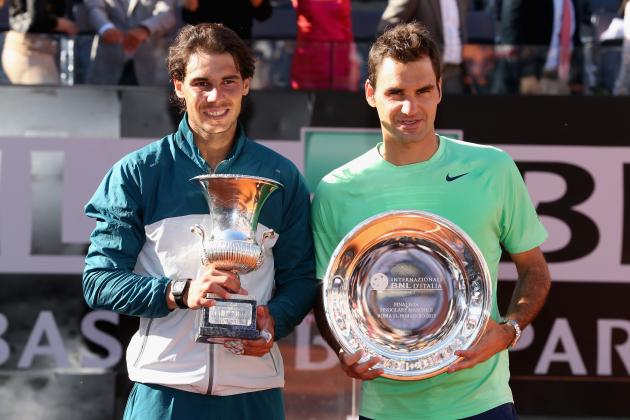 Clive Brunskill/Getty Images

The two most prominent tennis athletes in history were both upset in the second round or prior in the first week.
Surely, they were not in poor form going into the tournament (Federer has been a little bit worse this year, but that still does not explain a surprise second-round exit), and their opponents played relaxed matches with great execution.
Now, I say in the headline that they "may be" fading because they have bounced back time and time again, proving critics and people wrong about their declining performances.
I never believed either of these men would fade—looking at Rafa's excellent year up until Wimbledon and Federer's amazing 2012 season, I am going to assume they will come back very strong for the U.S. and Australian Open.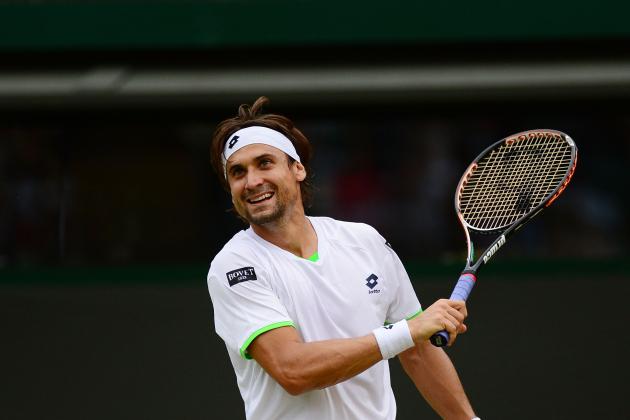 Mike Hewitt/Getty Images

Though some older players surely were ousted, including Roger Federer and Tommy Robredo, there were many young and capable players who were seen packing their bags most often.
David Ferrer, who struggled the entire opening week, found a way in every match, though he dropped at least one set in all three of his matches. He most recently took out Alexandr Dolgopolov after trailing two sets to one.
Steve Darcis, who happens to be 29 years old, took out Rafael Nadal in straight sets in the first round. The main reason for his withdrawal from the second round was an arm and elbow injury—not because he would otherwise lose to his opponent.
Tommy Haas, Kimiko Date-Krumm and even Serena Williams are just a few other names among the list of older athletes who are still playing well, and you will see their names pop up again in the following slides.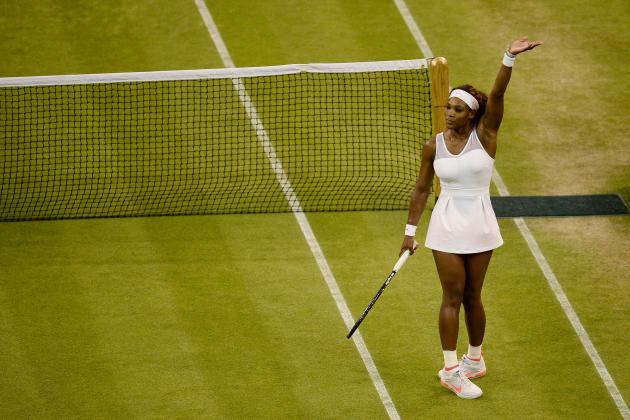 Dennis Grombkowski/Getty Images

As if Serena Williams wasn't already good enough, she is still finding ways to make herself greater and better.
She has played through a few decades of tennis now and is still at the top of the women's game.
Easily cruising in her first three matches, she showed signs of being very fit and in-form.
Do not count on her to get upset by anybody. I say this especially because the other top players, which include Maria Sharapova, Victoria Azarenka, Sara Errani, Angelique Kerber, Sam Stosur, Jelena Jankovic and Caroline Wozniacki, have all fallen down early on.
Serena is the defending champion and will likely add another Wimbledon trophy to her vast cabinet.
Dennis Grombkowski/Getty Images

Tommy Haas, at the age of 35, has stated that he wants to continue playing the sport for his daughter to see him in action, among other things.
He is enjoying one of the best years of his career, reaching the quarterfinals at the French Open for the first time and upsetting many top players without too many problems.
Haas has only dropped one set en route to the fourth round, wherein he will face Novak Djokovic. I think this one has upset alert written all over it.
Kimiko Date-Krumm is 42 years old (about to turn 43 in a couple months) and continues to win a few matches here and there, setting age records at tournaments along the way.
Though she had a fairly simple road to the third round at Wimbledon, it is still remarkable that she is able to make it through, whereas the other top players—besides Serena—could not even make it that far.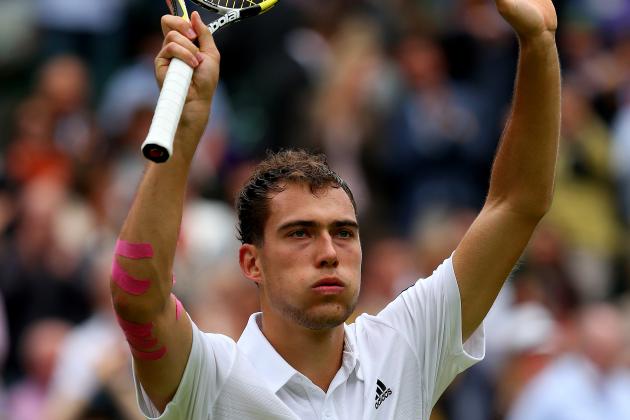 Julian Finney/Getty Images

Jerzy Janowicz, Lukasz Kubot, Jurgen Melzer, Bernard Tomic, Ivan Dodig, Adrian Mannarino, Kenny De Schepper and Fernando Verdasco are among the men who have remained in the tournament for the second week that many people did not see coming.
Janowicz, being the only seeded player in that grouping, has only been competing at a high level on tour for a little while, but has a very good shot to make the semifinals or even better.
The other players can make the quarters or semis, which is an unusual sight to see, but this only occurred because of all of the early upsets, withdrawals or retirements.
Let's see who can tough it out for the final week of the fortnight.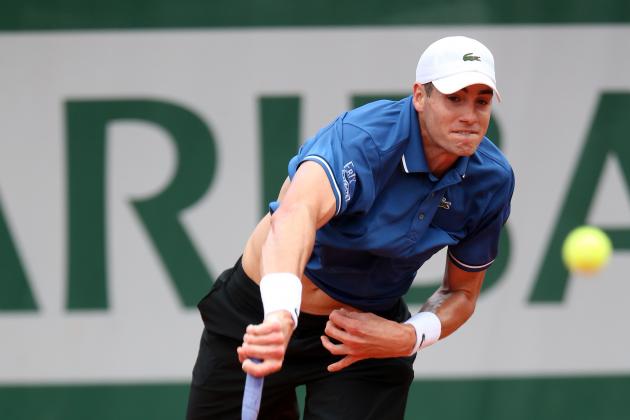 Matthew Stockman/Getty Images

All of the American men lost before the third round, though Tommy Haas, who is a dual citizen of Germany and the U.S., is still in the tournament.
This is an awful sight for the state of American tennis, as there have been high hopes in John Isner, Sam Querrey, Ryan Harrison, Steve Johnson and others.
Every now and then, these guys have a decent run, but those flashes of success are so incredibly inconsistent, and there is no telling how good any of them are actually playing until they win.
Isner may not have much more time or gas left in the tank, so let's hope that the other guys can take his place at the forefront of men's American tennis.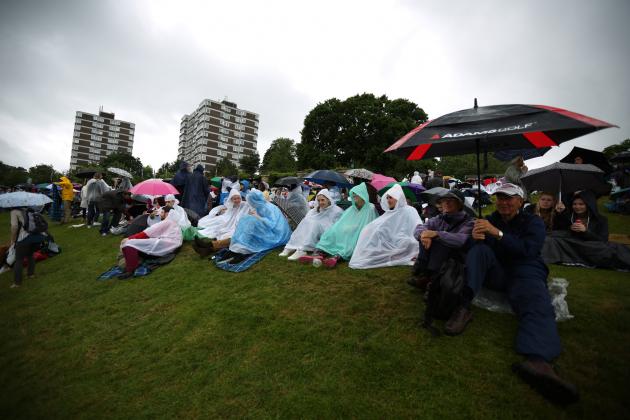 Peter Macdiarmid/Getty Images

The weather only delayed and postponed a few matches on two separate occasions.
Here is a historic look at the SW19 weather in the past.
The roof only closed a couple times, though the crowd sometimes enjoys that tight environment.
Let's see how the conditions hold up this week.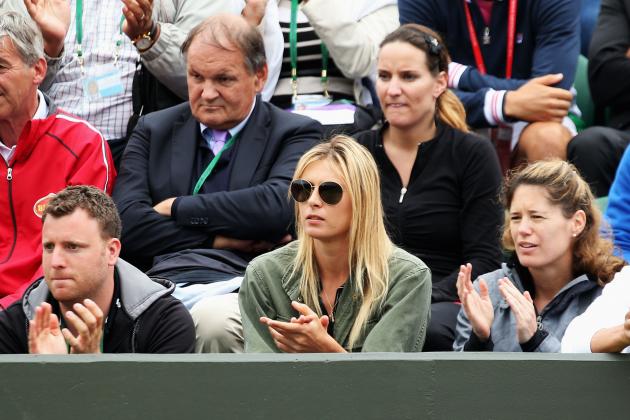 Clive Brunskill/Getty Images
Maria Sharapova watches boyfriend, Grigor Dimitrov, after losing in the second round.
Within a few days after the tournament's start, many seeded players were surprisingly sent packing.
Nearly half of the seeds in one of the draws were out of the tournament prior to the third round. This marked the largest number of upsets in the first four days of play in any Major in the Open Era.
With so many top players and heavy favorites losing, it can be argued that fans who bought second-week tickets overpaid for the experience.
However, there are some happy-feeling records that were birthed at the All England Club.
Laura Robson became the first British woman in 15 years to reach the fourth round (though her opponent did serve for the match against her). Lukasz Kubot and Jerzy Janowicz winning a few days ago marked the first time in history that two Polish players had reached the fourth round of any Slam.
The list goes on, but in just one week (the first week at that) of play, we are all so astonished that we don't know what to expect in the closing week.