5 Biggest Threats to Miami Heat as Free Agency Opens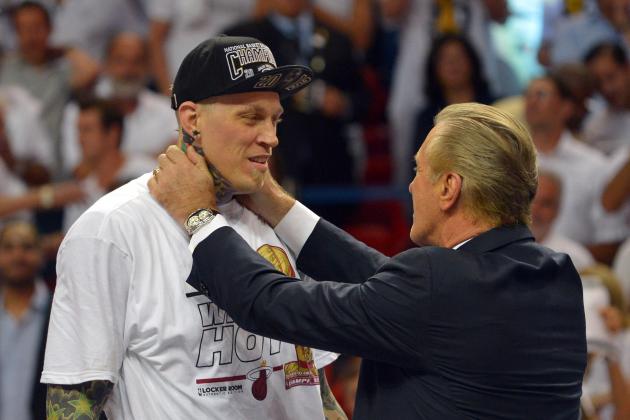 Steve Mitchell-USA TODAY Sports
Pat Riley has made it clear -- he wants Chris Andersen back.
Pat Riley grew up watching Dr. Richard Kimble run.
Lately, that chase from the 60s' television show The Fugitive has resonated with the Miami Heat president:
We're the fugitive, and they're still coming after us. And that motivates the hell out of me. It really does, because I don't want to get caught, not with what we have. And I don't want the players feeling like they can get caught, either. That's why the improvement needs to come from within and we need to be smart about what we're doing.
They do, but they can't do all that much during this free agency period, not while already being over the salary cap and luxury tax limits.
The Heat have already received some good news in Ray Allen's decision to opt for a second season in Miami when the veteran marksman could have held out for a raise or even signed elsewhere.
As free agency opened on July 1, the Heat were poised to push for the return of Chris "Birdman" Andersen, who was signed at midseason and provided a spark on the floor as well as in the locker room.
Andersen will turn 35 on July 7, but Riley believes that Andersen has a couple of more good years in him. The question is whether Andersen, who is still receiving payments from his Denver Nuggets' buyout, will accept the $1.7 million veteran minimum, the $3.2 mini-midlevel exception or seek more loot elsewhere.
Other than that, Miami will kick the tires on a few players, notably former No. 1 overall pick Greg Oden, and see if it can add one more piece for another title run.
And the Heat will watch others chase, hoping they're just chasing their tails, like Lieutenant Gerard chased Kimble.
What, and who, should the Heat be watching most closely? Let's take a look.
All quotes acquired through the author's coverage of the Miami Heat for the Palm Beach Post.
Begin Slideshow

»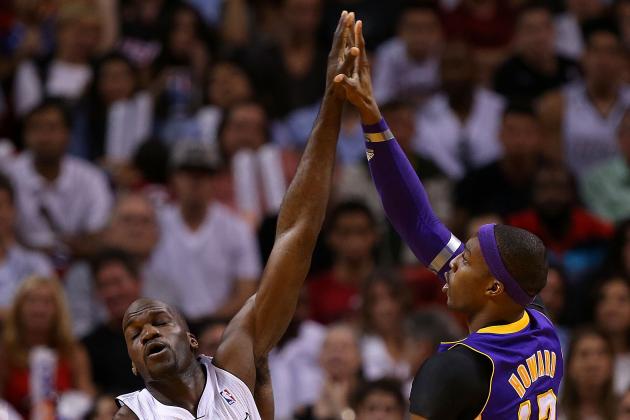 Mike Ehrmann/Getty Images
The Heat would just assume that Dwight Howard stays out of the conference.
The Los Angeles Lakers are posting billboards and signs near, or on, landmarks all over their city.
A Dallas restaurant is offering free chicken fingers for life.
The Houston Rockets are trading off young talent, most recently Thomas Robinson, to clear cap space.
All have an acute interest in Dwight Howard.
The Miami Heat have an interest, too, though they have no chance to acquire him. They would just assume he stay outside their division.
The Heat dealt with that over the first eight seasons of Howard's NBA career when he was a member of the Orlando Magic.
Howard certainly won't be returning there and he's not going to the Washington Wizards or Charlotte (soon-to-be-Hornets) Bobcats either.
Still, he has agreed to a meeting with the Atlanta Hawks. That remains a longshot even if Atlanta is Howard's hometown, and that's just as well.
Howard has averaged 17.0 points and 13.2 rebounds against the Heat and is the ideal counter to the Heat's small-ball strategies.
Will the Hawks win a NBA championship with him next season? Not likely with so much dead space on theor roster. Still, Miami will sleep just a bit better if the big man's out West.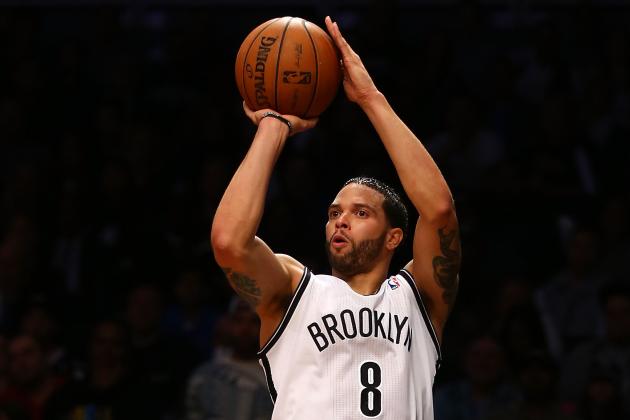 Elsa/Getty Images
Deron Williams has help on the way.
After sweeping the Milwaukee Bucks in the first round of the playoffs, LeBron James and the Miami Heat had to wait a while for the Chicago Bulls and Brooklyn Nets to finish their Eastern Conference tussle.
The Bulls played that series without Derrick Rose, Luol Deng and Kirk Hinrich as Joakim Noah and Taj Gibson both limped around.
The Nets had Game 7 at home and still, James made it clear which team he respected more.
"I expected to play Chicago," James said.
He would, and the Bulls gave the Heat a tough series. The Nets certainly played the Heat tougher in the playoffs than they did during the regular season where the Heat beat the Nets by an average of 21 points in three games.
Next season, though, the Nets will represent a more formidable challenge. Kevin Garnett and Paul Pierce, acquired from the Boston Celtics, aren't nearly what they once were, but James will take neither lightly—not after their battles, some of which the former Cleveland Cavalier, and current Heat, star has lost.
The Heat will also be closely watching how Brooklyn fills out a roster that includes a starting lineup of five former All-Stars, with Brook Lopez making the East team last season.
As free agency opens, the Nets' payroll is heavy and their bench is light beyond Jason Terry, whose most memorable 2012-13 moment was being victimized by a vicious James dunk.
The Nets need some backup size, especially if they don't re-sign Andray Blatche, and they need another shooter with Kyle Korver reported as a possibility. They're also short on athleticism with four of their top six players in their 30s.
Can they do it?
That will determine whether the Heat need to take them seriously.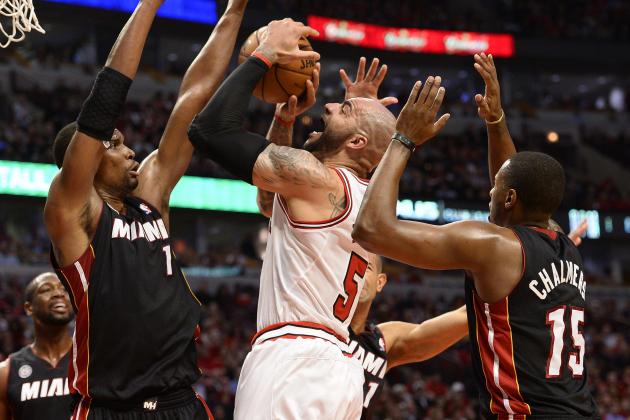 Mike DiNovo-USA TODAY Sports
The Heat bottled up the Bulls in the second round, but Chicago should be tougher next time.
There's no free agent in the NBA, not even Dwight Howard, with the potential for greater impact than the player the Bulls are hoping to finally welcome back.
That's Derrick Rose, who was supposed to return late last season, but instead watched his hobbled teammates proudly beat the Brooklyn Nets before falling to the Miami Heat in five games.
For all the frustration and controversy that came with Rose's reluctance to play, even after getting cleared, some good did come of the Bulls' season.
Joakim Noah took on even more of a leadership role while rounding out his offensive game and Jimmy Butler emerged not merely as a rotation player, but as an indispensable contributor with Tom Thibodeau hardly taking him off the floor. Butler's development should give the Bulls the flexibility to possibly unload Luol Deng for other assets.
If the Bulls keep him, Deng and Butler will form one of the NBA's better defensive tandems on the wings.
But can Chicago recreate its old Bench Mob?
That will be a challenge, considering that the franchise loathes the prospect of paying much luxury tax, along with considering that Marco Belinelli and Nate Robinson are free agents.
Still, the city of Chicago (and a competitive squad) should be attractive to some useful veterans to fill out the rotation.
No matter what, if Rose is even 80 percent of his former self, the Bulls will be better.
The question over the course of the next couple of weeks will be how much Rose is still that player.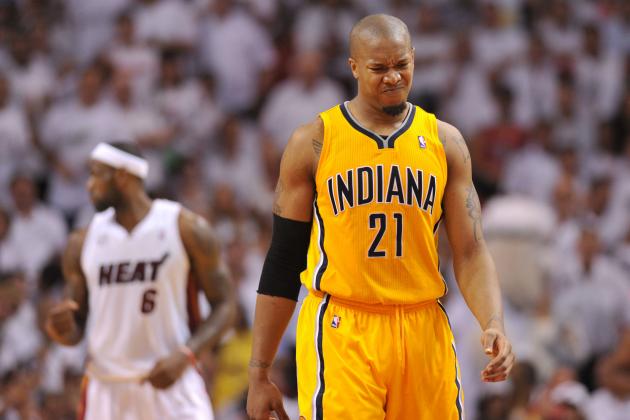 Steve Mitchell-USA TODAY Sports
David West left the Eastern Conference finals unsatisfied, but he may get another shot.
The Indiana Pacers pushed the Miami Heat to seven games this spring, even with $13 million in salary sitting in a suit in Danny Granger.
Granger will make $14 million next season, but at least he'll get to earn it. His addition should remedy Indiana's primary issue when it comes to leapfrogging the Heat to reach the NBA Finals, and that is the absence of competent play off the bench.
Granger's return, coupled with the expected free-agent re-signing of David West, will allow the much-improved Lance Stephenson to slide to being a sixth man off the bench.
That means less of the limited likes of Gerald Green or Sam Young, with Young unsigned at this stage.
The question is whether Indiana can make additional upgrades after adding West's salary, a signing that is likely to push them over the salary cap, but one that is essential for any chance of toppling Miami. The stocky forward averaged 22.7 points on 65.8 percent shooting against Miami in the regular season, and it took half of the Eastern Conference Finals for the Heat to finally slow him down.
The Pacers could use a true playmaking point guard after George Hill's ball-handling limitations were exposed against Miami and D.J. Augustin struggled for much of last season. Jarrett Jack, Beno Udrih and C.J. Watson are all options, though Jack may prove too expensive.
Either way, the Pacers don't need massive roster turnover to stay near the top of the East. They just need Granger, West and someone else to help them cut back on the turnovers.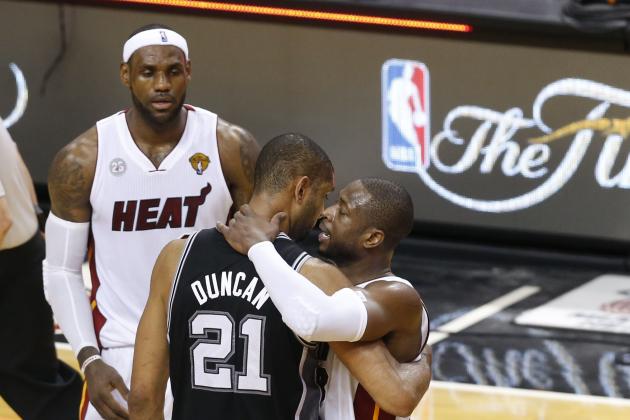 Derick E. Hingle-USA TODAY Sport
The Heat know that the proud Spurs could be in their way again.
You only need to beat one team from the other conference to win the NBA Finals.
That's why it usually makes sense for the Miami Heat to focus more on the teams closest to their corner of the country.
Still, assuming that the Heat will reach the Finals, it's hard for them to ignore all of the shuffling going on in the West.
Miami has played three different teams for the championship the past three postseasons—losing to the Dallas Mavericks, beating the Oklahoma City Thunder fairly comfortably and then squeaking by the San Antonio Spurs.
Two of those three West squads figure to be championship contenders again in 2013-14, even though Dallas has only a remote chance, and only if it convinces Dwight Howard to join Dirk Nowitzki and perhaps a re-signed O.J. Mayo.
What can San Antonio and Oklahoma City do to get better?
Well, first, they need to avoid getting worse.
The Spurs have two key free agents in Tiago Splitter and Manu Ginobili, and even while neither was especially effective in the NBA Finals and Kahwi Leonard appears ready for another step, San Antonio either needs to retain their free-agent duo or replace them with similar quality.
The Thunder can't get James Harden back, and they may lose his fill-in, Kevin Martin. So Russell Westbrook needs to get healthy and GM Sam Presti needs to get creative. Bringing back Kendrick Perkins as his starting center certainly won't scare Miami.
However, it's not just those two teams. The Clippers have added Doc Rivers as coach and still have some chips they can play in Caron Butler's $8 million expiring contract and Eric Bledsoe's potential to balance out their roster.
The Warriors should benefit from their playoff experience. The Rockets are making a run at Howard, one that appeared to have a chance early in free agency. The Grizzlies can ride their formidable frontcourt, provided they don't lose Tony Allen and can add a shooter.
Yes, Miami will only need to beat one of those teams if it reaches the Finals, but if one of those already-strong West teams has a strong July in bolstering its roster, the Heat will not have much fun in trying to win a fourth NBA title next season.