Toronto Maple Leafs 2013 NHL Draft Picks: Grades, Results and Analysis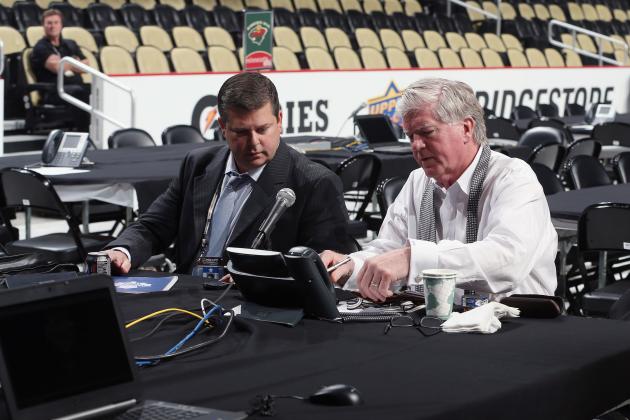 Bruce Bennett/Getty Images
Dave Nonis is at the helm this year for the Toronto Maple Leafs.
The 2013 NHL draft is finally upon us.
Fans from all 30 teams should be excited, as the crop of prospects in this draft class is said to be one of the deepest groups in quite some time.
With the Toronto Maple Leafs holding a pick in each of the seven rounds, Leafs fans will be introduced to a new set of prospects and will see their team fill the farm system with plenty of new, young talent.
Keep it here for updates on the Leafs and the prospects they draft throughout the day.
Begin Slideshow

»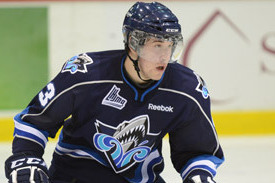 Bruce Bennett/Getty Images
Frederik Gauthier was selected 21st overall by the Toronto Maple Leafs in the 2013 draft.
With the 21st overall selection in the 2013 NHL entry draft, the Toronto Maple Leafs have selected Frederik Gauthier of the Rimouski Oceanic.
As a center, Gauthier fills a need for the Leafs and his size is a major plus—Gauthier is 6'5" and 210 pounds.
Gauthier is also an incredible back-checking center who's defensive game is among the best in this year's draft class for forwards. Per hockeysfuture.com:
He's strong on the cycle, skates well and uses his size to win battles. Though he may never be a top offensive threat, he has too many tools to ignore.
NHL central scout Chris Bordeleau had this to say about Gauthier:
"In 20 years, I've never seen a kid get back and play defense like he does." @NHLCentralScout Chris Bordeleau on Frederik Gauthier #NHLDraft

— NHL (@NHL) June 30, 2013
As a player that some had going around the 21st overall pick, Gauthier is a safe pick from GM Dave Nonis.
With a player like Hunter Shinkaruk still on the board, though, this pick can be considered somewhat of a disappointment.
However, Leafs fans should look to the future and understand what Dave Nonis is trying to build. With Kadri on his way to becoming a first-line center, Joe Colborne blossoming into a potential top-six forward, Gauthier could fit in well as a solid two-way third-line center.
Using first-round pick to draft third liners isn't usually smart, Gauthier is a terrific fit for Toronto and would have been long gone by the time the Leafs picked again.
Grade: B+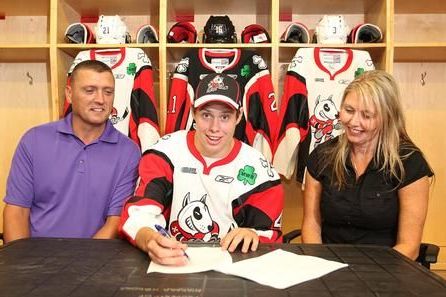 Harry How/Getty Images
Photo Credit: St. Catharines Standard
After trading for Chicago Blackhawks forward Dave Bolland, the Leafs found themselves waiting for the third round to arrive before making their second selection of the day.
With the 82nd overall pick, the Leafs elected to draft center Carter Verhaeghe of the OHL's Niagara Ice Dogs.
In his second season with his major junior hockey club, Verhaeghe tallied 44 points in 67 games for Niagara.
Verhaeghe was also part of Team Canada's under-18 squad this year.
According to a report by the St. Catharines Standard, Verhaeghe climbed 20 spots in the NHL central scouting rankings this season, and is still physically maturing, leaving much room for growth.
As a third-round pick, Verhaeghe is still a project, but does show some promise. Adding another center is always a plus for Toronto as well.
Grade: B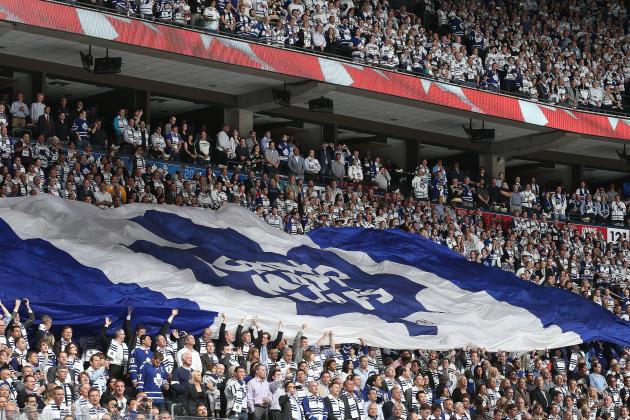 Claus Andersen/Getty Images

Toronto's third selection of the night, with the 142nd overall pick was right winger Fabrice Herzog, out of Switzerland.
This past season, Herzog played for the club Zug's under-20 youth squad, registering 45 points in 32 games.
That kind of play earned him the opportunity to join Zug's professional club, where he was able to accumulate four points in 20 games.
Herzog was also part of Switzerland's under-19 hockey club, tallying two points in seven games for his international club.
As a Swiss junior player, Herzog is relatively unknown.
The fact that Herzog was promoted from his junior team to a professional squad and represented his country internationally though is fairly encouraging sign.
The fifth round is the right time to take a flier on a guy like Herzog.
Grade: A for taking a risk on an up-and-coming international player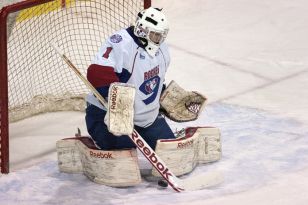 Photo Credit: Guardian photo by Brian McInnis
With the 172nd overall pick of the 2013 NHL entry draft, the Leafs went with goaltender Antoine Bibeau of the Prince Edward Island Rocket, who play in the QMJHL.
Bibeau posted an average goals against average of 2.81 and registered a save percentage of .911.
The Victoriaville, Quebec native will join Jussi Rynnas, Garret Sparks and Mark Owuya as a Leafs goaltending prospect.
Going out and drafting a goaltender to bolster your organizational depth in the crease is a wise move in the sixth round.
As a goalie who posted fairly respectable numbers this past year, there is the chance that Bibeau could emerge as a fairly valuable asset in the next few years.
Grade: B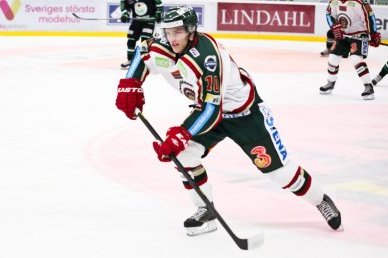 Photo Credit: frolundaindians.com
With their final pick of the night, the Leafs opted to select another European skater, Andreas Johnson.
Not to be confused with the Swedish musical artist, the 18-year-old winger is considered to have solid offensive abilities and great hands. Per eliteprospects.com:
A fast-skating winger with very good hands and vision. Johnson can set plays up as well as take the shot himself. Plays with lots of energy. Very nifty stickhandler.
As a player that wasn't even listed on NHL central scouting's midterm rankings for international players, Johnson skyrocketed to 33rd in the final listings after having a very successful season with Frolunda's junior team in which he put up 54 points in 42 games.
Johnson is currently signed to play Frolunda for the next two seasons and is likely to be another project kind of pick.
In the seventh round, those kinds of gambles are encouraged.
After all, the Leafs have had success drafting Swedes in the seventh round of the draft.
Grade: A