3 Reasons Fighters and Fans Think Chris Weidman Will Topple Anderson Silva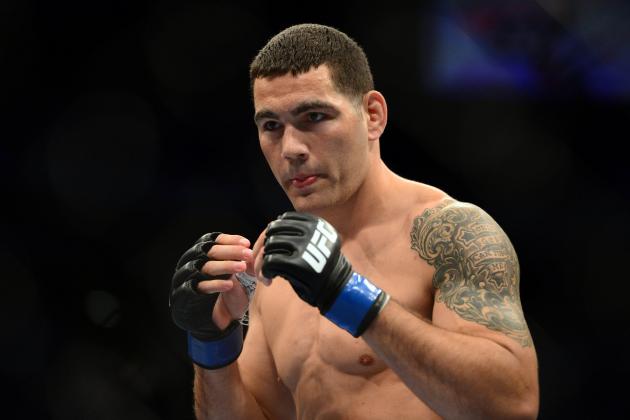 Kyle Terada-USA TODAY Sports

He's got plenty of fan support, but having the backing from some of the brightest minds in MMA has truly made Chris Weidman an enticing pick to dethrone middleweight champ Anderson Silva at UFC 162.
The company's greatest welterweight, Georges St-Pierre, along with former UFC great Kenny Florian, each contend that Weidman poses stylistic issues that will lead to the demise of the longtime pound-for-pound king.
But St-Pierre and Florian certainly aren't alone in making shocking predictions about the Weidman vs. Silva bout.
In a pre-fight media event for UFC 162, company president Dana White sounded off on the scenario by saying:
All the pros, like when you talk to all the fighters, every fighter out there that I've talked to and that we've interviewed think Weidman's going to beat him. Georges St-Pierre thinks he's going to win so much that he didn't even want to plan to fight Anderson.
It may seem far-fetched to some, but here are three reasons fighters and fans believe that Weidman can pull off the unthinkable and upset the greatest mixed martial artist of all time at UFC 162.
Begin Slideshow

»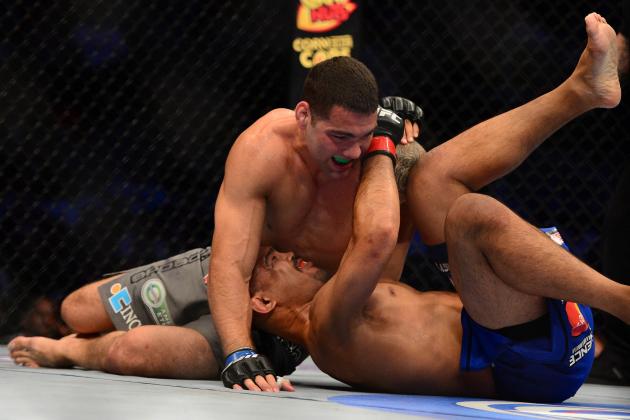 Kyle Terada-USA TODAY Sports

Albeit, Silva has bested top-flight grapplers like Demian Maia, Thales Leites, Chael Sonnen and Dan Henderson. But none of his previous victims possessed the rare mixture of elite wrestling and Brazilian jiu-jitsu that Weidman has.
Weidman, a two-time NCAA Division I wrestling All-American, will represent just the third D-I wrestler Silva has faced in his career (Sonnen and Henderson being the others). And akin to Sonnen, who thumped Silva for the better part of five rounds in their first encounter at UFC 117, Weidman specializes in top-position control.
But unlike Sonnen, Weidman will bring a surgical submission game to the table, one that thrives mostly in the top position where chokes are most readily available.
Weidman explained how his game plan will differ from Sonnen's during a media conference call for UFC 162 by saying:
The obvious answer is the takedowns and trying to expose him with the wrestling. But we're totally different fighters. I believed I could beat him before that fight (UFC 117), but (Silva) stays relaxed and if you're tense and he's relaxed, eventually he's going to be able to get off what he wants. So I think the main thing I learned from that is that I thought Chael was a little bit too uptight and tense when he got the takedown, and I think it paid off for Anderson to stay relaxed the entire fight because he was able to have the energy to knock that out in the fifth round. And all props to Anderson on that.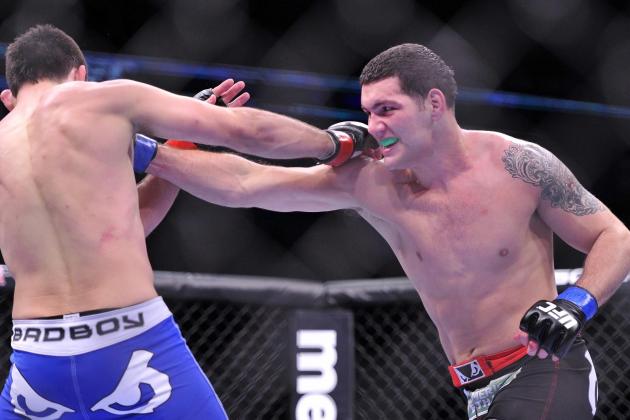 Mike Dinovo-USA TODAY Sports

Of the 14 opponents he's locked horns with in the UFC, only Stephan Bonnar (80 inches) and Thales Leites (78) enjoyed an edge in the reach department over Silva (77.6).
Weidman will need every bit of his 78-inch reach to survive Silva's venomous striking assaults. And if he plans on planting Silva on his back, Weidman will need to effectively close the distance with punches and kicks.
A pressure-heavy fighter who thrives in grappling scrambles, Weidman will look to move forward and use quick combinations to induce clinches with The Spider.
During a pre-fight interview for UFC 162, Weidman briefly described his strategy for the equally rangy Silva by saying:
I'm a pressure-based fighter. I'm going to be walking forward (and) I'm going to be using my length (and) mixing up between my takedowns and punches. I'm not going to be going backwards too much.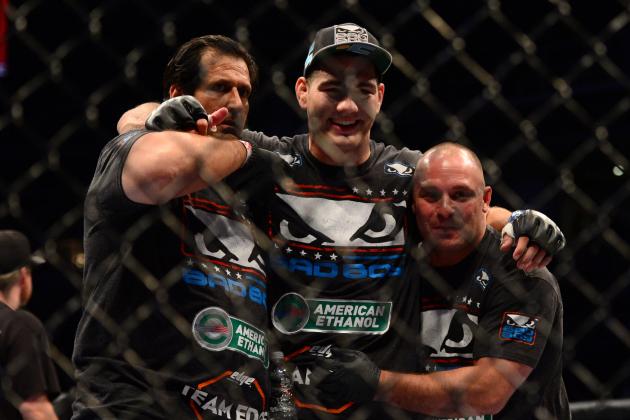 Kyle Terada-USA TODAY Sports

At 29 years old, Weidman will enter the most significant fight of his career in his athletic prime. Silva, on the contrary, just turned 38 and represents the third oldest fighter in the UFC's middleweight division.
While Silva has looked virtually untouchable since joining the UFC—and has beaten younger men in nine of his last 10 fights—he's yet to face a young athletic virtuoso the quality of Weidman.
In fact, in Silva's last six bouts, each of his opponents have been over the age of 30. Bonnar, Sonnen and Vitor Belfort are each currently 36, while Maia is 35 and Yushin Okami will to turn 32 in July.
The natural talents that make The Spider so special—his cat-like quickness, his ability to avert danger on a dime and his propensity for delivering devastatingly accurate strikes—still exist, but have surely began to decline.