For the second time in as many matches, Italy went to penalties to decide their Confederations Cup match. Fortunately for the Italian side, the result was much different than their loss to Spain on Thursday.
Following a 2-2 tie and two scoreless extra-time periods, Italy bested Uruguay 3-2 in penalties to notch the third-place finish in the 2013 Confederations Cup.
Italy controlled the tempo for much of the early going of the match, and they capitalized in the 24th minute with a tremendous opportunity aided by some poor defense on Uruguay's behalf, as noted by FootballItalia:
GOAL! Uruguay 0-1 Italy: Diamanti free kick hits the post, then the back of Muslera's head and eventually Astori toe-poked it in! #URUITA

— footballitalia (@footballitalia) June 30, 2013
It was a bad break for Fernando Muslera, but Uruguay's defense was partially to blame for the error. After Alessandro Diamanti's attempt caromed off the post, Uruguay gave little effort to clear the ball, giving Davide Astori an easy attempt to give Italy a 1-0 lead.
Uruguay saw their share of chances in the first half, though, and nearly returned the favor in the 31st minute on a Diego Forlan free kick headed in past Gianluigi Buffon. Uruguay were deemed offsides on the attempt, however, and the score would remain 1-0 with halftime approaching.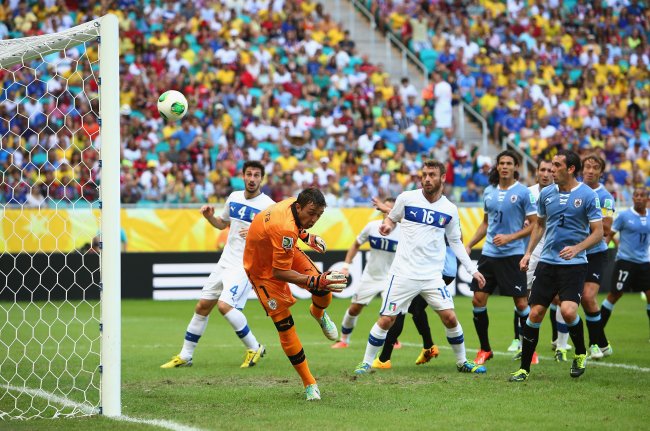 Miguel Tovar/Getty Images
Uruguay boast an impressive attack featuring some tremendous strikers, but they settled for long-range attempts far too often in the first half. If the Uruguayan side were to even the score and gain some momentum in the second frame, they would need Edinson Cavani and Luis Suarez to open up the attack with some chances inside the box.
But for all the talk of Uruguay's missed opportunities in the first 45, they played an incredibly even match against the Italians in the early going. If not for an unfortunate miscue in the 24th minute, the match would have likely remained tied at the half.
Diamanti was officially credited with the first-half goal—despite some debate—but as Fox Soccer Trax pointed it, there was no reason to believe that would be the defining moment of the match:
HT Uruguay 0 Italy 1. Some debate about who actually scored, but no doubt it's been an open, entertaining first half

— FOX Soccer Trax (@FOXSoccerTrax) June 30, 2013
Halftime Stats
| | | |
| --- | --- | --- |
| Italy | | Uruguay |
| 1 | Goals | 0 |
| 11 | Shots | 9 |
| 4 | On Target | 6 |
| 65% | Possession | 35% |
David Swan of Football Italia may have provided the best summary of the first half with this succinct tweet, however:
Italy have been decent. Uruguay aren't testing their physical condition though - allowing Italy to play at their own (slow) tempo

— David Swan (@DavidLSwan) June 30, 2013
Italy played well, but Uruguay didn't exactly control the tempo. The Uruguayan side would be forced to pick up the pace in the second half or risk watching the match slowly slip away.
The second half started much as the first 45 left off. Both sides came out with some aggression, but neither team could establish much momentum. For Uruguay, that lack of attacking control resulted in noticeable tension as the minutes bled off the clock.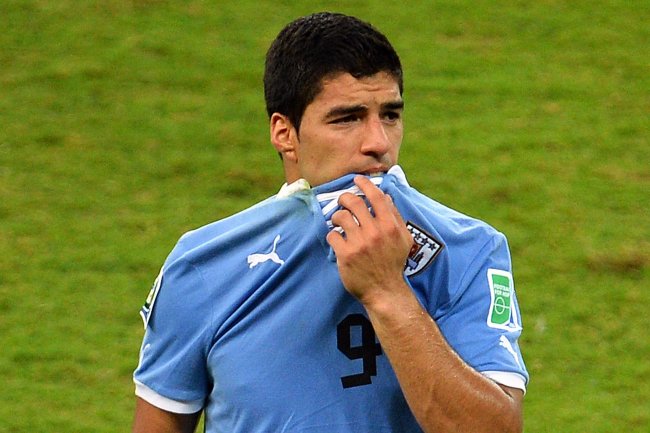 Laurence Griffiths/Getty Images
In the 56th minute, Uruguay had a terrific opportunity for an equalizer when Giorgio Chiellini received a yellow card, but Suarez's free kick headed directly into the wall of defenders for an easy clearance on the part of the Italian side.
That mistake wouldn't come back to haunt Uruguay, however.
As noted by Goal.com, Buffon thinks goaltending is extremely difficult:
Buffon: Being a keeper in Italy is the hardest thing in the world http://t.co/GYwfwHVmkS #Italy #Football

— Goal.com Ghana (@goal_ghana) June 30, 2013
Against a powerful Uruguayan attack, it's nearly impossible for a full 90 minutes. Cavani drove that point home in the 58th minute, as detailed by Fox Soccer Trax:
Lovely quick break after Italy lose it on the halfway line, Cavani takes a fine pass and first-times it past Buffon from left side

— FOX Soccer Trax (@FOXSoccerTrax) June 30, 2013
It was a fast-paced break for Uruguay, who took full advantage of a sloppy Italy counter-attack defense. Cavani took a pass from the middle of the attack, opened his body to the net and slid a low right-footed finish past a diving Buffon to even the score at 1-1.
With less than 30 minutes to play, Uruguay seemed to find the momentum they needed to sustain a second-half push. As well as the Italian side defended in the first half, they struggled to maintain possession in the closing minutes, seemingly caught off guard by a surging Uruguay offense.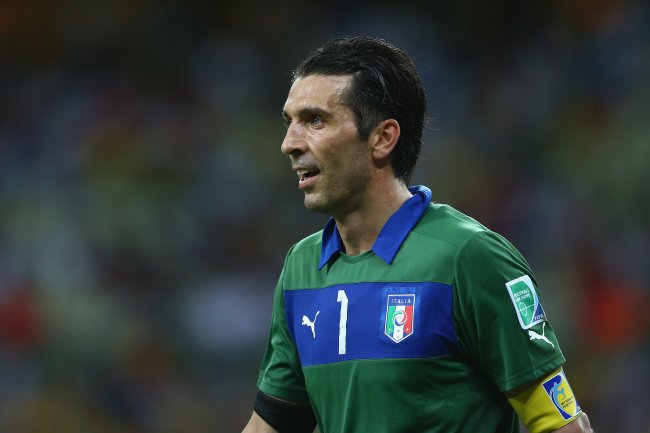 Clive Mason/Getty Images
In the 67th minute, Uruguay nearly capitalized on two tremendous Forlan attempts from close range. The striker took to the inside with a stinging attempt aimed at Buffon and then found himself with a direct rebound and another attempt.
InstaAzzurri summed up the result with this emphatic tweet:
WHAT A DOUBLE SAVE FROM BUFFON!!!!!!! #ITAURU

— InstaAzzurri (@instaazzurri) June 30, 2013
Even at 35, Buffon played at an extremely high level in the contest. He wasn't in top form during the group stage, but there's no questioning his impact in the final two matches of the tournament. If not for his tremendous efforts, Italy may have found themselves at a serious disadvantage in the final minutes of the third-place showdown.
Instead, the Italian side used that momentum to take the lead in the 73rd minute.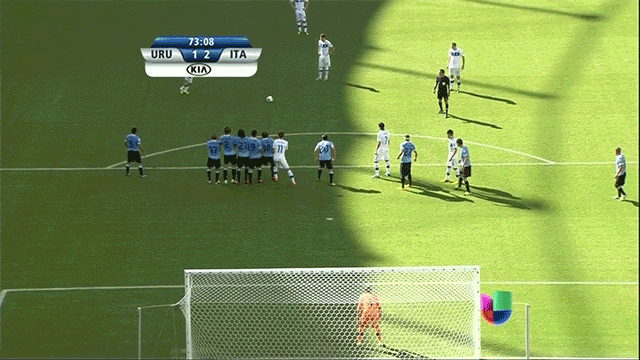 Following a Uruguay penalty on Stephan El Shaarawy, Diamanti stepped up with a free kick for a chance to assume the lead, placing a perfect left foot over the wall of defenders and into the right wall of the net past a diving Muslera.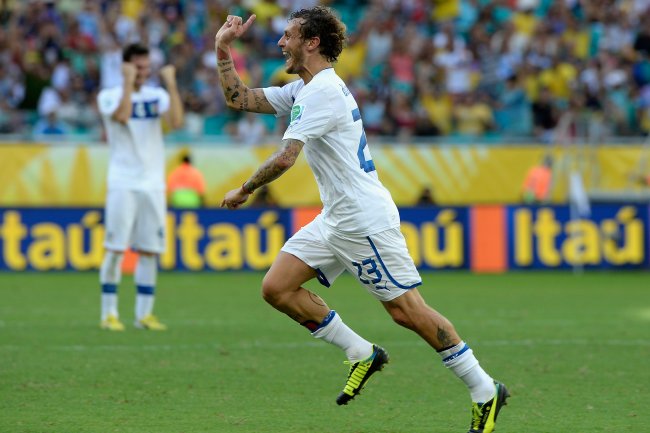 Claudio Villa/Getty Images
Despite a serious uptick in momentum for Uruguay, Italy were the side to capitalize on their opportunities, aided by some phenomenal defensive play. With less than 20 minutes to play, it seemed Uruguay would face an uphill battle to notch an equalizer.
Cavani didn't waste much time doing just that.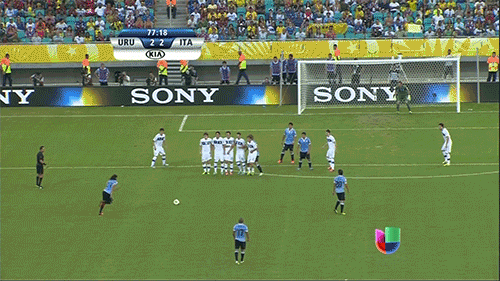 In the 78th minute, the Napoli striker had his own opportunity for a free kick and slotted a perfect high ball over the head of Buffon, as noted by ESPN FC:
GOAL! Cavani again and with some magic of his own from a free kick, beating Buffon from 20+ yards. URU 2, ITA 2. http://t.co/Xw58kVsBGi

— ESPN FC (@ESPNFC) June 30, 2013
The Confederations Cup third-place match started off as a slow, one-sided affair, but it ended as a match worth watching, despite its relative unimportance. For fans hoping to see either side in the final, the match supported the belief that both teams are good enough to have held their own in a championship clash.
The final minutes would wind down without another goal, forcing yet another extra-time contest for the Italian side. After going to penalties Thursday against Spain, it appeared Italy would be worn thin in their pursuit of a victory Sunday afternoon.
As a result, neither side were able to get much going in either extra-time period. Italy and Uruguay both saw their share of one-time chances, but both teams looked worn down and unable to coordinate an aggressive attack.
Uruguay caught a break in the second extra-time period as Riccardo Montolivo brought down Suarez for his second yellow card of the game, resulting in a one-man advantage for the final 10 minutes. For an Italian side already playing timidly in the defensive third, the Uruguayan side had a tremendous opportunity to notch a crucial goal before the end of extra time.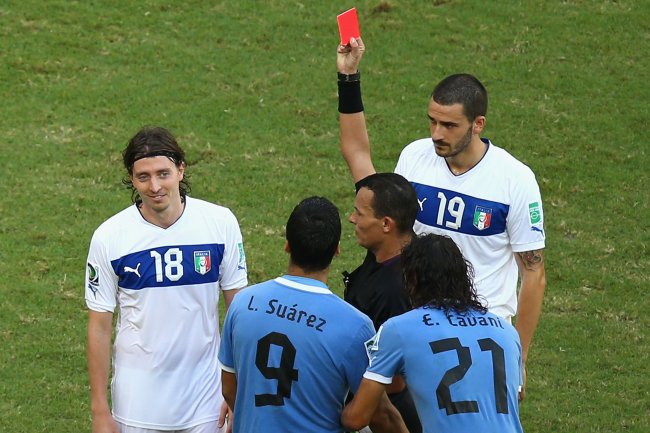 Robert Cianflone/Getty Images
Cavani and Forlan each had an opportunity just before the end of extra time, but neither chance found the net past Buffon. For the second consecutive match, Italy would head to a penalty shootout.
As was the case throughout the match, Buffon stepped up big when his team needed him most, boosting the Italian side to a 3-2 penalties victory. Uruguay had their opportunities, but the masterful keeper did his job in saving two critical kicks as Italy celebrated a third-place finish.
While the match started slow, the finish was worth waiting for. Both sides played aggressive, exciting football that ended in thrilling fashion. Despite the loss, Uruguay have plenty to feel good about.