There are only a few more hours until the 2013 NHL draft gets underway, and the rumor mill is really starting to heat up.
Questions surrounding Colorado's plan for the No. 1 pick are still being widely speculated on, and that's not the only thing potentially available on draft day. As you'll soon see, there are a couple of valuable picks and players that could be on the move before the draft commences.
The rumors are going to continue to fly in throughout the day, but here are a few to get you started. Below is everything you need to know about what could go down on Sunday afternoon, with notes and analysis on each potential rumor.
Will Colorado Keep No. 1?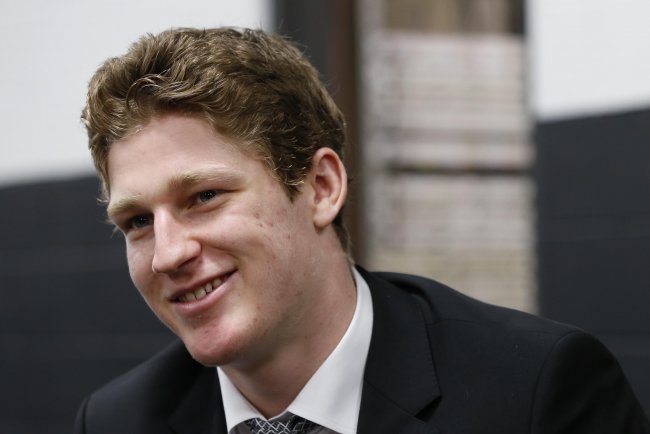 Greg M. Cooper-USA TODAY Sports
The Colorado Avalanche won the NHL draft lottery and, at this moment, hold the No. 1 pick. Whether Colorado decides to keep the first overall selection or trade it is still up in the air. Adrian Dater of the Denver Post reports that he's been hearing some noise about the pick getting dealt:
Starting to hear a little chatter from a few people that first pick may be in play for trade. Buckle up, could be a wild day

— adater (@adater) June 29, 2013
There has been a ton of speculation as to who Colorado might select with the No. 1 pick, should the organization hang on to it. New head coach Patrick Roy told Craig Custance of ESPN a few days ago that the pick would be forward Nathan MacKinnon if the team had to make the decision then and there.
Bruce Bennett/Getty Images
Defenseman Seth Jones, arguably the top prospect in this year's class, seems to be the third option for the Avalanche. There's still a chance that Jones lands where he grew up with Colorado, but that doesn't seem likely right now. Colorado needs forwards and defensemen, but MacKinnon is the better choice.
Bruce Garrioch of the Ottawa Sun reports that Colorado will likely keep the pick:
The general feeling is the Avs will keep their No. 1 pick because nobody is willing to pay the asking price. #NHLDraft

— Bruce Garrioch (@SunGarrioch) June 30, 2013
Unless Colorado gets absolutely blown away with an offer sometime in the next few hours, it must hang on to the No. 1 pick. While the top four prospects are all franchise-changers, adding MacKinnon will solidify Colorado's young but talented offense. There's no question that MacKinnon will shine with the Avalanche.
Canes Getting Offers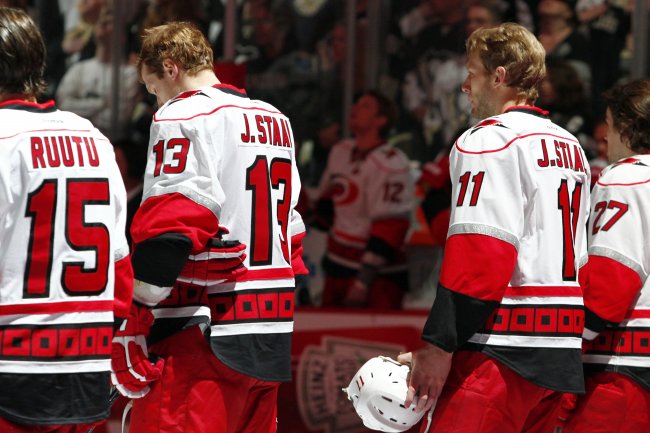 Justin K. Aller/Getty Images
There are several teams who have been calling Carolina with hopes of trading for the No. 5 overall pick in the draft, according to Darren Dreger of TSN. The Hurricanes are expected to make a decision right before Colorado goes on the clock with the first pick, per Dreger.
Carolina has 3 offers for the 5th pick and expects to have 5 or 6 trade options to consider. Decision likely just before first selection.

— Darren Dreger (@DarrenDreger) June 30, 2013
Nick Kypreos of Sportsnet reports that the Sabres are one of the teams interested in making a deal, but it will cost Buffalo a defenseman.
One of #Canes many offers to trade down for #5th pick comes from #Sabres at 8th. Swap would cost Sabres one of their D man. Myers?

— Nick Kypreos (@RealKyper) June 30, 2013
The Sabres currently hold the eighth pick in the draft, and while Buffalo may think that moving up a few slots will be beneficial, it still won't land them one of the top four prospects. There's a chance that one slides to No. 5, but a slim one. Potentially giving up Tyler Myers doesn't sound like a good idea considering the situation.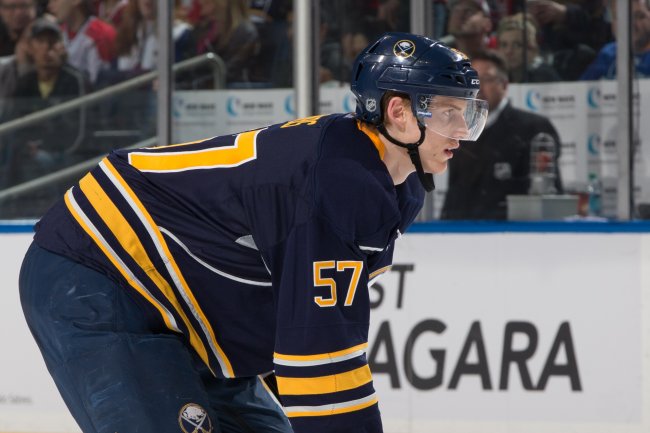 Rick Denham/Getty Images
While the Canucks may be another team interested in moving up—Vancouver has the No. 24 pick in the first round—ESPN's Pierre LeBrun reports that Carolina doesn't have interest in Alex Edler:
While Carolina covets a top-4 blue-liner, am told the Canes are not interested in Alex Edler

— Pierre LeBrun (@Real_ESPNLeBrun) June 30, 2013
Carolina is wise not to want Edler. That would be a foolish move to deal the No. 5 pick in exchange for Edler—especially if there wasn't more attached to the deal going the Canes' way. The No. 5 pick is much too valuable to fork over in exchange for a player who only tallies a point once in every two-plus games.
Vezina Winner Getting Dealt?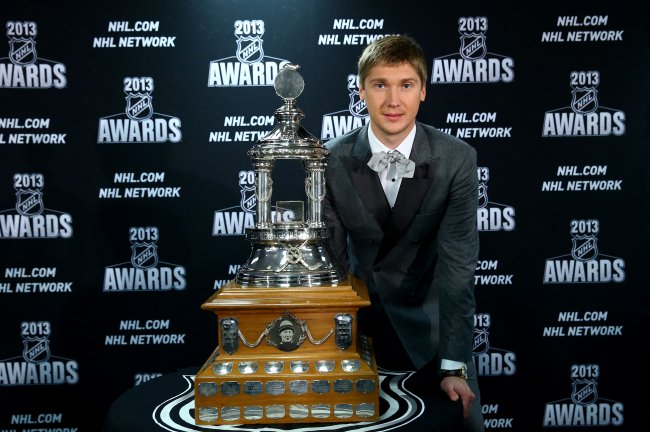 Bruce Bennett/Getty Images
Sergei Bobrovsky is currently a restricted free agent for the Blue Jackets, and while he's one of the top goalies in the league, Columbus might end up dealing him, according to Dreger:
Bobrovsky being offered to teams by the Blue Jackets. Told he wants $6 mil per. Columbus in market for a goalie.

— Darren Dreger (@DarrenDreger) June 30, 2013
A deal that includes Bobrovsky would really shake things up among the league. For those who don't know, Bobrovsky recently took home the Vezina Trophy, which is given to the top goaltender in the NHL. Throughout the year, he went 21-11-6 with a .932 save percentage and a 2.00 goals-against average.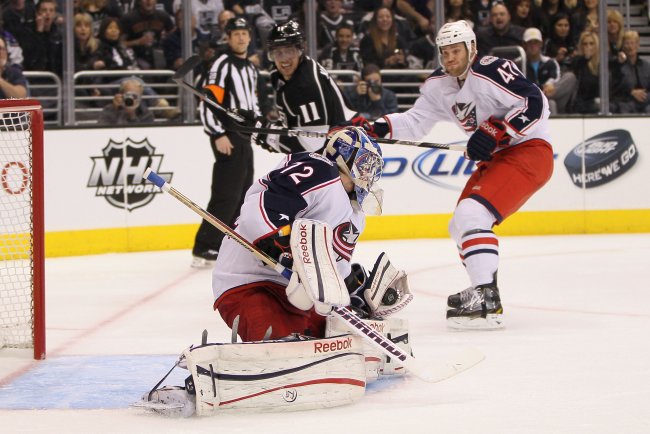 Victor Decolongon/Getty Images
Vezina Trophy winners don't just get traded every day. This is a prime opportunity for a team with a great draft pick to acquire a top-notch goalie. It's not completely crazy that Bobrovsky wants to get paid like a great goalie, too. He still wouldn't be the highest-paid player on Columbus—that's Marian Gaborik.
Even if Bobrovsky gets a deal that would pay him $6 million next season, he still wouldn't be in the top five among other goalies in the NHL, according to CapGeek.com. In fact, he'd be the seventh-highest-paid netminder. None of the players ahead of him have won the Vezina. Someone needs to jump on this quickly.