Boxing Stock Watch: Who's Rising and Who's Falling This Summer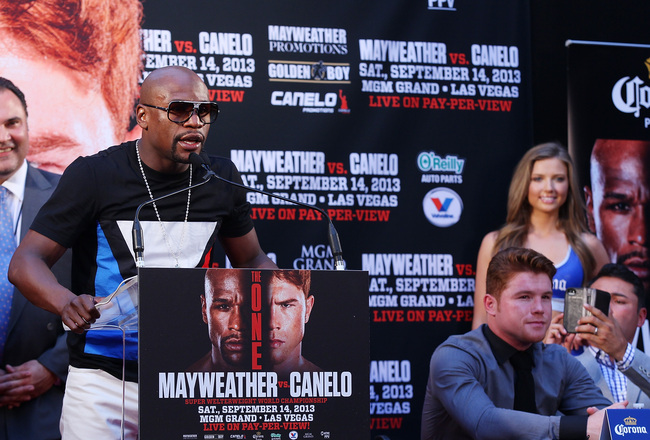 Mike Stobe/Getty Images
The year is over halfway done, and the hot months of summer are upon us. Expect the sport of boxing, which has been red hot all year, to continue heating up, as well.
While there are not a a lot of major fights scheduled for the summer months, July and August, the major bouts of the fall will be hyped, and more major showdowns will be signed and added to the fall schedule.
The action in boxing will slow down somewhat, but the interest in the sport will continue to rise with the temperatures.
Rising: Sergey Kovalev
In Montreal last month, Adonis Stevenson scored what will almost surely be the 2013 Knockout of the Year, when he floored light heavyweight champion Chad Dawson with a single punch in the first round, capturing the lineal 175-pound title in the process.
Still, in my mind, the true emerging star at 175 is Russian native and Florida resident Sergey Kovalev. He has Stevenson's heavy hands, but far more boxing skill. I've begun to think of him as a light heavyweight version of Gennady Golovkin.
His Round 3 TKO of Gabriel Campillo last January was an eye-opener for all serious boxing fans. Campillo is a former world title holder, and many felt he deserved to beat Tavoris Cloud in his split-decision loss to him last year. He is clearly among the top 175-pound boxers in the world.
But Kovalev steamrolled him. He followed up with another Round 3 TKO over highly regarded prospect Cornelius White in June.
Next up for Kovalev is a trip to Wales in August, to face undefeated Nathan Cleverly for the WBO title, on the Welshman's home turf. Cleverly is a skilled fighter, who throws a lot of punches.
But I don't see him having anywhere near enough power to keep the Russian contender at bay. By fall, I expect Kovalev to be wearing a world title around his waist and to be the light heavyweight fighter everybody is interested in seeing fight again.
Falling: Tyson Fury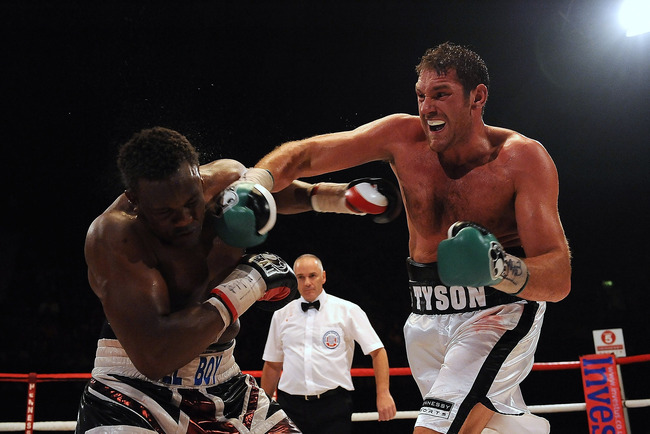 Christopher Lee/Getty Images
I've never believed in Fury as a legitimate heavyweight contender, but I have to admit he has surprised me in the past, particularly last December, when I thought Kevin Johnson would hand him his first loss. For a guy who is nearly seven-feet tall, he moves very well.
At this point, it seems likely that Fury's next opponents will be former cruiserweight champion and heavyweight challenger David Haye. But that showdown has devolved into a kind of heavyweight version of Floyd Mayweather and Manny Pacquiao, with unending debate over contract minutia most fans don't understand and aren't interested in.
Meanwhile, the trash-talk between the two Brits has been relentless.
Fury has a habit of selling woof tickets. He has, on multiple occasions now, trash-talked UFC heavyweight champion Cain Velasquez, claiming he could beat the former All-American wrestler under UFC rules. To anybody at all knowledgeable about both sports, these outbursts have made Fury a laughingstock.
Being a big talker is a sure way to get ahead in the fight games, but there are limits on it. For one thing, eventually you do have to fight somebody significant. If the Haye fight never comes to pass, Fury's stock will take a major hit as a result.
And if it does happen, I think Haye will knock him out. Fury's Round 7 stoppage of former cruiserweight Steve Cunningham last April was hardly impressive. He was dropped in the second and looked clumsy and awkward for much of the fight, before finally catching up to the much smaller man.
Haye doesn't hit like a blown-up cruiser, but rather like a solid heavyweight.
Rising: Magomed Abdusalamov
While David Haye and Tyson Fury bicker about the details of a contract to fight each other, undefeated heavyweight contender Magomed Abdusalamov has put a much simpler deal on the table.
As reported by BoxingNews.com.ua, the WBC No. 4-ranked contender has offered 80 percent of the purse to any of the three men ranked directly below him by the WBC, if they will agree to fight him.
That's Haye, Fury and American Seth Mitchell. Abdusalamov is so confident he can beat any of the three that he's essentially willing to fight them for minimum wage, just to add their scalps to his resume.
This is the kind of self-confidence that wins fans. I'm unaware of a single insulting comment ever issued by the Russian native. He's simply announced that he believes he is the future of the division and is willing to take short money today, since it's only a matter of time before he reaches the top.
There's no doubt that Abdusalamov is among the sport's most exciting punchers. He has won all 18 of his professional fights by stoppage, and none of them have gone past five. Nobody's standing in line, hoping to fight this guy.
Mago's already got the perfect style to build a massive fanbase. This kind of bold offer to force his name into the conversation was a great next step.
Rising: Gennady Golovkin
In light of his Round 3, body-punch KO of Matthew Macklin last night, anybody who was still withholding judgment on Gennady Golovkin can now feel free to go all in on the WBA middleweight champion.
While it's still way too early to start throwing his name around in conversations about Hall of Famers like Marvin Hagler and Carlos Monzon, after the way he took Macklin apart, there should no longer be any doubt that the Kazakhstan native is currently the man at 160 pounds.
It's not clear to me who is even a worthy opponent for him at this point. The rugged, oversized Julio Cesar Chavez Jr. would likely have the best chance of any top middleweight of withstanding his barrage, but GGG is the far better technical boxer.
Golovkin is a very average-sized middleweight. When I covered his U.S. Debut in September of last year, he told us in the press conference afterward that he could easily make 154. So maybe a fight with Saul Alvarez will be a possibility at some point.
But more than likely, Golovkin will end up moving up in weight. Expect Golovkin and Andre Ward to be a major fight people are talking about by this time next year.
Falling: Lamont Peterson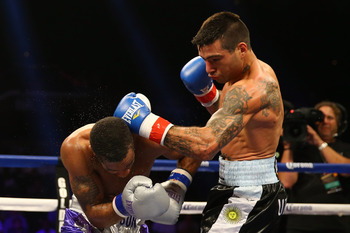 Al Bello/Getty Images
The 140- and 147-pound divisions are the two most talent-laden in the sport. It's easy to get lost in the shuffle there—especially when you go down against a fellow star by Round 3 TKO, like Lamont Peterson did against Lucas Matthysse last May.
So don't expect to hear Peterson's name mentioned in any of the talk about potential big fights this summer.
Peterson entered his showdown against Matthysse already needing to do something big. He had tested positive for PEDs following his December 2011 split-decision victory over Amir Khan, causing his stock to take a major fall.
His performance against Matthysse merely sent him tumbling further.
It's a shame, in a sense, because Peterson truly is a great boxing story. He and his older brother Anthony were homeless as children and were very much saved by the culture of the boxing gym.
There is a strong chance Peterson might end up in a rematch with Khan later this year. But I had Khan winning the first fight, even with the two points he lost for shoving, and would pick him to win again.
Rising: Lucas Matthysse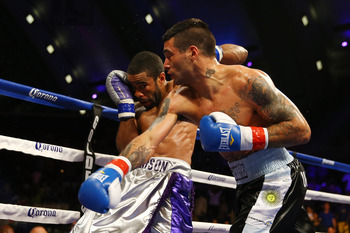 Al Bello/Getty Images
Lucas Matthysse was already one of the hottest fighters in the sport, heading into his showdown with Lamont Peterson last May. After pounding down the world-title holder in a mere three rounds, his stock is rising with a bullet.
Matthysse sports a 34-2 record with an amazing 32 knockouts. His only two losses came by split decision, to Zab Judah and Devon Alexander, and both of those decisions have been widely criticized. Many fans still regard Matthysse as an undefeated fighter.
He also knocked both Judah and Alexander down. He has dropped every man who has ever faced him in a professional ring.
Peterson is a notorious slow starter, so it's possible to make a little bit too much out of Matthysse's destruction of him.
But when he has been knocked down in early rounds against fighters like Victor Ortiz and Amir Khan, it always looked like a matter of Peterson trying to establish his rhythm and balance. And in both of those fights, he came back to acquit himself well.
When Matthysse started to catch Peterson early, it was obvious he was rocking him badly. And Peterson never had a prayer of recovering.
Matthysse will be mentioned in nearly every conversation that fans have this summer about the fights that they want to see.
Rising: Mikey Garcia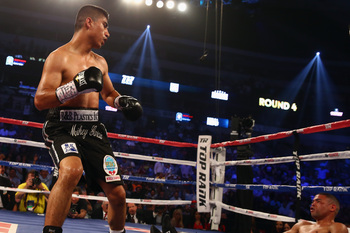 Tom Pennington/Getty Images
Mikey Garcia's Round 4 TKO of Juan Manuel Lopez on June 15 was no surprise to me—or most other writers and serious fans. And the accomplishment is slightly diminished by the fact that Garcia failed to make weight and lost his WBO featherweight title on the scales.
But it was primarily another vivid demonstration that Garcia is among the most technically skilled young champions in the sport. And Garcia uses that skill to set up finishes. He is a patient, yet ruthless, fighter when he realizes that he has his opponent in trouble.
The 130- and 135-pound divisions are both pretty wide-open at the moment. Everything is set up perfectly for Garcia to be the man to step up and be the superstar at super featherweight or lightweight.
Falling: Adrien Broner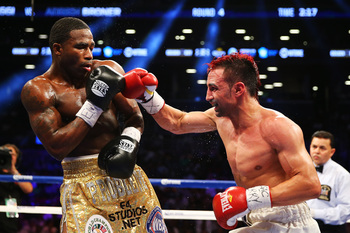 Al Bello/Getty Images
I do not feel Paulie Malignaggi got robbed against Adrien Broner on June 22 in Brooklyn. I frankly wonder what Tom Miller was watching, scoring the bout, 115-113, for Malignaggi.
But I predicted prior to the fight that if Malignaggi could make it a scrap and clearly win some rounds, there would be no shortage of fans adamantly declaring that he got robbed. And that's exactly what happened.
Broner is the type of fighter many fans already want to dislike, due to his brash behavior and big mouth. If you are going to display the kind of over-the-top swagger Broner does, you need to do better than fight to a close decision with Paulie Malignaggi.
"The Problem" can now look forward to spending the summer hearing about how he got a gift decision against the lightest-hitting welterweight in the top 10.
Broner did not help himself with his post-fight behavior either. Trash-talk leading up to a fight is one thing, although both Malignaggi and Broner strained the boundaries of good taste.
But when the fight is done, there is supposed to be a show of mutual respect. It's a part of the ritual.
Broner instead picked back up where he had left off, during his post-fight, in-ring interview with Showtime's Jim Gray. If he wants to model himself on Floyd Mayweather, he needs to pay a little more attention, because Mayweather is rarely anything but respectful of his opponents in victory.
Rising: Keith Thurman
With only a fraction of the hype Adrien Broner has received, 24-year-old, undefeated welterweight Keith Thurman has spent the past two years establishing himself among the most exciting young prospects in the sport.
With a 20-0 record and 18 KOs, Thurman has enough power to hurt a welterweight fighter. When he has stepped up in competition in the past year, he has triumphed magnificently, beating Carlos Quintana by Round 4 TKO last November and shutting out Jan Zaveck on all three cards in March.
Thurman faces fellow undefeated prospect Diego Chaves in July, for the WBA interim welterweight title. The fact that the WBA interim belt is up for grabs is the ultimate in alphabet soup foolishness, considering that Broner just won the WBA title from Malignaggi in June.
Still, provided Thurman wins, it could lead to a fight with Broner and Thurman, and fans will be happy enough with that outcome.
Frankly, though, I don't see that fight happening anytime soon, in light of Broner's struggle against Malignaggi. Thurman is the naturally bigger man, and fighting him at this point would be the kind of poor business decision that Broner's manager Al Haymon is not known for.
I expect Broner will actually vacate the belt and drop back down to 140. That could set up a fight with Thurman and Malignaggi, which would provide a great measuring stick between two of America's biggest young stars.
Rising: Saul Alvarez and Floyd Mayweather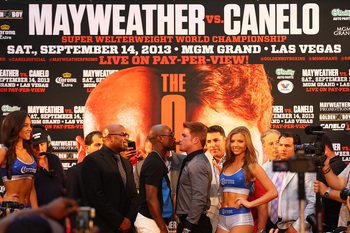 Mike Stobe/Getty Images
I've made this a double entry, because in the parlance of the stock market, the early promotion for Saul Alvarez and Floyd Mayweather's September showdown resembles nothing so much as that of a merger between two mega corporations.
This has the potential to be the biggest selling pay-per-view of all time, although in today's economic climate, it will be tough to surpass the numbers for Mayweather and Oscar De La Hoya in 2008.
Still, it is the most anticipated fight in recent years, and both fighters' stock should climb all summer as the anticipation builds. Mayweather seems to be using the occasion as a chance to remake his image, from the cocky Money Mayweather, into a true elder statesman of the sport.
At times, talking about Canelo, Mayweather has sounded like he's talking about a favorite nephew, rather than a future opponent.
Alvarez, meanwhile, will spend the summer firmly ascending to a spot he was approaching even before Manny Pacquiao went down to Juan Manuel Marquez last November: that of the No. 2 star in the sport.
Actually beating Mayweather will be a tough task for Alvarez, even with a significant size advantage. I just don't think he'll be able to hit the always elusive Mayweather enough to win.
Still, I predict he will surprise people with how well he does, and his stock will rise, even in defeat.
Keep Reading