After all of the games that have been played, we're finally ready for the 2013 Confederations Cup final match between Spain and Brazil, and the experts are providing us with the information that we need.
This is the match that fans have been hoping for throughout the entire tournament. Everyone wants to see Neymar go against La Roja with the likes of Fernando Torres, Juana Mata, David Villa and so many more.
Now, fans will get their chance to watch some great football being played. There will be goals, excitement and drama in what's likely to be a close match.
Paul Carr from ESPN reported the start times of both the championship match and the third-place game on Sunday.
Big soccer day on ESPN. Uruguay-Italy, 11:45 AM ET ESPN2. New York-Houston, 2 ET ESPN2. Brazil-Spain #ConfedCup final, 5:30 ET on ESPN.

— Paul Carr (@PCarrESPN) June 30, 2013
Ben Smith of BBC offered this picture of the front page in Rio
de
Janeiro
in the morning, setting the stage for a big event on Sunday night.
The front page headline in Rio this morning reads, 'The eyes of the world are on the Maracana' pic.twitter.com/9tW0R9DvDp

— Ben Smith (@BenSmithBBC) June 30, 2013
If that
doesn
't pump you up for the match, here's a picture of
Maracana
lighting up, courtesy of
The Guardian.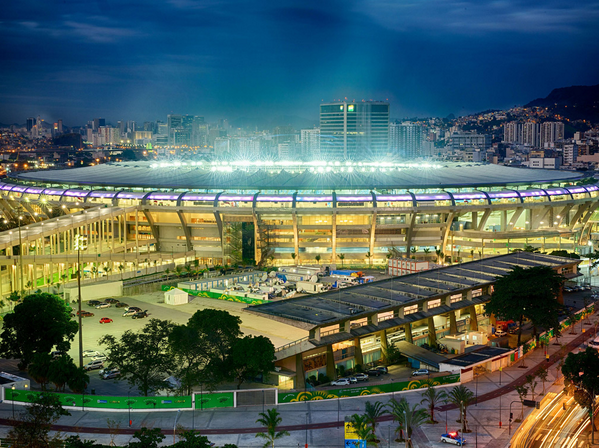 This is obviously a huge game in Rio
de
Janeiro
. Brazil is essentially the home team in this tournament, and the fact that it is in the final match against the star-filled roster of Spain means that things are certain to get wild.
The "barcastuff" Twitter account provided this excellent quote from Neymar of Brazil talking about playing against future teammates with Barcelona.
Neymar: "It'll be a joy to play against my future barça teammates, an honour. I wish them all the best, but not starting today... (smiles)"

— barcastuff (@barcastuff) June 29, 2013
All eyes will be on
Neymar
in this match for obvious reasons. Three goals in tournament play and plenty of hype surrounding his new team in Barcelona will make him the most talked about player in the world for the near future.
Fernando Duarte of ESPNFC.com gave a great preview of the match:
Be sure to look at the 22 guys on the pitch, too, for no other contest has been so openly talked about by footballers in recent months as the encounter between jogo bonito and tiki-taka, the serial trophy collectors Spain and the mythical Brazil. Players from both countries have been working as hard as congressional lobbyists to try to arrange a game before relying on the Confederations Cup fixture list.

Make no mistake: Brazil's and Spain's players do respect each other immensely. But they are itching for each other's scalps. "Brazil are a great footballing nation, but we would like to show them that Spain are still the world champions," Casillas said in Fortaleza last night, minutes after La Roja survived the Italian challenge in the semifinals.
Miles Chambers of Goal.com reported that Brazil coach Luiz Felipe Scolari does not believe that Spain is the favorite:
"I don't consider Spain the favourites," he told reporters at a press conference ahead of the match. "In the last six years they have imposed themselves and won so many titles fielding virtually the same team and so that can maybe be an advantage.

"But we have something important in Brazil - which is that we have established credibility with our fans. We have been dreaming since the start of getting to the final and winning it."
The BBC website offered an excellent preview of the match, showing just how big this game is going to be considering the two sides haven't played against each other in some time.
It seems an anomaly that they have met just once in the last 23 years, in a 1999 friendly which ended goalless.

Since then Spain have taken on and beaten all-comers. Brazil are the last big scalp left for them to claim, just as the Confederations Cup is the only senior title to elude them.

Victory against the Brazilians, who have not lost a competitive home game since 1975, will cement their legacy as one of the greatest sides ever.
Regardless of whom you're rooting for, this is bound to be one of the more exciting international matches in a while. The stage is set, the fans are ready, and now it's time for some great football.