Fantasy Football 2013: Baltimore Ravens Fantasy Options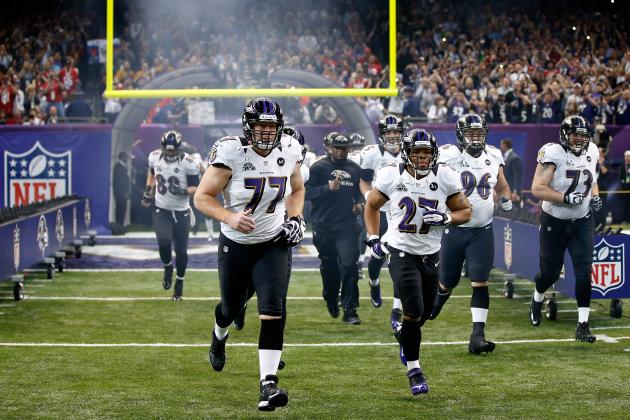 Chris Graythen/Getty Images

We are in that lull after the draft, OTAs and minicamps and before training camp starts up. The players are on vacation, taking advantage of the downtime before the grind of the new season begins.
As we anxiously await the resumption of football, something else that we hold near and dear to our hearts is quite far off into the future: Fantasy Football!
It is never too early to start thinking about your draft, so this is a breakdown of the fantasy options on the Baltimore Ravens roster.
Note: All ADP values are courtesy of Fantasy Football Calculator.
Begin Slideshow

»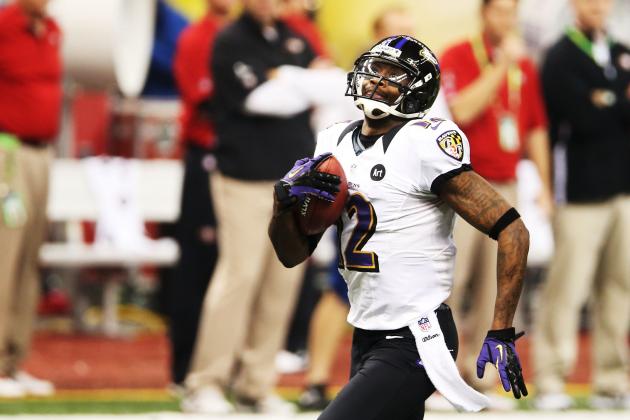 Ronald Martinez/Getty Images

Despite the loss of future Hall of Famers, Ray Lewis and Ed Reed, this defense has improved considerably.
The Ravens D is much better against the run, and opponents shouldn't be able to move the ball as easily as they did last year.
They also have serious pass-rushing potential with Elvis Dumervil and Terrell Suggs.
Additionally, the secondary is stocked with great coverage defenders who have good hands and the ball skills to make plays when the opportunities arise. Furthermore, let's not forget the dynamic return game that featured Jacoby Jones, dancing past defenders on his way to the end zone.
(Yes, that was a terrible Dancing with The Stars reference; I couldn't help myself).
Nevertheless, there are reasons to be concerned. The Baltimore Ravens defense drew a tough schedule this season, as they have to face the Denver Broncos, Houst Texans, Green Bay Packers, Pittsburgh Steelers (twice), Cincinnati Bengals (twice), Chicago Bears and New England Patriots.
The extensive defensive renovations should have the Ravens D/ST ranked in the 10-15 range, and that schedule means that they are not going to be an every-week play. Considering that they open on the road in Denver, you probably don't want to draft them, since the Broncos offense has somehow improved this offseason.
Unless you boast an elite defense like the Seattle Seahawks or the San Francisco 49ers, I firmly believe in searching for nice matchups on the waiver wire.
The Ravens are a plug-and-play defense that will greatly reward defenders when matched up against the weaker offenses (Buffalo Bills, Miami Dolphins, New York Jets and the Cleveland Browns twice). For the majority of the season, however, they will be facing excellent competition and will therefore be a fairly average fantasy option.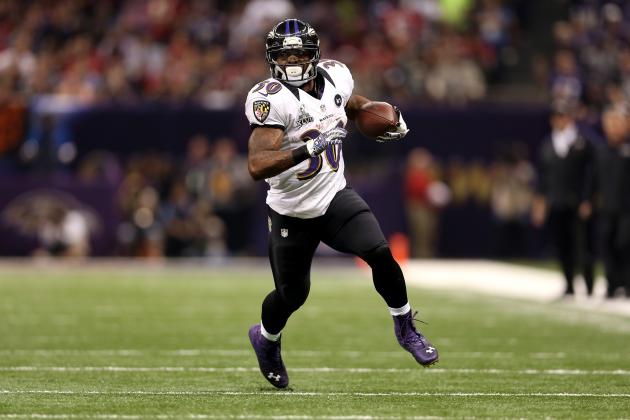 Christian Petersen/Getty Images

Pierce's fantasy value is as a handcuff to Ray Rice, but he is one of the best handcuffs in the NFL. Pierce had a good rookie season and came on strong towards the end of the year.
If Ray Rice were to get hurt, Pierce has the potential to be a solid RB2/Flex play.
While Rice is still the man in Baltimore, Pierce is expected to see more carries in 2013, which could make him an intriguing sleeper prospect if a couple of things happen.
Firstly, for Pierce to have any significant value without a Rice injury, he would have to get at least 40 percent of the carries. That number is definitely within the realm of possibility as he received around 30 percent during his rookie year.
Another thing to keep an eye on is whether Pierce is used as a goal-line back. Rice is by no means a slouch in short-yardage situations, but Pierce's bruising running style combined with his larger frame might make him more effective in those situations and result in him poaching some of Rice's touchdowns.
If he receives a greater share of the carries—especially those around the goal line—Pierce is an interesting late-round flyer in deeper leagues. Otherwise he should be on your roster only if you drafted Ray Rice as well.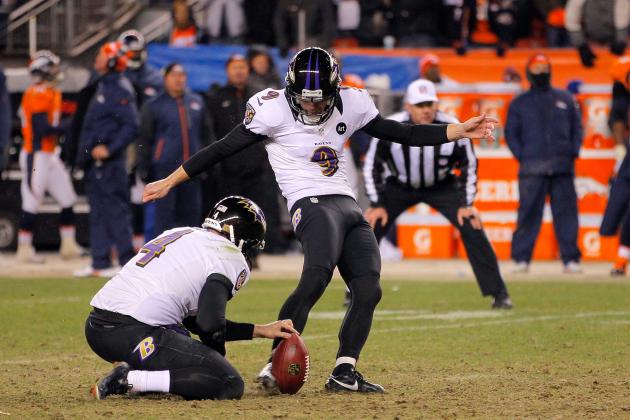 Doug Pensinger/Getty Images

Many people choose not to draft a kicker, instead opting to scour the waiver wire and play the weekly matchup game. Regardless of which strategy you use, a good kicker is a very valuable asset who can be the difference between winning and losing your head-to-head battle.
Justin Tucker was phenomenal last season, connecting on 91 percent of his field goals while demonstrating excellent leg strength and the ability to convert 50-plus yard attempts. He is currently the eighth kicker off the board, but both NFL.com and ESPN.com have ranked him as the fourth-best fantasy kicking option in 2013.
I expect him to build off an impressive rookie campaign that helped Baltimore fans quickly forget Billy Cundiff (well, for the most part). If he's available in the last couple of rounds, draft him and be confident that he will deliver the goods on a weekly basis.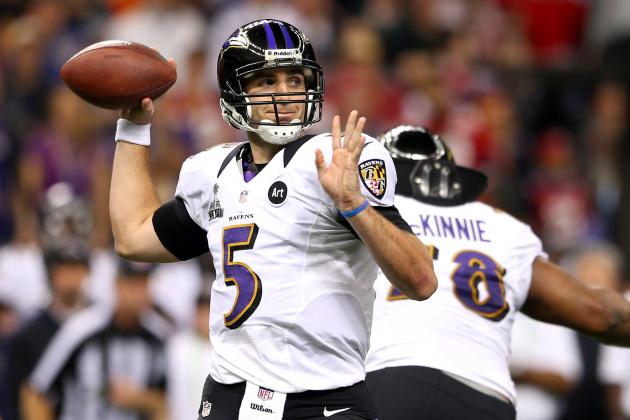 Mike Ehrmann/Getty Images

While the loss of Anquan Boldin is substantial, there are still weapons on this offense.
Ray Rice will be the focus of opposing defenses, and Flacco still has Torrey Smith and Dennis Pitta to throw to. Rice and Ed Dickson will have to be larger parts of the passing game to make up for some of the loss of Boldin's production, but both of them have shown the hands and athleticism to be receiving threats.
With a balanced attack the Ravens should have no problems moving the football, but Joe Flacco's numbers will not be those of a QB1.
One interesting tidbit to take note of is that Flacco's opponents during the fantasy playoffs are the Minnesota Vikings (Week 14), Detroit Lions (Week 15) and Patriots (Week 16). Those are three defenses that struggled against the pass last year, which could make Flacco an interesting proposition come playoff time.
He will be a solid QB2 (in two-quarterback leagues) or a possible bye-week replacement for your starting quarterback (in one-quarterback leagues) depending on his matchup (make sure he's at home).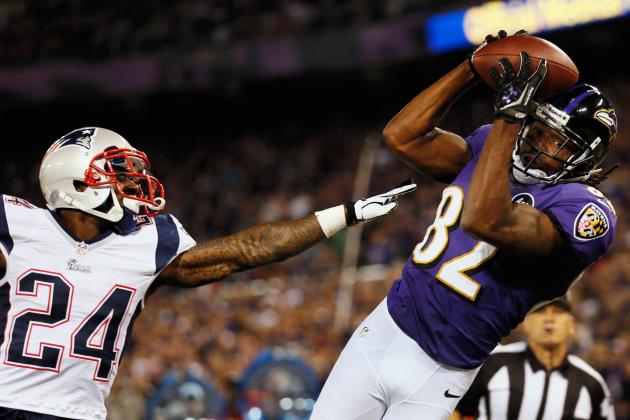 Rob Carr/Getty Images

Torrey Smith will see a much higher workload to offset the trade of Anquan Boldin. While he possesses elite speed, he is also an excellent route-runner, and this season he will be used in the short passing game more frequently than in his previous two years.
The uptick in targets should result in Smith finally breaking the 1,000-yard plateau, and his speed as a deep threat will allow him to continue scoring long touchdowns (eight of his 15 career regular-season touchdowns were 20 yards or longer) and finding the end zone at a rate above average for a wide receiver.
His current ADP shows him being the 22nd wide receiver off the board. That spot is fairly consistent with his production over the last two years, probably since drafters are worrying about how he will deal with double-coverage and the increased defensive attention he'll face.
If you can draft him in that range (as a low-end WR2 or high-end WR3), he might reward you since he has the circumstances and talent to be a mid-to-high level WR2. He is unlikely to regress and give you production that is below expectations for that draft-slot range.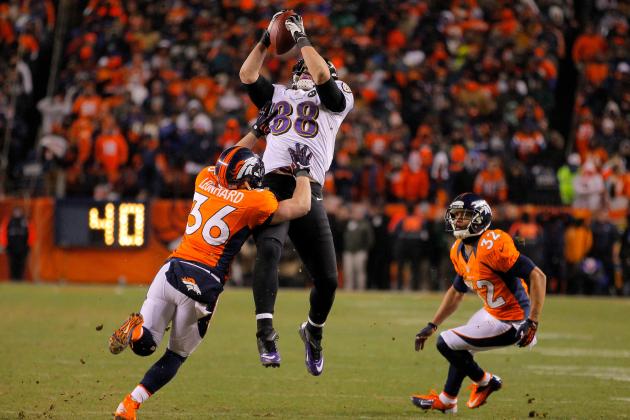 Doug Pensinger/Getty Images

This has all the signs of a breakout year for Dennis Pitta. The loss of Anquan Boldin means that there are more targets to go around and Torrey Smith, not Pitta, will be the focus of opposing secondaries.
Ed Dickson is the better blocking tight end, so on many running plays where Leach was on the field as a fullback, it was Dickson who was lined up as tight end. Without Leach, the Ravens will use significantly more two-TE sets, which should give Pitta more opportunities in the passing game.
Even when FB Kyle Juszczyk is involved, Pitta is now the second-best receiver on the team and he can be split out wide. Pitta should be on the field much more than the 60 percent of offensive snaps that he saw last year, primarily because the Ravens need his receiving prowess.
Another factor that bodes well for Pitta is the chemistry that he has developed with Joe Flacco. Flacco is very comfortable throwing to him; they have good timing on his routes, and Flacco has the faith in him necessary to throw the ball high and let the big-bodied tight end go up and make a play.
With the loss of Boldin, Pitta will need to step into the role of being Flacco's primary security blanket, his go-to guy. This, in conjunction with the reasons listed above, is why Pitta is primed to have an excellent season and be a top-five fantasy tight end.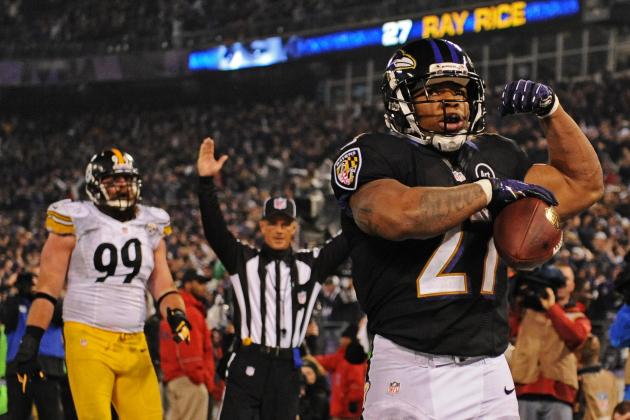 Patrick Smith/Getty Images

Ray Rice is a fantasy stud. He should be one of the first five players off the board as he has repeatedly shown the consistency, durability and talent to accumulate yards on the ground and through the air.
Despite making "Joe Cool" the highest-paid player in NFL history earlier this offseason, if only for a short while, the Ravens know that their offense still revolves around Ray Rice.
While Rice will cede some of his carries to his promising young backup and will undoubtedly miss the road-paving presence of Vonta Leach, he will still be the workhorse for the Ravens. Moreover, while he might give up some of the rushing work, his touches will probably stay relatively even due to his increased usage in the passing offense.
Even though Rice has the most receptions of any running back in the NFL since he entered the league in 2008, he told The Baltimore Sun that he wants even more touches in the passing game. With 65 of Boldin's receptions to redistribute within the offense, offensive coordinator Jim Caldwell will be happy to get him more involved in a passing attack that needs its playmakers to step up.
Consequently, in PPR leagues Rice is even more valuable, being drafted third overall on average. Rice is an excellent RB1, so draft him and don't look back–just make sure you give Bernard Pierce a look also.